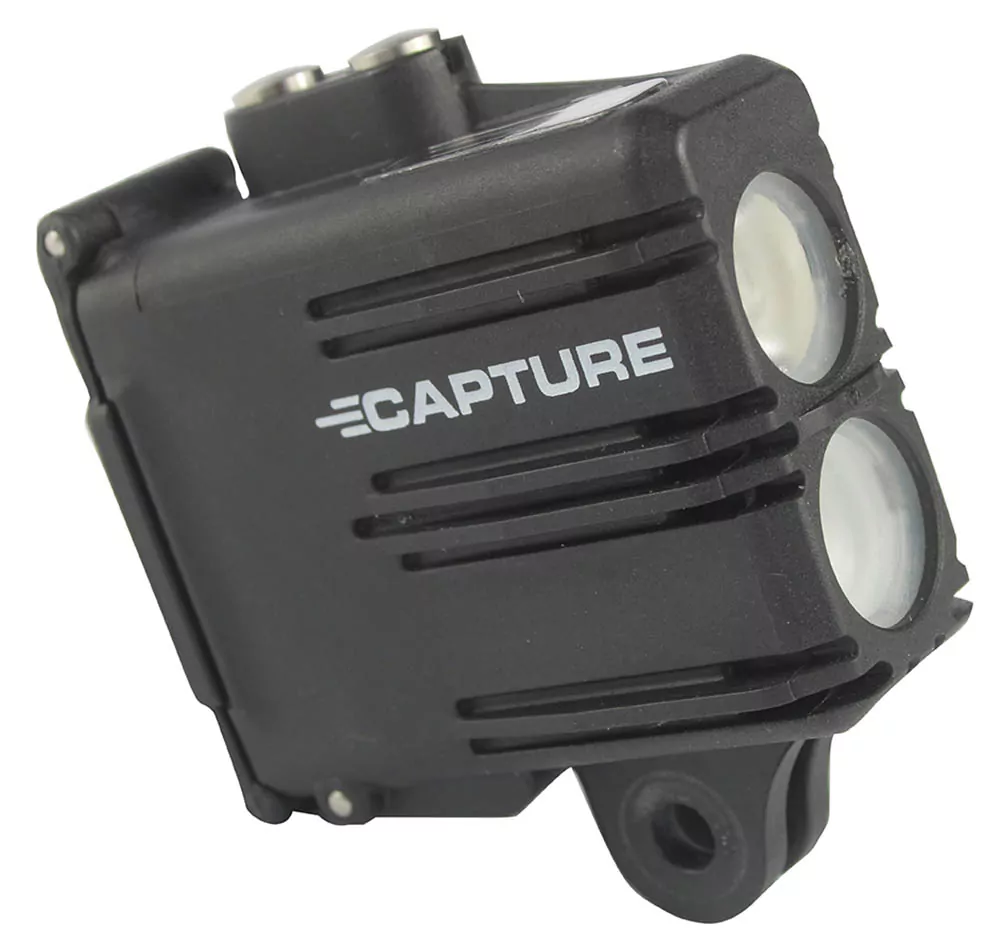 Appeared in DIVER September 2019
I LIKE FLYING WITH EASYJET for two reasons. First, on the Red Sea flights I've taken for the past few years, easyJet's aircraft have been fitted with non-reclining seats, so that the inconsiderate yo-yo in the row ahead can't shove his headrest into my face.
The second is that it doesn't weigh hand-luggage and doesn't stipulate a maximum weight. Provided you can lift hand-luggage into an overhead locker unaided, it's happy.
As my hand-luggage can sometimes weigh as much as my hold baggage, that's peachy.
This last trip, however, my hand-baggage issue was much eased by Exposure Lights, which sent me a pair of the smallest video lights I have so far seen. It also thoughtfully included a range of dive-related arms and mounts.
I appreciated this but didn't need to use them, my own rig being sufficiently versatile and rugged (for which read home-made and basic) to accommodate just about anything by way of camera and lighting.
Exposure's lighting idea is so obvious that it borders on amazing. Action cameras are small, neat and such a good idea for divers that most now have one.
The only real problem is getting decent colour at any sort of depth, and sometimes just to get an image recorded at all you need to add lights.
Diving video lights tend to be big and heavy and, when added to an action-camera rig, can send the whole small, lightweight thing out of the window. Not Capture lights, which are actually smaller and lighter than the camera.
The Design
These lights are much the same size and shape as a box of matches. Made from a technical polymer, they're a dark grey, almost black, and from the moment I opened the box I was dying to see what they could do.
Each light has two lamps on the front face and two buttons on the top edge. Press either button and you get a digital read-out of the state of charge of the lamp.
Double-click the front button to turn the lights on; hold it down for 3sec and they go off; 4sec and they flash. Once lit you can use 2sec presses on front and rear buttons to adjust intensity between 600 and 75 lumens, or 1sec presses to adjust beam-angle from 80° wide to 10° spot and back again.
The top screen shows the wide and spot settings either side of the battery contents gauge.
The button-pressing proved less than intuitive, but with practice it would get better. Given everything else these little lamps have to offer, I could overlook it. At least the buttons were easy to press with thick gloves.
Under water, the controls proved firm and positive. The size and shape of the lamps made it easy to pinch the unit between finger and thumb to press buttons and make changes, so you don't disturb the lighting arms on your camera rig.
Recharging
Claimed runtime is 40min at max power and 6hr at the lowest setting. I found the 40min claim overly pessimistic; I easily managed a 50min night-dive on full power, with 10% or so battery power left.
To charge the battery, a small catch at the base of the lamp opens the whole rear of the unit. Use a USB charger cable to connect it to a suitable plug and charge the battery in situ. A full charge of a dead battery takes 3.5hr, says Exposure. Mine took a wee bit longer, using the perhaps less than perfect electricity supply of a liveaboard.
The batteries are compatible with GoPros, so you might already have some spares and a charger lying around at home.
The mount at the foot of each lamp is the same two-pronged affair found on GoPro and similar action cameras, so mounts to attach the lights to a tray are simple to sort. Being old-school, I attached them to the flexi-arms on my usual rig with a nut and bolt and went diving.
In Use
In shallow, clear blue water in daytime you need plenty of oomph from your lamps, lots of lumens to overcome the blazing light of the sun and, not surprisingly, the Captures don't cut it in these situations. But that's no big deal. Most action cameras provide decent colour balance at such depths, so the lights can be used to provide a bit of sparkle on the scales of the fish and help the auto white balance out a bit.
Go deeper, where ambient light falls off, and the lamps' illumination starts to become a more significant proportion of the whole.
In clear blue water at mid-day you still need to get near your subject to see what the Captures are doing, but they did well. Even the many-thousands-of-lumens big-boys out there can only do so much in competition with the sun.
By night, in a wreck, in shade or in typical UK waters, the balance tips and the Captures punch well above their size and weight.
Throw the light onto a broad, light backdrop, say a plain sandy seabed, and you get a hotspot surrounded by a fractionally less brightly lit halo.
The LEDs in the Capture are fitted in a relatively small reflector, and the laws of physics allow these things to be miniaturised only to a certain extent without affecting the smoothness of the beam.
But in real life you won't notice any sort of uneven lighting on the vast majority of subjects.
At 80° set to wide, a single light will not quite cover the frame of an ultra-wide-angle action camera, but the pair I used did a very decent job when carefully adjusted.
Conclusion
These Capture lights look and feel well-made, are incredibly tiny and, if you want an action-camera outfit that you can literally carry in your pocket but still get decent footage, they're a no-brainer. Good stuff.
Specs
TESTER> Mike Ward
PRICES> £115 per light
SIZE> 65 x 55 x 20mm
WEIGHT> 70g
DEPTH RATING> 60m
CONTACT> exposurelights.com
DIVER GUIDE>  9/10