APP REVIEW
In the first of a new occasional series, HENLEY SPIERS samples and scores dive-related apps on the market
SCUBA-DIVING HOLDS so many pleasurable moments, even outside of the dive itself. I'm thinking of the excitement and anticipation on the way to the dive-site; warming up in the sun during the surface interval; the excited banter of divers gently mocking each other as they gear up; and the thrill at reviewing your photos and finding a keeper!
I've also always delighted in grabbing the nearest fish-identification book to find what we've seen so far, and making bold plans to seek out the most exotic-looking species on the next dive!
The thing is, there's usually only one copy of the book around, and, if I selfishly keep it to myself, I run the risk of becoming the subject of one of Simon Pridmore's scuba-etiquette columns!
Bringing my own copy is a potential solution, but with the draconian weight limits on flights I'm loth to sacrifice dive- and camera-gear for an ID book.
The solution in today's day and age should be a good fish ID app that can easily be accessed the world over. The question is, which one to get?
Scoring the 7 Apps
I have reviewed each contender in the following selection based on five criteria, each scored out of five for a possible 25 points.
Coverage: In an ideal world, I'd like one app that covers all possible dive-locations and all the fish species therein. In fact, while I'm being greedy, I'd take all marine species, full stop. If I had to sacrifice one aspect, I'd rather have a comprehensive species list for one given location than a small selection of fish from a large number of locations.
Most importantly, if I'm looking for a mystery fish, what are my chances of finding an exact match using that particular app?
Content: How much information does the app provide on a given fish species? I would like to know the key characteristics to help with identification. Information regarding distribution and habitat would also be nice. The cherry on top would be insight into behaviour and engaging facts about the fish. Does the app provide any information above and beyond the above?
Interface: Is the app easy to use, or does it leave me feeling like a dinosaur having its first go on an iPad? Does it look and feel good? Beyond the fish facts, is it pleasurable to use?
Image Quality: "It's an ID shot" are words to make most underwater photographers cringe but, in the right circumstances, a good fish ID shot is a thing to be relished! I'm looking for profile photos that show the full length and body of the fish, a realistic representation of its colour, with enough clarity to allow me to distinguish the subtle differences between species, and ideally showing the fish in its normal habitat.
Value: Quite simply, how does the price measure up with the content?
Reef Life Pro
Free, £4.99 full app (iOS/Android) – Link to download from Apple Store
Pros:
Worldwide coverage with the globe split into 31 regions that you can filter.
The Find Species Near Me function is a nice feature.
Not just fish – you get all marine species!
The Education section contains valuable bonus material such as information on anatomy, families and, my favourite, Similar-Looking Families. This gives you clearly explained differences between, for example, blennies and gobies.
You get bonus material in the Conservation section too.
With approximately 2200, this app has one of the highest species totals.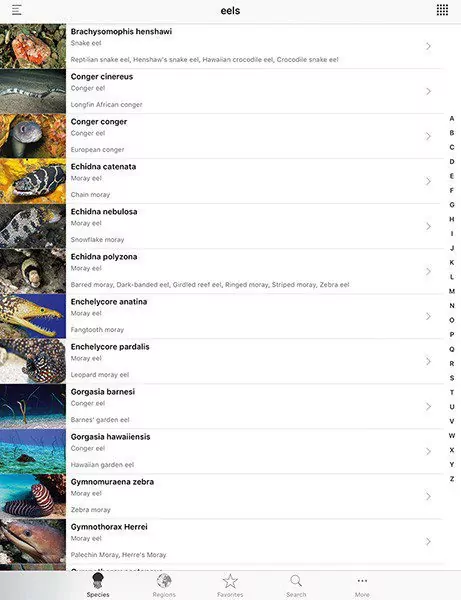 Cons:
2200 species is a high number but not quite so comprehensive when aiming for global coverage with some 28,000 possible fish. You might not find your mystery fish with this app.
The app crashes when I click the table button at top right more than once.
Information on species is mostly from Wikipedia and pretty dry – unlike the original content, which can be found in the Conservation and Education sections of the app.
You can't filter by region and species at the same time.
The photos in Similar Looking Families are tiny.
When I scroll down and select a species, when coming back out from that species it sends me all the way back up to the top of the list. I'd rather come back out to where I was last.
Coverage: 4
Content: 3
Interface: 2
Image Quality: 3
Value: 3
TOTAL: 15
Verdict
There are a couple of really neat ideas in this app, some of which can be accessed through the free version.
It provides a decent solution for the beginner-to-intermediate-level fish ID enthusiast, but the lack of species will frustrate if you're looking to have the full menu of local fish to hand.
---
FischFinder
£6.99 (iOS) – Link unavailable.
Pros:
Provides global coverage, split into nine ocean areas.
Includes marine animals in general, not just fish.
App interface is slick and simple to use.
Descriptions are original writing by the developers that is relatable and contains useful information to divers such as habitat and feeding habits.
Good quality photos for the vast majority of species.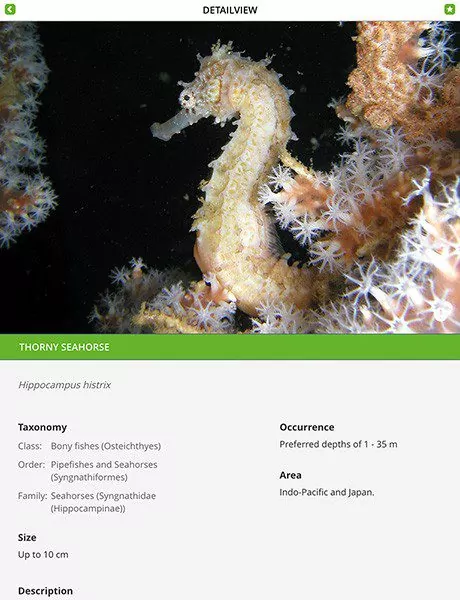 Cons:
With only 915 species and global coverage, there are too many gaps to be assured that you will find your mystery fish.
Relies on an intermediate level of marine taxonomy knowledge to find what you're looking for.
The search function only provides the ability to filter by region.
No photos available until you get to species level – an example image for each family would make it more user friendly, or at least a brief description of the order/family.
The knowledge section, whilst potentially interesting, is available only in German.
Price seems a little too high when compared to some of the other apps available.
Coverage: 2
Content: 3
Interface: 3
Image Quality: 4
Value: 2
TOTAL: 14
Verdict
Clearly targeted more at the German market, I enjoyed the animal descriptions and photos but this app needs to add more species before it can be relied upon as a comprehensive fish ID source and justify its price-point.
---
Dive Planit
Free (iOS) – Link to download on App Store
Pros:
The concept of a dive-logging app with a fish ID functionality that can feed into those logs is brilliant.
It's free!
You can add your own photos to dive-logs as well as those held on the app.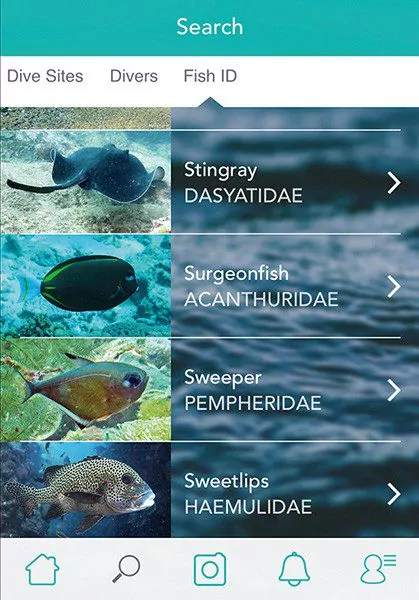 Cons:
Only around 500 species available and worldwide coverage means there are huge gaps in the database. For instance, there are only two blennies listed.
The photos are a mixed bag, often without proper colour rendering and without the option of zooming in for a closer look.
Limited information in the fish descriptions, eg: "This wrasse has a red and green body."
App design is not optimised for iPads as well as phones.
Coverage: 2
Content: 2
Interface: 3
Image Quality: 2
Value: 3
TOTAL: 12
Verdict
Yes, it's more of a dive-logging app but it does advertise its capability as a fish ID resource too. A great concept, but sadly the poor content, coverage and photos makes it practically unusable as a fish ID resource.
---
WhatFish
Free, approx £3 full version (iOS) – Link to Apple Store Download
Pros:
The ability to add multiple filters in terms of both geography and fish characteristics is excellent. This includes some unique filter categories such as by social behaviour and according to the shape of the fin.
The app incorporates a logbook function whereby you can add the fish sighted directly from the fish ID list – very nice!
Once you've found a fish, you can quickly click between its species and family descriptions.
The app provides more than just fish, with creatures, mammals and even seabirds too!
Cons:
Going for worldwide coverage with only 1324 species means I'm not convinced that I will always find the fish I'm looking for.
The photos are mixed. Some are too artistic for proper fish identification, and others are taken without strobes and lack colour.
Coverage: 3
Content: 3
Interface: 5
Image Quality: 2
Value: 3
TOTAL: 16
Verdict
The best app I've seen in terms of combining a logbook and a fish ID resource, and you can get it for free if you're willing to put up with ads. You get online access with the paid-for version.
However, the photos and species listings need a lot more work before this app can be relied upon to identify that unfamiliar fish.
---
Shore Fishes of the Greater Caribbean Identification Guide
Free (iOS/Android) – Link to download from Apple eBook
Pros:
Although limited to the Greater Caribbean, with 1693 species this app provides strong coverage within that specific region. So the chances of finding your mystery fish are high if that's the area of interest.
The photos are very good, usually with multiple strong images for each species.
It's free!
With differentiation between species being tricky at times, I absolutely love the "similar" button, which allows quick access to species that bear a close resemblance.
This app has an easy-to-use search function with multiple filters, which allows you to drill down to a shortlist of possible species.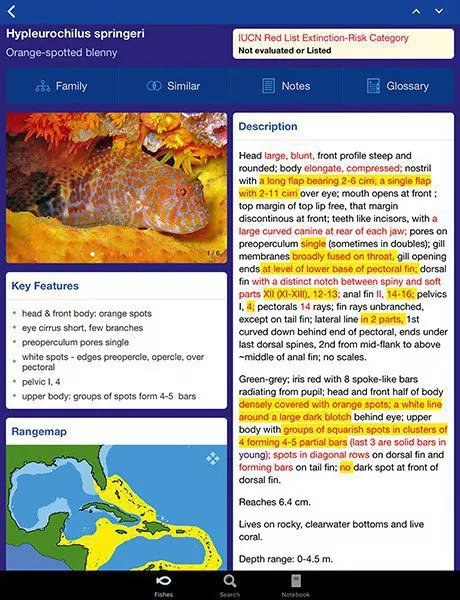 Cons:
The descriptions of each species are detailed but purely scientific – for most divers (myself included) it is too dry and would be brought to life with more interesting facts in layman's terms.
It would be useful to have a way of browsing similar families of species, for instance to have all of the shark families available to browse as one.
There is no coverage outside the Greater Caribbean.
Coverage: 3
Content: 3
Interface: 4
Image Quality: 5
Value: 5
TOTAL: 20
Verdict
Thanks are due to the team at the Smithsonian for putting together this excellent free resource. If you're heading to the Caribbean this is a no-brainer download – it's just a shame that it doesn't have any coverage for the rest of the world.
---
New World Marine Life Field Guides
ebook PDFs, approx £26 each (iOS/Android/Windows) – Link to download on Apple eBooks
Pros:
The groupings of similar families by chapter is ingenious, and helps you get to the fish you're looking for faster.
Comprehensive information on every fish, from diagrams noting key characteristics right through to reaction to divers.
The best fish ID photos in the business.
Gives you comprehensive coverage of the fish species in one region – if you can't identify your mystery fish from this, you may well have discovered a new species!
Between the nine available books by experts such as Paul Humann, Ned DeLoach, Gerald Allen and Roger Steene you can get broad global coverage for creatures, corals and fish.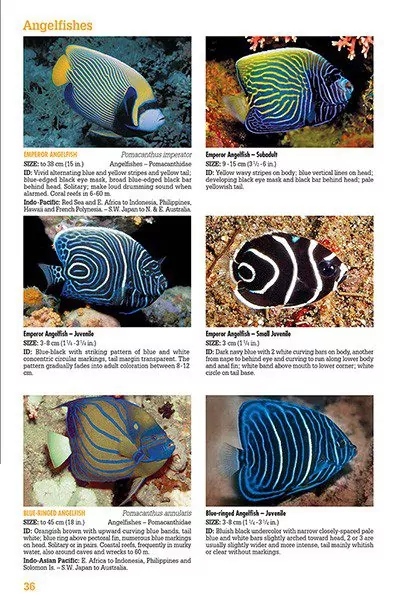 Cons:
Following purchase, these apps require the additional hassle of creating an Adobe user account and downloading a separate reader app to view.
The original books simply appear in an e-reader format, with no clever hyperlinks or formatting to make using them any easier or more engaging.
There is no search tool that uses filters to help you narrow down possible species.
No book in the range covers the Red Sea, which may disappoint many UK divers.
Although I feel that the price is fair considering the work that went into this resource, it is considerably more expensive than the other apps here.
Coverage: 4
Content: 5
Interface: 3
Image Quality: 5
Value: 3
TOTAL: 20
Verdict
Yes it's not an app but these books are the godfathers of marine life identification and merit a place on this list. If you're serious about fish ID (and by now you will have realised that I am) this is the best you can get.
However, it comes at a price and there are no frills beyond what can be found in the original books.
---
Fish Identification Florida Bahamas Caribbean
iBook version, approx £30 (iOS) – Download link from Apple Books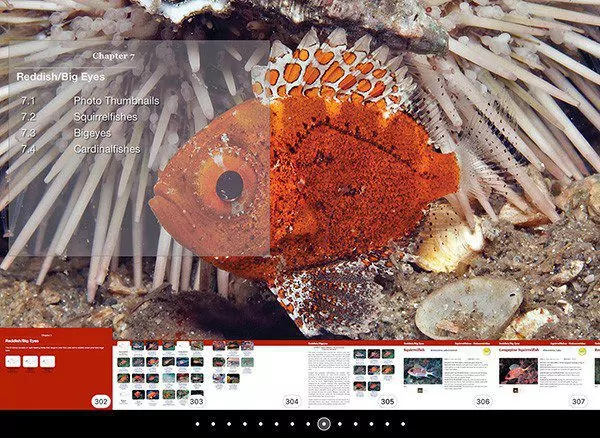 Pros:
All the same benefits as the market-leading books, other than the global coverage.
The interface is a joy to use, particularly on an iPad, with clever hyperlinks galore allowing you to quickly scour through the 712 pages.
The Family Gallery for each type of fish is a addition to the books and, when trying to identify a species, allows you to see all the species quickly within a family side by side and click on the photos or text for a closer look. Love it!
Cons:
Once again, the price point sits at the top of the options on offer.
Because of size restrictions on the App Store, Reef Fish of Florida Bahamas Caribbean is the only book in the series available in this format.
It covers only fish – if you want creatures and coral you'll have to get one of the PDF ebooks separately.
There is no search utility with filters to narrow down to a shortlist of possible mystery fish.
Coverage: 3
Content: 5
Interface: 5
Image Quality: 5
Value: 3
TOTAL: 21
Verdict
This series is the benchmark when it comes to fish ID books, and with this eBook you have a product that is even better than a hard copy. It comes at the highest price, but it's the best you can get.
Now we just need more eBooks to cover other regions and creatures!
---
App Reviews in 2018
That brings us to an end of this little foray into fish identification apps and such. There is something out there to suit everyone, from the beginner to the serious ID sleuth.
I hope this marine-life ID review will help you to choose the right app for your next dive trip. Download from the App Store (apple.com), Google Play Store (play.google.com) or Microsoft Store (microsoft.com) as appropriate for your devices.
We plan to bring you more themed app reviews in the New Year, so if you have any dive-related app you'd recommend, or if you have developed one and are keen to let other divers know that it exists, email its name and purpose to the DIVER office at [email protected] – and we'll give it due consideration.