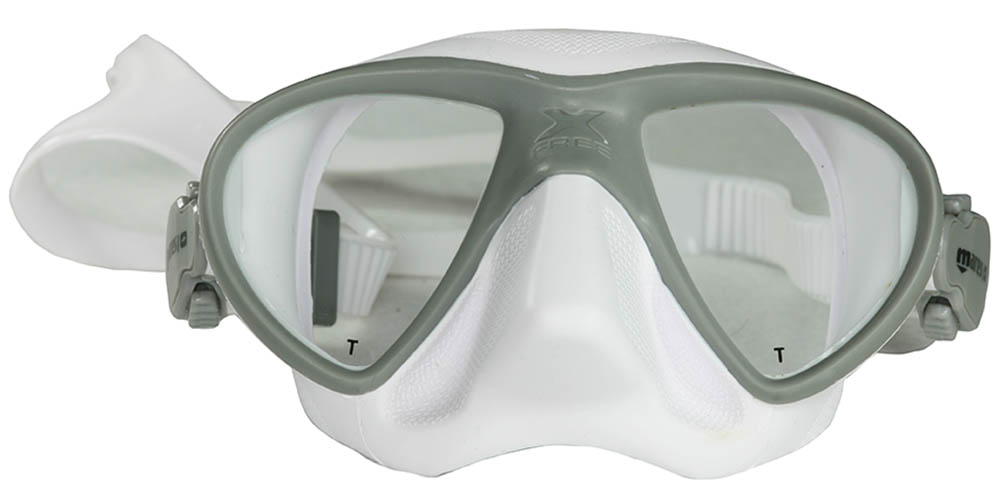 Appeared in DIVER February 2019
Like most of us I enjoy a good superhero movie, preferably one in which the lead is an ordinary guy or girl who works hard and trains hard and becomes a superhero only when they don their superhero outfit, pull a tiny mask over their eyes, and go to work – like Zorro, Captain America, Batman and Catwoman.
Yes, I know Catwoman was a baddie in the '60s, but it turns out she's really been one of the good guys all along, and the nicking stuff thing is just an amusing eccentricity.
I mention this because I like ultra-low-volume diving masks, and the only real downside to such masks is a tendency for them to make
you look like an extra from a low-budget superhero movie.
I say the only downside, but there is another, and slightly more personal, one. Some years ago I was persuaded to have a caricature of myself drawn by a street-artist, and when my other half saw the drawing she said it was all nose and glasses, then went quiet and added that it was
a very good likeness. So you'll appreciate that nasal accommodation is important to me.
All of the above went through my mind when Mares sent me its frameless X-Free ultra-low-volume freediving mask to try, and it was a relief to find that it was white with grey highlights.  Black does tend to emphasise the Zorro thing.
First and second jobs, peel off the protective stickers from the lenses, then rub toothpaste on the inner surfaces to fully clean and degrease them to avoid fogging, followed by wash out, spit and rub, and go diving. Does anyone else find that their new mask smells minty for a few dives, despite thorough rinsing?
Design & Fit
The Mares X-Free is made of an extremely soft and pliable material that followed the contours of my face perfectly. Placing it over my eyes and nose, it took just the merest inward sniff to hold it securely in place.
That's probably the single most important thing to check when trying a mask for the first time, and a good start for the Mares.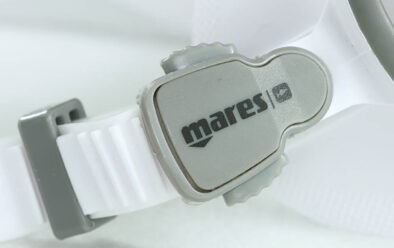 The strap is adjusted and the setting held firm with a pinch-type arrangement near the flexible tab at each side, where strap and mask are joined, and is flexible enough to cope easily with a bare head or a hood.
Talking of hoods, the mask fitted easily inside the face opening on every hood I was able to try, unlike bigger masks that need you to run a finger under the hood aperture to ensure that the skirt is sitting on your face.
It's not a big deal, but refitting your mask at depth with cold hands and numb fingers in thick gloves will be simpler with the X-Free.
Once fitted, the mask remained exactly where it was supposed to be when I entered the water, either bare-headed or over a hood, and when rolling back off a RIB or striding from the dive-deck. The strap flares out to form a broad cup for the back of your head, and it does the job well.
In Use
Compression was minimal on descent, as you'd expect from the ultra-low-volume design, though to be fair I've never really thought about equalising gas pressure in my mask, it just seems to happen.
Very importantly, the nose-pocket sticks out a bit, is easily pinched to ear-clear and was large enough to fit my conk, another fundamental requirement.
The mask stayed totally dry on every dive I did with it, despite me provoking it with a couple of days of stubble, and when I allowed water in it was easy to partly or fully clear, thanks to good design and the tiny volume, less than 80ml according to Mares.
I do sometimes find that mask-straps can rub the tops of my ears, and the bottom of the nose-pocket can rub my top lip after multiple days of diving, but this one didn't.
Like facial fit and size of nose-pocket, that finding might not apply universally, but noting where the strap sits and puckering up as if you had a reg in your mouth is worth thinking about when you try a mask in the shop.
Sniff Test
So far so good, so on one dive, just for fun (?!), I tried the ultimate dive-guide trick and pulled the strap loose to swim around with the mask held in place by gentle sniffage alone.
It stayed firmly in place and dry, but the strap floating before my eyes was a bit annoying, so I eventually put it back where it was meant to be.
Conclusion
The toughened lenses seemed very clear, though they don't boast any fancy coatings, and were of flat glass, so my usual strategy of a contact lens in my right eye for distance vision and nothing in the left so I could read gauges close up worked a treat. This isn't a mask into which you can fit correction lenses.
Field of vision was pretty close to being as wide as I've ever had side-to-side, and definitely as good top to bottom, thanks to the closeness of the ports to my eyes and the frameless design.
Overall, then, very good. Zorro, eat your heart out!
Specs
TESTER> Mike Ward
PRICE> £41
WEIGHT> 140g
COLOUR> Blue, black, white/black, brown/black, green/black, white
CONTACT> mares.com
DIVER GUIDE>  9/10