Appeared in DIVER December 2018
A few years ago I night-dived the Rosalie Moller in the northern Red Sea, but the liveaboard skipper didn't want to moor over the wreck, so
we needed to zodiac across from the shelter of Gubal island.
The simple, lo-tec and above-all effective solution we used to locate the wreck in the dark was a Beaver strobe strapped to the buoy supporting the dry end of the shotline.
Even in a foot or two of swell the light was easily spotted from the boat, and the result was an excellent dive enjoyed by all.
Beaver Sports was founded way back in 1982, far oop north in 'Uddersfield, and in my mind it has been producing a diver's strobe forever.
I see them pretty much everywhere I dive, and when Beaver claimed that its latest version was the best I looked forward to trying one. Then the box arrived with not one strobe, but two – talk about excitement!
Inside the box were a black Electra LED Strobe & Torch, a combination product as the name suggests, and an orange Spectrum LED, which is a strobe only. Note that you can get either unit in either colour.
The Design
Both units are made of plastics with a chunky barrel and a clear screw-on dome-cover sealed with double O-rings over the single strobe element. A shiny metal foil under the strobe element bounces the light outward to ensure that as much flash as possible is produced.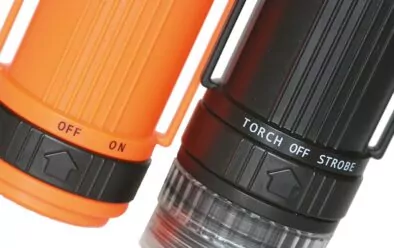 The torch unit has a similar screw-on clear plastic cover over the LED, this time a flat cover over a lighting element recessed in a dished reflector to give the beam a defined shape.
The on/off switch on both units is a rotary control clearly marked Torch/Off/Strobe or Off/On, though to be fair the markings aren't essential. If there's no light coming out, it's off. If it's flashing, it's on, and if you want the torch but get the flash you push the control ring the other way, and vice versa.
Power comes from three AA batteries accessed by screwing off the clear plastic dome and lifting out the strobe unit. The batteries are inserted into a carrier cassette that's clearly marked to ensure that you insert them the right way round and then put the cassette into the strobe correctly.
In Use
With a fresh set of Duracells, Beaver claims 24 hours' burntime for the strobe, but in the world-renowned bucket-test mine ran for more than 72.
That's an amazing performance, and represents three full days and nights at sea if the worst comes to the worst, though I sincerely hope it never does. Nice to see actual figures exceeding claimed figures.
The light output from the strobes was plenty to mark the shotline on a typical bluewater night-dive and, provided that the strobe was orientated such that the element was visible from below, it could be easily seen in UK waters at depth. That's helped by the strobes naturally orientating themselves flashing lamp downward.
Both units also come with a Velcro strap around the barrel that can be used to attach them to a rope or to your kit.
Just please, pretty please, if you do attach it to your shoulder leave it turned off unless you're in distress. Unnecessary strobing is really irritating, though that might just be one of my foibles.
The LED torch of the combination unit isn't hugely powerful, with a claimed output of 120 lumens, but the idea is that it's better than not having a torch at all if it does all go to poo.
Looked at that way, it makes sense. And I prefer a low-powered torch for bluewater night dives, so would be happy to use one of these as my primary light if I were critter-hunting.
Actually, the light output is pretty decent, helped by the deep-dished reflector forcing the beam into a narrow cone with a trace of a surrounding halo.
It's just that we've been spoiled by high-output LED lamps of late. And, very pleasingly, the actual burntime of 24 hours once again hugely exceeded the claimed burn of six hours.
Oh, and one final thing. The plastic dome on the combined torch and strobe unit somehow ended up with a crack in it, but I didn't notice until after the unit had flooded.
Well after, as it happens. But flooded or not, it flashed happily, and when it was dried out it continued to flash happily. Which is good.
Conclusion
It's not surprising that Beaver strobes are a common sight. They're rugged, reliable and do the job. They might not be as bright as the best of the competition, but then the price-tag is much, much lower. I'd be happy to have one of these in my dive-bag, especially overseas.
Specs
TESTER> Mike Ward
PRICES> £43 for either unit
SIZES> MSpectrum 12 x 4.4cm, Electra 13.5 x 4.5cm
WEIGHT> Each unit 175g
DEPTH RATING> 60m
COLOUR> Black or orange
CONTACT> beaversports.co.uk
DIVER GUIDE>  9/10