archive – Diver TestsREGULATOR
APEKS
MTX-R
IT HAD BEEN A REALLY COLD WINTER, the grey sky producing sustained snow, but the air temperature had risen a few degrees over the past week, causing the thick ice covering the surface at Wraysbury to all but disappear. Chilly meltwater infused the lake, and dropped the temperature to a bitter 3C.
Dive-centre owner Richard Major and I were under water on a training platform assessing the inwater skills of our drysuit students when my regulator started to gradually over-deliver gas.
Very quickly this over-delivery progressed to an unstoppable freeflow, and although I had no problem breathing, it was obvious that I'd have to abort the dive and head for the surface.
I ascended as the tank contents disappeared in a cloud of bubbles.
What had just happened? The first stage had become encased in a solid lump of ice, freezing the diaphragm open and causing the increased intermediate pressure to overcome the second-stage valve. For the record, the ancient Poseidon regulator I was using didn't have its coldwater kit installed – 'my bad'.
However, this wasn't an isolated incident. During periods of cold weather it was commonplace to hear the distinct sound of freeflowing regulators around the lake, invariably accompanied by loud expletives.
UK regulator-maker Apeks' latest coldwater model has been developed in accordance with the US Navy Experimental Dive Unit extreme coldwater test. It's called the MTX-R, and is said to perform in almost-freezing conditions. Doh! I'd have to wrap up warm and brave the winter waters to well and truly test it.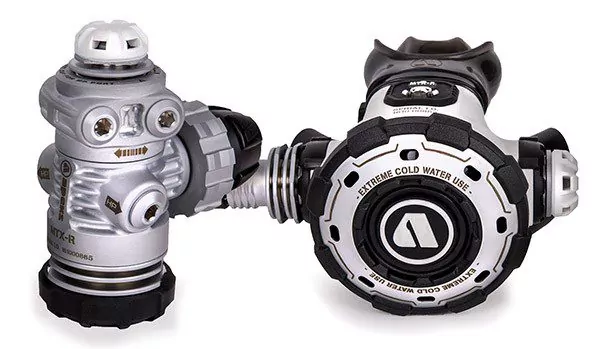 First Stage
The MTX-R's first stage features an overbalanced diaphragm. The body is forged in a single piece, with numerous fins to aid heat exchange, and has an overmoulded end cap along with a dry-sealed environmental diaphragm to prevent ice build-up.
There are five low-pressure ports. Two parallel ports are set either side of the first stage's swivelling turret, and the fifth port is centrally placed at the tip, covered with a removable plastic cap. Two high-pressure ports either side of the main body are angled downwards to aid neat hose-routeing.
The first stage is available with either DIN or yoke connections, and has a satin chrome finish with bronze-coloured livery.
Second Stage
The second-stage body is made from high-grade polymers, with an all-metal white satin chrome front plate. There are no user-adjustable controls such as inhalation resistance or venturi, as gas-delivery performance is set at the factory.
Heat-exchanging fins at the demand-valve base, and a further heat-exchanger surrounding the valve mechanism, add even more coldwater protection.
There is a user-changeable exhaust manifold with the option of narrow or wide ports. A standard (for Apeks) purge-button is placed centrally in the front cover, which is finished with a Comfo-bite silicon mouthpiece.
The first and second stages are connected with a lightweight braided hose, with swivel connections at both ends to reduce hose twisting and coiling.
In Use
I took the MTX-R to where I knew there was the possibility of a freeze-up, Wraysbury. Unfortunately, circumstances conspired against me getting in the water (I was too much of a wuss that day) so we settled for a photo-shoot with resident instructor Mark Bruce instead.
The following week, I braved the Arctic conditions and set off for the Midlands and Stoney Cove to give it another go. To be as safe as possible, both my buddy and I kitted up with redundant side-mounted bail-out tanks before dropping into the frigid water.
We spent around 40 minutes finning around the quarry, venturing first to the deep Hydrobox at just over 35m. It was here, in water at just 4°C, that I questioned my sanity as I elevated my breathing rate and whooshed the air down in a vain attempt to get the MTX-R to freeze up.
The regulator wasn't having any of it and, as expected, continued to deliver the breathing gas without any sign of interruption.
We then went a step further and, with my buddy taking the octo, shared air in synchronised breaths, really sucking it down to put the first stage under as much stress as it's ever likely to endure. Surely this would see ice form, as the physics of gas decompression and temperature came into play?
We were mightily relieved to see that this Apeks masterpiece didn't miss a beat, and just carried on delivering its payload in a totally controlled fashion.
The mouthpiece felt extremely comfortable and, aided by the pliable braided hose and twin swivels, allowed me to relax my jaw without ever feeling I was going to lose the second stage when swivelling my head from side to side.
I went through our standard array of exercises to see whether the reg would let water by when inverted, or freeflow when spat out. It did neither. The purge button was easy to locate and operate, even with bulky drygloves, and the resulting gas delivery was smooth and progressive.
Conclusion
I'm reminded that the pioneers of UK wreck exploration placed much emphasis on the "heft" of their monolithic brass first stages. In their words: "If it's heavy, it's going to work".
I'm confident that these old boys of the open-circuit mixed-gas expedition world would have been ecstatic about the MTX-R, because it would have ticked every one of their boxes, and then some.
For me, this excellent regulator exudes class. It's beautifully crafted, using cutting-edge technology and top-grade materials, but it wasn't only the physical attributes but the combination of performance and comfort that have set the MTX-R so high on my regulator tree.
It may not be the ideal partner for travel, unless you're going to the Arctic or other frigid destinations where ice-formation is a real possibility, but if that is the case, it should be the first item to pack.
SPECS
PRICE: £529, Octo £219
FIRST STAGE: Overbalanced diaphragm
PORTS: 5 lp, 2 hp
ENVIRONMENT SEALING: Yes
ENVIRONMENTAL DRY KIT: Standard
COLDWATER RATED: Yes
CONNECTION: DIN, yoke
DIVER ADJUSTABLE: No
INTERMEDIATE HOSE: Braided, with twin swivels
WEIGHT: 1.56kg
NITROX-COMPATIBLE: EAN 40% out of the box
CONTACT: www.apeksdiving.com
DIVER GUIDE 10/10
Appeared in DIVER April 2017