archive – Diver TestsRegulator
Zeagle
Onyx II
IT'S TIME FOR ANOTHER REGULATOR TEST, this time in the warm Caribbean waters of the Grenadines. You may be thinking that it's not the ideal place for testing a regulator with coldwater capabilities, but hey, it's great fun for me as a tester, and infinitely more comfortable than freezing my bits off in UK winter waters.
This mid-range regulator comes from the US Zeagle stables and is the latest generation of its popular Onyx, the unshockingly named Onyx II.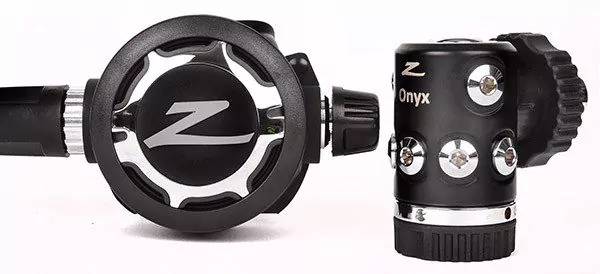 First Stage
The Onyx II uses a balanced diaphragm in its brass-bodied, barrel-shaped first stage, with a stainless-steel high-pressure valve and advanced polymer seat. The body has a satin all-black finish with screen-printed livery and is available with either 232-bar International or DIN connections, the latter being the choice for this test.
The first stage has been sealed for environmental protection and provides a coldwater rating. The seal should also keep the inside components dry and free from contaminants such as sand and grit, and prevent internal salt-crystal formation.
Five low-pressure ports are intelligently spaced around the periphery of the barrel, and two hp ports on either side will take a contents gauge, electronic hp transmitter or, if you want to go all belt-and-braces, both.
Second Stage
The Onyx II's second stage is built almost entirely of modern plastics. The case is moulded in thermoplastics with a flexible thermoplastics cover, Elastomer poppet seat and an Elastomer polymer diaphragm.
There are a few metal components: an anodised aluminium heat-sink to help prevent ice forming and (on the model I had) a chrome-plated ring around the purge button.
The Onyx II has a thumb-lever for dive/pre-dive venturi selection, and also a chunky turn-knob to adjust the breathing sensitivity. The second and first stages are linked with a 76cm lightweight braided intermediate pressure-hose that swivels at the second-stage connection.
Twin low-profile exhaust ports are moulded as part of the main body, and the purge valve has a large-diameter cover for use with thick gloves.
In Use
In years gone by regulator combinations literally tried to kill me, even at recreational depths. Nowadays this doesn't happen, because all regulators sold in the UK are subjected to stringent performance criteria tests before they can be approved under EU law. This CE certification process has taken poor-performing products out of the equation, and left us with safe, reliable life-support equipment.
This is fantastic for consumers but less good for the humble tester. I'm always looking for something exciting to write about, and modern regs have become pretty samey and boring.
This mid-priced Onyx II is no exception. Its performance was not unlike that of some very high-end products I've tested recently, and which carry price-tags that would make even Bill Gates choke on his mid-morning doughnuts.
That said, a couple of features deserve mention. Firstly, the diver-adjustable controls were positive and made a marked difference to the performance. The breathing sensitivity is adjusted using a simple, easily accessed turn knob on the left of the second-stage body to increase or decrease gas flow.
At its tightest setting the Onyx II was reminiscent of those old-school regs, the ones from which we had to physically suck the air. At its loosest setting it felt as if it was over-delivering the gas. Exciting stuff for a tester, but at any of the intermediate settings this regulator's performance settled down and became, well, not very exciting at all.
That's fine. Boring is a very good trait when it comes to life-support breathing apparatus, the Holy Grail for which designers strive and the feature all divers should seek out.
A boring regulator is the one you don't realise you're breathing from, one that can be trusted in any conditions . The Onyx II never missed a beat.
Secondly, it was comfortable to use. The flexible lightweight braided hose took care of any restriction when I was craning my head from side to side or up and down. Combined with the lightweight materials used in its construction, it negated the need to bite down hard on the soft silicon mouthpiece to keep it in place.
The port layout on the first stage is standard fare for fixed barrel-shaped bodies, and allowed for neat, streamlined hose-routeing.
Conclusion
Zeagle is garnering a following outside the USA, and if this regulator combination is anything to go by, I'm not surprised.
There was no drama in the performance department, and it was very comfortable to use. The breathing adjustment covers a wide range and the hose-routeing was excellent thanks to the intelligently placed ports.
I tested it in warm water but I'm confident of its coldwater capabilities – the CE guys wouldn't have awarded the certification if it fell short.
The Onyx II with DIN first stage fitted with Zeagle's Envoy octopus that we had on test weighed in at a total of 1460g on my digital scales placing it in the lightweight class of regulators deemed suitable for travel.
Coupled with steadfast performance, stealthy black colour scheme and understated looks,
I believe the Americans are onto a winner.
SPECS
PRICES: £395
FIRST STAGE: Balanced diaphragm
PORTS: 5lp, 2hp
ENVIRONMENT SEALING: Yes
CONNECTION: DIN, International yoke
SECOND STAGE: Downstream valve, balanced diaphragm
COLDWATER-RATED: Yes
CONTACT: www.zeagle.com
DIVER GUIDE 8/10
Appeared in DIVER March 2017