A rare 1960s Rolex Submariner wrist-watch worn by a search and rescue diver throughout and after his illustrious military career went under the hammer today (11 May) and fetched £40,000.
Made in 1963 and bought for £70 the following year, the iconic watch had belonged to the late Simon Barnett. He picked it up in Singapore while serving as an aircraft-handler and ship's diver and had gone on to become a Fleet Air Arm search and rescue diver in 1966. His name and that of his wife Dawn were etched on the caseback.
Unusually the Rolex Oyster bracelet, dated to April-June 1964, had remained with the watch. It had been damaged during an underwater mission and replaced by another Oyster bracelet around 1980, but Barnett had held on to the original. 
The Submariner featured a Caliber 1530 automatic movement, stainless-steel case and Oyster triple-lock screw-down crown. The black dial had an underline mark beneath the text, signifying reduced radioactivity in the luminous treatment for the hour markings. The use of radium in watches had been outlawed the year the Rolex was made, in 1963.
The watch was sold, complete with its original green leather box and import documents, at a clock and watch auction held by TW Gaze of Diss in Norfolk. 
Barnett's son Pete could remember seeing his father always wearing the Rolex Submariner, and while clearing out his house following his death in 2019 had discovered his military logbooks and photographs showing him wearing the watch as a serviceman.
In 2021 he had taken it along to the BBC's Antiques Roadshow TV programme, where watch expert Richard Price had pointed out that Sean Connery had worn an earlier example in the first James Bond movie Dr No.
Explaining a photograph from 1967 that showed Simon Barnett being winched out of the Mediterranean Sea, his son told Price that a Sea Vixen fighter had crashed along with a helicopter that had gone to its rescue. His father, then a diver on the aircraft-carrier HMS Hermes, had tried to rescue both pilots but found them dead.
"His own air supply was exhausted and he was forced to swim to the surface, in which he swallowed a large amount of aircraft fuel," said Barnett. Although in poor condition, after only four hours' treatment his father had insisted on returning to the search and recovery operation, receiving commendations for that and other actions.
Barnett had later become a senior aircrewman, a member of the Fleet Air Arm Field Gun Crew, and completed a total of 3,500 hours of flying time for the Royal Navy, after which he had served with the Metropolitan Police until his retirement.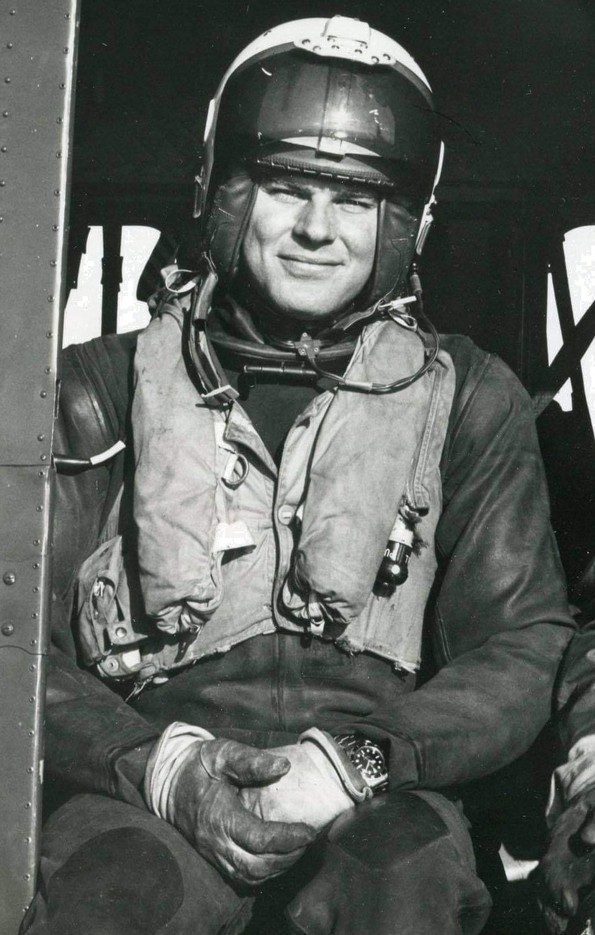 "The Submariner was on his wrist, every step of the way," stated the auction house – yet the watch had been serviced only twice, in 1980 and 2021, and had never been polished.
On Antiques Roadshow Price had told Barnett that he was "thrilled" to see the watch complete with its original strap. "We're in an era now where these sort of Rolexes are just sky-rocketing, particularly with the provenance," he told him, concluding that he would value the timepiece as high as £50-60,000.
"Wasn't your father a very, very lucky man to have used that all his life?" said Price, to which a clearly emotional Barnett had replied: "He didn't know the value of it at all."
Also on Divernet: Rare Rolex Milsub fetches £155k, Dive Time: Your Guide To The Latest Watches, 10 Years On: Max-Depth Rolex Released