Book Review
The Black Panther
Lives On
German Submarine U-1105 'Black Panther',
by Aaron Stephan Hamilton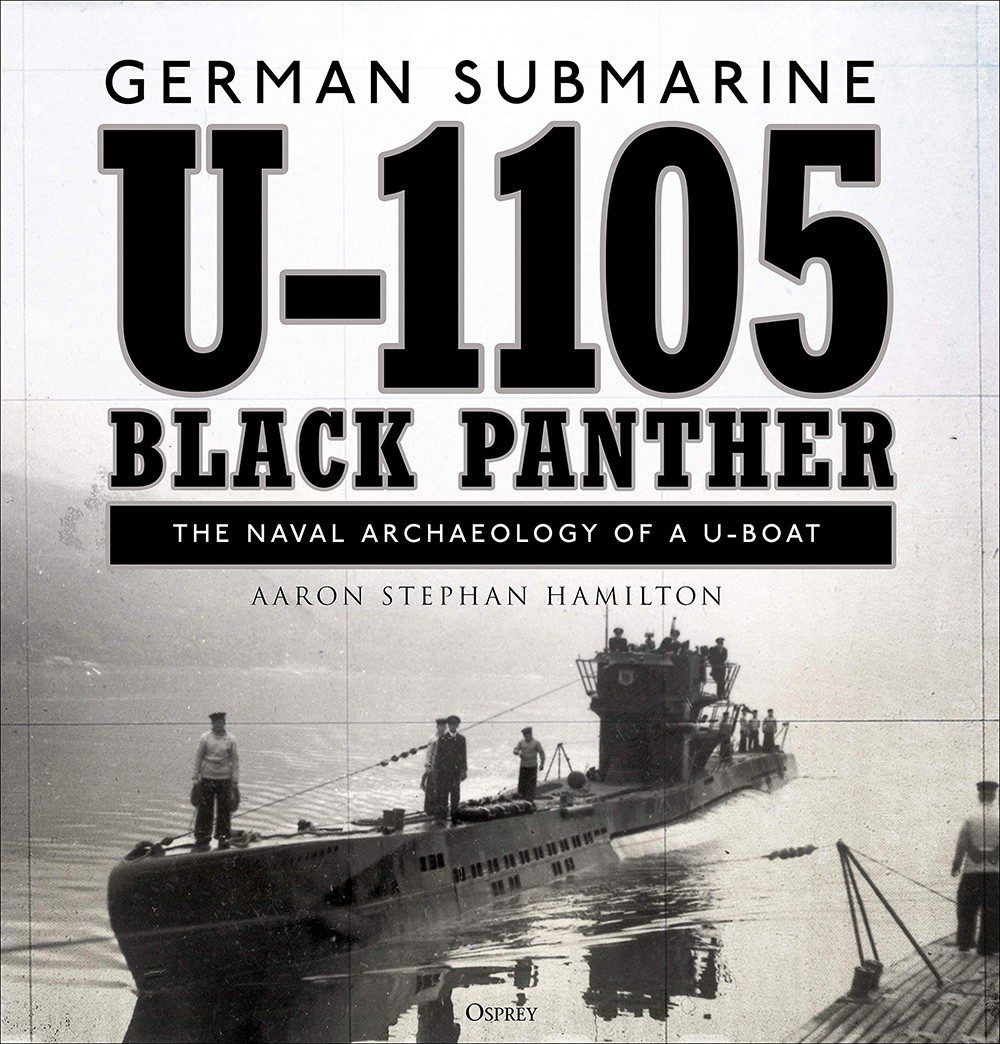 Appeared in DIVER August 2019
Now that's what I call a dedicated wreck book and a good read. Subtitled The Naval Archaeology of a U-Boat, the US author covers all the bases with his dissection and keeps it just the right length and attention-worthy throughout.
In U-1105 he has picked a really interesting subject. It was one of the generation of U-boats that emerged in the latter part of World War Two, marking the passing of those "submersibles" that had once hunted in wolf-packs, and the emergence of submarines equipped to operate as lone wolves.
U-1105 had almost all the new technology required to meet this remit. It was one of only 10 U-boats to be clad in the Alberich rubber coating designed to prevent sonar detection.
It carried the new snorkel set-up that enabled it to remain submerged for weeks, either "bottomed" or on the move at full speed, while still being able to recycle its air and recharge its batteries.
It also carried the sophisticated GHG Balkon passive sonar array that allowed it to detect enemy shipping while submerged.
Such technology could have changed the shape of the Battle of the Atlantic – had it been ready earlier.
The Black Panther (named in part because of that cladding) was the only sub to carry out a wartime patrol so equipped. It succeeded in avoiding detection and in torpedoing British frigate HMS Redmill, but then came the end of the war and its surrender.
Its career after that was one of literal ups and downs, as it became the Allies' most-tested U-boat.
The British put it through its paces thoroughly before it was sailed eventfully over to the States, the last U-boat to cross the Atlantic under its own power.
The Americans seemed more interested in keeping U-1105 out of Soviet hands than in analysing its refinements, and used it for repeated trials both of their depth charges and submarine resilience.
Finally in 1947 it was abandoned 28m down in the Potomac River in Maryland, was "discovered" by a diver in 1985 (though it had never truly been lost) and can still be visited.
Though its hull is buried in mud, there are plenty of interesting details to see around the conning tower and wintergarten platforms.
Hamilton, a diver and maritime archaeologist, writes clearly and engagingly, and the book is beautifully produced. Towards the back are small underwater photos of all the main features. These are related to illustrations showing their positions, so should you decide to do what could be a slightly awkward dive in this busy river you could certainly make the most of your bottom time.
There are plenty of evocative topside photos, and an appreciative foreword by sub-diving expert Innes McCartney. Like the Black Panther itself, this book ticks all the boxes.