DIVING NEWS
Big helpings at the White Shark Cafe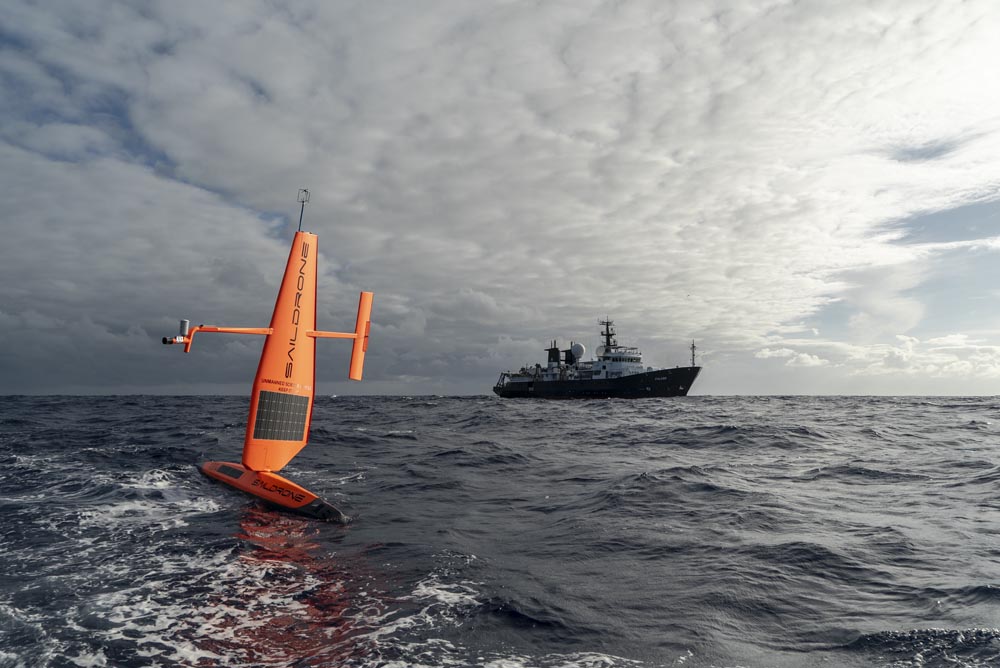 Sail-drone picks up tag data and sonar-scans the depths. (Picture: SOI)
Each winter great white sharks leave the California coast and head halfway across the Pacific to a 320-mile wide site previously considered an "oceanic desert" in terms of marine life – making the reason for their migration a mystery.
Now a US scientific team has revealed that a month-long trip undertaken in May showed the site to be more of an oasis than a desert for the apex predators.
Using pop-up satellite tags, researchers from Stanford University's Hopkins Marine Station, Monterey Bay Aquarium Research Institute, the Schmidt Ocean Institute (SOI) and other bodies were able to track 22 sharks throughout their month-long migration to what has been dubbed the "White Shark Café".
They were later able to retrieve half of the tags to obtain data about their journey.
On the way to the site the sharks were noted to be diving as deep as 900m, using warmwater eddies to get far down through the water column, presumably in pursuit of prey.
At the White Shark Café site aboard SOI's research vessel Falkor, the team used echo-sounders, ROVs, sail-drones, dragnets and other methods to study ocean conditions and the marine life present in deep water.
"We found a high diversity of deep-sea fish and squids (over 100 species) which, in combination with observations made by the ROV and DNA sequencing, demonstrate a viable trophic pathway to support large pelagic organisms such as sharks and tunas," lead researcher Barbara Block reported.
The researchers found deep layers of phytoplankton that had not previously been visible in satellite images. The algae and the bigger marine life it attracted showed the area to be more biologically productive than suspected.
The findings seem to tie in with a separate long-term study published this June of the behaviour of adult female great whites in the Gulf Stream and North Atlantic Ocean.
Carried out by the University of Washington and Woods Hole Oceanographic Institution, this suggested that the sharks are drawn to hang out in slow-spinning warmwater whirlpools.
The research indicated that, as previously found with loggerhead turtles, great whites in the Northern Hemisphere prefer anticyclonic or clockwise-spinning ocean eddies. These trap large amounts of water at the ocean's surface and tend to be warm and clear, but low in nutrients.
The coldwater eddies that spin in the other direction bring nutrient-rich water up from the ocean depths, but it seems that the sharks prefer the warmer whirlpools because they can recover there between dives after spending time in the cold depths to hunt.
Both studies reinforce the belief that the midwater "twilight zone" invisible to satellites contains far more life than previously believed, and much more than at the surface. The Atlantic study was published in Nature Scientific Reports.