A Romanian man who had not previously scuba dived beyond 18m has gone missing in Thailand, after descending solo to free an anchor snagged at around 30m.
A search operation is underway for 46-year-old Sebastian Emil Somesan after he failed to return to his speedboat moored near Kaew Noi island off Phuket yesterday afternoon (8 January).
Somesan, who lives on Phuket, had left Nai Harn Beach at 9am to dive off the island with a Romanian friend, Alexandru Florin Miron. A Thai woman, Saowalak Kanhawong, had accompanied them.
The two men had completed one dive together but Somesan had entered the water again after finding the anchor stuck when they prepared to move off. According to Aroon Solos, mayor of the nearest town Rawai, Somesan had not dived beyond 18m before. When he failed to return to the boat, Miron had called his wife at around 12.45 to ask her to contact Rawai's lifeguard service.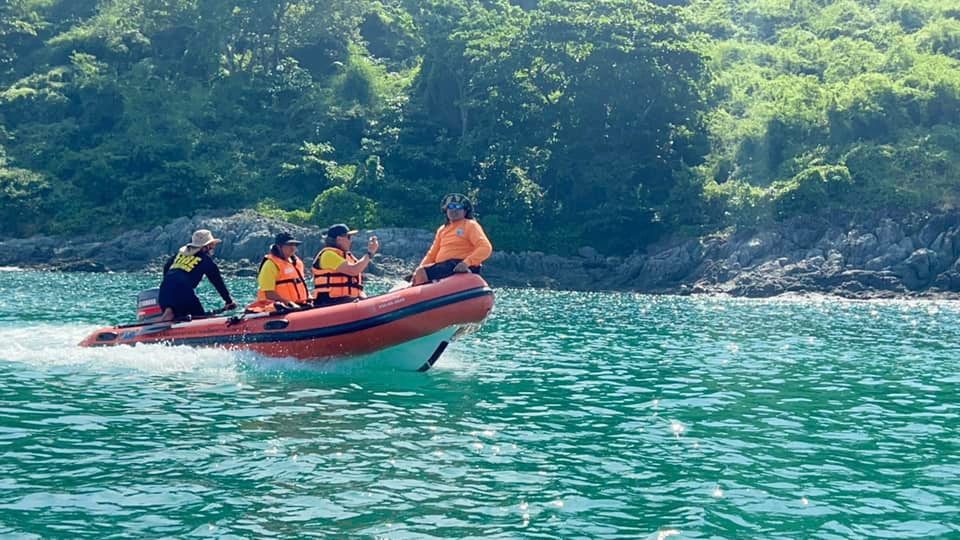 They had responded using a RIB and jet-skis but were soon joined by a team made up of defence force volunteers, marine police, army personnel and local professional divers.
"There are still strong currents, even though we are at the end of the monsoon season," said Phuket governor Narong Woonciew at the rescue command centre that evening, emphasising the difficulties faced by the search team.
Deaths in the Caribbean
The turn of the year has already brought several incidents involving scuba divers and snorkellers, at least two of them fatal.
Californian Robbie Pierce, 63, died while scuba diving on 3 January while on holiday in Bonaire in the southern Caribbean, though no details have been released about the circumstances of his death.
A high-profile figure in the world of international off-road motorsports, Pierce's company Jimco Racing described him as "our great leader, racer, builder, entrepreneur and Off-Road Motorsports Hall of Fame Inductee".
It also said that scuba diving was his "second-biggest passion in life", though on his own Facebook page just before New Year Pierce had stated that it had been more than 20 years since he dived but that Bonaire seemed like "the perfect place to start the year off right".
Elsewhere in the Caribbean, a British man drowned while snorkelling with his teenage son on a family holiday in the Dominican Republic. Ian Simpson, 55, failed to resurface after going out in choppy waters off Caleton de Bruno beach near Cabrera on 29 December.
His son's cries for help brought out locals in a fishing boat and they found his body floating off nearby El Puerto beach. He was pronounced dead through drowning at a local hospital.
Head and hand injuries
Following the serious boat-propeller injuries sustained by a snorkeller in Mexico reported on Divernet recently, another such incident has occurred in the country, this time involving a scuba diver. The man sustained head-wounds on resurfacing off busy Pelicanos beach in Los Cabos, on Mexico's Baja California peninsula.
Many tour-boats carry divers and snorkellers to visit the popular arch landmark at the southern tip of Cabo San Lucas bay. It was unclear whether the boat responsible had encroached into a buoyed area or if the unnamed diver had resurfaced outside it.
Paramedics treated the diver at the site and took him to a medical facility where the injury was deemed not to be life-threatening.
And in South Africa, divemaster Renier Kruger was bitten by an oceanic blacktip shark known as Smiley 30 minutes into a baited scuba dive off Protea Banks on the KwaZulu-Natal coast. He is now recovering following five hours of surgery to reconstruct his left hand.
"Luckily, I have a high pain threshold," said the 26-year-old, who is adamant that after carrying out more than 1,000 shark dives since he was 12 the "love-bite" had been an accident resulting from possible blindness in one of Smiley's eyes, or misidentification of Kruger's hand as bait. He hoped to be diving again within six weeks.