A timber shipwreck found complete with guns and an assortment of artefacts is now thought likely to have played a part in the "Halkidiki Uprising", an incident in the Greek War of Independence that began just over 200 years ago.
The shipwreck was discovered by scuba divers from Greece's Ephorate of Underwater Antiquities in the Aegean Sea off the village of Fourka in Halkidiki in the summer of 2020.
They found two well-preserved cannon, as well as a 1.5m cariophili, a type of flintlock rifle, but recently archaeologists from the Aristotle University of Thessaloniki who have been excavating and researching the shipwreck presented their latest findings to the Hellenic Ministry of Culture & Sports.
They had been examining recovered artefacts that include ropes and sails, clay and metal vessels, copper pans, a glass bottle with cork intact, porcelain fragments, a wooden basket and a bronze inkwell, and say that the vessel probably dates back to the late 18th century.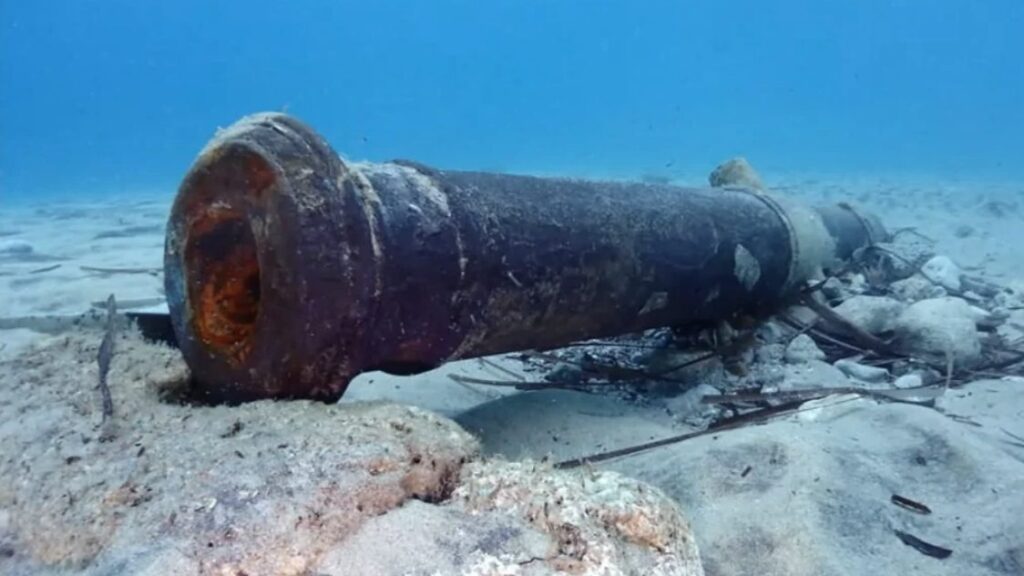 In the Greek War of Independence between 1821 and 1829, revolutionaries rose against the Ottoman Empire, with battles taking place between their makeshift fleets of vessels and the imperial navy.
The wreck lies 80m from shore at a depth of only 4m and its hull is estimated to have been 25m long and 8m wide. It was found surrounded by modern building materials and car tyres, thought not to have been dumped at the site but carried there by floods. A ladder was also found there – but that is thought to have been part of a failed attempt by divers to use it as stretcher to carry off the guns.
Also on Divernet: Mystery Wreck Found Off Greek Island, Greece Offers Scuba Divers 91 Wrecks, More Diver Discoveries In Greece, Greece Lowers Guard On Diving, Greek Wreck-Hunter Solves 1959 Mystery