DIVING NEWS
RN divers extract huge bomb from London wreck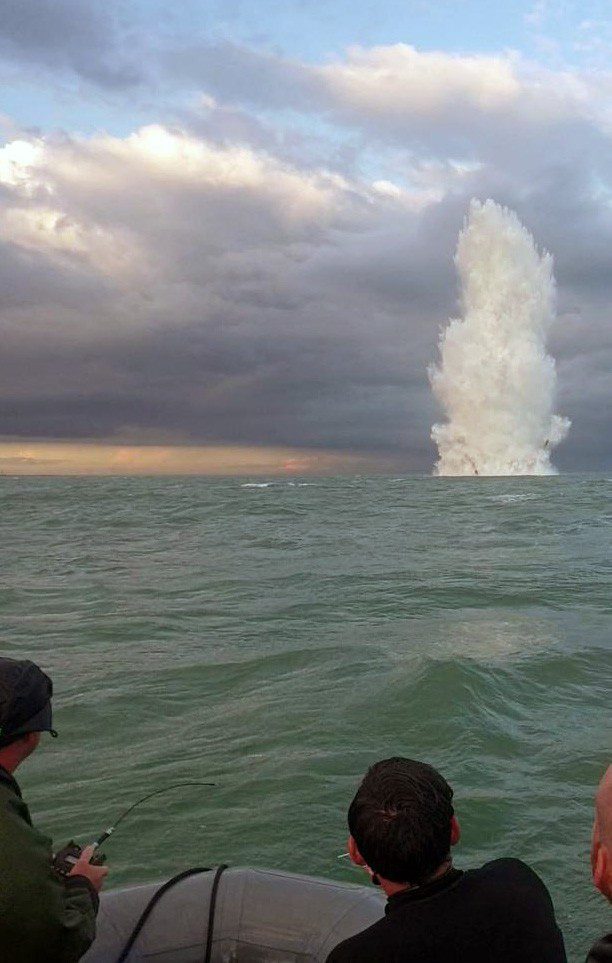 Royal Navy bomb-disposal divers have lifted and destroyed a 987kg German WW2 parachute mine from the 17th-century London warship wreck in the Thames Estuary.
The London archaeological dive-team, Steven & Carol Ellis and Steve Meddle, had suspended their work for several weeks after discovering the device during one of the regular dives they carry out on behalf of Historic England. The protected wreck lies near Southend Pier in Essex.
A team of eight Royal Navy clearance divers were dispatched from Portsmouth to deal with the device. In what they described as a complex six-day operation, their task was to lift and slowly tow it five miles to explode it in open sea off Shoeburyness.
The operation required some 20 dives, with the team spending more than six hours under water as they prepared to lift the bomb.
"The complexity of this task should not be underestimated," said Lt Ben Brown, Officer in Charge of Southern Diving Unit Two.
"Dealing with one of the largest pieces of German Second World War ordnance in the Thames Estuary presents some of the most challenging diving conditions there are to work in.
"With nil visibility under water and significant tidal flow, the diving windows are extremely limited, and all work on the ordnance must be done by touch."
The London archaeological dive-team faces the same visibility and tidal challenges on a regular basis, as well as having to work in an area of heavy boat traffic.
"The deteriorating weather conditions of this week also added another layer of complexity, and all while working next to one of the busiest shipping channels in the UK," said Lt Brown. "However, these conditions are exactly what Royal Navy clearance divers are trained to work under and my team did an excellent job of keeping the public – and other mariners – safe."
The parachute ground mine, designated a GC, was one of the largest pieces of ordnance dropped by the Luftwaffe during WW2, says the RN. It contained almost 700kg of the explosive hexamite, equivalent to 767kg of TNT. The dive-team used a 2kg charge to blow it up.
"The mine, most likely dropped to target one of the numerous docks in the Thames Estuary, was in extremely good condition given its age," said Lt Brown.
The Coastguard, RNLI, Essex Police Marine Unit, Essex County Fire & Rescue Service, Peel Port Sheerness Docks, Shoeburyness Ranges, London Port Authorities and Historic England were all involved in the operation.
Read more about the London wreck and the volunteer dive-team who found the mine here.