INLAND DIVER
JACK PERKS has become a champion of UK freshwater diving but there was a gap in his knowledge – he had never dived Dosthill. A recent sunny June day changed all that
Discovering Dosthill
IT'S ALL TOO EASY to dismiss inland dive-sites as big holes in the ground with a few pike and the odd aircraft, but at their best they can offer some of the best diving in the UK. There are more of them than you think, too, and Dosthill in Tamworth is a hidden gem.
I pulled up at 1pm, the earliest you can get into the water on a Thursday or Friday, although there are longer opening hours over the weekend.
Known as Dozzi by its regulars, the location features beautiful cliffs and woodland overlooking the lake, with a pair of kestrels nesting on the cliff-face.
First Impressions
I had never dived the site before, so wasn't sure what to expect. What struck me initially was the small size of the venue compared to other inland sites I had dived. It covers only three acres, though of course size isn't everything.
Dozzi is the oldest inland dive-site in the UK, having operated since 1958, and it's almost 30 years since it was taken over by current owner Ian Forster, who also owns Gildenburgh dive-centre in Peterborough.
Dosthill Facilities
Dosthill is well-equipped for tank refills and offers kit-hire and sales, changing spaces, hot food and drink and toilets. Staff had even been setting up a hot tub when I arrived.
Since the 2012 Olympics, a surge in interest in outdoor swimming has apparently been sustained, and swimmers often use the middle of the lake to do lengths.
Diving Preparations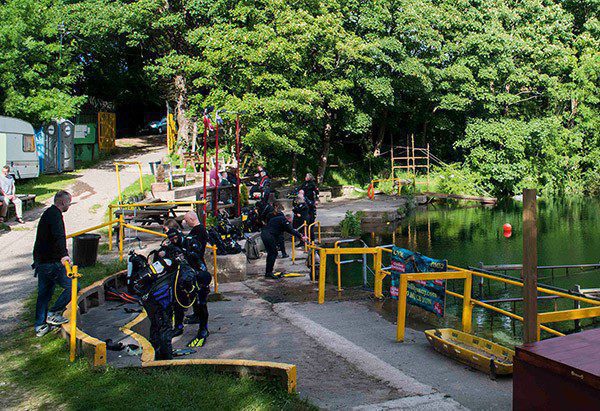 Parking is close to the entry-point, so it's easy to carry kit to the water's edge and set up. It was June and the sun was shining brightly, which always makes a difference. I set up my D500 on one of the many benches provided near the water's edge and started to kit up.
My weapons of choice were an Ikelite housing, Tokina 10-17mm lens and strobe plus a GoPro Hero5 to record some extra video. This was a new set-up, and I was keen to explore the possibilities offered by strobe lighting, because for the past five years I had pretty much used only natural light. The day's dive was intended to be learning curve.
The Dive Experience
Access in and out of the water is easy, with steps and stairs located at various entry-points. The clarity of the water struck me – there was a good 6m visibility closer to the surface, and a quick temperature reading showed the water to be at 18°C.
My dive-buddy for the day was wildlife and fish artist David Miller, who was keen to take pictures of pike for an upcoming painting, while I was hoping to find some of the larger roach, which hang around the entry point following divers and picking up scraps that are stirred up.
A large golden orfe was also swimming around the platforms, although it was a bit camera-shy.
DESPITE HAVING THE STROBE to try it was such a bright day that we were going to have to make the most of the natural light. So we started with a shallow dive to no more than 7m deep on the right-hand side of the quarry.
Although there are some shallower ledges there is quite a sudden drop-off to 24m there, so decent buoyancy control is key.
There are plenty of wrecks in the deeper water, including a wreck-training container, a Land Rover and, the newest addition, a Jetstream aircraft, along with sunken trees.
A pair of sturgeon that hang around in the deeper water come to investigate divers, sometimes rubbing against them, we were told, although there was no sign of them today. The deeper water is quite silty, so it's best to avoid crashing down into the depths.
It was beautiful to swim under water along the edges of what looked something like a kelp forest, with huge stands of curled pondweed and spiked milfoil, which makes a refreshing change from beds of Canadian pondweed.
The sunken trees covered in zebra mussels and algae looked otherworldly, and made fantastic backgrounds for my images. The zebra mussels are filter-feeders and will remove debris from the water, although because Dosthill is spring-fed it already has very good visibility.
As we made our way to the back of the quarry we came across the training platforms, which sit at various depths for the use of beginners and divers practising safety manoeuvres.
Wildlife Encounters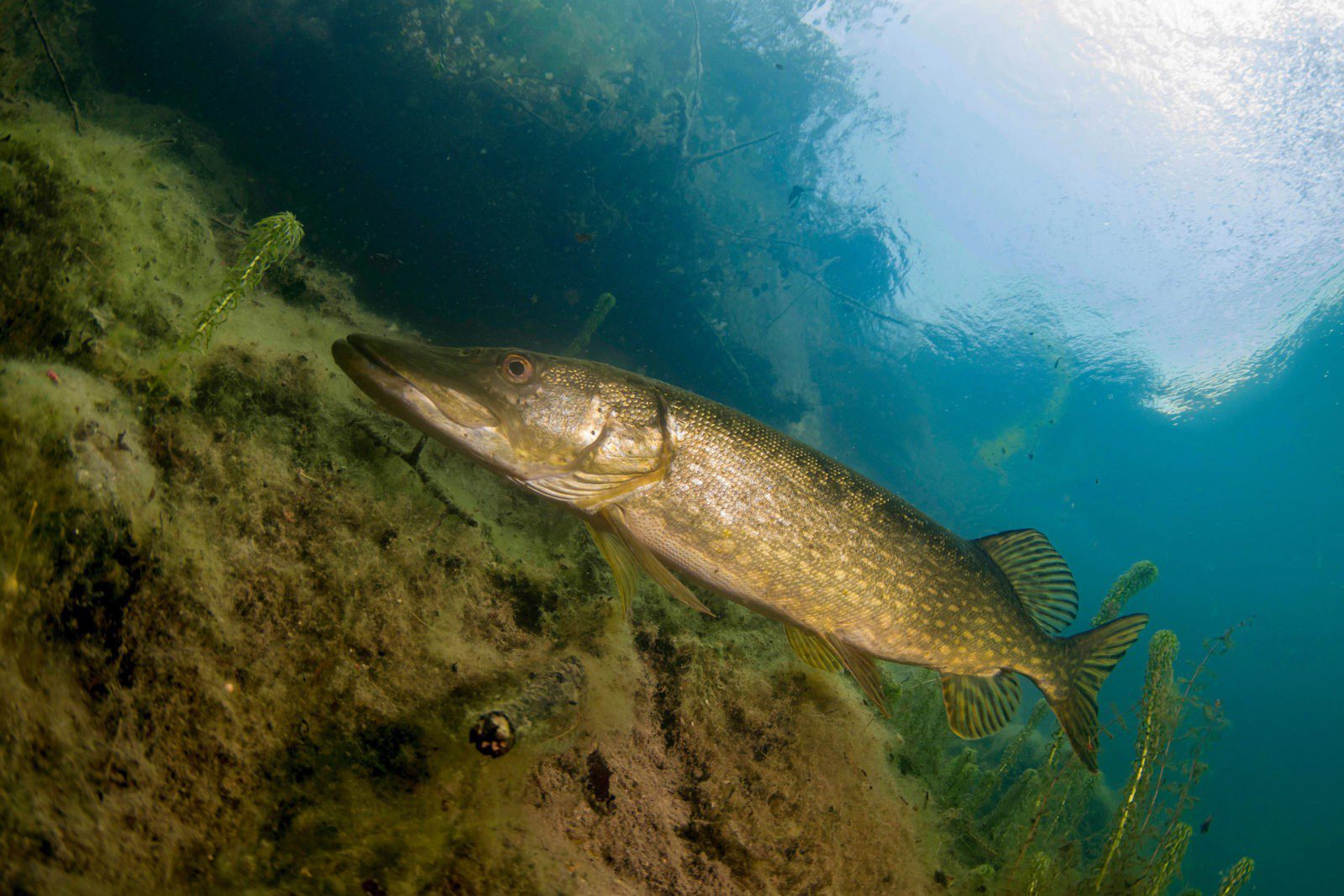 WE SAW OUR FIRST PIKE, which was a bit sheepish but immaculately coloured and conditioned – it obviously fed well on the roach and perch in the lake.
Further on we came across a second pike, which was hidden in the weeds as we inched our way forward. It stayed motionless. Our best guess was that it had just fed, so we left it alone to get on with digesting its meal.
We found a third pike skulking around the cliff-edges, also hanging motionless until something caught its eye and it fixed a slow, purposeful gaze.
I had never seen a pike hunt before but it was checking every nook and cranny for small perch, and I certainly wouldn't want to be reincarnated as one.
I had been playing around with the angle of the strobe, favouring it up high, and overall found it a great tool for making the images at Dosthill pop, particularly when deeper down, as with the pike.
The Benefits of Dosthill
Dosthill is a Special Site of Scientific Interest because of its thriving population of white-clawed crayfish, which can be seen poking out of holes and cracks along the walls. It's also
a Special Site of Geological Interest, the result of its fault line of limestone over granite.
For me it's the wildlife and variety that makes Dosthill stand out – it claims eight species of fish, including eels and carp, although I only got a glimpse of one of the koi as it swam past me.
Massive shoals of perch and roach cover most of the edges of the lake, and the fish come in a range of sizes, a good sign of a healthy eco-system.
Wrap Up
After 40 minutes in the water I recognised the gun-turret, a sighting that meant we had swum the entire length of the lake! Because we had been diving shallow we had plenty of air left, so we decided to try to photograph the roach at the entry point.
Although a bit more confident than the others around the lake, they still proved somewhat wary. I sat on the 5m platform in one spot and waited for them to get used to me before capturing a couple of images to end what had been one of the best freshwater dives I've ever done. It won't be my last at Dozzi.