archive – Far EastConfessions of a Photo Pro
Teaching underwater photography in a Coral Triangle paradise might be thought the ideal way of life for a diver, but Gill McDonald never forgets that it is a job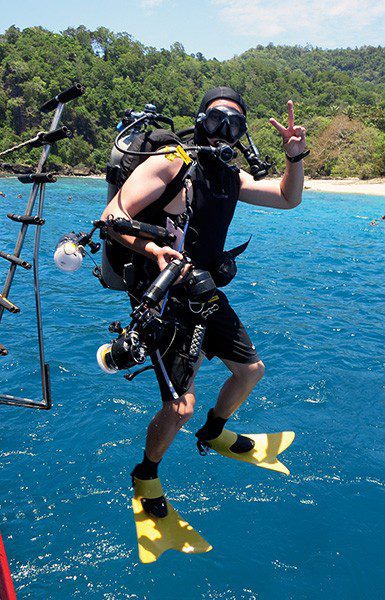 DAVE WAS STILL HAULING himself, along with half the Celebes Sea, up the dive-ladder when, wearing a huge smile, he punched the air, shouting: "YES!!!"
Back home in Shrewsbury, Dave is a property lawyer. An important job, as I'm sure we all respect, but not involving a great deal of air-punching.
Here, he had just spent half an hour at 10m on the bountiful coastal dive-site BMJ, working with a pale beige whip-coral shrimp the size of a paperclip, and he appeared to be over the moon.
We wouldn't know for sure until we headed home for part three of his full-day workshop, post processing, but he was very excited. Underwater photography can do that to you.
The evening before, in the jetty bar, Dave and his fellow-guests had watched the short presentation I show to all new arrivals. Using my own photos, I offer a taste of what lies ahead in the spectacular, world-class diving wonderland of Bunaken National Park, on our very doorstep and just visible behind me in the fading pink and orange glow of a gorgeous sunset.
Look closely at that bubble coral on one of the coastal reef sites and you may see an orang-utan crab; cuttlefish often hang out in the seagrass on the excellent house reefs; peer under overhangs on the beautiful Bunaken walls and perhaps a turtle will be sleeping.
I also explain how, as the resident photo pro, I run a range of courses for divers designed to make the most of their own photography, regardless of level or equipment.
Most people seem to enjoy the show and interact very positively – oohing, aahing and getting excited about the next day's diving in one of the world's best dive areas. I often gain enthusiastic clients at this point, so it's a win-win thing.
However, because diving attracts Everyman, there are a few sceptics. "You've obviously got a really good camera" is the most common comment – and the most irritating!
I do have a good camera, as it happens, but my skills and experience in using it are what produce the results.
"I've only got a compact camera so I couldn't possibly get pictures like that," is another lament. I have learnt to mitigate against these naysayers by including a few images taken with my modest compact set-up. I confess that the reaction I get when I point these out in retrospect gives me devilish satisfaction.
"Pah to your negativity, here's what you can do if you're prepared to learn!" I inwardly grin.
I firmly believe that any camera system can produce successful results under water if you learn how to use it and work within its limits.
Sure, my main set-up is a Nikon D7200 SLR with a range of lights, lenses and add-ons. But for teaching compact-users, be they beginners or advanced, I always use my Canon S110 compact.
I show people a picture of a tiny octopus half in and out of a bottle on the sand with the blue sea beyond, or a gorgeous black hairy frogfish, and explain that the shots were taken at the wonderful coastal muck-diving site City Extra, with my compact with no flash, no add-ons, just like their own set-up. All true, there are no smoke or mirrors here.
MOST OF MY CLIENTS are charming, chilled people. Willing to listen, eager to explore ideas and thrilled at the chance to learn and practise in such a location.
Many just need to understand how their kit works – "Wow, that button does that? Awesome!", or "I got closer and pointed up, like you said, and just look at this nudibranch – I can't wait to show my friends!"
As a resort-based photo pro I have a strange lifestyle, a far cry from the corporate banking corridors I used to walk in London. There, though I met many people, they mostly walked very similar paths to me.
Now, I can meet an airline pilot one day and a furniture-maker the next. One day I'm teaching a couple of Singaporean actors, the next a chef from Edinburgh.
My clients range from absolute beginners who took their camera kit out of the boxes when they arrived, to serious amateurs who are keen to spend a whole day fully mastering their SLR system and move their already-proficient photography on to a higher level.
It's an interesting, rewarding adventure. There is little so satisfying as seeing a lightbulb go off above someone's head when they "get" manual white balance or wide-angle strobe positioning, and return next day brandishing wonderful photos to prove it.
My goodness, however, it can be challenging dealing with people. Julie, a retired GP from Norwich, was a very reluctant student. Her buddy was extremely keen and receptive, while Julie was dour and unwilling to believe that I could teach her anything useful.
Thankfully, the one-hour express course takes place in the evening, in the bar, if you get my drift. She let herself be dragged along and, despite questioning virtually every nugget, thus turning it into a two-hour not-so-express course, she returned from diving next day with what was almost a smile on her face.
The improvement in her photos was radical, though she refused to admit it.
There are the occasional freeloaders: "So, now you've responded to my relentless stream of questions about macro photography [I haven't given much away, to be honest], today tell me all about wide-angle."
Well, no. You have now solicited my free advice several times over. Pay for my course, my expertise and experience, which I have spent 16 years building from the days of film. I have many answers and ideas for you, but I'm also making a living here, and my knowledge has a value, just as you wouldn't expect a plumber or accountant to be instantly available, for free.
WE ARE IN NORTH SULAWESI, inside the perceived Coral Triangle at the very top tip of Indonesia, a large and diverse nation boasting more than 17,000 islands. If a place was ever tailor-made for enjoying, and teaching, underwater photography, this is it. A thriving kaleidoscope of colour and life busies itself about the spectacular walls and reefs of Bunaken National Park.
Along the coastal area south of Manado, still in the park but away from the spectacular walls, are some fantastic sites such as City Extra, Gorong Gorong and BMJ. There are critters aplenty there, from hairy frogfish to tiny octopuses and flamboyant cuttlefish.
Recently I was with a student couple, each of whom had different needs. One was rather more advanced than the other.
City Extra is a wonderfully productive, pure sand muck-dive, and I took the more advanced wife away a little to practise creative lighting on a beautiful seahorse, while her husband remained with the dive-guide, working on a brightly coloured nudibranch.
When we returned, another diver, festooned with a substantial camera set-up, had "adopted" my student and was giving him vigorous hands-on assistance. The poor guy looked completely perplexed and, frankly, a little traumatised, as she was manhandling his camera, changing all the settings and directing him to point here, there and everywhere.
As we drifted in, she then decided to "assist" me. Big mistake, huge. After I politely, but very firmly, refused her unsolicited "help", with a look of sheer effrontery she then moved on to my advanced student.
I won't dwell on the scene, which we had a good laugh about in the bar afterwards, but you can imagine. I'm sure she meant well, but her approach was both audacious and intrusive and, yes, a little scary.
There were some new underwater signals created that day, and some substantial underwater glaring in the mix.
KEKUAN 2 IS PERHAPS THE MOST iconic dive-site in the area, as it stretches along the front of Bunaken Island. A vertical wall is festooned with hard and soft corals, multi-coloured crinoids and giant barrel sponges, as it literally fizzes with marine life.
Large schools of grey snapper, vast clouds of red-toothed triggerfish and delicate yellow and white butterflyfish make way for divers as they drift through this enchanting scene.
Turtles, mostly hawksbill with the occasional green, are pretty much guaranteed here, and it was on one such creature that Johan and I were focusing.
At least, so I thought. Johan was an advanced photographer with an SLR set-up and two strobes. He was keen to improve his wide-angle lighting technique, so we found ourselves hovering in front of a large gorgonian fan growing along the wall.
Right next to the fan was an enormous turtle resting on a ledge, with the look of ages in his ancient eyes. He was wedged right in and extremely well camouflaged, unfazed by our presence.
I indicated the best technique to light the turtle and fan together, and Johan kept signalling enthusiastically "yes, yes, got it", then moving to an awkward position, missing half the turtle and virtually colliding with the fan.
It's always a good rule of thumb to get closer, but this was a little extreme.
After 25 minutes of a dance in which he would move in and I would encourage him out, we eventually left the scene and slowly shallowed up.
After drying off on the boat with a coffee and freshly cooked pisang goreng (fried banana snack) in hand, we discussed the session.
"Did you manage to light the turtle?" I enquired. "Let's have a quick look."
"Turtle?" replied Johan. "What turtle?"
After a moment of disbelief, I looked at his screen, and there was a beautifully lit long-nosed hawkfish sitting amid the fan. Johan had captured the creature and fan perfectly with a close-focus, wide-angle technique we had explored on the morning dive, and I felt rather foolish.
I had been so focused on the turtle, I hadn't even seen the hawkfish. Lesson learned for the teacher: examine your environment carefully – and never underestimate your students.
MY MAIN GOAL WITH BEGINNERS is to put people in control of their photography so that they know exactly how to achieve repeatable success. In short, to wean them off the safety of Auto and Underwater modes, or the Program mode some guy on a liveaboard told them to use, and on to being in full, manual control.
Underwater photography is so hugely accessible these days, with compact-camera systems costing a lot less than many overseas holidays, so many people head under water armed with a camera but no real idea of how to use it.
They return with washed-out, or overly pink, out-of-focus images in an acre of cluttered background, and become very frustrated.
Any discipline, for example driving a car or gourmet cooking, can be learned, but just jumping behind a wheel or standing in front of an oven does not produce results.
So too with underwater photography. There are skills and techniques to be mastered to produce pictures you'll be proud to show off, taken in a way that's repeatable on your next diving holiday.
I know some teachers throw their beginners into Underwater mode so that they get vaguely colourful pictures very quickly, but to me this is counter-productive, and suppresses self-confidence and self-development.
Most people arrive on holiday, accept their welcome cocktail (alcoholic or not) and sink into their jetty-bar chair in front of a spectacular sunset with relief and joy. Spectacular, warmwater diving in one of the world's most famous dive-locations and nothing to do but enjoy.
However, I've just worked nine days in a row, have had mostly lovely, energising clients along with a couple of prickly customers, and much as I love what I do, I need a little time out.
"But Gill, you're on a perpetual holiday!" you're thinking. Well, please do not think me churlish, but I am not on holiday.
I wouldn't change my situation right now for the world. I rent a superb, stupidly cheap house in a lovely, friendly village in a tropical paradise.
I have world-class diving at the end of my road and I no longer walk those awful corporate corridors. My job is varied and immensely rewarding, be it a one-hour course or a full-day workshop. I am following my passion and I am fortunate indeed.
But if I don't want to spend a third consecutive evening in the bar with you, if I don't want to, or haven't got time to, spend every day on the boat with you, please don't take it personally. I'm working here; I have other demands and also need time off, just as you do.
And what of Dave? When we returned to base to conclude his workshop and started processing his images, he had totally nailed the whip-coral shrimp.
It was pin-sharp, perfectly lit and well composed. Dave was thrilled, and when he returned home a couple of days later, he framed that image and sent me a photo of him sitting at his desk beaming with it behind him.
Now that is job satisfaction.
• Gill McDonald is resident photo pro at Tasik Ria Resort & Spa in Manado, North Sulawesi, and with its partner resort Dive into Lembeh. She is also Editor of the quarterly Scuba Diver Ocean Planet magazine out of Singapore, and is a teaching-status PADI Instructor. Gill's courses range from a one-hour express to half- and full-day workshops. Tailor-made sessions of any duration can be arranged by contacting gill@gillmcdonald.com
Appeared in DIVER October 2016