SPAIN DIVER
Costa Brava Sur-really Great
It's close to the UK and convenient. It has great sites that you can dive year-round. It's stuffed full of world-renowned culture, sport and great food. Why aren't we all heading to the Costa Brava? asks enthused convert LOUISE TREWAVAS. Photography (except wrecks) by JOAN MIGUEL FLAMARICH
One of the grouper in the Illes Medes marine park.
Appeared in DIVER May 2018
THE PLANE HAS BARELY taken off and we've already arrived at Barcelona. I hadn't even finished chatting to my neighbour or eaten my snack before the minibus arrives at our hotel in L'Estartit.
At this point I realise that getting to the Costa Brava is actually quicker than driving from London to Weymouth on a Friday night!
It's great to stay in a place where you can wake up and look across to your dive-site. Hotel Les Illes is smack on the seafront in the town-centre at L'Estartit.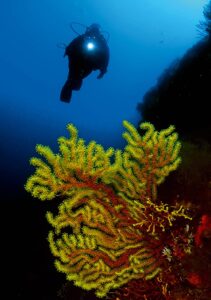 The balconies are gaily adorned with wetsuits, drysuits and other signs of diving activity and the view across the marina is of Les Illes – the islands I'm about to dive.
The reception is effectively a dive-centre counter, and you can pick up your room-keys or a dive-computer, and confirm your spot on the dive.
This is the kind of hotel where everyone is a diver, and the flooring is designed so that you can walk from the dive-centre on the ground floor to your room while still suited up. Marvellous.
Yes, this place is Diver Central. Divers flock here in small and large groups from France, Germany, Italy, Spain, Belgium, Denmark, the Netherlands… Many dive-clubs have regular bookings and return year after year.
It's a happy gathering of different nationalities united by a love of diving. Clearly they have spotted an opportunity here that we Brits – in our focus towards Benidorm, Marbella and Majorca – seem to have missed.
THE BOAT DRAWS CLOSE to the steep rocky side of Les Illes – the islands; our dive-site. I've been fully kitted out by the dive-centre here, and my thoughts before I step off the boat for my first dive are all about equipment – maybe this wetsuit won't be warm enough? Is this BC a bit large? Should I stick an extra weight on my belt (Nah!)
I hit the water and am surrounded by a storm of fish; all thoughts of anything else have disappeared. The visibility is easily 20m as we descend. The island holds a secret – it's actually a tunnel.
Our torches pick out the bright colours of soft corals, and the bulk of a dozing grouper, wedged into a crack in the side of the cavern. We're in the Natural Parc Illes Medes, a protected site, and the grouper sleep easy round here. If you were wondering where the fish in the Med have got to, the answer is: Costa Brava.
By now another grouper has arrived, and it greets the dive-guide like a hesitant dog discovering an old friend. A slow dance of recognition begins. The sleeping grouper has now roused itself and wants to join in. I could happily watch this magical encounter for hours, but the guide is eager to show us more of the site.
I climb back onto the boat and I'm thinking: "OK, we've just done the best dive this place can offer, and it's going to be downhill from here on in." I'm wrong, of course. Every dive seems to get better!
A SHORT DRIVE FROM L'Estartit is Roses. A smart-looking dive-boat is full of enthusiastic divers all looking forward to setting off for their dive – except that some wally has managed to leave a dive-mask behind.
Yes, it's me.
It's a quick scoot back to the dive-shop, where they find me a suitable replacement to borrow. The Roses Sub dive-guide is so kind and so professional that I feel humbled. I'm determined to come back here in the future.
Of course, it's super-embarrassing to hold up an entire boatful of divers, but there are no recriminations and everyone seems to be enjoying the sunshine. Fortunately there are no tides in the Med.
We're looking for something – I think it's barracuda? Perhaps a manta ray. Inevitably, we're going to find everything but that. I keep spotting nudibranchs, but everyone else is picking over bits of wreck. I've found an octopus, but the others have been distracted by a small moray eel. There's certainly no shortage of entertainment.
When the guide signals for me to turn around, it's just too soon. Can we keep on looking a bit longer? I ask.
At Palamos we visit the Boreas, a proper big swim-through-the-holds wreck. You can visit the props, explore along the deck and prod the rust to your heart's content. What better way to spend a dive? And in water so clear that you can always spot the line, your buddy and the next bit of wreck to explore.
I'd strongly recommend that you look it up on YouTube, because the footage there alone is enough to make you want to jump on a plane.
COSTA BRAVA IS THE birthplace of the surreal, and this place is surreally good. So stunning that it defies belief.
Triton Diving's centre is small and perfectly formed. It's set on a road looking down at the town, beach-front and the marina beyond. Gorgeous doesn't even begin to describe it.
We dived at Ullastre, where the underwater topography has thrown up ridges of rock smothered in bright yellow seafans. It's spectacular and hypnotic and very other-worldly.
We are also fortunate enough to dive with local legend Emilio, who established the dive-centre with his wife Lotti some 40 years ago and knows the waters here like the back of his hand.
The visibility is awesome. The colour is mind-blowing. And the fish are phenomenal. We pause at a pinnacle while shimmering clouds of tiny silver sardines pulsate all around us – chased by larger fish, who themselves are being hunted by aggressive-looking jack.
It's constant drama and movement, with fish swirling above and around us in every direction. Unforgettable.
In contrast, most of the town's inhabitants are relaxing and barely moving. It's usual to take a gentle stroll to a table overlooking the beach and enjoy a drink as the sun starts to sink towards the sea. So blissful, you might begin to doubt whether it's real.
The Iberian Peninsula
In 1957, British tourists got their first taste of package holidays through flights to Valencia in Spain, and the "Costa Blanca" was born. Tour companies then moved their offerings south and popularised Benidorm and Marbella ("Marbs") on the Costa del Sol as destinations.
These areas became home to a thousand expat pubs, a variety of gangland escapees from justice and, more recently, some toe-curling TV reality shows.
North of Valencia is Catalonia and the astonishingly gorgeous Costa Brava, which has largely escaped the attentions (and worst impacts) of the package tourist industry.
There's no border to cross, but it's effectively another country.
Catalonia retains a distinct identity. It has a world-class cultural offering as the home of Dali and Picasso among others, and the architecture of Gaudi. The cities of Girona and Barcelona are both recognised as World Heritage sites. And in Barcelona FC, it has possibly the best-loved football team on the planet.
When not diving, visit Figueres, just outside Barcelona, for the Dali Museum. Where else in the world would you find a larger-than-life statue of a hardhat diver straddling the front of a building like a Greek god?
Also Girona, so spectacular that it became part of the Game of Thrones set, and Barcelona, legendary in every sense. Lose yourself.
Louise's 3 reasons to dive Costa Brava
 You won't run out of dive-sites
You can dive all the way along the coast with a great choice of wrecks, reefs, and caverns. Llafranc alone has more dive-sites than you could visit in a week. It's convenient to get to, the diving is well-run and the packages are affordable.
 You can dive year-round
While peak season is summer, the conditions are so good and the place so enduringly popular that the hotels and dive-centres operate every month of the year. The water temperature doesn't drop below 13°C (in the first three months) and peaks at 24°C in August.
You won't go hungry
The Catalonians love their food and drink. Every meal we had was phenomenal. The full-board option at Hotel les Illes with a friendly open buffet is perfect for divers. Llafranc has streets of laid-back bars and restaurants; it's heaven to sit outside on the sea-front in the sun and enjoy your post-dive drink. Further afield you have an amazing choice, with everything from world-class cuisine in Palau Lomirador, a restaurant based in a castle, to one of the best flat whites on the planet in the La Fabrica bike café in the medieval heart of Girona.
FACTFILE
GETTING THERE> Budget flights from most UK airports to Barcelona or Girona. Car hire is a good idea.
DIVING> L'Estartit – Dive Centre at Les Illes, divinglesilles.com. Roses – RosesSub, rosessub.com. Palamos – Dive Centre Palamos, palamosdivecenter.com. Llafranc – Triton Diving, tritonllafranc.com
ACCOMMODATION> L'Estartit – Hotel Les Iles, hotellesilles.com
WHEN TO GO> Year-round.
MONEY> Euro.
HEALTH> You need a medical certificate from a local practice to dive with the dive-centres. The Centre Medic in L'Estartit charges 50 euros.
LANGUAGE> Catalan but English widely spoken and understood.
PRICES> Seven nights' full board in L'Estartit with 10 dives in May/June costs 600 euros (non-diver 400 euros), hotellesilles.com. Return flights from £110.
VISITOR INFORMATION> Costa Brava Tourist Board, en.costabrava.org. For diving, Ramon Verdaguer of the Association of Diving Centres in Costa Brava can provide the latest advice on any aspect, [email protected]