OMAN DIVER
Hallaniyats – An Archipelago Less Travelled
The new liveaboard Oman Aggressor is revealing hitherto unknown dive-sites in the Arabian Sea, and visiting others that rarely see divers. The result? Happiness, certainly for RICHARD ASPINALL
IT HAD BEEN A BIT OF A SCRAMBLE up the rocky, scree-covered slope. A few scrubby bushes were clinging onto life in this parched landscape. Overhead, seabirds whirled, occasionally breaking away from the flock to fold their wings behind them and dive arrow-straight into the seas around this little island of Al Qibliyah, the most easterly and remote of the Hallaniyats.
We had climbed up to get a better view of the rocky coastline below us. A long finger of rock reached out to an isolated lump of stone around which we would dive later. Closer to shore, glinting in the Arabian sunshine, was our home for seven nights, the Oman Aggressor.
What struck me most perhaps, coming from an island with such very busy seas, was the absence of any other vessel. No bulk container ships on the horizon; no small fishing vessels to be seen. The Hallaniyat Islands were living up to their reputation for being off the beaten track.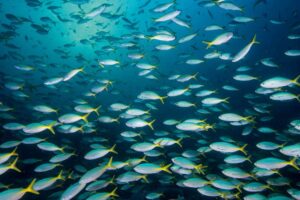 You'd be forgiven for never having heard of this barren archipelago on the south-eastern shore of Oman. As I understand it, only a couple of boats have operated in these waters, and being one of the first to dive in this relatively unexplored area was quite exciting.
Add the fact that this 45m vessel is new – it went into the water for the first time last November – and I was looking at a very interesting trip.
I had flown to Muscat, and then made a two-hour hop south-west to Salalah. The boat's home port is a marina just east of the town at Salalah Beach, built along with a series of hotels and restaurants that serve locals and international tourists alike. I can recommend a night there at either end of the trip – it's the perfect way to unwind.
The Oman Aggressor is a beautiful boat, long and spacious with a beam of 8.5m. It can carry 22 guests in very comfortable conditions, with a spacious main lounge for relaxing, dining and dive-briefings.
Aggressor, as an operator, sells itself on the quality of its boats and the service onboard – and with good reason! I can honestly say that having warm towels draped over you after a night-dive, three types of freshly squeezed fruit juice at breakfast, and proper coffee (from a machine), have spoilt me somewhat.
We left the marina in the early hours on a high tide, sailing east to the Hallaniyats, but on the way there was a planned stop to allow us to dive a site called Ras Mirbat. Being only 20 miles from the marina, this would serve as our check-dive.
I had no idea what to expect from this part of the Indian Ocean. Would the Arabian Sea have anything unique? Would it be a little like the southern Red Sea, or more like the Maldives or even Mauritius? I knew there would be some endemic fish species here that I wanted to see (being a bit of a geek in that department) but what about the corals? Would I be able to look back at my images and say: "Oh yes, classic Arabian Sea."?
Ras Mirbat juts out to sea, turning into four great fingers of rock under water.
We dropped and found a coral landscape that was indeed unique: hard corals were dotted around, healthy, yet single specimens (rather than being part of complicated growths, as you'd see in the Red Sea, for example).
There were whip corals, gorgonians and colonies of corals with large flower-like polyps that swayed in the swell. It was this latter type that seemed to make up most of the coral growth.
Appeared in DIVER May 2018
I WAS FOLLOWING one of the guides, Shaker, an Egyptian chap who was equally excited about exploring this region after previously working in his home waters. We spotted a few nudibranchs, and both took some shots before my camera flashed "card error", and I remembered that one of my memory cards had been troublesome before.
"Oh well," I thought. "I'll simply enjoy the dive – if that's all that goes wrong after such a long trek, then I'll take it."
Our second dive was to a wreck, known locally for its proximity to the Marriott hotel. That's all anyone knows beyond the fact that it's old and steam-powered.
Perhaps some locals know the vessel's identity? At 70-80m long and very broken up, it was a bit disappointing. Yellow sun corals looked great on the steam tubes on one of its massive boilers, but otherwise it was unexceptional. That is, it was until we night-dived it a few hours later.
By night the wreck reminded me of one in the Red Sea, the Barge at Gubal – a dull-looking dive in the daytime but one of the finest night-dives you could experience. The jumbled deck-plates and spars were packed full of huge sleeping parrotfish, urchins, octopuses, decorator crabs and a small cuttlefish I came across that I swear was imitating a hermit crab.
It had hunched its "legs" under its body and, using only the tips of two tentacles, mimicked the mouthparts of a crab so well that I had to look twice.
With a fresh memory-card and a macro lens on my camera, I had a wonderful hour on this shallow wreck among the blue-spotted rays, a torpedo ray and a very patient squid.
During the night we left the coastline for the island for Al Hasikiya, which meant a journey of eight hours' uninterrupted sleep for me, something that doesn't always happen.
We enjoyed a few dives here among massive car-sized boulders, swim-throughs and caves, all populated by shoals of fusiliers, goatfish and bannerfish. Neon blue-lined Arabian dottybacks were everywhere. At night, the nudibranchs came out, including the wonderfully named beautiful risbecia.
It was on the night-dives that I came to appreciate just how rich this area is in terms of marine life. Christmas-tree worms were everywhere, as were coral crabs – some shiny, some hairy (like ugly teddy bears), living their lives among the hard branches of coral.
Al Qibliyah, the most remote island, was similar, and even though I was tired after my hike I enjoyed the dive around Al Qibliyah Rock. Once again, we had sailed through the night and, from the next day onwards, would slowly start to work our way back towards Salalah.
By now I'd fallen into a nice rhythm of liveaboard life – the hallowed dive, eat, sleep and repeat. Between dives, the guides were exploring, looking at the way the land ran into the sea and checking out places they thought might be interesting.
It must be exciting to be in their position, with so very much more to discover. I can only imagine that in six months' or a year's time the list of dive-sites will have grown longer, and the guides will be able to pick and choose, as their knowledge of the local currents increases.
DAY FOUR FOUND US at the island of Schmies, the smallest of the group. Our first dive was to be one of the best.
As we dropped onto a series of rocky ridges with sandy channels between them, I could see huge amounts of soft corals: dull grey, but under a light, every hue of pink and orange imaginable.
Among them were shoals of red-tooth triggerfish, as you might find in the Maldives. Diving here would reveal a different aspect to the islands' eco-systems, for whatever quirk of biology.
Perhaps it was the availability of plankton in the currents, but things here were different again.
On a later dive, we came across a huge grouper, appropriate as the site's name was Angry Grouper which, incidentally, will be the name of my third album if I ever form a prog-rock band.
I've never had much luck getting close to grouper, but this one seemed quite relaxed. In fact that was something of a theme. We could get close to many of the fish shoals, as if they didn't perceive us as a threat, whereas the dolphin pods would stay well away from the boats and divers.
Talking of marine mammals, if you do this trip someone, at some point, will mention humpback whales and the population that lives permanently in these waters. Don't expect to be in the water with the whales, but you might – as we did – see them from the surface.
At least, we saw a few spouts from a distance. Cross your fingers and hope.
ONE OF OUR LAST DIVES in the islands was also one of the best, at a spot known as Fish Highway. Once more the seacape was rocky, with sandy patches. A gentle current was flowing – nothing tricky – and the water was full of the usual denizens: fusiliers, goatfish, bream and so forth.
The rocks were dotted with tall stands of soft corals, their pale "trunks" turning to postbox-red florets. It's easy to see why they're often called broccoli corals (even if the colours are at the other end of the spectrum).
An eagle ray passed by, and as we followed a channel, the numbers of fish increased. Perhaps it was our presence, but a few of us found ourselves within a swirling vortex of fish that were moving almost too fast to photograph.
A gyre of light-blue fusiliers, streaking past and over us, circled us in a living whirlwind. On the RIB, we decided that the site would be better named Fishnado.
My final dive would be on a wreck. We had left the islands after a brief stop at Al Sawda for a few dives and were now once more at the mainland, near a headland called Ras Qinqarni.
As at Ras Mirbat, the seafloor was marvellously diverse – animals from every branch of the tree of life covered the rocks and competed for space and light.
During the day-dive we had explored and been buffeted a little by surge and current, but nothing too challenging.
I had managed to get some shots of both juvenile and adult Oman clownfish, which are found only in these waters, and had indulged my nerdier side with some more nudibranch-spotting.
The night dive was on a pile of old iron called the China Wreck. If anyone knows its history they haven't told the dive-guides, who know only its country of origin. Being so shallow – you'd struggle to hit 5m – this was an ideal dive for the end of the day.
The wreck sheltered huge amounts of life, despite being so broken up. It was akin to a pile of scrap with little but an old anchor and some battered boilers to hint at its earlier ocean-going days, but even after an enjoyable 45 minutes of photographing octopuses and Christmas-tree worms, I discovered that the life was not what would make this wreck-dive so memorable – there was more to come.
The RIB was waiting to pick us up as I surfaced to a blaze of stars, and as I dekitted I realised that there was a ghostly blue light around me and sparks were triggering in the water. It was the finest example of phosphorescence that I had ever seen.
Passing up my weights revealed streaks of blue running down my arms; taking off my fins created pulses of eerie light. It was quite wonderful!
And as we got underway, everyone back on the RIB and looking forward to yet another superb meal, the light from our bow wave and wake was bright enough to see my computer by. As millions of tiny creatures in the plankton gave up a little bioluminescence, I was witness to a boat full of happy folk.
FACTFILE
GETTING THERE> Richard flew with Oman Air direct from Manchester to Muscat, followed by an internal flight to Salalah. A tourist visa can be bought at Muscat airport for 20 OMR (approx £35).
DIVING & ACCOMMODATION> Oman Aggressor, aggressor.com/omanschedule. Itinerary options include the Musandam Peninsula and Daymaniyat islands. Richard also stayed at the Juweira Boutique Hotel, Salalah Beach, juweirahotel.com
WHEN TO GO> Oman Aggressor visits the Hallaniyats through November to April, and in summer covers Musandam and the Daymaniyat islands.
MONEY> Omani rial, but it's best to carry US dollars. The boat has no facilities for card payments.
PRICES> Return flights from £380. Seven nights on the Oman Aggressor from US $3515. Marine park and port fee $200, nitrox $100 for the week.
VISITOR INFORMATION> omantourism.gov.om