Underwater photographer ELLEN CUYLAERTS might hail from Belgium but she calls Grand Cayman her home. Here she shares some of her favourite dive-spots from around the island
The Cayman Islands offer year-round diving in pristine clear, balmy waters – and I'm the lucky one living here, with a choice of 365 dive sites – one for every day of the year! Because there is hardly any industry on the islands and no rivers, there is no run-off or sediment to ruin the visibility, and on calm summer days, 35m vis is not exceptional.
A water temperature of 26-27°C will draw the most-spoiled diver under water and, although big schools of fish are vanishing all around the world and coral is having a hard time because of human-induced stress factors, Grand Cayman waters long seemed to have found the secret key to resilience. 
For a long time after taking up underwater photography I found I couldn't stop documenting the beauty beneath the surface of the place I call home, but then took a four-year break that involved a lot of snorkelling with big animals in cold places, returning to Cayman waters only for conservation reasons, or to see the mesmerising silversides when they appear in the grottoes.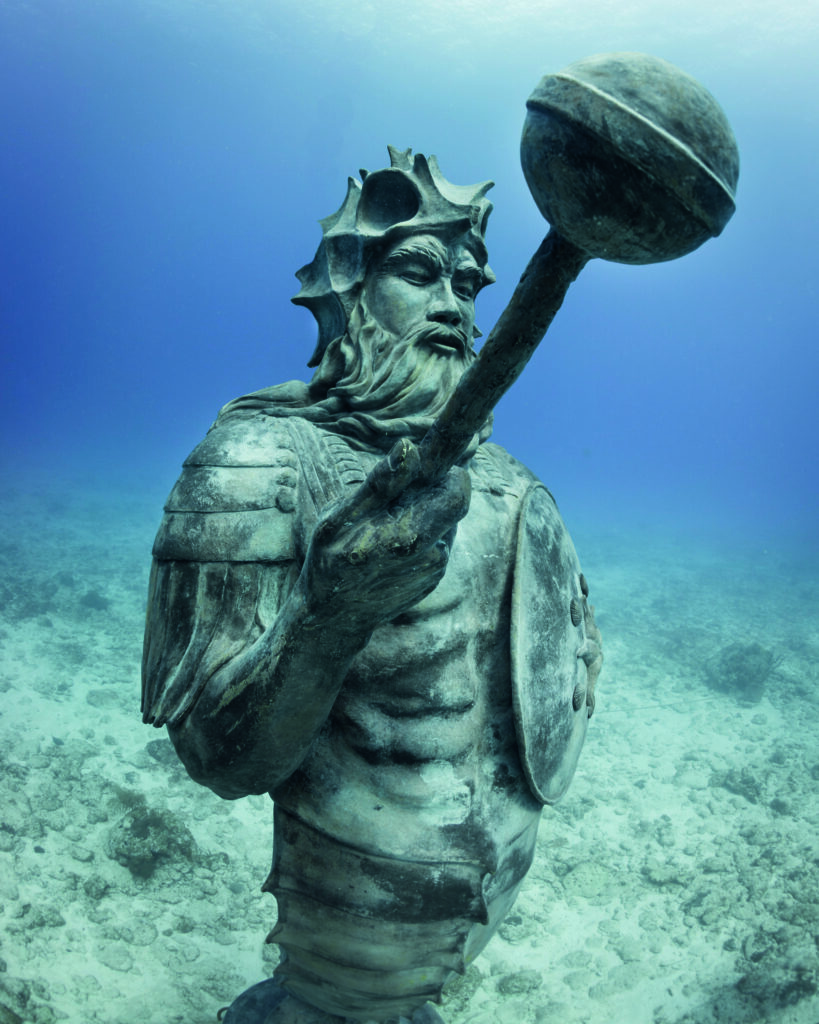 Then I had a British "Cayman virgin" visitor, Garry Dallas from RAID, and couldn't wait to show him the best spots on Grand Cayman. And guess what? Going back with additional knowledge about coral reef ecosystems and the stress they endure, my appreciation for the local reefs and the life on them opened my eyes even more to the beauty they still hold, and the comeback they are making.
My favourite dives are shore dives, because it allows me as a photographer to pick and choose and revisit as much as I like. But if you just want to have great easy dives, boat dives with valet service can take you all around the island, depending on the operator and where it is is based.
Different parts of Grand Cayman have their own peculiarities – from swim-through openings that bring you right into the big blue at the East End wall; through grottoes with tarpon hanging out in Georgetown and colourful deeper pinnacles on the lesser-dived North Wall; to a bit less visibility but more chance of big encounters in the blue at North West Point.
Lighthouse Point Reef
Lighthouse Point is situated on the north-west of Grand Cayman and is the home of dive operator Divetech. This shore-dive location offers day and night entries, as long as the weather conditions allow the ladders to be out – on tropical islands the trade winds can pick up quickly and change the water conditions locally. Register at the office during the day and reserve your tanks, and you're good to go.
This side of the island is known to attract some of the currents that bring lots of nutrients and surge among the ironshore – hence the presence of a wide variety of small critters, bigger schools of fish and some sightings of larger animals such as hammerhead sharks and eagle rays in the blue.
Because of the buoys and markers, Lighthouse Point is easy to navigate and, depending on your goal, you can choose from a number of different dive plans. Don't forget to spend some time with the Guardian of the Reef, an impressive work of art by Canadian sculptor Simon Morris and sunk in 2014.
Majestic and silent, the Guardian keeps an eye on his reefs, and when you dive near the statue at dusk you might almost expect him to come alive – or is that just wishful thinking?
Ironshore Gardens
Technically, this dive-site is located on the south-east of Grand Cayman, but it belongs to the East End district and can be reached by getting onto one of Ocean Frontiers' boats.
Ironshore Gardens is shallow (average depth of 9m) and allows a long dive gliding through the canyons and swim-throughs so familiar to East End wall divers, except that… this isn't a wall dive. It is instead a very diverse journey through ironshore and coral boulders that protect you from surge, with sandy patches in-between where sting rays, eagle rays and turtles can be found resting. 
Meanwhile, schools of horse-eye jack contrast nicely with the blue, and schoolmasters and mahogany snapper travel over the reefs. Tarpon hang out around or in the wide swim-throughs, and one of the "caverns" is even named the Throat.
This is truly one of the most beautiful and less visited dive-sites of the Cayman Islands. If you want to dive east, mention it to your operator before you book and perhaps they will make it happen.
Babylon
Some diehard Cayman Islands divers have never been lucky enough to dive the North Wall's most-spectacular dive, because it's also almost the furthest to reach, and the north is most prone to heavy winds and choppy seas. But this one is really worth hitting as a shore-dive, especially on sidemount.
The swim out is about 500m and with one tank you would have to do that at the surface, with almost 100% chance of a sore back the next day, but sidemount diving gave us the possibility of a beautiful steady navigation to the Babylon pinnacle, moving through the water at an average depth of 7-8m and keeping an eye on the sandy patches and coral heads below us for unexpected encounters with bigger marine life.
From afar you can see the blue getting darker, and feel the attraction of the wall. That sight and feeling alone makes the shore entry worthwhile.
Descending to the pinnacle, make sure to have some lights with you, because Babylon will show you some of the best-preserved sponges and corals in Cayman waters, in an abundance rarely seen these days. The huge fans of black coral veiling colourful tube sponges is stunning.
USS Kittiwake
This artificial reef was sunk in 2011 at a depth of 20m, close to West Bay Dock. The aim was to limit the overhead environment by creating big holes at strategic places and offer this as a guided recreational boat dive.
The passing of tropical storm Nate through the Caribbean in 2017 left the wreck lying on its port side and it was pushed some 6m deeper and close to some big coral boulders that teem with life. 
As a photographer I've always preferred two consecutive dives on the outside of the wreck, because I love to witness the changing of the light during the day and the differences in visibility and sand reflections on the Kittiwake.
In a blink of an eye, conditions can change and your shot set-up can evoke a whole different mood. Apart from my fascination with natural light, there is a school of horse-eye jack that, when you are caught in their midst, can make what would otherwise be a static wreck dive extremely dynamic!
Normally this dive is offered only as a one-tank, though Off The Wall Divers will give you as much time as needed.
Devil's Grotto
Driving just outside Georgetown, still close to the port, you find Eden Rock Diving Centre. A humble blue building with a bar on the top floor, it is probably one of the busiest dive-centres in the Cayman Islands due to the easy access to the shore-dives at Eden Rock and Devil's Grotto.
You might suspect such busy sites to be damaged and empty, but this cavernous area is full of life and surprises.
Everywhere you look while swimming out to the shallow grottoes you can witness young coral growing and older coral restoring itself. Devil's Grotto is most famous for the presence in summer of big schools of silversides, with tarpon and other predators hunting them.
Swimming through a silvery curtain opening up in unison and closing neatly behind you, while sunlight enters the caverns and lights the scene discretely, is surreal and a goosebumps experience. But even empty, these countless grottoes and narrow connections never bore me – I could dive this site every day!
Conclusion
Diving these sites again over and over, I discover more interesting angles and marine life each time, and rediscovering my favourites on sidemount has given me all the freedom – and time – I need to get the shots!
Even if you have dived Grand Cayman before, it is time to return once again, and if you've never dived around the Cayman Islands, why not?
Photography by Ellen Cuylaerts
Also on Divernet: Grand Time In The Cayman Islands, Tour Of The 3 Cayman Islands, Caymans Divers Do Have Their Uses