archive – CaribbeanParadise with a black eye
From experiencing the ultimate in luxury to coping with the fall-out from mask squeeze and the unexpected sight of human bones, it was an eventful week in Nevis for MELISSA HOBSON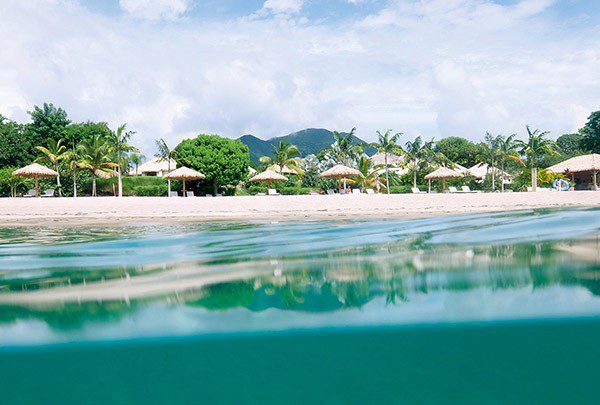 FROM THE MOMENT my plane touched down, I knew that I was in for an idyllic week. My private transfer picked me up from St Kitts Airport to whisk me away – via a short drive and a five-minute water-taxi – to the majestic, unspoiled Caribbean island of Nevis.
The sea breeze blew the stress of work away as the secluded island and its unmissable lush green mountain loomed into view.
Nevis appeared to be 36 square miles of paradise, so where better to stay than the luxury resort Paradise Beach?
From the thatched roofs that make the seven villas appear to melt into the backdrop of Nevis Peak to the secluded outdoor showers, this recently refurbished property was designed to guarantee guests privacy and tranquillity.
I sipped on an iced rum punch and pranced around my expansive villa, not quite believing my luck.
That night at the resort's beachfront bar I chatted to some of the other guests who had been diving with Scuba Safaris, the dive-school that would be looking after me for the week.
They had seen turtles, sharks and eagle rays. I hoped I'd be as lucky.
NEVIS HAS A TROPICAL CLIMATE, with average daily temperatures at around 25°C. Yet, just my luck, a storm system had swept through the day before my arrival. All seemed calm now, however – I hoped it would stay that way.
I was visiting at the end of August, off-season, so although several restaurants and hotels were closed for refurbishment until around October, the island being quieter meant that I could get into the best ones.
Like Bananas, by all accounts everyone's favourite dinner-spot, where we watched fireflies from the roof terrace after the sun had set on my first night on the island.
In the morning, I took a taxi to Oualie Beach to meet Ellis Chapelton, who runs Scuba Safaris. He filled me in on the history of our first dive-site, the tragic Christena passenger ferry that sank on 1 August, 1970.
On the day she went down, workmen had been below deck fixing the engine before she left St Kitts for Nevis.
The captain set out without realising that the watertight doors hadn't been closed properly, and the ferry, overloaded with around 300 passengers instead of the recommended 180, took on water fast. There were only 90 survivors.
The maritime disaster shook the community – almost everyone on the island lost someone that day.
WE JUMPED INTO the balmy water and dropped to 20m, where the memorial site of the 50m-long wreck was nestled, upright, on the seabed.
Covered in coral, the Christena looked quite pretty. With lurking lobsters, sergeant-majorfish, a few unwelcome lionfish and a good swimthrough, at first glance it was like any other wreck. But the signs of its demise couldn't be ignored.
And I don't mean just make-up bottles and trinkets that once belonged to passengers, but the bones of bodies never recovered from the wreckage, still scattered in the sand.
A skull leered at me from the floor of what was once the upper deck. Despite the 29° water, I shivered.
Most of the shipwrecks I have dived before have been scuttled as artificial reefs or went down with few or no fatalities. So I felt uneasy about the vast number of people who met a gruesome end here.
To add to my disquiet, my new mask (secondhand from a friend) had seemed to fit OK at the surface but at depth the pressure, combined with a tight seal that didn't budge when I tried to equalise, caused a moment of intense pressure.
That one second was enough. My eye, suddenly felt sensitive through the dive and on the surface, and sure enough the mask squeeze had ruptured blood vessels behind my eye – giving me tiny red dots across one eyelid and the early stages of a bruise on the other.
What with the bones and the bruising, I wasn't hugely disappointed that the next dive – at Bug's Hole – was totally different. And that, of course, included wearing a new mask!
Despite the recent storm, visibility was good and we had a clear view of the vivid coral reef. Instructor Elvin tapped his tank to get my attention. I couldn't believe my luck – after diving for eight years I had seen my first seahorse only in Grenada the previous year but within minutes of dive on Nevis dive, here was another.
I was watching the lovely yellow creature so intently that I almost missed a green turtle darting past.
The turtle, in turn, distracted me from an enormous sting ray, almost as big as me, buried in the sand, and another smaller ray a little further off.
A lettuce slug, which looked like a ball of tangled white hair, scuttled along a rock, and a blenny peeped its little black face out of a hole in the coral.
There was so much life on the reef: two octopuses, a green and a honeycomb moray eel, a wide-eyed flounder, lobsters, trumpetfish, countless false arrow crabs, flamingo tongues and a couple of pufferfish – one of which must have just been startled, as its spines were sticking out in all directions.
Oh, and five more seahorses.
I WAS PARTICULARLY PROUD of being the first to glimpse an orange seahorse camouflaged against a piece of coral. Or so I thought. Looking up to get the attention of the group, Elvin hovered in front of me, pointing at the seahorse himself. I'd been too engrossed to realise that he'd spotted it too.
It was a long, shallow dive, almost an hour at a maximum depth of 11m – just as well, as there was so much to see.
The huge variety of life below had distracted me from my injury. In the dive-shop, I looked in a mirror and found that my bruised eye was swollen half-shut.
Back at Paradise Beach an ice-pack helped reduce the swelling and bring out a big black bruise. Good thing I'd packed my sunglasses!
I wasn't going to let a pesky bruise ruin my trip, so the next day I was ready for our dive at Nag's Head North – so named because it's the shape of a horse's head.
The reef was teeming with life: among the pillar coral, bright seafans and sponges we found lionfish, stonefish, boxfish, moray eels, octopuses and several yellowhead jawfish.
Another sting ray had just wafted past us when, looking up, I saw a huge silver fish looming way above me. Elvin saw me watching it and laughed, motioning around us; this was just one of a whole school of bass.
During our break between Nag's Head North and our next dive, Shitten Bay, I sat on the top deck with the skipper and basked in the midday sunshine.
There was a small island nearby with lots of birds flocking around it. As we had time to kill, we drove the boat closer for a better look.
Dark-brown pelicans swooped down into the water, hunting for fish to bring back to their babies, which were nesting in the treetops and not yet old enough to fly. Frigate birds circled overhead, and we even saw kingfishers in flight.
The sight of a turtle coming up for breath reminded us that we were here for what was below the surface, not above, and we kitted up again.
SHITTEN BAY WAS BETTER than the name suggested, which was a relief.
We saw no turtles under water but we did see green morays, more pufferfish, boxfish, cowfish, a huge ray and some tiny shrimp before calling it a day.
Frustratingly, I was just climbing back onto the boat when the rest of the group spotted an eagle ray. By the time I'd jumped back in, it was gone.
Being small, I tend to find that my muscles ache after a couple of days of lifting heavy tanks. So, back on land, I visited the hot springs near the Bath Hotel, where Admiral Nelson used to stay on the island.
The springs are so scorching that you can stay in the hottest bath (43°C) for only 15 minutes at a time, but locals swear that the 70-plus minerals in the steaming water are a miracle cure for ailments.
From hot springs on land we moved to the Hot Springs dive-site where we swam to certain sections of the boulder landscape and held out our hands to feel the change in temperature where jets of hot water were escaping from fissures in the rock.
We didn't see as much life on this dive (only in part because my mask kept flooding) but finding the right vents in the rock to experience underwater hot springs was pretty special in itself.
Church Reef would be my last dive of the trip, and a great way to end on a high. Tropical creatures filled the reef: spotted trunkfish, banded coral shrimp, octopuses, lobsters and hermit crabs, more sting rays, trumpetfish, boxfish, false arrow crabs, and a stonefish.
These final two sites were just off the coast from Paradise Beach resort, so we could look back at the picturesque conical roofs, designed to mirror the shape of Nevis Peak, from the boat.
Our final dive over, I headed straight for my favourite lunch spot: Sunshine's on Pinney's Beach.
With no more dives, I was free to enjoy a couple of its famous Killer Bee cocktails without worrying about getting "stung".
Living up to their reputation, just two small plastic cups of cocktail were strong enough to go straight to my head. I didn't envy the hangovers of the sunburnt American tourists who had been drinking them all day.
OPTIONS FOR MY FINAL days on the island ranged from paddle-boarding and snorkelling to a spa treatment or a stroll through the Botanical Gardens of Nevis, admiring its tropical trees, plants and flowers from around the world.
The first thing I'd noticed about Nevis was its mountain and, throughout my trip, Mount Nevis had always been in sight. So I didn't want to leave without seeing it up close.
Knowledgeable local guide Alfred Tysoe, better known as Baba, escorted me on a hike to the mountain's waterfalls, taking in along the way the flora and fauna of the rainforest, many of which are used as herbal remedies.
At sunset, I trotted along the beach on a guided horse ride with Nevis Equestrian Centre and was back at the resort for a final rum punch under the stars.
The green tinge now spreading across my bruised eye indicated that my time on the island was coming to an end.
In the final analysis I can only go along with Christopher Columbus, who described Nevis as "Queen of the Caribbean".
FACTFILE
GETTING THERE: BA flies to St Kitts from Heathrow. Water taxi transfers to Nevis can be arranged by Paradise Beach Resort.
DIVING: 5* PADI dive-centre Scuba Safaris, www.divenevis.com
ACCOMMODATION: Paradise Beach Nevis, www.paradisebeachnevis.com
WHEN TO GO: High season is from December to early April. You can dive from July to November but many hotels and restaurants are closed during hurricane season.
CURRENCY: Eastern Caribbean dollar but US dollars accepted.
PRICES: Elegant Resorts offers a seven-night stay from £2395pp based on six people sharing a three-bedroom garden villa, room-only, return flights to St Kitts, private transfers to Nevis and UK airport lounge passes, www.elegantresorts.co.uk. Scuba Safaris offers two-tank packages from US $110 a day or $455 for five days.
VISITOR INFORMATION: www.nevisisland.com
Appeared in DIVER January 2017