PHILIPPINES DIVER
Never mind the Threshers!
The words 'Malapascua' and 'thresher shark' have become inseparable, but it shouldn't be the case, say Henley Spiers & Jade Hoksbergen – even without the whip-tailed wonders, this island would still be a world-class diving location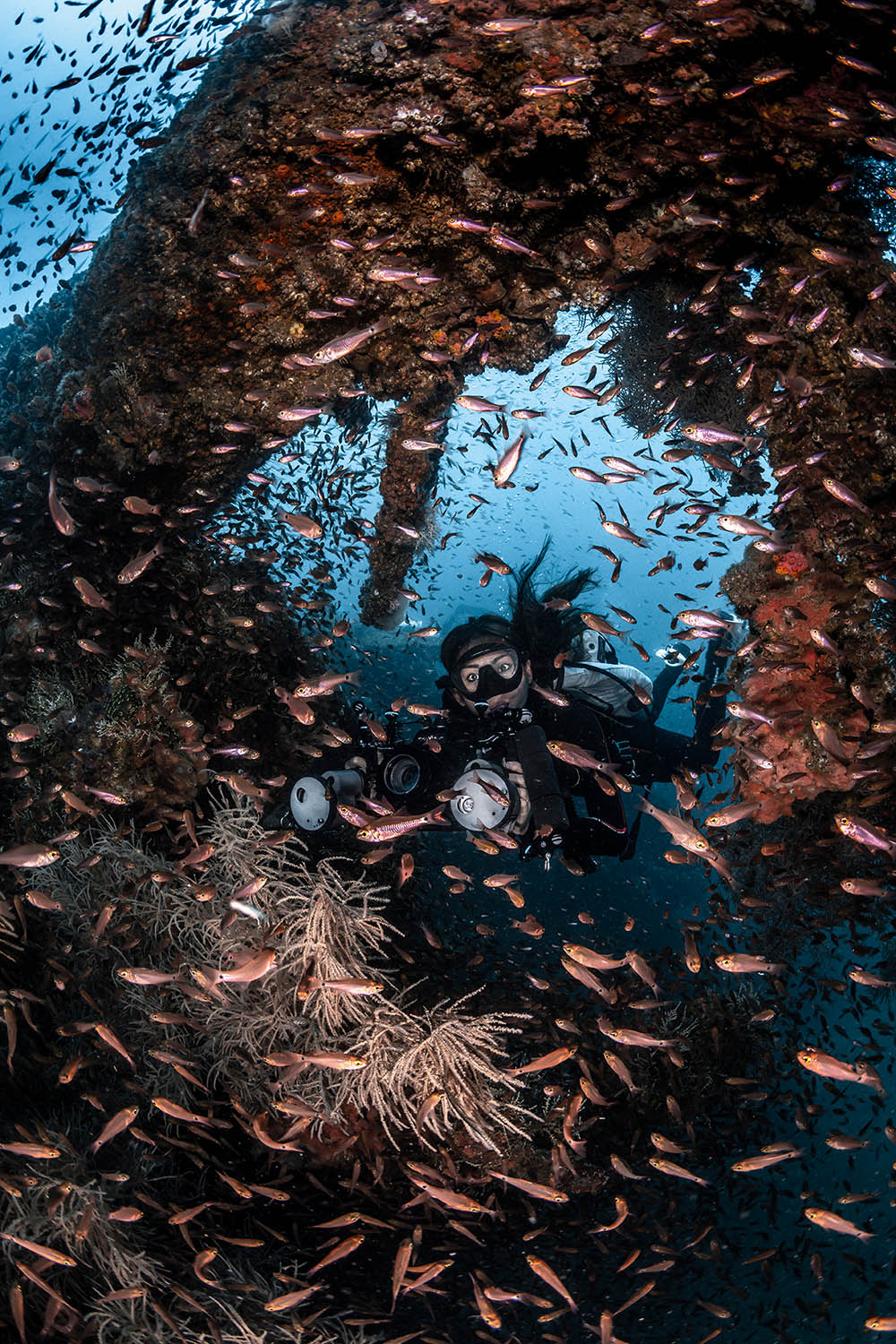 Jade swims through a swarm of cardinalfish at the bow end of the Doña Marilyn shipwreck.
Appeared in DIVER January 2020
Let us tell you a secret: Monad Shoal isn't the best dive around Malapascua. Sure, the thresher sharks are spellbinding, but these are painfully early, typically fleeting encounters, and extremely challenging photographically.
We've spent about six months of our lives living and diving off Malapascua Island, so we'd like to think we're not speaking out of our rear ends on this occasion!
When in Malapascua, we will always do the thresher dive (when in Rome…), but it's the many other underwater offerings that keep us coming back for more.
Even without the threshers, we would still dive around Malapascua for its wrecks, cephalopod-rich reefs and world-class macro.
Discovered by divers in the 1990s, this small island's popularity has exploded in the past decade.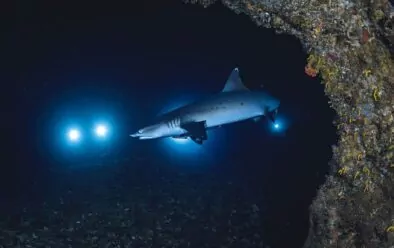 The origins of the name remain uncertain, but the theory goes that it stands for "bad Easter", as anointed by the understandably grumpy Spanish sailors who discovered it at Easter, during a storm, as their food supplies ran out.
It lies off the northern tip of Cebu. You fly into Mactan-Cebu airport, drive for three or four hours, and finally take a short bangka (the local outrigger boat) ride from the port of Maya.
There are no cars on Malapascua, which is fringed with white-sand beaches. There is a lot to admire both above and below the surface, and some people never want to leave.
Long-time divers here say that "you come to Malapascua for Monad, but stay for Gato Island".
Gato, 45-60 minutes to the north-west, means "cat" in Spanish, supposedly after a feline-looking rock face (you won't be alone if you can't make it out).
Cavern is Gato's signature dive, an exploration of an underwater tunnel that passes from the north-east to the north-west coast.It's an exhilarating dive and, as the tunnel is large enough to fit several people, open to all reasonably experienced divers.
Swimming into the large opening at just 5m deep, you arrive in a large chamber with an air pocket at the top.
Pop your head out and you'll discover a high-ceilinged grotto, home to many birds and bats that can access it only during low tide. Take off your mask and regulator if you like, but the smell is pungent!
Back under water, an old rope acts as a hanging garden for soft corals and bivalves, and hermit crabs scatter as your beams of light disturb them.
Soon you'll see the blue light at the end of the tunnel, a wide opening at 12m deep. Whitetip reef sharks are resident at Gato, and this is one of their favourite spots to patrol.
They show no signs of aggression towards divers and will allow a close approach. They move around the island seasonally, so if they aren't there you'll likely spot them on the next dive.
Outside the tunnel, the underwater topography is stunning, with huge boulders strewn under water, and little swim-throughs to explore.
In the shallow overhangs of the island itself, the glassy bottom of air-pockets make it look a bit like the bottom of a glacier. Banded sea krait thrive there, the air-pockets offering them a convenient way of taking a gulp of oxygen before continuing to search for food.
Another great dive lies along the south-western side of Gato. Strong currents run through the area and this dive can be conducted as a thrilling drift.
The water movement creates an environment in which soft corals thrive, with every rock-face seemingly covered in them. Their shades of pink, red, and orange complement perfectly the blue water, providing instant satisfaction for underwater photographers.
Sometimes peacock mantis shrimp can be found hiding in this colourful coral bouquet, their stalked eyes keeping a careful 360° lookout.
Watch out in the blue for the resident school of bigmouth mackerel, a jaw-dropping sight – quite literally.
At first you might think these are just your average silvery fish, but a moment later you'll see the school open their oversized jaws and swim as one as they filter the water for plankton. The school will then turn and regroup before swooping back in the opposite direction.
As with many sites around Malapascua, there is a thriving cephalopod population. Cuttlefish are almost guaranteed.
It can be hard to distinguish different species, particularly as these shape-shifters alter their appearance regularly, but size can be a useful starting point.
The biggest, at around 50cm long, are broadclub cuttlefish, while those measuring up to 5cm are the aptly named dwarf cuttlefish.
As well as colour-altering, cuttlefish can adapt their skin texture by either extending or retracting their "papillae" to create a smooth or stubbly effect.
The finishing touch to their camouflage is to deploy their arms to mimic the shapes of whatever lies nearby.
A large cove named Cathedral around the middle of Gato's west side is named for its impressive size and for the green marking on the black wall of the rock-face, which resembles the Virgin Mary.
Close by but under water, an actual statue of the Virgin Mary was placed to discourage destructive fishing practices.
The Cathedral is an impressive environment for a safety stop, and if you're lucky you'll see a shoal of baitfish, or some juvenile batfish, hiding out under the leaves and debris that gathers in the cove.
The Doña Marilyn is the number one wreck dive in the area, accessible to both recreational and technical divers.
A former inter-island ferry, her demise was tragic, as the ship failed to outrun Typhoon Ruby on the way from Manila to Tacloban on 23 October, 1988.
In all 389 lives were lost and 147 people survived. Just a year earlier, sister-ship the Doña Paz had also sunk, in history's deadliest peacetime maritime disaster.
A 60-80-minute boat-ride takes you to the site, and after descending through the gloomy waters, the Doña Marilyn is found lying on its starboard side, at a maximum depth of 32m.
The site teems with life, with large black-coral fronds giving way to a swarm of cardinalfish as you swim around the bow. Check out overhangs for marble rays and whitetip sharks resting in quiet, shady spots.
If you're nutty enough to bring a macro lens, there are tiger cardinalfish and flasher wrasse in residence.
Sadly, the Doña Marilyn is only half the dive it used to be, as illegal salvors tore off the rear end of the ship in 2018. It remains a great dive, but for long-time visitors this is a bitter pill to swallow.
The Mogami Maru is an excellent wreck dive just 30 minutes north of Malapascua, but at 50m deep should be considered a technical dive only. Our best guess is that this was a Japanese trawler converted into an auxiliary submarine-chaser during WW2.
Her sinking by a US bomber off Cebu was documented on 12 September 1944, and the catastrophic damage around the stern suggests that she was carrying depth-charges.
As with the Doña Marilyn, the visibility tends to be a bit lower and it takes a moment to sight the wreck as you drop through the water column.
Upright on a sandy bottom, the Mogami Maru looks impressive, all the more so as you are likely to be the only visiting divers.
A piece of metal from the hull has been torn off by an explosion and created a large swim-through along the starboard side, and a few seafans line the bottom.
The Mogami Maru has accumulated a coral coating, and as you swim up onto the deck plentiful yellow cup corals add a splash of colour. Artefacts discovered by divers have included bones, cutlery, broken cups and the bottom half of a gas-mask, a poignant reminder of the lives lived and lost aboard.
The bow has a large cabin-like area, visible from the outside through several windowed gaps. This space has become a refuge for fish and, with parts of the roof now open, you can drop in to say hello.
Meaning "the only rock" in local dialect, Bogtong Bato is an underwater seamount just off the northern end of Malapascua. This relatively small seamount can be subject to strong currents, so dropping onto it quickly is essential or you risk losing the site.
A festival of colour and a feast of macro life awaits. Every inch of the pinnacle is covered in coral, mostly soft, creating a tapestry of pinks, purples and orange.
Remaining gaps are filled by cup corals, crinoids and anemones.
Down in the 25-30m range there are a few seafans, and bargibanti pygmy seahorses are a possibility, especially with the aid of an expert guide. Scientist George Bargibant accidentally discovered these 2cm-tall animals in 1969, and somehow they manage to be cute despite their distended bellies and wart-like protrusions. They adapt their colour to match their host gorgonian and are extremely delicate.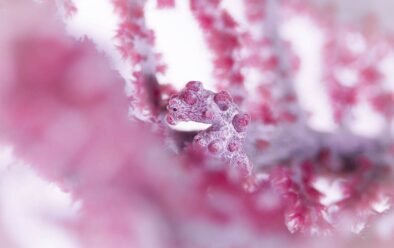 Never touch the fan with a pointer or any other gear, avoid the use of constant light, and keep strobe power low if photographing. We always dive with Evolution Dive Resort when in Malapascua, and it maintains admirably high standards of diver education and environmentally conscious dive practices.
Its unexplained abundance of cephalopods makes Malapascua an outstanding night-diving destination (even if the early-morning wake-up call for the threshers makes night-dives a painful prospect).
Shallow rubble sites such as Lighthouse and Ka Osting are ideal places to track down blue-ringed octopuses, among the most remarkable creatures to encounter under water.
They live in the shallows and are typically active at night.
When agitated, by a perceived threat or while hunting, they flash iridescent blue rings that warn of their alarming toxicity, able to paralyse both prey and predators, and venomous enough to kill humans.
Blue-rings were the symbol of the octopus cult in the James Bond film Octopussy, and their leader Octopussy wears an alluring blue-ring dressing gown in the film. Her top bodyguard even has a blue-ringed octopus tattoo on her buttocks, which Roger Moore casually remarks on post-coitus.
Another bucket-list cephalopod often seen here is the bobtail squid. At 5cm long or less, it is probably the cutest in its family. Capable of dramatic colour changes, it is most attractive when wearing its speckled purple coat.
Bobtails bury themselves in the sand during the day but become active at night, usually on the seabed but sometimes seen hunting microscopic snacks midwater.
Frogfish connoisseurs are well catered for, including the possibility of sighting one of the rarest. Malapascua is one of the few places in the world where the elusive marble-mouth can be found with some degree of consistency. It grows up to 10cm long, with a heavily mottled appearance and two large nostrils.
This is one of the few frogfish species to carry its eggs on the side, guarding them until they hatch. This responsibility falls on the male, and the eggs' release seems to coincide with a full moon.
Thresher sharks might have put Malapascua island on the dive-map, but from big animals to small, wrecks to reefs, its diving is about much more.
FACTFILE
GETTING THERE> Fly from London to Cebu with Emirates, Singapore Airlines or Cathay Pacific, each with a single stop at their respective hubs. The dive operator will arrange transfers.
DIVING & ACCOMMODATION> Evolution Dive Resort, evolution.com.ph
WHEN TO GO> Year-round, but flattest seas and best visibility occur from March until June. July to November is monsoon season, with a chance of typhoons.
MONEY> Philippine Peso.
HEALTH> Nearest decompression chamber is in Cebu City.
PRICES> Return flights start at around £500. Two people sharing a room at Evolution costs 26,700 pesos (around £400) for five nights. Ten dives cost 13,650 pesos pp, round trip airport transfer 11,200 pesos.
VISITOR Information> itsmorefuninthephilippines.co.uk