MALDIVES DIVER
Two and a Half to Bandos
A two-year-old along for the ride was no bar to diving for Federica Squadrilli Carr, but her son was far from the only non-diver at one of the Maldives' oldest resorts
Blacktip reef shark. Inset: A diver of the future.
shakky!" shouts our tiny toddler, pointing excitedly towards the shallow reef below the deck. In the crystal waters, juvenile blacktip reef sharks calmly zig-zag between rocks and corals, scouting for snacks.
We're in Bandos, one of the oldest resorts in the Maldives (opened in 1976); it is also one of the closest to the airport at 15 minutes by speedboat, being part of North Male Atoll.
Years ago, in our child-free days, my husband and I would visit the remote southern atolls or the more famous Ari and Baa, but now easy journeys are important. I'm not going to let the small logistical issue of having a two-year-old boy in tow stop me from pursuing my passion for diving!
Bandos was an obvious choice as soon as we settled for the Maldives as our holiday destination: apart from the easy access, it also has a doctor and hyperbaric chamber on site, a kids' club and baby-sitting, and it doesn't cost an arm and a leg compared to some other resorts.
We booked via BA (which flies direct from the UK) and packed for 10 days' holiday, shipping the bags using the genius service that is Airportr. It collects your bags from home the day before the flight, and you won't see them again until you land at your destination. It was £40 incredibly well spent for three massive bags containing dive-gear and nappies.
While diving was not the sole purpose of the trip, I had every intention of making it a big part, and we did manage to do some good dives together after handing our lively toddler over to Bandos's efficient and very friendly baby-sitters.
He enjoyed singing nursery rhymes and splashing about in the children's pool while we went off exploring the underwater paradise of the Indian Ocean with peace of mind, knowing that he was in good hands.
We had dived in the area years before and were curious to see if anything had changed under water. As we landed at Male airport it had seemed that a lot had changed topside, with major construction going on all around the airport, and huge condos and cranes that looked as if they were suspended on water.
The check-dive on the house reef was disappointing: dead, bleached and broken corals, and not much life despite the enthusiastic claim of one of the dive-team that Bandos "has the best house-reef in the Maldives". Thankfully, the dives over the next few days were much better.
Appeared in DIVER June 2019
while the effects of El Niño remain sadly obvious on most dive-sites, the reefs are otherwise teeming with colourful life.
Large shoals of fusiliers, sweetlips and squirrelfish were omnipresent and cheered up even the most greyed-out site, making for a great backdrop when we encountered the bigger guys.
The sharks might have been at the small end of the scale but they made an appearance on every dive and entertained us without fail, hunting the reefs and teasing us in the blue. We spotted quite a few whitetips and blacktips and the occasional grey reef shark.
Our first boat-dive was at Aquarium, 20 minutes away on the east side of the atoll. As we descended a shy Napoleon wrasse swam past, and not long after that an eagle ray flew by, distracting us from the whitetip sharks on the sandy bottom below.
Blue-striped snapper clustered and dispersed constantly as they accompanied us through the dive; two plump lobsters hid snugly in their hole during our safety-stop reef check.
Our second dive that day was less successful, however: the promised resting nurse sharks at Banana Reef never materialised, and in the current that picked up mid-dive our GoPro disappeared, resulting in a grumpy husband and an abrupt ascent.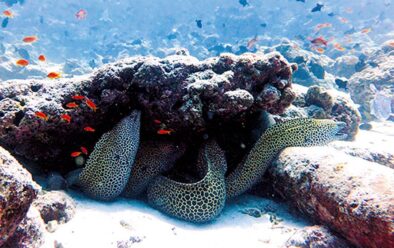 At the time of our trip (the end of January) it would have been necessary to travel towards the northern edge of the atoll to see the majestic mantas towards Bodu Hithi Thila, just over an hour away by speedboat.
Sadly, this was out of the question for us, because the trip would have been too long and pricey – we were paying close to $20 per hour for the baby-sitter alone.
We did however have our fix of rays at Stingray City, fewer than 15 minutes from the resort. The dive-site sounded unappealing: a fishing harbour off a tuna cannery factory, where discarded fish-bones and carcasses attract the rays. Seeing fishermen at work as we arrived at the site, we were expecting a rip-off.
Yet, once under water and making our way towards the outer edge of the harbour, having been told to stay 10m below the surface to avoid boat traffic (safety first!) we realised that this was going to be a fun dive.
in fact it felt like being in an aquarium, with so much marine life packed into a small space and plenty of man-made artefacts to create the ambience.
With a few items of rubbish and gory-looking fish-tails and carcasses scattered on the sand, a staggering number of moray eels popped up everywhere. I had never seen so many of so many different sizes and types – black, white, grey, yellow-spotted…
They were surrounded by an array of small fish that picked at the white flesh left on the poor tuna's bones, or cleaned parasites off the eels.
As we marvelled at the spectacle, a shadow, then another, and another, flew placidly over us. We turned to see the enormous rays dance and soar through the fish soup, above and below us. This mighty sight kept us entertained throughout the dive.
We left them behind as we started our slow ascent away from the bay's entrance and towards the reef-wall, surrounded by thousands of small, bright reef fish.
Some dive-sites in North Male Atoll were spared from El Niño's devastation or have started to recover.
Rainbow Reef is one such site, a joy of colour with plenty of soft corals all around and beautiful shades of orange tube corals on the ceilings of the outcrops that provided shelter for the smaller fish.
Fish-life was healthy, with shoals of the usual butterflyfish, angelfish and fusiliers dancing all around. Macro-diving in the Maldives isn't really a thing, but the eyes and mouths of the many morays that peeped through from the rocks were often accompanied by banded cleaner shrimps.
This was probably the best dive we did in the week, truly a spectacular place bursting with life, and with plenty of interesting rock formations that added variety and made it memorable.
another site close to the resort that's worth diving more than once (as we did) is Lankan Reef, a fairly easy drift on a sloping reef with a sandy bottom below.
As we moved along in the gentle current a few turtles lazily grazed and napped through crevices where shimmering glass fish kept them company; we counted nine turtles on one of these dives, including an enormous geriatric hawksbill that calmly swam away from us to get some fresh air at the surface.
A number of big grouper surrounded us at one point, some of them particularly photo-friendly as they rested on the corals. Giant and intimidating titan triggerfish munched on the reef, with the occasional clown relative showing up.
As we neared the end of our second dive there, an impressively large school of batfish appeared, with some coming extremely close, not scared by the bubbles or cameras.
On our final day we opted for a short, self-guided shore dive. I wanted to see if the Bandos house-reef could redeem itself. And it certainly did!
It was an exhilarating dive on our hotel room's doorstep. As soon as we descended, leaving the rope and the 5m safety-stop bar behind (it's used for training courses) we spotted a couple of sharks.
Thinking that was it for the day, we moved on to our right, leaving the pier behind and not expecting much in the desolation of the dead reef.
Yet soon, in the distance, we spotted something happening and, as we swam closer, saw a large school of blue-striped snapper, surrounded by a handful of young, healthy and beautiful reef sharks.
Mesmerised, we just hung out there for a while, marvelling at the beauty of these animals.
Unwillingly, we moved on, trying to make the most of our final time in the water. We were soon rewarded, by the sight of a big octopus that danced languidly before our eyes, not fussed by these two humans watching it.
Curious hotel guests photographed us as we emerged in our fancy black outfits, as if we were something strange.
Times have changed. The Maldives no longer seemed a place just for divers or honeymooners, but for families and others just seeking fun in the sun.
There were a lot of families with young and very young children at the resort, but very few Europeans. Most people, it seemed, were there for a beach holiday rather than for diving.
So much so that, despite Bandos being at 90% capacity, on a couple of the days we couldn't dive because the minimum number of (four) divers had not been reached. Surprising, to say the least!
Then again, we had picked Bandos because of the balance we expected it to offer between diving, relaxation and family fun.
It was almost liberating, for once, to have a dive-holiday on which we didn't have to rush to the next dive, or feel we had to pack in as much diving as we could. Seeing the sharks through the eyes of our son was just as satisfying.
FACTFILE
GETTING THERE> Direct flights from the UK to Male.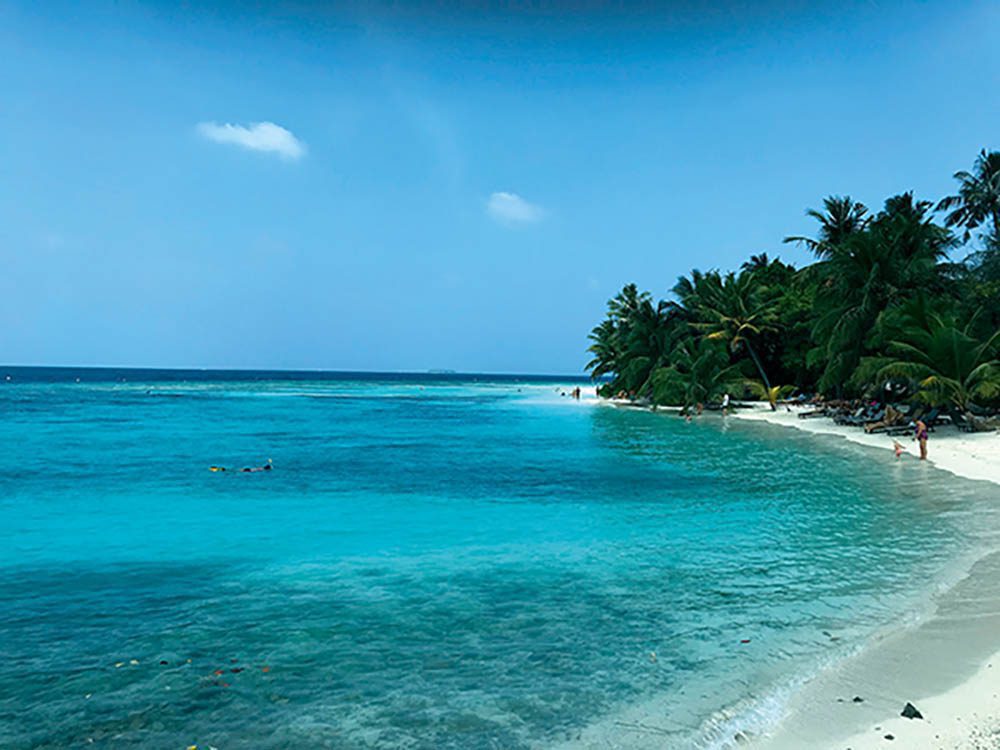 DIVING & ACCOMMODATION> Dive Bandos at Bandos Resort, bandosmaldives.com
WHEN TO GO> Year-round but January to April brings excellent sea conditions and good visibility. Water temperature was 27°C which, after a while, felt a little chilly! 3mm wetsuit recommended.
MONEY> Maldivian rufiyaa or US dollars.
PRICES> Return direct British Airways flights from the UK and nine-night full-board hotel package in a superior room including transfer cost around £3000pp. Children under two go free.
VISITOR Information> visitmaldives.com