Be The Champ!
Young sea-lions make for potentially prize-winning subjects, says ALEX MUSTARD but the energy, speed and manoeuvrability that makes them so appealing can also pose problems for photographers
'Few things get underwater photographers as excited as subjects that repeatedly swim right up to the camera'
SEA-LIONS ARE TYPICALLY a treat we get to enjoy only in cool waters, making negotiating a drysuit or fighting thick neoprene part of the price of diving with them.
The one place that breaks that rule is La Paz in southern Baja, Mexico, in the autumn. At this time of year the water is balmy 3mm territory (in fact, I see lots of people diving in just shorts) and, even more importantly, it is when the new pups start playing in open water.
The Californian sea-lions in the Sea of Cortez give birth in early summer and the pups hang out in ankle-deep nursing pools through mid-summer.
While sea-lion dives here are great fun year-round, there is definitely something very special in visiting during the eight week period from mid-September to mid-November, when the pups start exploring unsupervised.
This is when they are at their most mischievous, curious and photogenic.
The pups are still very small, similar in size to a Jack Russell and, powered by high-octane mum's sea-lion milk, equally energetic.
If you have ever watched a puppy constantly hassling an older dog, you'll understand why the adult sea-lions seem happy for their youngsters to work off their excess energy on us.
Few things get underwater photographers as excited as subjects that repeatedly swim right up to the camera, especially when they are as cute as a button to boot.
Surely there must be a photographic downside? There is, sea-lion pups have black, light-sucking fur, they like hanging out in shady places and they move really, really fast!
Appeared in DIVER June 2018
THE YOUNG PUPS spend most of their time swimming close to the craggy rocks of the islands. This means that the standard scene with which we're presented is dark pup against dark scenery – about as appealing as the famous all-black "Maldives At Night" postcard.
Furthermore, the water here is usually filled with particles, and when we turn up our strobes enough to illuminate their taupe fur, backscatter becomes a big problem.
Finally, the baby sea-lions move like lightning, which means that despite the dim conditions, we do need pacey shutter-speeds to ensure crisp images.
The best solution to all these problems is not a magic combination of settings, but striving for the right viewpoint. Making the right choices when framing up makes it technically easier to get a good image.
The key is to compose the pups against a bright background, which makes them stand out, and allows us to use faster shutter-speeds.
When I teach wide-angle underwater photography, I stress that this is a discipline that challenges us both artistically and technically.
A memorable wide-angle image usually has to wow artistically to draw the viewer in, but also needs to be soundly constructed technically for
the artistry to be recorded brightly and clearly.
The rub is that often these two factors are pulling in different directions. Some shots are technically easy to take, but artistically dull. Others are artistically fascinating, but impossible technically to produce.
The key to good wide-angle photography is to strive for the best we can on both fronts. However, in technically challenging situations, such as shooting the baby sea-lions, we have to prioritise the technical decisions, and fortunately the pups have plenty of natural charisma to keep our pictures artistically engaging.
STARTER TIP
Sea-lion pups love divers, but try to make them love you the most. Don't be a flappy diver, and consider some colourful fins or hood to make you more attractive!
I attached a loop of pink neoprene to my hood and that worked really well. With other photographers in my group the pups found their shiny metal pointers to be irresistible toys.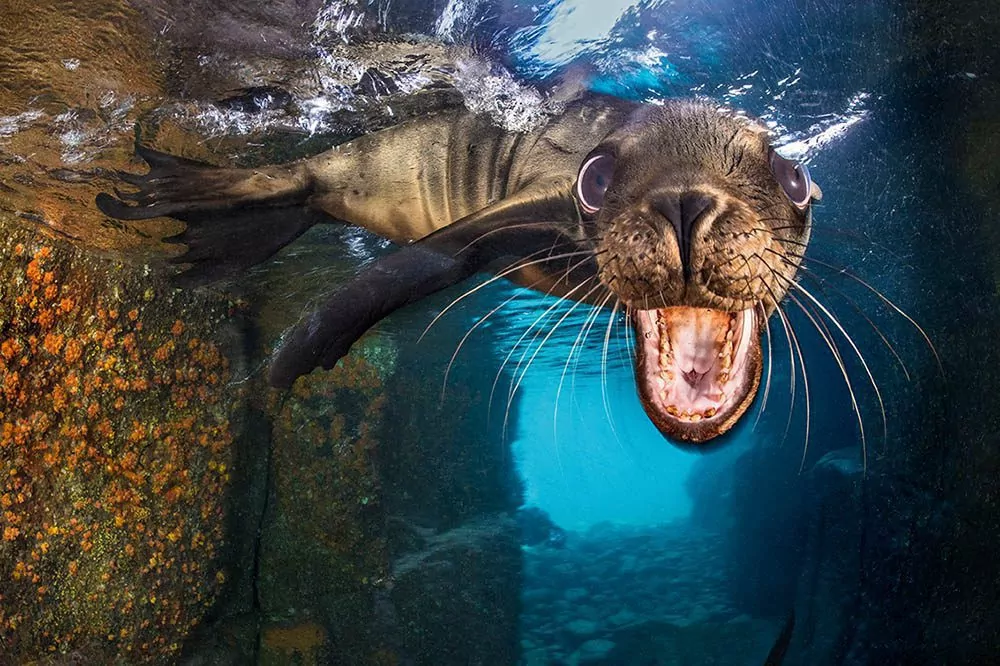 We have the option of exploiting the dark conditions and shooting long exposures to create a feeling of energy, framing the sea-lion against the blue. Taken with a Nikon D5 and Nikonos 13mm. Subal housing. 2 x Seacam strobes. 1/20th @ f/20, ISO 800.
WHEN WE SHOOT in shallow, murky water, the best background is usually not under water at all, but the sky. When it's sunny, the sky will be the brightest and bluest background available, and fortunately it's pretty easy to frame baby sea-lions against it, when they zip up to the surface to breathe.
As usual, the trick is to set up for the shot and wait for it, rather than chase the sea-lions with the camera. Therefore we should look for a pup that wants to play, so we have the opportunity to work towards the optimum shot.
The pups love to seek out divers to harass, and we want to be centre of their attention for the most opportunities.
I find that the pups are drawn to the calmest, slowest-moving divers, so the key is to dive like a chilled-out divemaster! We can also make ourselves a little more attractive by wearing a colourful snorkel or bandana, catnip to baby sea-lions.
The energetic pups need to breathe regularly, so soon enough they will let go and race to the surface.
At this point I breathe out, which will give time for my bubbles to reach the surface and dissipate before the sea-lion dives again.
I shoot as it races back down towards me, perfectly framed against the surface.
Once I have a sea-lion pup playing, I follow a simple plan. While it's climbing all over me and chewing on my dive-gear I don't try to shoot but just enjoy the experience, not least because the small pups are usually trying to squeeze in between me and my camera.
MID-WATER TIP
Backscatter can be a problem when trying to light large, dark subjects in turbid water. The best solution is to shoot when the pup is as close as possible to the camera, so that the amount of water and particles is kept to a minimum and the strobes are on low power.
When the sea-lions are further away, consider working without flash, either as a silhouette or a manual white-balanced shot.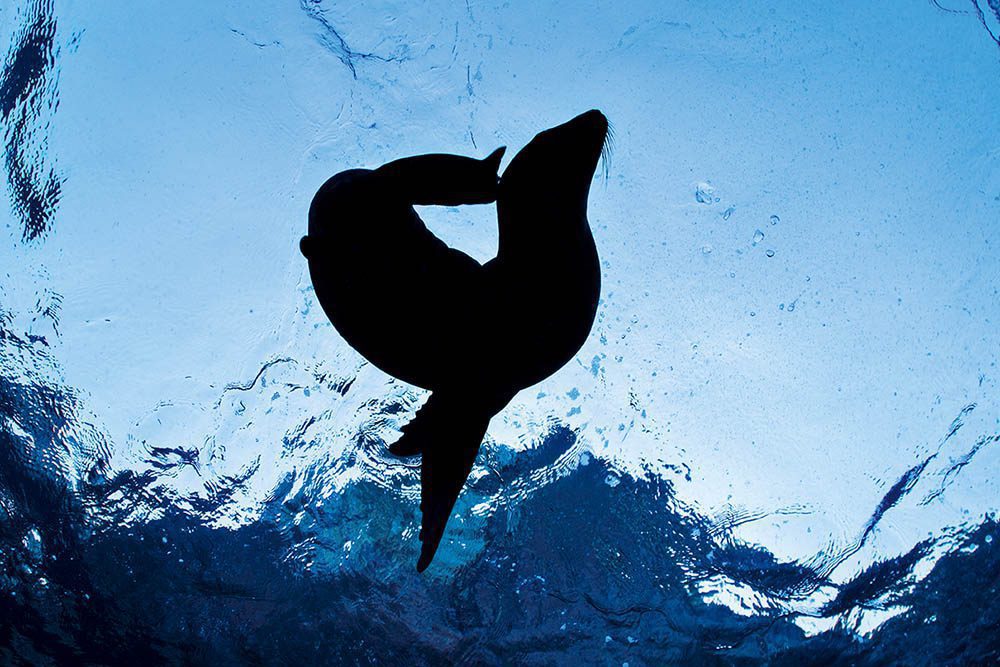 Framing sea-lions against the surface allows them to stand out. Taken with a Nikon D5 and Nikon 20mm. Subal housing. No strobes. 1/200th @ f/11, ISO 800.
THE DARK PUPS and shady cliffs make photography a challenge, and it helps to push the ISO up and open the aperture up slightly to keep the shutter-speed swift enough to avoid blur. Ideally we should aim for at least 1/125th to freeze movement.
The alternative to fighting against this technical demand is to work with it, and use the low light levels to shoot long exposures, which allow the dark body of the pup to stand out against the water.
A final option is to purposely shoot into the rocks using a fast shutter-speed, lighting the whole scene with strobes.
Look for an area of bright, colourful encrusting life and frame a pup against this. Be aware that because we are lighting up a large scene (pup and rocks) our strobes need to be positioned wider out from the housing to minimise backscatter. Particle-rich water is unforgiving of sloppy technique.
Compositionally we should try to fill the whole frame with colourful life, because this creates a complete background and also helps to disguise any backscatter, which would stand out much more against open water or a dark crevice.
A rare occasion of artistic wants and technical can-dos working in unison!
ADVANCED TIP
Experiment with slow shutter-speeds, especially in darker areas, rather than fighting against the lack of light. Longer exposures give still images a feeling of energy and capture the athletic nature of sea-lions.
They also help to disguise backscatter, which is less obvious against the impressionistic blurred backgrounds. Good starting settings are 1/8th to 1/15th of a second.