archive – Diving NewsBSAC team dives first British WW1 casualty
HMS Amphion was the first Royal Navy ship to be sunk in World War One – and by a mine laid by her own German victim. Now a British Sub-Aqua Club group has carried out dives on the protected North Sea wreck.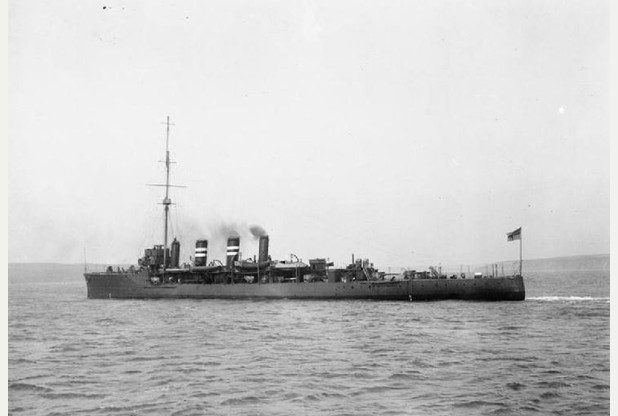 With permission from the Ministry of Defence, the divers spent five days in visibility of less than 5m exploring the bow section of the Active-class scout-cruiser.
The Pembroke-built 132m Amphion, captained by Cecil H Fox, was leading a destroyer flotilla 40 miles off Harwich in Essex on 6 August, 1914, ­ the first full day of the war. She delivered the fatal shots to SMS Königin Luise, a German steam ferry being used as a minelayer.
Returning to base the following morning, Amphion struck below her bridge one of the mines that the Königin Luise had already laid. She sank within 15 minutes of the explosion, with the loss of 132 of her 293-man complement.
The wreck remains upright in 37m but broken into two sections 50m apart. According to the dive-team the bow lists up to 20° to starboard, its uppermost parts no more than 4m clear of the seabed. The divers identified a still-attached lifeboat, intact timber decking and three of the 14 guns carried aboard. The results of their survey, the first in more than 20 years, are being submitted to the UK Hydrographic Office.
The team also visited the nearby wreck of the 94m Königin Luise, in better visibility. The wreck is inverted with much of the bow buried, but engines and turbines were visible and the stern complete with rudder and propshaft, though the propeller itself was thought to have been salvaged. On both wrecks "an abundance of marine life" was reported.
The team consisted of leader Dave Lock with Paul Mann, Raj Mistry, Paul Shannon and Matt Yates from the iDive branch, plus Mike Rowley and Neil Turton. The divers have appealed for descendants of anyone aboard Amphion on the day of the sinking to contact them.
DIVERNET – The Biggest Online Resource for Scuba Divers