WRECK DIVER
Lost Ships of the Battle of Oinousses
Turkish wreck-hunter SELCUK KOLAY makes yet another discovery, this time of two historically significant vessels – but what was this huge bell-shaped object found lying among the cannon? Main photography by ALI ETHEM KESKIN
Selcuk Kolay and Kaya Yarar secure a rope to the bell-shaped object found on one of the wrecks… Inset: Could it have been a cooking pot, as seen in this old painting? Nothing of the sort has been found on such a wreck before.
A COUPLE OF YEARS AGO, I was carrying out a sonar search in the Aegean Sea for an old steamship west of Karaburun near Izmir, unaware that I was close to making an important nautical discovery.
I had been scanning the area line by line when I noticed some fishermen deploying their nets and longlines at a particular point.
I talked to them, and found that while they wouldn't know what was lying on the seabed in the area, they would sometimes pick up old timbers and "bits and pieces" in their nets.
A side-scan sonar search lasting a couple of hours, using high frequencies for higher resolution, revealed two quite flat targets about 70m apart.
Looking at the images, I could easily make out scattered thin lines that might be interpreted as cannon. I was convinced that I was looking at old galleons.
A quick dive with buddy Kaya Yarar revealed that we were indeed looking at the remains of two old galleons, lying close to each other at a depth of 65m.
The numbers of bronze cannon between 1m and 4m long, huge anchors and other objects was overwhelming. But the big surprise came when we discovered a huge bronze bell-shaped object lying next to the cannon.
We documented everything we saw with an action-camera. I had the position, so continued with my sonar search for the steamship, which I located a few days later.
Appeared in DIVER August 2017
BACK IN ISTANBUL, I started to investigate what the two old wrecks might be. After some archive research and consulting with documentary producer Savas Karakas, I was quite sure that they had to be related to the Battle of Oinousses, which took place between the Ottoman and Venetian fleets more than 300 years ago, on 9 February, 1695.
This battle began off Cape Karaburun in western Anatolia. The Venetian fleet consisted of 21 sailing ships of the line, five galleasses and 21 galleys, under the command of Admiral Antonio Zeno, while the Ottoman fleet boasted 20 sailing ships of the line and 24 galleys under Kapudan (Admiral) Mezzo Morto Huseyin Pasha. The battle ended in defeat for the Venetians, with three of their 60-gun ships, Stella Maris, Leon Coronato and Drago Volante, blown up, while the San Vittorio was so badly damaged that she had to withdraw.
The two wrecks I had located had to be those of the Stella Maris and Leon Coronato, because the former had been recorded as coming under fire, with
Leon Coronato coming alongside to her assistance. The two ships were said to have sunk side by side.
I also learnt that Greek researchers had carried out extensive searches in recent years, hoping to locate these wrecks in their territorial waters.
Because I have an engineering rather than an archaeological background, I tend to prefer to be involved in researching shipwrecks of the Steam Age, including the submarines from this era.
So, this being an archaeological discovery, I reported my find to Dr Harun Ozdas, who is responsible for the underwater archaeology at the Institute of Marine Sciences & Technology of the University of 9th September in Izmir.
He was quite excited by what I told him and decided to organise an expedition for further studies of the wrecks.
BY THE END OF JUNE the institute's research vessel K Piri Reis was mobilised with permission from Turkey's Ministry of Tourism & Culture and funding from the Ministry of Development. My diving/research boat Milonga also took part in the expedition.
A team of experienced technical divers with rebreathers and open-circuit gear using 18/45 trimix and nitrox 50 were joined by ROV and drone operators, sonar experts and a medical doctor on the expedition. This was also another occasion for Savas Karakas and his team to make a documentary for IZ TV.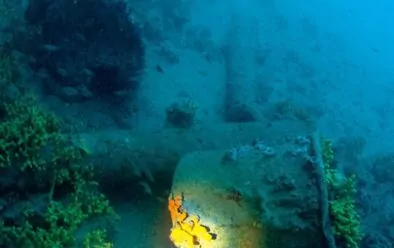 Though weather conditions tend to be mostly unfavourable in this region throughout the year, we would enjoy fairly calm seas throughout the expedition period. Using my previous co-ordinates, we started out with some side-scan work to assess the site, and also to look for the third Venetian ship, Drago Volante, though to no avail.
Assuming that this wreck must lie in Greek waters, we decided to concentrate on the other two wrecks I had found.
After marking the wreck on which I had seen the big bell-shaped object on my reconnaissance dive, we sent down the ROV. Everyone on board cheered up when we saw that the shot had landed right next to the object, which Dr Ozdas decided to lift for further study.
We made a dive-plan. The first team of divers took video footage of the site, then it was my turn to dive with Kaya Yarar to secure a rope so that the object could be lifted using the research vessel's crane.
We were followed by underwater photographer Ali Ethem Keskin, taking pictures of us and also photogrammetric shots of the site for later mosaic work.
After the dive I wasn't convinced that our chosen lifting method would work flawlessly, and after liaising with Dr Ozdas and his deck-crew we decided to place a net under the object for safety. Next morning another team dived with the net to prepare for packing the object into it.
SHORTLY BEFORE SUNSET, we were ready to winch it up onto the deck of the K Piri Reis. Some 15 minutes into the operation, divers near the surface watching it coming up gave the all-clear signal for hauling it up on deck.
It was an emotional moment, accompanied by much applause and the ship's horn blowing as the object landed safely on the deck, 323 years after being lost to the sea.
A few days later it was delivered to Cesme Museum for conservation work to begin. Initial cleaning showed that the object was made of copper alloyed sheets riveted together, and featured two big handles on each side, near its mouth.
No such object had ever been discovered in a shipwreck before, so Dr Ozdas's team and experts from American and British institutes started working on the puzzle. Initial assumptions are that the object could be a giant cauldron from the ship's galley.
As this wreck-site seems so promising and historically important, Dr Ozdas has already applied to the Ministry for further excavation, which might well reveal other interesting items.