LIVEABOARD DIVER
The Call of the Minkes
The Ribbon Reefs are a special Great Barrier Reef dive-destination at any time of the year, says NIGEL MARSH. But, as he has discovered, they are extra-special in June and July when visited by dwarf minke whales
A graceful dwarf minke whale glides by at Steve's Bommie. Inset left: Spirit of Freedom. Inset right: Trip director Lucy Hutchinson gives a briefing at Lighthouse Bommie.
In the past, the cry would have been "there she blows!" Today it was a very excited "MINKE, MINKE, MINKE!" The call brought everyone to the back deck, eager to get a glimpse of this special creature.
In the early-morning light I scanned the calm sea, waiting for a fin to break the surface, or a ball of mist from the creature taking a breath of air.
"There it is!" screamed someone, pointing wildly to the left, as we all rushed to that side of the boat. After several more minutes of staring at the blue water, I finally saw the creature myself – a majestic dwarf minke whale.
The dwarf minke is the smallest member of the baleen whale family, growing to around 8m long. The species is found only in the Southern Hemisphere, spending the summer months feeding in sub-Antarctic waters and migrating to the warm waters of the Great Barrier Reef during winter to breed and give birth.
These small whales are very different from their larger, more shy cousins, because when in reef waters they are strangely attracted to stationary boats, often hanging around for hours and even days.
This has allowed dive operators that have swim-with-whale permits to place snorkellers in the water with these inquisitive mammals for some remarkable encounters.
While dwarf minkes can be seen almost anywhere on the GBR in winter, they are most frequently spotted on the Ribbon Reefs, especially in June and July. During this period, the liveaboards that operate in these remote reefs can guarantee a close encounter.
One of the boats that operates there each week is Spirit of Freedom. I joined it for a three-day trip in late July in the hope of an encounter, and can honestly say that I had a whale of a time.
Appeared in DIVER December 2019
We boarded the 37m vessel in Cairns in the morning, and our first day saw us diving off the city at Norman Reef.
Over the past few years the dive industry in Cairns has been badly affected by the coral-bleaching events of 2016 and 2017. The reef took a hit, though not to the overwhelming extent that many people think, as two dives at a site called Troppos indicated.
I found beautiful and healthy hard-coral gardens in the shallows there, and a maze of coral canyons leading to deeper water. However, the highlight was the fish life. In the 30m visibility,
I encountered an over-friendly giant Maori wrasse that was fascinated by my camera.
There were also pelagic species such as mackerel, trevally, drummer and batfish, while among the coral was a great collection of reef fish, such as angelfish, butterflyfish, wrasse, parrotfish and gobies.
And if that wasn't enough, we also encountered several blue-spotted sting rays, a whitetip reef shark and a green turtle. These two dives were a great way to start the trip before we weighed anchor and headed north for an overnight steam to the Ribbon Reefs.
The next morning, I woke to find us moored at Steve's Bommie and that cry of "MINKE, MINKE, MINKE!" On seeing the whale, I was keen to jump straight in, but trip director Lucy Hutchinson said that we would do a dive before snorkelling with it.
Steve's Bommie is a site I have dived many times, and even though some of its hard corals were affected by the bleaching, it remains a sensational dive.
Slipping into the water, it was good to find visibility of more than 30m, which allowed me to see almost all of this giant column of coral that rises from 35m to 5m.
With a wide-angle lens on my camera I headed straight to the base of the bommie to photograph the lovely elephant-ear sponges, gorgonians and soft corals that sprout from the bottom.
We then did a slow spiral around it, encountering schools of snapper, fusiliers, goatfish, trevally, unicornfish and a green turtle.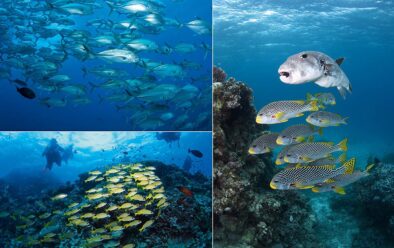 I could easily have spent the entire dive just watching and photographing these swarms of fish, but Steve's Bommie is also a renowned spot for critters, and looking between the corals
I spotted nudibranchs, pipe-, stone-, lion- and numerous anemonefish and a shy octopus.
I couldn't help but peer out into the blue, hoping to see the dwarf minke whale. And at one point I was rewarded with a sighting of it swimming past at the edge of visibility.
After the dive, it was minke time. After a briefing about dwarf minke whale procedures – no splashing, no diving, just hang onto the line and the whale will inspect you – the crew fed out a surface line for us to hang onto.
I quietly slipped into the water and made my way to the end of the rope, joining Martha Brians, a senior research officer for the Minke Whale Project.
Martha was hoping to video the whale with a special camera rig to determine its size and also record the distinctive patterns and scars that help to identify individual whales.
The research project, with assistance from charter-boats such as Spirit of Freedom, has been running for almost 30 years and shedding a little light on these mysterious cetaceans.
Soon more than a dozen of us were hanging onto the rope and peering into the blue water, hoping and praying that the whale would come in for a close look at us.
After 10 minutes and no whale, most people headed in for a cooked second breakfast. I stuck it out, and was rewarded another 10 minutes later, when the whale finally decided to have a look at me.
It was an incredible sight, that 6m whale gliding by. Over the next hour it made nine more passes, allowing me to observe it closely and photograph it.
One of the most interesting aspects of the encounter was listening to the strange noises emitted by the whale. It is a very surreal sound, almost industrial. Researchers have called it the "Star Wars Vocalisation".
After that, there was time for another rewarding dive at Steve's Bommie.
Heading further north, our next stop was at Google Gardens. This was discovered only recently by the Spirit of Freedom crew, and it was good to hear that they're still finding new sites in such a regularly dived area.
The hard corals at Google Gardens were wonderful, and we had a great time exploring a maze of coral canyons in the shallows.
All the common reef fish were on show, but the highlight was a large broadclub cuttlefish, displaying a technicolour range of dazzling colours.
Our afternoon and night dives were at nearby Challenger Bay. Almost as soon as we tied up to the mooring at this site another dwarf minke whale was spotted, though this one didn't come in to play.
On some trips two, four or a dozen whales can come in to circle the boat, and often snorkellers exit the water cold and tired long before the whales lose interest.
Challenger Bay has always been one of my favourite sites on the Ribbon Reefs. Unfortunately, the site was hammered
by a cyclone a few years ago, so its hard corals are not the best, though fortunately they are making a slow recovery.
But you don't dive this site for the corals – it is the fish life that really impresses. My favourites were a school of diagonal-banded sweetlips and pinnate batfish hovering together over a coral head. These pretty fish are so used to divers that they simply stayed in place as I photographed them from every angle.
Exploring the rest of the site, we found a colony of garden eels, whitetip reef sharks, grey reef sharks, sting rays, trevally and a large pufferfish.
The night-dive at this site was even better, with a pack of whitetip reef sharks hunting the reef for small fish. It was a dramatic dive, with a dozen sharks zooming around and snatching at any fish that was brave enough to dart from its coral hide-out. Joining the sharks in this feast was a large giant moray eel and some very hungry red bass and giant trevallies.
On our final day, our morning dives were at a dwarf minke whale hotspot, Lighthouse Bommie. During June up to a dozen whales can be seen at this spot, though in July their numbers drop.
We first did a dive exploring the totem-pole-like coral pinnacle. Like all pinnacles on the Ribbon Reefs, this site was swarming with fish – schools of snapper, trevally, fusiliers and surgeonfish.
We encountered reef sharks, turtles and gropers, though the highlight this time was an inquisitive olive sea snake.
On surfacing we learnt that a minke had been spotted, so it was quickly back in the water on snorkel. This whale proved very shy, however. From the boat the crew could see it circling just beyond us, but it wouldn't come close.
After an hour, I was about ready to give up. Then, suddenly, not one but two whales slowly swam below me. It was a magical sight, even though they were too far away for a photo. I hung out for another 10 minutes, but that was the only encounter I would get that day.
After another dive at Lighthouse Bommie we moved to the most famous site on the Ribbon Reefs, Cod Hole. It had been a few years since I last visited, but it was like returning to see a few old friends.
Four potato cod were hanging around for the free feed, though only one bossy individual got all the food. Once it was gone they settled down, and it was fun observing these very large fish close up.
We ended with a drift at Dynamite Pass. This pretty coral wall is decorated with sea whips, gorgonians and beautiful soft corals.
As we cruised with the current, we saw jobfish, gropers, parrotfish and a massive school of fusiliers. And that afternoon we sailed to nearby Lizard Island for a barbecue that finished under the stars.
Gear packed, the next morning I reluctantly left Spirit of Freedom.
I was jealous of the arriving group that could look forward to exploring Osprey Reef, my only consolation being a wonderful low-level flight back to Cairns.
It was the perfect way to say farewell to the Ribbon Reefs – especially when I spotted a dwarf minke whale swimming close to the surface.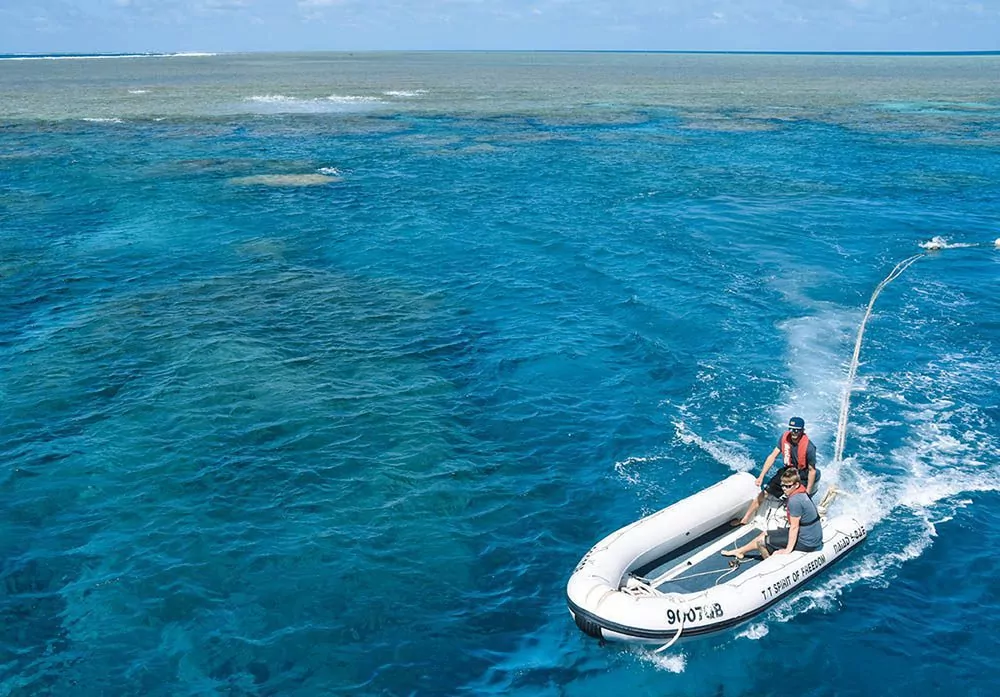 FACTFILE
GETTING THERE> Flights from the UK with Singapore Airlines, Malaysia Airlines & SilkAir. UK visitors require a visa before departure, immi.gov.au
DIVING & ACCOMMODATION> Spirit of Freedom is one of only a handful of charter boats that have swim-with-whales permits. It offers a weekly three-day trip to the Ribbon Reefs, followed by a four-day Osprey / Ribbon Reefs trip, and these can be combined. The 37m steel-hulled liveaboard was built in 1992, has a crew of 10 and takes up to 26 passengers in 11 cabins. It has two tenders, spiritoffreedom.com.au
MONEY> Australian dollar.
HEALTH> The nearest hyperbaric chamber is in Townsville.
WHEN TO GO> Year-round, but to see dwarf minke whales book a trip in June or July, and book early. This is the Australian winter and water temperature ranges from 23-25°C (it climbs to 29°C in summer), while the visibility is generally 20m to 30m.
PRICES> Return flights to Cairns from £700pp (June). Three-day Ribbon Reefs & Cod Hole trip from Aus $2225pp (about £1220), two sharing a cabin.
VISITOR Information> australia.com, minkewhaleproject.org