SHARK DIVER
The Normal Sharks
What is a 'normal' shark? The sort we see on shark feeds in the Caribbean, or swimming around, often in the distance, at so many exotic locations? Think again, suggests JAMIE WATTS. Additional photography by MALCOLM NOBBS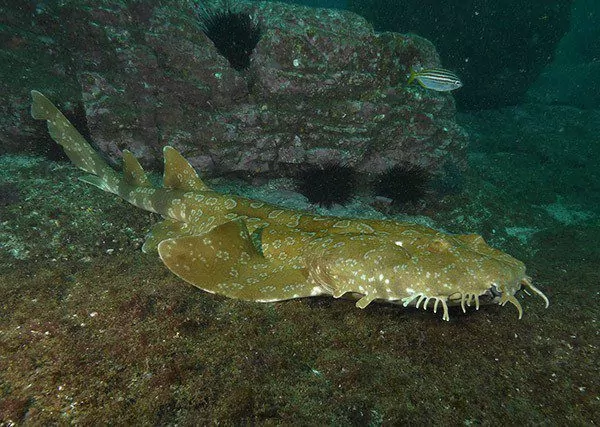 A wobbegong – part of the carpet shark family – sitting on the bottom in Nelson Bay, Australia.
SOMETHING SEEMS JUST a little bit off here. It doesn't look like what a shark ought to look like. It's rather broad and flat, and it's just lying there, rather than swimming around.
It's camouflaged, rather like a scorpionfish, actually – down to the tufts and flaps of skin around its floor-hugging chin.
But I can see those five gill-slits – albeit rather short ones – and the two dorsal fins and top-heavy tail, which all look at least a little bit "shark-like".
The feel of this fish is somewhat lethargic and squat compared to what we think of as a shark. But this wobbegong, sitting at 7m just off the beach in Nelson Bay, north of Sydney, is every bit as much a shark – and in fact closer to the "average" shark – than the classic tropical reef sharks that we think of when we picture a shark.
Our popular conception of what a shark is can be seen in our media representations; movie, magazine and video media seem to give almost all their weight and coverage effort to two families of unusually large, active sharks.
The first family is that of the requiem sharks – the tropical and sub-tropical reef sharks. These include the tiger, bull, lemon and reef sharks.
It's rather a successful family, and until recently they've been easy to find, easy to film and – with a bit of chum in the water, a bit of close-up wide-angle and some dramatic music – easy to portray as dramatic.
But this family represents only 50-odd of the nearly-500 shark species, a little over a tenth of all sharks. They are not really what an average shark is.
The second group getting screen- and print-time are the shark rock-stars – the brash, powerful, dramatic lamnids.
Big, partly warm-blooded and definitely predatory, the great white and its cousins operate at the high-energy super-predator level, competing with the marine mammals at the top of the ocean food-webs.
But the reality is that these sharks include only a handful of specialist species, including the sand tigers or raggies, the makos and porbeagles and the threshers.
They are at the extreme end of what a shark can be and do, and the populations of most have only ever been small.
In ecological terms, and in numbers, these animals are greatly removed from the reality of what most sharks are. So what is more typical?
Appeared in DIVER August 2017