archive – Diver TestsCOMPUTER RATIO IX3M Tech+
IN MARCH WE REVIEWED A WRISTWATCH-STYLE dive-computer packed with functions – the iDive Easy, made in Italy by Ratio and distributed in the UK by Liquid Sports.
Now it's the turn of the Easy's big brother the Ratio IX3M Tech+, a full-blown mixed-gas version with a full-colour TFT display and even more functions to play with.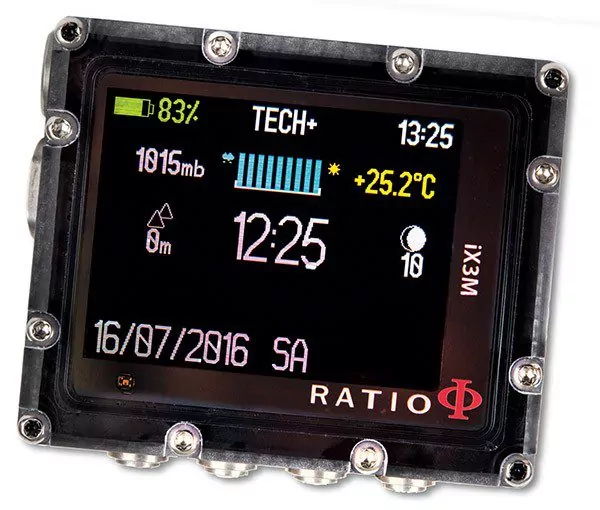 The Hardware
The IX3M Tech+ is a block-style wrist- or forearm-mounted computer. The polymer body holds a transparent Mackrolon screen that's screwed down and sealed using 12 stainless star bolts to give a depth-rating of 300m.
The high-contrast 2.8in QVGA full-colour TFT screen has a 144dpi resolution, and with no air-gap between screen and display the viewing angle under water is more than 150°.
There are visual, acoustic and vibration alarms. Menus, functions and apps are accessed via a four-button system, with stainless-steel buttons positioned along the bottom edge and double-O-ring sealed.
Power comes from an integrated li-ion rechargeable battery boasting up to 40 hours between charges – charging is via a USB cable, so smartphone and tablet wall-chargers or computer USB ports can be used. There are two heavy-duty, adjustable elasticated webbing straps with squeeze-to-release clips.
The Software & Functions
The three models in the range are the Deep, Reb (rebreather) and Tech+ featured here, all using the same software and operating system. The Tech+ features Air, Nitrox, Trimix, CCR, Freedive and Gauge modes with 10 user-definable and switchable gas-mixes.
Downloads and upgrades are accessed either directly through the charging cable or wireless Bluetooth. The algorithms are real-time Buhlmann ZHL-16 B + VPM-B models with user-settable gradient factors and critical bubble radii (RO). The software includes fully customisable deep, deco and safety stops – the deep stops can be switched off or set to standard or Pyle protocols.
Other features include a dive-simulator and planner, gas-mix tables, HD dive-profile graphics, gas-switching and gas-breaks, CNS and OTU calculations, tissue saturation and automatic altitude adjustment.
The display allows personalised colour choices for the data of the main titles, menus and alarms. An ambient-light sensor automatically changes the luminosity of the screen in real time to suit conditions, or can be fixed at your favourite level.
A 3D tilt-compensating compass with visual and numerical direction indicators and a reciprocal direction setting is also included.
Ratio Apps
Apart from the pre-installed applications, additional apps come as free downloads for use as outdoor functions. These include an altimeter, barometer, stopwatch, weather forecast, moon-phase calendar, pitch & roll, magnetometer and a light-sensitive luxmeter.
An integrated Global Navigation Satellite System (GNSS) is also available to provide access to all types of satellite systems around the world, but of course this requires a satellite link and won't work under water.
In Use
The apps are impressive, if a little over the top, but let's not forget that the primary function of this instrument is as a dive-computer.
Before my first dive I downloaded and read the well laid-out manual from Ratio's website, fully charged the battery and set the parameters that suited my personal style of diving.
The four access and menu navigation buttons are (from left to right): Exit, Enter, Up and Down.
I found the various menus and sub-menus intuitive and easy to read.
I chose the colour scheme that gave me the best way of instantly recognising risk-critical information and opted for the ZHL-16 B algorithm with gradient factors of 80/80 to build in a bit of mid-level conservatism.
I disabled the deep stops and set a depth of 5m for my safety stop with a three-minute duration. The alarm function was set to vibrate to avoid annoying my buddies, and I selected Saltwater and Nitrox dive modes and wound the display luminosity up to its brightest setting: 15.
For the first few dives the computer was on my wrist, not my preferred position when using a big camera rig. It felt comfortable and secure and was well placed for assimilating information, but I had to put the camera to one side before I could check the dive status.
On subsequent dives I mounted the unit on a camera strobe-arm, so I needed only to glance up from the viewfinder to see the state of play.
The display was extremely bright and, with sharp, crisp fonts contrasted against a black background, was more than capable of overcoming bright mid-day Asian sun.
On dusk and night dives it was too bright and distracting, but a dip into the menus and a few button-pushes soon sorted that out.
I was diving with Nitrox 32 but on two dives set the primary gas to air, with nitrox as gas 2. This huge amount of conservatism enabled me to test the ease of gas-switching while diving.
Pushing the IX3M into deco prompted me to switch to the 32% mix on ascent and gave a yes/no option to change the breathing gas. Two button-pushes and the job was done.
In Dive mode, critical data such as no-deco limits (NDL), decompression and safety stops were all clearly visible, as was the current depth and dive time.
The gas mix in use and its PO2 can be changed to show the water temperature or gradient factor choice during the dive without overwriting any critical data,.
Current profile or tissue-saturation graphs can also be displayed but at the loss of the NDL information, so it's best to scroll through these rather than leave them on screen.
The compass is accessed under water via a single button-push, and its digital display is possibly the best I've seen.
I found it extremely intuitive, showing the direction in both large N-S-E-W letters and degrees.
A direction can be set and is displayed along with its reciprocal heading. An arrowhead icon indicates the direction to follow to find the set heading, and forward-pointing arrows indicates that you're within +/- 5° of the set route. In Dive mode the current depth and dive-time remain displayed.
I conducted 21 dives with the IX3M Tech+, an immersion time of around 25 hours. I started with a fully charged battery, fiddled with the settings, played with the apps and dipped into the menus (a lot), all with the display mostly on its brightest setting.
I had to recharge the battery after 15 dives, when the indicator was showing a red 15% icon. Full charge was achieved in just under four hours from a wall socket and USB phone-adaptor.
Conclusion
I was in awe of the features packed into this highly advanced dive computer. I found most of the apps useful (especially the GNSS) but viewed others as more of a novelty that would probably never see the light of day if I owned the unit. The compass was a thing of pure simplicity and function.
The display was bright and crisp and the colour options helped me to assimilate crucial information at a glance. The battery burntime was more than adequate and charging quick.
The buttons were very stiff, leaving me with indents on my fingertips after setting my personal parameters, but that also makes them almost impossible to press accidentally.
The IX3M Tech+ is what the name implies but can be used for all genres of diving, with the more advanced features being available as the owner's needs grow over time.
It's one of the best all-round instruments out there, encapsulating the state of the art for dive computers.
SPECS
COST: £799
ALGORITHM: User-selectable Buhlmann ZHL-16B or VPM-B
GAS OPTIONS: 10 settable gas-mixes
CLOSED CIRCUIT: Fixed-point
DIMENSIONS: 88 x 71 x 28mm deep
WEIGHT: 290g
DISPLAY: Full-colour QVGA TFT LCD
MODES: Air, Nitrox, Trimix, CCR, Freedive, Gauge
POWER: Integrated USB rechargeable li-ion battery
ACCESS: Four-button
GAS INTEGRATION: No
CONTACT: www.liquidsports.co.uk
DIVER GUIDE 10/10
Appeared in DIVER September 2016