Appeared in DIVER October 2019
Divepro's S11 is a multi-purpose torch that tackles three different tasks extremely well. Firstly, it works well as a small dive torch; secondly, it makes a good spotting and focus-assist light for underwater photography and, thirdly, when equipped with a snoot, it shows considerable potential for close-up creative lighting.
The Design
All is conventional, with an aluminium body, li-ion rechargeable battery and USB charger.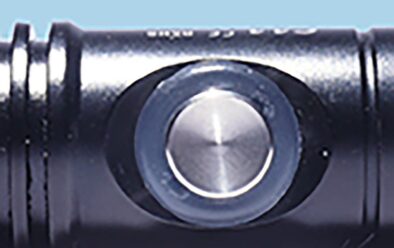 The S11 has a push-button switch that cycles through the menus and is encircled by a state-of-charge LED that changes colour as the battery discharges.
There are double O-ring seals that are hi-vis, making it easy to see detritus on them that might break the seal.
The LED bulb puts out 1350 lumens at maximum output, with a mid-power setting of 1250 lumens and low of 1100. The output is stepless, working like a dimmer-switch. There is also an SOS flashing mode. Beam angle is a claimed 10° spot.
In Use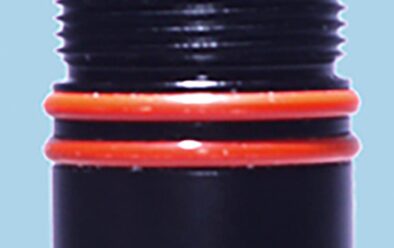 The S11 is handy as a pocketable day diving light, with a narrow beam well-suited to looking into tight holes and under wreckage, or for shining on corals to see their true colours. By night, it makes an excellent back-up torch.
But DivePro has also thought through how this small dive-light might meet the niche needs of underwater photographers.
This torch performs very well as a normal aiming and focus light. The beam is wide enough to be used with most semi-wide-angle lenses by adding one of the three included diffusers, and it allows you to see all of the frame for accurate composition.
It's also a nice solid, even beam, so there are no hotspots and shadows to impair your vision or unsettle your autofocus.
The S11 is supplied with a short alloy arm with ball adapter that fits most popular strobe-arm clamps, so it's straightforward to attach to your camera rig and angle at your subject.
But the S11's most interesting feature is that it includes a snoot.
The Snoot
A few years ago, Keri Wilk popularised the underwater use of snoot photography, already a well-established lighting technique on land.
A funnel is placed over a strobe to create a very narrow circle of light that spotlights just part of the subject, causing it to leap out from a black background.
In the flurry to emulate Wilk's creative lighting, other underwater photographers set about jerry-rigging home-built snoots, while strobe manufacturers rushed commercial versions into production. But strobes are difficult to use for snoot work.
On land, snooting is largely a studio technique, used with immobile subjects and strobes set on stands.
Under water, few photographers light this way. Instead, snoot photography is done with moving subjects in moving water. It's tough.
If you don't want to put the time in to master using snoots on strobes, where the biggest difficulty is figuring out where the light will fall, and with the photographer trying to aim a very slim beam of light blindly onto a specific part of a subject such as an eye, using a constant light source really helps.
Snoots are most often used for close-up work. I tested the DivePro S11 at night in an undercut in Camp Bay, Gibraltar. It's a lovely spot for soft corals and nudibranchs, set conveniently in shallow water and close to shore.
I used a point-and-shoot Olympus TG-2 amphibious camera, which has an extreme macro facility built in.
However, for snoot photography the effect is lost when you set very high magnification levels by using macro lenses and close-up lenses.
They see such a narrow angle that the whole image is lit and the spotlight effect lost.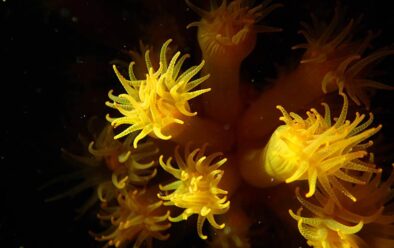 So I zoomed out quite a bit to photograph a larger area and include plenty of unlit negative space. Being a torch, the S11 let me see my subject and angle the light in real time to get the composition I wanted, and also avoid backscatter in the nutrient-rich water.
It also helped the camera autofocus to lock onto the subject.
I knelt on the seabed, camera in one hand and Divepro in the other. This enabled me to quickly adjust the beam for frontal, side, back, and top lighting.
Unlike when using strobes at night, when they pack a very powerful punch into a fraction of a second's flash, constant lights are much weaker, and to register an image on the sensor takes time. A real risk is motion blur, as the camera or subject moves during the exposure.
I was impressed by the output of the S11.
I had enough light to use action-stopping shutter-speeds as short as 1/400th at ISO 500.
It really is a simple to use, and a very effective alternative to a snooted strobe.
Colour temperature varies with power setting. On full power, it's 6500 Kelvin, which is a little cool. Some photographers and video-light manufacturers contend that this yields truer colours at short distances.
Mid-power is 5000K, which is a little warmer than with most strobes and tends to attenuate reds. The level drops to 3000K on the lowest setting.
I usually set my camera white balance to the colour temperature of my strobe or video light, but left the TG-2 on auto white balance. The colours seem accurate to me.
Conclusion
Deceptively compact and understated, the DivePro S11 is a very versatile and practical dive-light that works well as a general day and back-up torch, but also excels as a valuable addition to the underwater photographer's equipment armoury. Highly recommended.
Specs
TESTER> Steve Warren
PRICES> £130
BULB> CREE XPL-V6 LED
BEAM ANGLE > 8°
BATTERY> Li-ion
BURN TIME> Up to 220min
WEIGHT> 99g
DIMENSIONS> 29 x 241 x 40mm
CONTACT> nautilusdiving.co.uk
DIVER GUIDE> 10/10