ACTION CAMERAS ARE A TEMPTING PROPOSITION for underwater film-making. They're small enough not to dominate your dive, completely automatic and fitted with an ultra-wide-angle lens, so all you need to do is point them in roughly the right direction and press the button to record footage of your dive.
The only drawback is that action cameras are designed primarily for use topside, and underwater results can be disappointing without colour filters or video-lights – and then you've lost the whole point of a video camera the size of a box of Oxo cubes.
Enter the Paralenz, an action camera promoted as having been designed by divers, for divers. Paralenz, based in Denmark, invited "ordinary divers" to apply for tester status, and sent cameras out to around 250 worldwide, inviting feedback and comments so that all the little problems that can make underwater photography so much fun could be taken care of before the final product came to market.
With a back-story like that, I confess that I was really looking forward to using one.
The Design
The camera comes in a small zipped case complete with a soft bag, spare O-rings, a wrist lanyard and a USB charging and download cable, plus mounts for your mask-strap or a camera tray.
Unzip the case and you could easily mistake the Paralenz for a small torch. It's a black cylinder just over 11cm long and 3cm in diameter, and solidly made from a combination of what the manufacturer calls "military-grade" aluminium and polycarbonate.
Rated to a maximum depth of 200m without an additional housing, the Paralenz looks entirely capable of standing up to the use and abuse diving can dish out.
Look more closely, and there's a pull-switch at the top front and a wide, blue-coloured metal ring about three-quarters of the way along.
The ring is marked with settings for power on/off, video filming, still pictures, a custom mode, settings mode and a lock.
The ring turns either way and can be spun right round without coming to a stop. Beyond it is a large cap that you unscrew to gain access to the memory-card and connect the cable to charge the built-in battery, and when you screw it off you'll see three O-rings preventing water entering the camera.
The cap has a very coarse thread, so when you screw it back on, the lanyard-mounting lug can be either top or bottom of the camera.
You switch the camera on by turning the blue ring until the power on/off symbol is uppermost, then pull back on the slider and hold until you hear and feel a little buzz.
You'll see a tiny screen at the back of the camera light up with the Paralenz logo, and then change to show the state of charge of the battery, how much space you have on your memory-card, if wi-fi is on or off and also if the automatic colour-correction system, DCC, is on or off.
This DCC system, which stands for Depth Colour Correction, is way cool. Water absorbs light and colour, of course, so the deeper you go the less colour and contrast you get.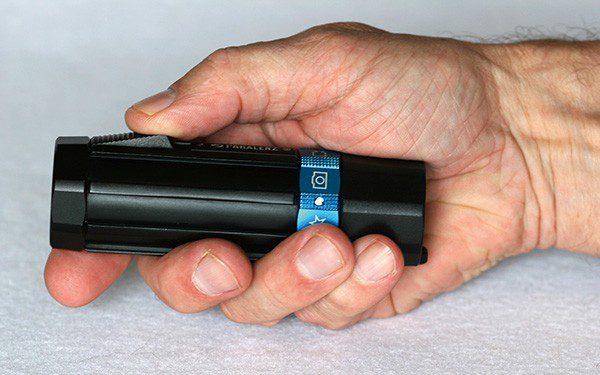 External colour filters are the usual solution, but the Paralenz uses a depth-sensor to automatically adjust the image.
You can choose between bluewater and greenwater settings, and switch DCC on or off at any time with three short pulls on the slider switch. DCC is applied to both stills and video when it's turned on.
You set up DCC in the settings menu, where you can also set video quality to 4k, 2.7k, 1080HD or 720HD at various frame-rates and set RAW or jpeg for pictures, plus a variety of other bits and bobs including time-lapse recording.
To shoot video, turn the blue ring to the video-camera icon and the screen information changes to show how much footage you can shoot and the quality you selected. To start recording, pull back the slider and hold until you feel a buzz. Stop recording by pulling back the slider and holding until you feel another buzz.
If you want a still picture, select the still camera icon. The rear screen shows the word Snap, the image type you've selected and the number of frames you've taken. Pull the slider back to take the picture and, yes, you'll get a buzz as it takes the snap.
In truth, it's a doddle to operate. It's also ergonomically good. Hold it in your hand like a torch, and your thumb naturally falls onto the slider used to operate it.
Attach the lanyard and you're good to go, but Paralenz also sent me its accessory-mounting kit. This contains what it describes as a universal mount and a mask-strap mount.
The universal mount is compatible with GoPro mounts, so I was able to attach it to my usual camera tray and lighting rig. This means that the camera can appeal both to the casual user and more serious photographers.
Memory-cards
The Paralenz uses MicroSD cards, and it's a bit picky. The camera on test was good with a Class 10 SanDisk Ultra but really didn't like a five-quid no-brand card from a well-known online auction site.
The symptoms of this distaste included a reluctance to turn on, then not turning off, only recording video if it felt in a good mood, and telling me it had taken a photograph in still mode when it hadn't at all. Cards last for a long time and aren't expensive, so treat yourself.
In Use
So the Paralenz is well-built, clever and dead easy to use but, and this is the only question that really matters, does it take decent pictures? Only one way to find out…
Under water, with the camera in one hand, the Paralenz was as easy to use and carry as a baby torch. I switched the camera on before I dropped into the water, with DCC enabled, and an hour or so later surfaced with 60% remaining battery, around 30 minutes of video footage and a couple of dozen snaps recorded.
Colour was impressive on both stills and video, and the video footage was clean and clear and with no compression artefacts in either 4k or 1080 files. The jpegs, of which I was expecting very little, were pretty decent.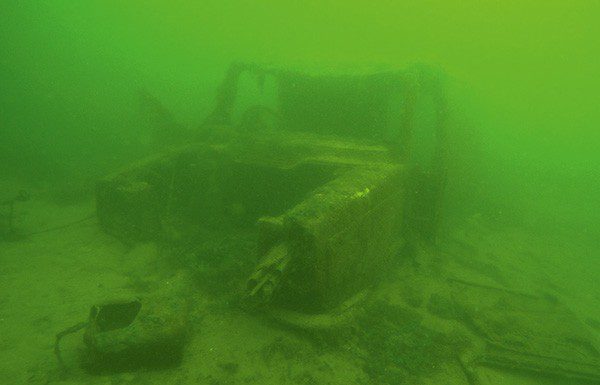 Low-light performance was good and the automatic exposure system worked well, adjusting the exposure level quickly and smoothly.
Unlike with many action cameras, the video footage and still pictures were not over-sharpened or over-contrasty and will benefit from a little tweaking in post-processing, possibly a nod to more serious users.
If you use the camera handheld you'll need to remember to hold it upright. I found my wrist turning a little counter-clockwise, so the recorded picture was tilted if I didn't think about it. Not that it matters that often under water, but be aware.
Look online and you'll see a lot of video shot with an action camera in one hand and a torch in the other, and the Paralenz would work perfectly when used in that way.
For the next dive I screwed the camera to a tray, and suddenly the ergonomic on/off switch wasn't so ergonomic, something more noticeable when trying to take stills rather than shooting video. It wasn't a big deal, but it wasn't as convenient as the more common button on top of the housing of other action cameras.
Switching the DCC off and on so that I could use lights was straightforward, and forgetting didn't make things unusably horrible, though the files weren't ideal. Paralenz suggests that 20m is where you switch from DCC to lights, but in clear blue water I found decent results deeper than that, and in the UK you'll be better guided by how much daylight you have and what the vis is like.
Conclusion
My only real gripe is that there is no screen to show what you're filming, so framing can be a bit hit and miss. I found myself staying a little further away from subjects to make sure that they were in shot, which isn't ideal. The closer the better is a basic principle of underwater photography, and for good reason.
If you're in the market for an action camera, one inevitable question arises – how does the Paralenz compare to a GoPro?
The current Gopro is the Hero5, with a list price of £400. For that you get a camera with a 2in screen on the back that's waterproof to 10m, so for diving use you'll need to add an external housing and a £50 housing good for 60m would suit most divers. That makes the GoPro the lower-price option. Go deeper and you'll need a much more expensive housing, and then the Paralenz wins on price.
Other than that, the GoPro allows you to see what you're filming, which means better framing of your subjects, while the Paralenz has the DCC system for colour balance, which means better colour from the camera instead of more work in post-processing.
The Paralenz looks and feels tougher, but the GoPro has already been through five iterations and had the bugs hammered out.
It's a tough choice, but that's the reality of launching a new product in 2017. All I can say is that the Paralenz performs well and I suspect will fit the bill perfectly for most users, with build-quality to suggest it can survive even in harsh conditions. If only it had a screen.
Specs
TESTER> Mike Ward
PRICES> 649 euros
WEIGHT> 155g
COLOUR> Black and blue
VIDEO> 4k, 2.7k, 1080HD, 720HD
STILLS> RAW or jpeg
CONTACT> paralenz.com