DRYSUIT
FOR DIVERS IN TEMPERATE AND COLD WATER, breaking through the thermal barrier has been essential to progressing towards repetitive, longer and deeper dives. Once you get cold, you become distracted mentally, which affects judgment, and your dexterity also declines, making simple manual tasks difficult.
Humans lose heat to the water so fast that for demanding – or even comfortable – dives in many conditions a wetsuit just can't cut it. It's then that we must turn to drysuits.
Drysuits, like wetsuits, are passive – they don't generate heat to keep you warm. But by enclosing your body in a pocket of air, they can slow heat-loss considerably, compared to a wetsuit in which your body is in direct contact with water.
Air is a good insulator, so the undersuits often used with drysuits for greater warmth use materials that also trap air.
Some drysuits are made from expanded neoprene, like wetsuits. The neoprene provides insulation and buoyancy but, like a wetsuit, will crush under pressure, so buoyancy and insulation diminish as you descend.
Membrane drysuits use materials such as trilaminate, a thin fabric of nylon and rubber. These keep you dry but offer no inherent insulation from the cold in themselves, and are usually near neutrally buoyant.
The Design
In the middle ground is compressed neoprene., which is expanded neoprene that has been reduced in thickness by largely collapsing the rubber's bubble structure.
This should result in a drysuit that is rugged, provides some insulation and undergoes little buoyancy shift with changes in depth.
Scubapro's Exodry 4 compressed-neoprene drysuit is not an expensive suit, but it certainly impressed me. It's a back-entry suit and comes with latex neck- and wrist-seals and attached boots.
The neoprene itself is 4mm thick and is nylon-lined on both sides and, of course, the seams are dry-stitched.
A chest-mounted inflator and bicep-mounted adjustable auto-dump are included, along with a hose, maintenance kit, bag/changing-mat and wetsuit hood.
Closing the zip before you dive and opening it afterwards requires a buddy, or at least an assistant. The zip has a generous underflap for insulation. Along the outside there's a fold-down protective panel with Velcro tabs that keeps your BC from rubbing against the zip. Scubapro offers other self-donning front-entry drysuits for solo-divers or those who value their independence.
Zip aside, this is an easy suit to don. The boot uppers are neoprene, rather than heavy-duty wellie types, so you don't have to dislocate your ankles to slide your feet in.
There are ankle-straps to minimise air migration and help keep your feet in the boots if you do mess up and go Polaris.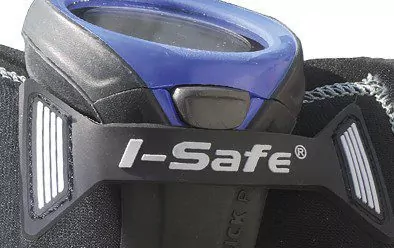 Adjustable braces with quick releases are fitted, helping to keep the suit positioned properly, but these are especially useful at the surface when you want to roll down the top and loop the sleeves through the suspenders.
I spent a lot of time wearing the Exodry 4 on the surface for selfies, and found it as comfortable as any other compressed neoprene drysuit I've used. The neck features a warm-neck collar, adjusted for size and comfort with two more Velcro tabs. Its purpose is to keep the bib of your hood secure inside the collar so that cold water doesn't hit your neck.
A drain-hole with a real grommet, which is a nice touch, allows trapped water to exit the collar as you break surface.
This prevents water falling inside the suit when you take off the neck-seal.
Scubapro has fitted the Exodry 4 with reinforced shins for durability and flex-panels behind the knees to make finning, walking and climbing ladders more comfortable. There's additional reinforcing on the front shoulders where BC straps and buckles can cause chafing, as well as on the seat, an area prone to scuffing-up.
In Use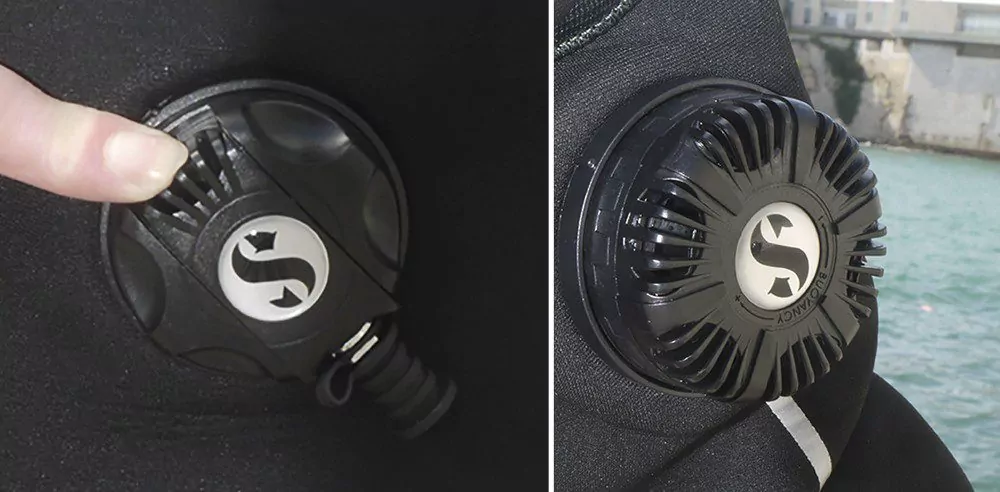 I tested the Exodry 4 in Gibraltar in water temperatures of 14°C. I wasn't sure how the suit would perform at keeping me warm. In the Red Sea I had found that a different 4mm compressed-neoprene suit (my own) worked well with only a T-shirt in 23°, but 14°?
I played safe and put on a very thin cloth salopette, and that was it. I then did a nice long dive during which I tried to feel cold, but even my bare arms were kept warm by the Exo's sleeves.
In fact I was still warm when one of the other divers called the dive. For comparison, he was wearing a drysuit with a premium undersuit, and admitted that he'd been getting a little chilled.
The suit felt streamlined and easy to swim in – and I did a lot of swimming in it.
As a recreational diver, who might dive twin-12s at most, I have always preferred to use my drysuit for buoyancy control and keep my BC for back-up buoyancy under water and for routine surface flotation.
For the test I used a single 300-bar 12-litre steel, a very heavy cylinder under water.
I felt that my trim was good, although admittedly many factors affect this, such as how heavy your fins are or if you use ankle-weights (I didn't), as well as your tank-positioning.
The inflator valve is operated by an edge-mounted press switch, rather than the more common centre button. It's very easy to use because there are finger-wells to provide purchase. In the past, I've bruised my sternum pressing direct-feeds with centre buttons, but that's probably just me.
There's a baffle on the inside of the suit that diverts incoming cold air from the inflator, so you don't really feel it. The baffle is made up of two overlapping flaps held together by more Velcro, so it's easy to get at the inner inflator-valve to remove it for maintenance.
The dump is located on the left bicep. It has a lot of adjustment for automatic venting as you ascend with a manual push-button over-ride.
I tested to see if I could dump air faster than I could let it into the suit from the direct-feed and I could – easily.
But this is a bit of a red herring, because a drysuit dump-valve isn't like a BC's. It's badly affected by your undersuit and harness-straps slowing air-flow to the valve.
When I tested the auto-dump to see how precisely it vented automatically if I set it right, then raised my bicep very slightly or ascended a little, it worked flawlessly.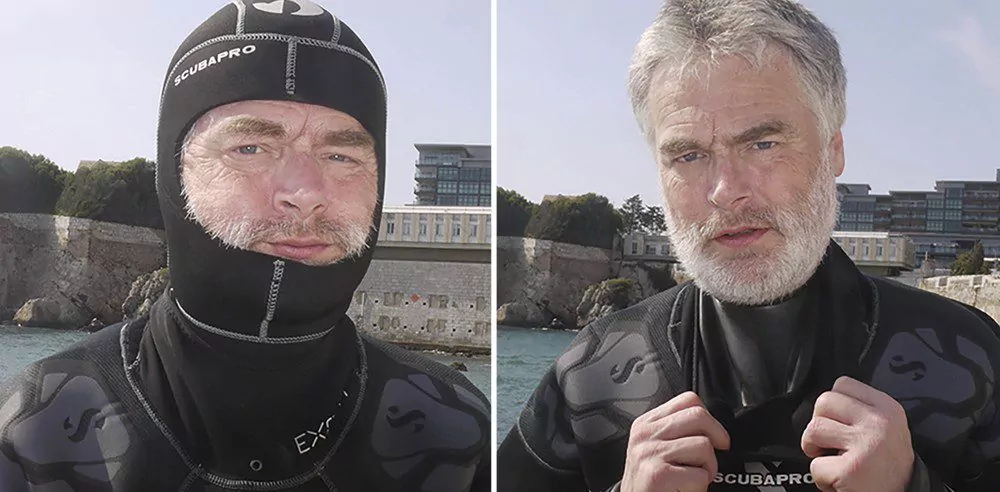 Both valves are easy to use with gloves, an accessory used by most drysuit divers.
The hood is made from expanded neoprene and is double-lined, except for faced neoprene seals inside the bib and around the face.
It's vented to let out the air that is often introduced by mask-clearing. I blast-cleared my mask to try to inflate the hood, but the air vented almost instantly.
A baffle discourages cold water from entering through the vents and seemed effective. There's a discreet eyelet to clip your hood to a small hook on the suit's bellows thigh-pocket between dives.
The thigh-pocket itself is well thought-out. The main pocket is zipped, with a nylon loop and a plastic D-ring for securing accessories. It's quite a good size and can easily take a small torch or action-cam.
Piggy-backed onto this is a smaller Velcro-tabbed pocket that is ideal for a small slate.
Both forearms bear retainer straps, designed to keep wrist instruments from shifting position.
Conclusion
There's a lot to commend the Scubapro Exodry 4. I suspect that the soles of the boots will need to be replaced once in a while if you shore-dive much. They just aren't very rugged as far as I can judge but, that minor and unproven criticism aside, this suit is very nice.
It's comfortable in and out of water, easy to swim in and I'd expect the compressed neoprene to be long-lasting, even with heavy use. It's certainly fully featured – I can recommend it.
Specs
TESTER> Steve Warren
PRICES> £685
SIZES> Male S-3XL and short sizes available, Female S-XL
WEIGHT> Male 5kg
COLOUR> Black
CONTACT> SCUBAPRO
DIVER GUIDE> 9/10