Action Cam
"WELL," SAID THE OTHER HALF, "is that a Tovatec Mera in your pocket, or are you just pleased to see me?"
"While I am always delighted to see you, my dearest," I replied, "It is in fact a Tovatec Mera combined action-camera and diving torch."
Let's be honest and acknowledge that action-cameras are pretty common these days. Not quite two a penny, as they used to say, but you can buy a perfectly adequate one with a 30m housing for less than £50, especially if you're prepared to spend some time on Internet auction sites.
And then you find out that as soon as you're more than a few metres deep the colour balance doesn't cut it, and you'll need to add some lights.
Back to those auction sites, and you can pick up a couple of perfectly usable video-lights for less than a hundred pounds.
They, like the camera, will not be range-toppers, able to rival the brightness of the sun on shallow-water tropical dives, but they will work, and will be surprisingly useful in darker UK waters.
Of course, you'll also need a tray to hold the camera, with arms for the lights so that they're pointing where you want them, and by this point your matchbox-sized action-camera has grown into a piece of kit that's still small and compact by underwater-video standards but a lot bigger and more awkward to carry than you might like.
That's probably why so many divers like a head-mounted action-camera and rely on their torch for illumination, a combination responsible for all those YouTube videos apparently shot on night-dives by a camera operator suffering some sort of seizure, and consisting largely of a detail-free centre spot of blinding white surrounded by inky darkness.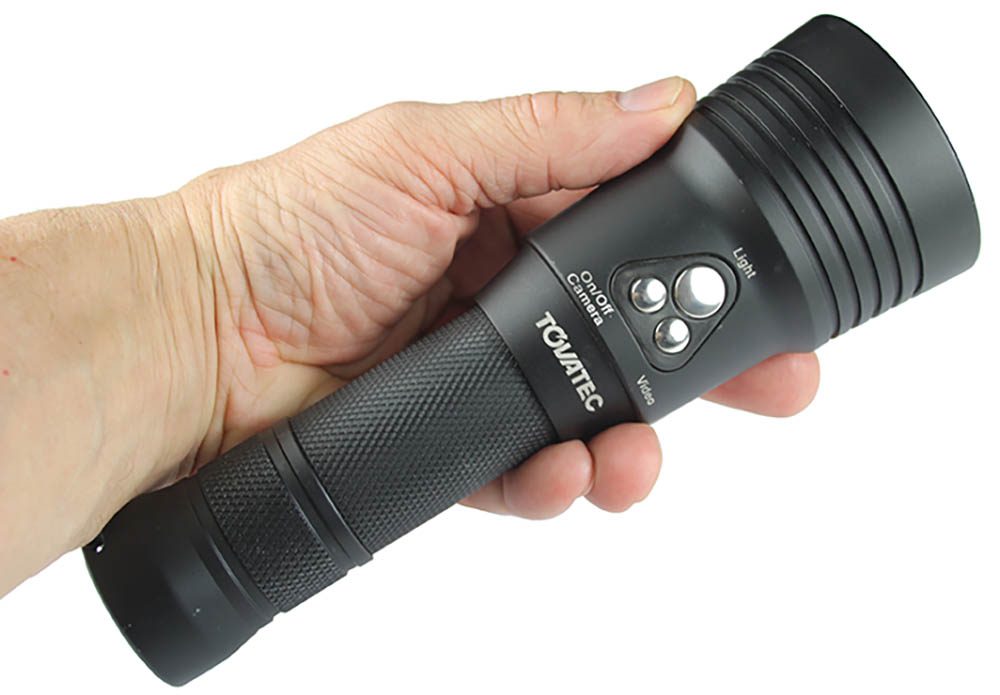 Or you could buy a Tovatec Mera, effectively an action-camera with a wide-beam video light and a narrow-beam torch all built into what looks like a reasonably chunky diving torch.
It's quite possibly a genius idea, and very, very convenient, though I'll confess that an immediate problem leapt to mind, to which I'll return in due course.
The Mera comes in a neatly fitted zip-case that holds a battery-charger, a Tovatec 26850 battery, USB charger cable, spare O-rings, a 16Gb MicroSD card and an SD adapter card so that it will fit the SD slot on your computer.
The instructions are very clear and once you've read them once and had a dry run at home you won't need them again. If there was a prize for easiest-to-use diving camera ever, the Mera would be ahead by more than a nose.
Charging Tovatec Mera
There is no charger plug because you can use the one you use for your mobile phone, or the USB socket on a computer.
The charger unit is clearly marked to ensure that you insert the battery the right way around. Plug it in and a red light indicates charging, a green light means charged.
I prefer positive indicators like this to chargers that simply turn off when charging is complete.
To install the battery and memory-card you unscrew the barrel of the unit from the head, slide the battery into the barrel and the card into a slot in the head, then screw the sections back together. The threads feel smooth and precise, well-machined and promising a long service life, and the O-rings seem durable, if thin in section.
You'll also find that the spring pushing the battery against the contact in the head section is pretty fierce, so you'll have to use a bit of oomph to get the screw to mate, but it's nothing a real diver can't manage.
Controls
The controls are on top of the unit where they're accessible to your thumb. Three buttons are arranged in a triangle, with the largest at the apex controlling the lights. A two-second press turns the video floodlight on at maximum power, a claimed 1000 lumens, then a short press cuts output to 500 lumens.
Another short press brings up the 1000 lumen 12° spotlight, and a final short press drops spot power to 500 lumens. Press again and the cycle starts again with the 1000-lumen wide.
At the front of the lamp-head you'll see that there are actually two separate torches in each Mera, one for the wide beam, one for the spot.
Tovatec claims that the camera alone will run for 8 hours, camera and full-power lamps 1.5hr and lights at half-power 2.25hr.
My bucket test agreed with Tovatec, though 90 minutes of video of the inside of a bucket was not the most exciting movie I've watched.
Now you have the lights sorted, you press and hold the bottom-left button for two seconds to turn on the camera. A quick press of the same button takes a photo, or a press of the right-hand button starts the video. Another press stops it.
Turn the camera off with a long press on the left-hand button. See what I mean by easy to operate?
The triangular panel behind the buttons lights up blue to show that the camera is turned on, flashing if no memory card is installed. That's a good idea, far more useful than finding out only when you get home and try to download non-existent footage. Not that I've ever done that…
When the battery runs down the panel turns red, but Tovatec says you'll still have enough battery to film for another 15 minutes using the lamp at full power, which is ample reserve.
By now you'll have worked out that the wide beam is designed to light up the field of view of the action-camera, which Tovatec describes as a proprietary unit shooting 1920 x 1080 full HD footage at 60 frames per second.
In use, the broad-beam floodlight effectively functions as the viewfinder of the camera.
You'll also notice that I haven't mentioned any photographic controls to alter the camera output. That's because there are none – the Mera is fully auto only, but that doesn't have to matter too much if the auto function is well set up.
In Use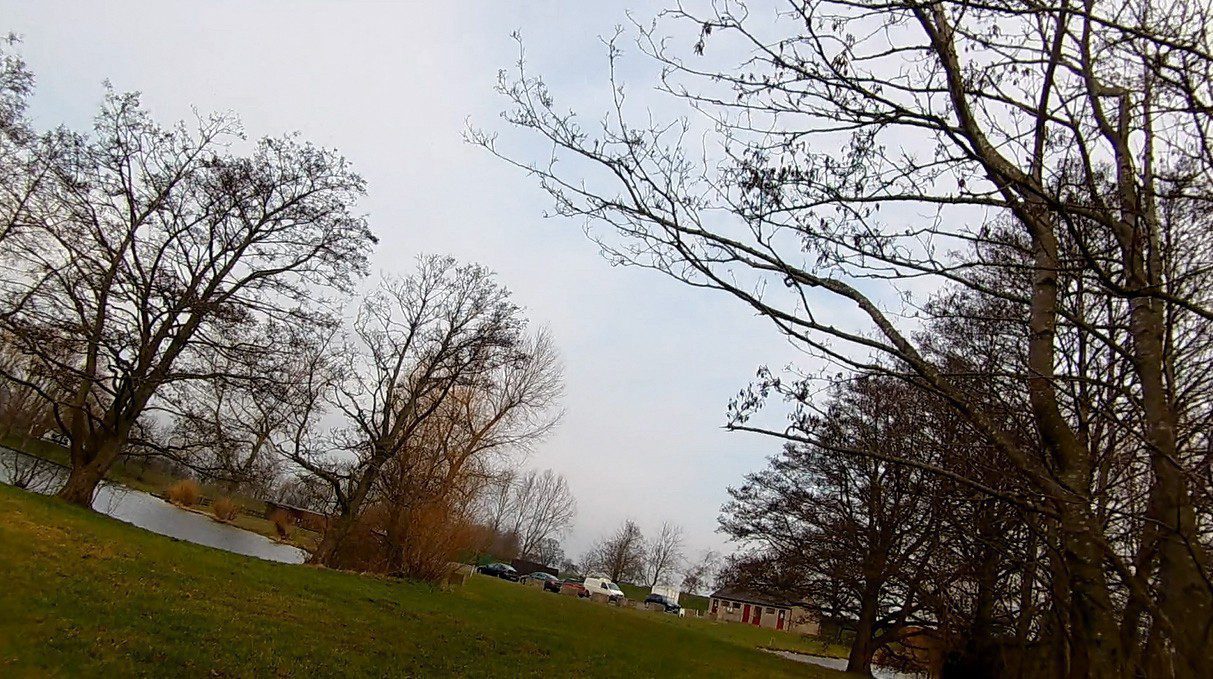 So does it work? Above water the photo mode is reasonably good and the pictures are entirely acceptable for on-screen sharing. Exposure is well-judged and sharpness good, with just a trace of colour-fringing in areas of high contrast and some image softness in the corners, if you look for it.
The biggest issue I had above water was tilting horizons. I tried to hold the camera horizontal, of course, but never managed to get it exactly right.
But, and it's a big but, none of this matters much under water, where the camera takes nice images in good light, with decent colour balance down to 4-5m, after which you need the light to restore some colour. The design means that filters will take some DIY effort before you can use them.
Turn on the light and you quickly realise that 1000 lumens sounds a lot, but not when compared to daylight, so in shallow water you need to get close for the floodlight to be useful.
In deeper, darker water, the light provides far more potent illumination than you might expect, and will allow you to get well-exposed pictures and video footage very easily.
Switching to the spot-beam provides a water-penetrating bolt of light that's as good as any other 1000-lumen spot diving lamp, and added to the appeal of the unit in certain situations.
The three control buttons were easily located by touch even through a 5mm Kevlar glove, and the size and shape of the unit overall made it easy to hold and point. If I bought one I'd use a short lanyard with a suicide clip and treat it like a torch, not a camera, clipping off when it wasn't required.
Backscatter
Which brings me to the problem I hinted at earlier, and my only serious reservation about the Mera. When the light source is very close to the camera lens you see all the detritus in the water clearly lit up, like driving through snow with your headlights on full-beam.
That's why photographers mount their lights on arms away from the camera, and there's no hiding it, backscatter is an issue with the Mera.
Conclusion
Does backscatter matter? I suspect not for the users for whom it's intended, because what you get is an all-in-one unit that's easy to use, ideal for those who want to record their dives in the most convenient way possible, and without carting along a load of photo or video gear.
And it just might appeal to a certain sector of the diving fraternity, those of us who like a bit of wreck penetration. Combining primary light and video unit is a compact solution when you need to swim through dark passages a lot.
Certainly I can think of three dives on which I'd have liked a Mera rather than the video outfit I actually used, and the depth-rating of 60m does nothing to limit the appeal.
In absolute terms the Mera is decent but not outstanding, but I'll own up and say that I'm very tempted by it, despite owning much "better" cameras. The ease of use, size and weight make it truly appealing.
Specs
Tester> Mike Ward
PRICES> £289
SIZE> 195x66mm
WEIGHT> 570g
DEPTH RATING> 60m
CONTACT> CPS Partnership Ltd
DIVER GUIDE> 8/10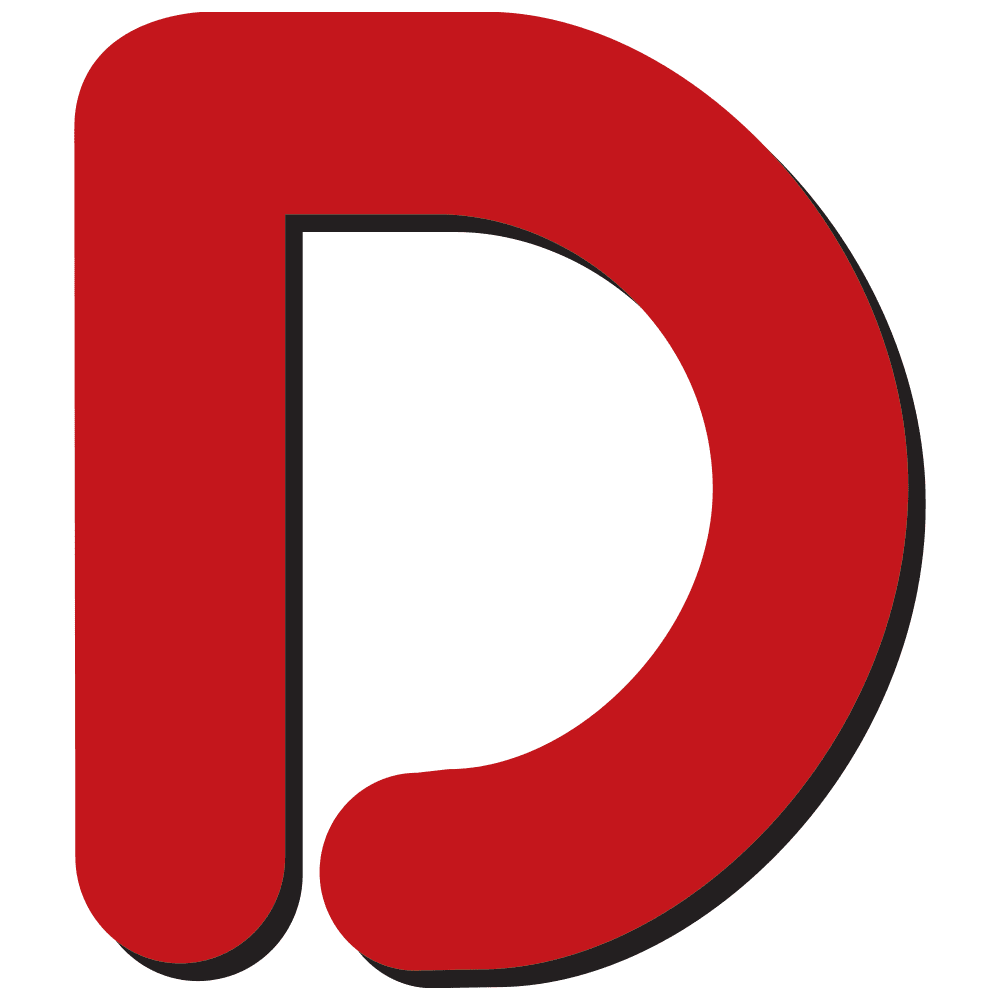 One of the world's longest-established diving websites, Divernet contains a wealth of information about diving destinations, equipment, techniques and much more, as well as daily news updates from around the world.