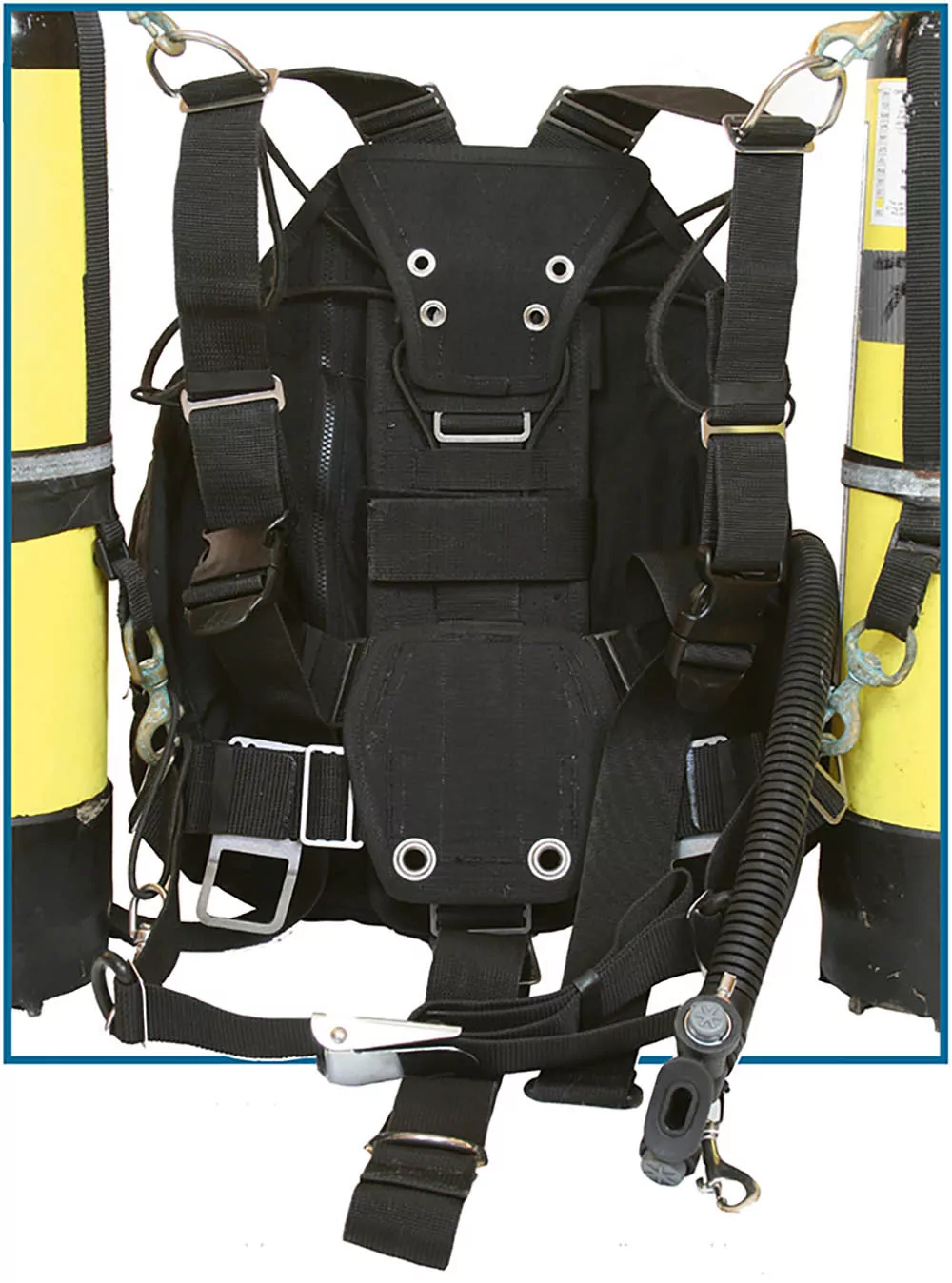 Appeared in DIVER February 2019
I HAVE LONG USED INDIE 12s as my standard liveaboard set-up. On the plus side, there's gas and to spare for pretty much every situation,
I can have different gases in each cylinder if I like (yes, I know, shock, horror, get over it) and in the water the kit is streamlined and easy both to swim with and to enable my wreck-ferret impersonation.
On the minus side, two tanks makes for
a heavy rig when climbing into a RIB for the ride out to the site, and it's heavy for the boat-handler to haul back in at the end of the dive.
So, to ease my aching back and help the boat-handlers, I've recently switched to a single cylinder on a wing or BC for most of the diving, clipping on an extra tank when I feel it would
be useful. This arrangement retains all the advantages in terms of gas volume and composition, and separating the cylinders makes the component parts lighter to handle.
Then X-Deep sent me its Stealth 2.0 Rec sidemount wing to try, so I took it to the Red Sea for a week to give it a proper going-over, and to see how it fitted my requirements.
The Design
First impressions count, and on opening the box they were very positive. The Stealth 2.0 is a well-made, serious piece of kit.
It looks a bit complicated if you've never dived a sidemount wing, but this is X-Deep's recreational sidemount set-up, intended to offer everything you need to get started.
Look more closely and it all starts to seem familiar. There's a fairly standard harness, made of substantial 50mm webbing and with a crotch-strap as standard. Trust me, that harness will be around long after you and I have stopped diving, still well up to the job.
In typical X-Deep fashion the harness shoulder-straps are separate from the waist-belt. They hold D-rings for the top clip of a stage cylinder and have pinch-clip buckles. The waist-belt has a number of fittings for attaching the bottom bolt-snaps of your cylinders.
Two pieces of ready-attached bungee, one either side of the harness, run from the inside of the back of the harness to the shoulder-straps at the front, and will pass under your armpits when you put the harness on.
Attached to the back of the harness is a bladder, as with any other wing. True, this bladder is a bit oddly shaped, like a short, fat, inverted kite, and the corrugated hose is fitted halfway down the left side as you wear it, instead of coming over your shoulder.
However, the inflator unit is satisfyingly bog-standard, and a small bolt-snap is attached to help you clip the inflator somewhere handy.
A single dump-valve is fitted at the bottom centre of the back of the bladder, equally accessible to either hand.
A length of bungee is attached to each side of the bladder. The idea is that you pull the bladder down and forward to attach it to your waist-belt, so when you're swimming horizontally it stays in place and doesn't balloon above your back.
Oddly, X-Deep supplies a bolt-snap only for one side, so you'll need to find one in your spares box, or work out how to anchor the wing another way.
Kitting Up
When you first get your wing you'll need to adjust it to fit, starting with the length of the back of the harness, and also get it to sit such that it is both comfortable and effective in use. X-Deep has a downloadable guide to show you what to do, but expect to fiddle a bit to get it all to feel just right.
If you enjoy kit-fettling, go sidemount, that's all I'm saying. The opportunities for fine-tuning are Olympic-standard.
Or you could do what I did and just don the harness, attach the cylinders and go diving. Sidemount is not rocket magic, despite what some true believers might tell you.
Putting the harness on is a bit fiddly until you get used to putting your hands through the harness under the shoulder-straps but above the bungee cords – but as you're doing this with no cylinders attached it's easy enough.
Then you clip on the cylinders. The liveaboard kitting-up benches turned out to be the right height to put the clips on a stage-rigged ally 12 where I needed them to attach my bottles, with no bending or fiddling.
In the RIB it was easy enough to rest the cylinders on the tubes to attach to the harness, but I did need more space on the tubes when the bottles were clipped on. It really wasn't that my bum was big in that wetsuit.
In the Water
The X-Deep almost forced me into a solid face-down horizontal position in the water, and adjusting buoyancy was easy and positive with the inflator.
Dumping was a bit more awkward, because that central valve turned out to be a stretch to reach with either hand. In a wetsuit I simply needed to make a bit more of an effort than usual, but the restricted mobility of a drysuit made it more difficult.
The bungees holding the bladder in place could have been shortened to make things more streamlined, but it all felt fine, and I'll remind you of what I said about fettling.
The bungees under my arms were easy to reach, dry- or wetsuited, and stretched over the necks of the bottles to pull tight into my chest.
However, I stopped bothering after a day or two, because I like the neck-bolt-snaps on my cylinders pretty short, and it wasn't gaining me much.
I'll confess to not being a great fan of integrated weight systems, preferring a weight-belt, but X-Deep offers an accessory weight-pocket system that runs up the centre of your back, and I would regard this as an important part of the wing, certainly in a wetsuit.
I was wearing a shorty, so even with lightweight full-foot fins my legs were heavy, and a weightbelt pulled my centre of gravity lower, so I was permanently a bit knees-low.
With the weight-pocket and the weight higher up I'd have been able to get my C of G higher and achieve a more horizontal position.
Also, I was using aluminium cylinders, which are pretty much neutrally buoyant to start with, so I finished each dive butt-high as they emptied, which magnified the effect as they moved my buoyancy upward.
I solved the cylinder issue by moving the bottom clip forward on the waist-belt once in the water, but with some adjustment to the harness and the position of the bladder everything could be resolved.
That's nit-picky, but proper trim is proper trim.
Conclusion
How did the wing fit my system of diving? Perfectly well, certainly using aluminium cylinders. I was able to dive with one bottle or two equally comfortably, and the ease with which cylinders could be attached and then unclipped to pass back into the RIB was lovely.
Steel cylinders are less buoyant, but a pair of steel 7s hold pretty much the same gas volume as a standard 15, but are easier to handle out of the water.
I sense that I'm veering towards a review of sidemount as a concept, so let me say that the X-Deep Stealth 2.0 Rec is a grand piece of kit, and if you've never dived sidemount it does indeed offer everything you need.
Specs
TESTER> Mike Ward
PRICES> £499, weight-pocket around £75
WEIGHT> 83kg
BUOYANCY> 13kg
COLOUR> Black
CONTACT> deep.eu
DIVER GUIDE> 9/10