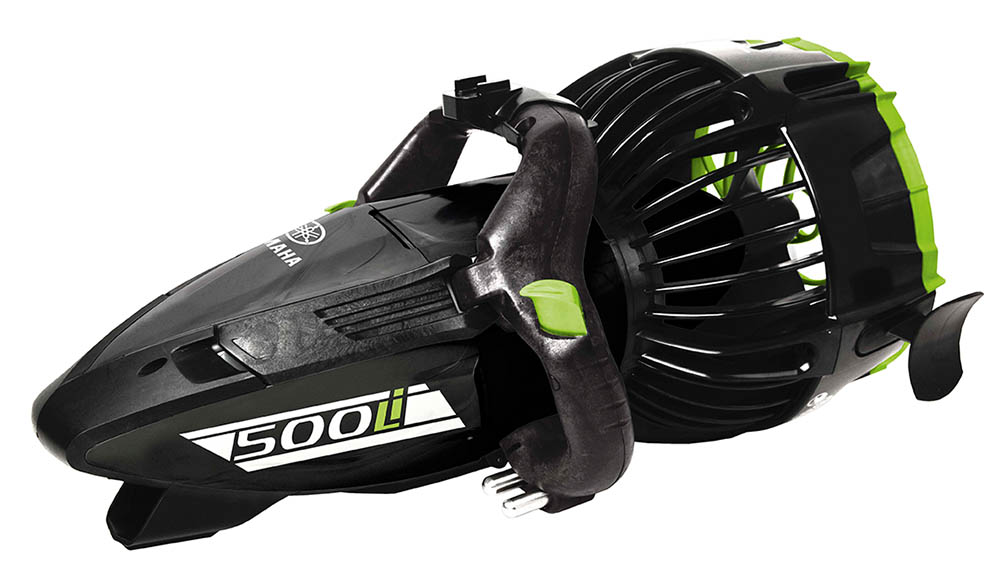 Appeared in DIVER July 2018
I BLAME JACQUES COUSTEAU and his boys on Sunday tea-time telly. They were the reason I wanted to be a diver in the first place, and when they used electric sledges to power themselves through the water, I really wanted to have a go.
As it turned out I had to wait 40 years before I got the chance, but a few years on from that first try, and scootering still makes me grin from ear to ear.
I know, the only difference between men and boys is the price of their toys, but when John from Sea Scooter UK sent me the latest Yamaha 500Li for review, I came over all unnecessary.
The Design
The Yamaha came packed in a sturdy cardboard box with moulded polystyrene inserts to keep it safe in transit and, once unpacked, the combination of shiny black plastic with brilliant lime-green highlights made it pure eye-candy.
The basic shape is classic DPV. The battery and motor are housed in a pointy egg-shaped pod that tapers to a narrow waist and then flares out to the well-guarded propeller.
A moulded handle curves over the top of the unit, with a pull-out master-switch centre-top, and there's a hand-grip at each side topped by a thumb-operated press-switch.
In the box you'll also find a pair of arm-rests that slot into place on either side of the unit to provide extra support during long periods of use, and four stainless-steel slugs to add extra weight if the unit is too buoyant.
Yamaha says that the 500Li is near-neutral in sea water and a bit negative in fresh.
Charging
First job was to charge the battery, which involves sitting the scooter on its tail, undoing three hefty latches, removing the nose-cone and unscrewing an O-ring-sealed plug from the battery-charger port. The battery-charger shows a red light when the battery is charging and a green light when you're done, and a small tub of grease is supplied to lube the O-ring before the plug is screwed back in.
It was nothing of a job, really, made simple by a well-written, well-illustrated instruction book that also covers operating the unit, and some basic maintenance tasks in easy-to-follow style.
In Use
And then – oh, be still my beating heart! – it was time to go scootering. Or take it for a scoot; I haven't decided on the correct terminology yet.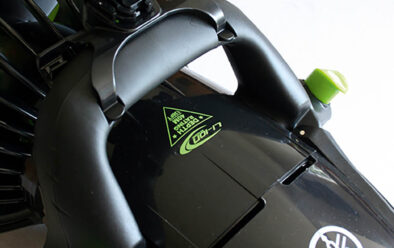 At this point it's worth mentioning that the scooter weighs 9.5kg out of the water. The top and side handles are placed so that it's nicely balanced and as comfortable as possible to carry, but it's still 9.5kg, so you might not want to carry it too far.
In the water, of course, the weight almost vanishes. As Yamaha had said, I found it to be a tiny bit negative in fresh water – not enough for it to immediately sink when I let the motor stop to clear my ears or adjust my buoyancy, but just enough that I could put it down without it floating off. And I do mean just enough.
To use, you pull out the master-switch located in the centre of the top handle, which reveals three green LEDs that show you how much battery power remains.
You get three lights to start, then two, then one, then a single flashing light, and then you're swimming, not scooting.
Power on, grab the side handles and push both green buttons down with your thumbs. There's a little twist of torque and then you're underway, gliding in stately fashion through the wet stuff.
If you want to stop, release one or both buttons and the motor cuts out. Press to go, relax to stop.
The 5-Li has three speeds, selected sequentially, so you always set off at the lowest speed. To go faster, you release and re-press one of the green buttons within half a second, which takes you to the medium speed, and repeat to go to the highest speed.
The lowest speed is very pleasant, perfect for a Sunday-afternoon scoot when the sun is shining and all's well in the world.
Change up a gear and you're travelling purposefully forward at a decent clip. Not so fast that you can't admire the scenery, but definitely going places rather than sight-seeing.
Top speed is, frankly, unnecessary. There's always a hum from the motor but I found it noticeable at top speed and felt my mask and regulator hose vibrating in the slipstream.
Mind you, it did allow me to briefly keep pace with a surprised-looking pike that would normally have had it away on its fins far faster than me.
Battery life was around an hour of continuous use, mostly using the low and medium speed settings, but with a few bursts of high-speed scooting. Well, it seemed rude not to.
And if you do end up out of juice, the unit is much easier to swim with than a big, housed camera. Fully recharging the battery took around seven hours.
And I almost forgot, included with the scooter is a clip-on mount to attach a GoPro, or any other action camera using the same mounting system, which means pretty much any action camera on the market.
Conclusion
I liked this scooter. It was easy to use, easy to live with, good looking and it did the job.
Specs
TESTER> Mike Ward
PRICE> £1550
SIZE> 319 x 300 x 610mm
WEIGHT> 9.5kg
SPEEDS> Three, max 4.35mph
DEPTH RATING> 40m
CONTACT> seascooteruk.com
DIVER GUIDE>  9/10