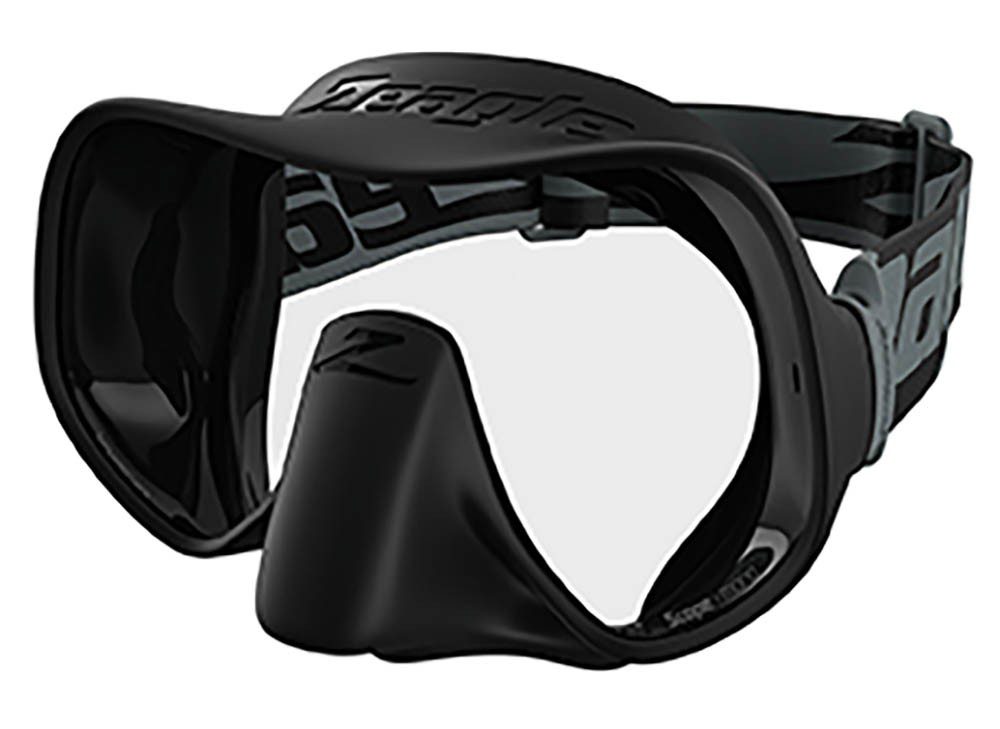 Appeared in DIVER August 2019
ZEAGLE IS A US MAKER and its origins lie in skydiving equipment. Moving into scuba, it was a pioneer in designing wing-type BCs, and an innovator in weight-integration.
It's a small company, with a website that still has the feel of a family-run business rather than a corporate giant.
Zeagle offers a limited selection of products, centred on its BC line. A few regulators and accessories make up the rest of the range.
The Design
The Zeagle Scope Mono has, as you'd expect, a single pane of glass. Zeagle also makes the Scope Dual, with the two lenses that make it easy to provide owners with off-the-rack eyesight correction, as Zeagle does.
It can also let the mask designer set the lenses slightly closer to your eyes, improving peripheral vision.
However, the Mono actually has an excellent field of view out to the sides. Downward vision is also very good, which can help you to locate sternum-strap buckles or see to connect or disconnect a drysuit direct-feed.
The Scope is a frameless design, meaning that the glass is inset directly into the front of the mask-skirt, not locked into place with a metal or polycarbonate band. This reduces weight a little.
The black silicone skirt is very supple. The Scope is made to collapse virtually flat for packing, or to fit into a dive-pocket as a back-up mask. There's the usual double seal and nose-pocket.
The strap supplied is a ski-goggles type and it's slackened or tightened by pulling on sliders on the strap itself, rather than by adjusting buckles. A loop is built in for your snorkel.
In Use
The soft silicone, which is what allows the mask to collapse for storage, is extremely supple and makes for a very comfortable fit.
It also makes for a great seal. I tested the Scope with two weeks' beard growth to see how well it would seal over a moustache and, despite the fuzz and wrinkles, it never leaked.
When I completely flooded it on purpose, I found that I could fully clear it hands-free. It's easy to pinch or block your nose while wearing 5mm coldwater gloves, as I was. The Scope's strap was also easy to adjust under water.
For photographers, the low volume means that this mask will work well with any decent viewfinder. The opaque skirt should block extraneous light coming in from the sides.
When worn by a model, there's good eye contact and the lens doesn't throw a green tint across the face either.
Conclusion
A really nice mask – extremely comfortable and a great field of view. Highly recommended.
Specs
TESTER> Steve Warren
PRICES> £60
LENS> Mono
COLOURS> Strap/skirt black, blue, red, yellow
CONTACT> zeagle.com
DIVER GUIDE>  10/10