DIVING NEWS
Call for more volunteers as Invincible attracts more cash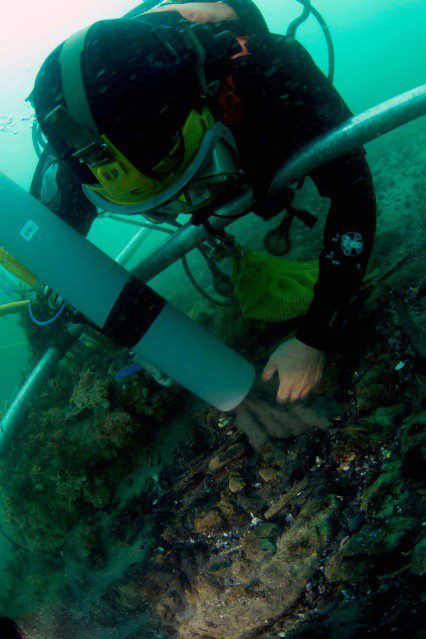 Picture: MAST
A £360,000 Heritage Lottery Fund (HLF) grant has been awarded to the organisations behind the underwater archaeological excavation of the 18th-century wreck HMS Invincible in the Solent – allowing them to put out a call for volunteers in Portsmouth and Poole to help them step up the work.
The Maritime Archaeology Sea Trust (MAST) in partnership with Bournemouth University and the National Museum of the Royal Navy (NMRN) are the recipients of the funding, which will be used to finance a three-year project of Invincible-related events.
The award follows an earlier £2m LIBOR grant, derived from banking-industry fines, that was used to fund the 2017 and 2018 diving seasons.
The dive-team, guided by site-licensee Dan Pascoe, has been "working against time" in what is described as the UK's most significant maritime archaeology project since the excavation and raising of the Mary Rose.
Invincible was built by the French in 1744, captured by the Royal Navy in 1747 and sank in the Solent in 1758. The ship's unusual design and 74-gun capacity was imitated to the extent that her class became the backbone of the Royal Navy's fleet until steam took over from sail.
The final diving season on the wreck starts next April and is expected to yield many more artefacts.
The volunteers will be involved in non-diving activities, however, such as recording and assisting with finds; conservation of recovered artefacts; researching items and stories to feature in digital resources; preparing major exhibitions and helping at events.
"This is a fascinating project and we are hugely grateful to the HLF for assuring splendid resources are being made available to the project," said MAST's Chief Executive Jessica Berry.
"Up until now our hard-working divers have totalled 79,761 minutes over 72 days during 1,011 dives. We are now able to look forward to another very productive season."
Potential volunteers are invited to attend Action Stations, the interactive indoor attraction in Portsmouth Historic Dockyard, on 6 November, for a presentation by Dan Pascoe entitled "The Excavation of the Royal Navy's First Invincible".
They can also register interest by emailing volunteering@nmrn.org.uk