DIVING NEWS
Divers backdate ancient mini-islands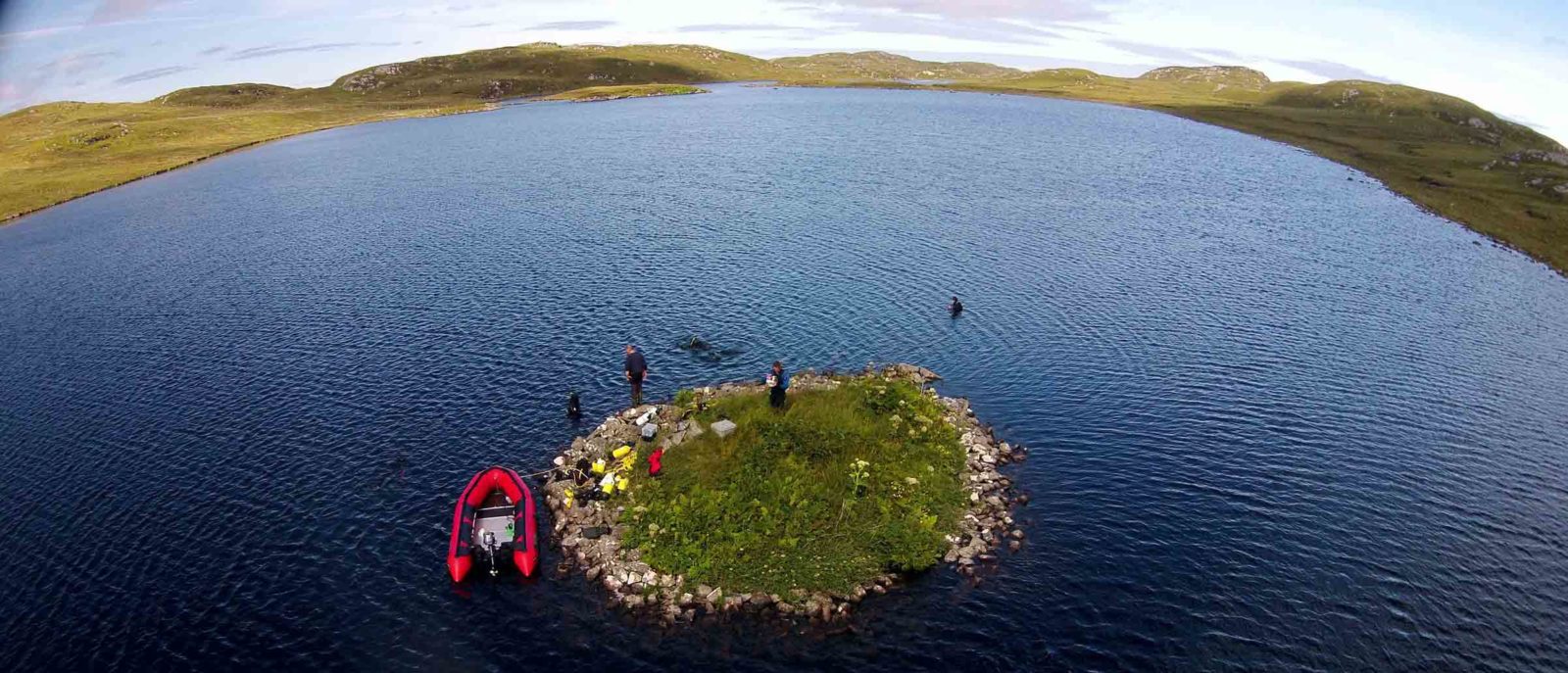 Crannog in Loch Langabhat. (Picture: Fraser Sturt)
Crannogs are mysterious artificial islands found in Scottish and Irish lakes and estuaries and now, thanks to research inspired by a scuba diver's discovery, they have been dated as far back as 5700 years ago – three millennia earlier than previously thought.
Archaeologists and divers Fraser Sturt from University of Southampton and Duncan Garrow from University of Reading teamed up with Isle of Lewis diver Chris Murray to investigate crannogs on the Outer Hebridean island, and radiocarbon-dated them to 3640-3360 BC.
This placed the artificial islands in the Neolithic period, when ancient people were turning from hunter-gathering to farming. Until then they had been thought to have originated during the more recent Iron Age.
Murray, 68, a former Royal Navy clearance diver, Coastguard helicopter winchman and archaeologist, is a well-known figure on Lewis, and now spends much of his time as a topside and underwater wildlife photographer.
While diving seven years ago he found unusually well-preserved early/middle Neolithic ceramic vessels on a loch-bed. With Mark Elliot from Lewis's nan Eilean museum he went on to recover similarly intact pots at five more Lewis crannog sites in 2016 and 2017. The nature of the finds suggested that they had been deposited there systematically, possibly as part of ancient rituals.
The scientific team went on to investigate four of the sites extensively through ground and underwater surveys, photogrammetry and excavation, but their findings have been published only recently, in Antiquity.
"These crannogs represent a monumental effort made thousands of years ago to build mini-islands by piling up many tons of rocks on the loch-bed," said Prof Sturt. "Our research shows this is a new type of site for the British Neolithic, indicating different forms of prehistoric practice. It is very exciting to think about the potential that these sites hold for improving our understanding of the past."
Only a fifth of the hundreds of known crannogs have been dated, and only 10% radiocarbon-dated. The researchers believe that more Neolithic artificial islands could exist, but the mystery remains as to why and how small communities without the benefits of modern technology were able to build such ambitious structures.