DIVING NEWS
Local divers tackle Chesil mystery wrecks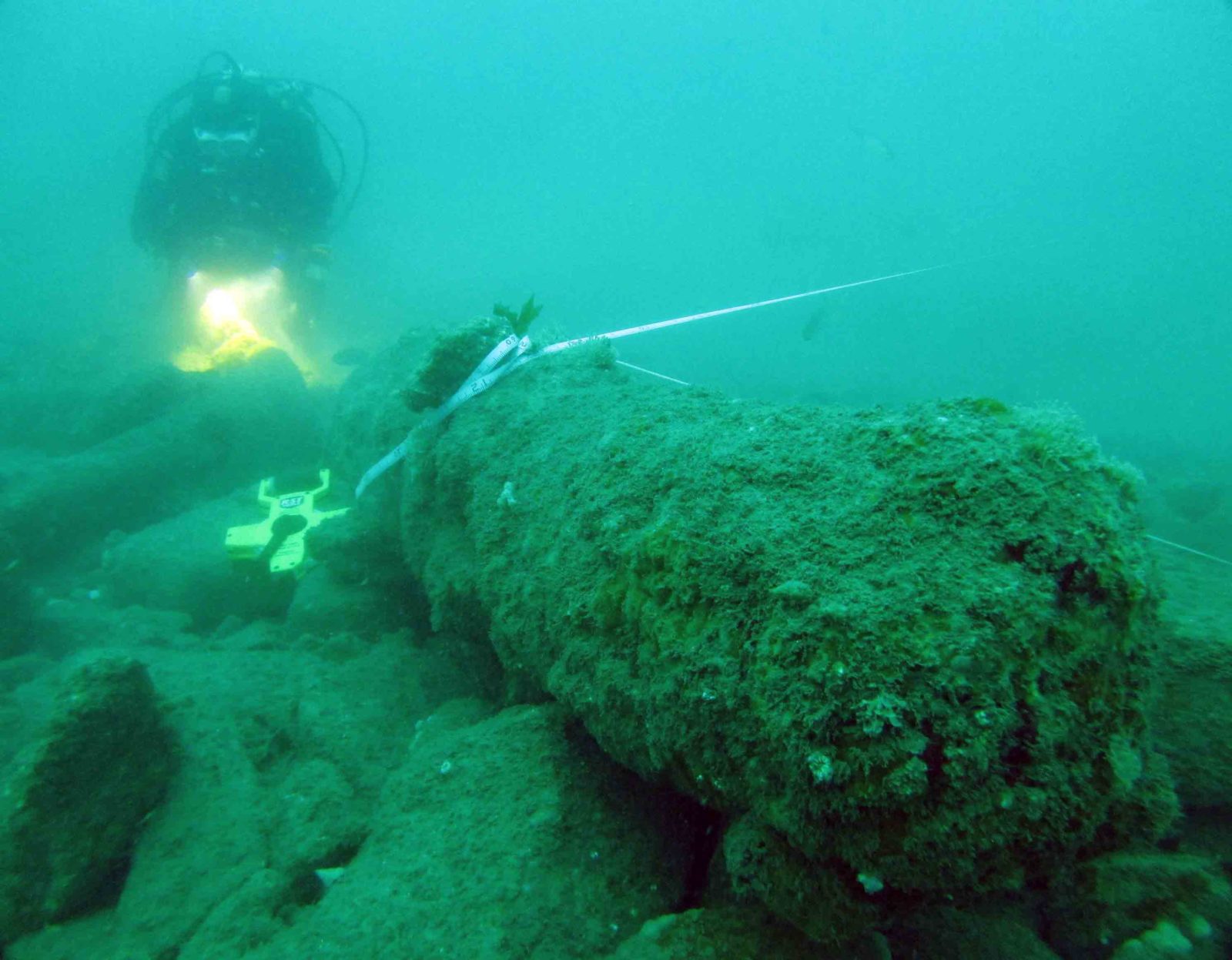 Picture: NAS / MAT
Two protected wreck-sites off Chesil Beach in Dorset are enabling local divers to work as marine archaeologists.
The Nautical Archaeology Society (NAS) and Maritime Archaeology Trust (MAT) are hoping to find out more about the mysterious sites through a week of fieldwork, after which they will leave the amateur team they have trained to continue the investigation.
The Chesil Cannon sites lie 300m apart at depths of around 12m.
Site 1 is thought to date from the late-17th/early-18th century and includes the remains of eight cannon, iron shot and timbers.
Site 2, which might be 17th century, has seven cannon but few other artefacts visible. The two sites could be parts of the same wreck, but 10 years of diving on them has so far failed to establish their identity.
During the summer, local dive-club members and individual divers attended free training in underwater surveying techniques, recording of cannon and photogrammetry to prepare them for their archaeological task.
As a qualified local team they can carry on investigating and protecting the wrecks, which can be dived only under an Historic England licence.
"We hope that by providing these opportunities to divers to develop their skills, they can continue to work on our precious protected wrecks now and into the future," said NAS Education Officer Peta Knott.
"By actively protecting the wrecks through visiting and monitoring the sites, we hope to encourage responsible licenced access to these divers and widen the opportunity for people to get in touch with their maritime heritage."
NAS and MAT now plan to create virtual dive trails of the wreck-sites online to bring them to a wider public.
In the meantime they are showcasing the project on the "MAT Discovery Bus", which will be outside Debenhams in Weymouth on Saturday, 21 September from 10am to 4pm, and at the Chesil Beach Discovery Centre at the same times the following day.
New underwater scans and videos are to be previewed at a public talk at 6pm on 26 September at the Hotel Aqua.
"I hope that the people of Weymouth take this opportunity to join us, and see and experience their maritime heritage," says Knott.
Find out more about the Chesil Beach Protected Wreck Project here