DIVING NEWS
Plymouth gun could be 400 years old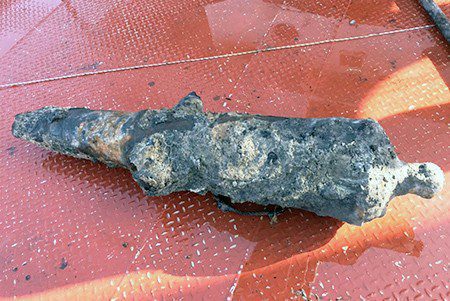 The iron gun on the deck of the dredger. (Picture: 3H Consulting)
A cannon that could be from an English Civil War shipwreck has been discovered in Plymouth. The small gun was pulled up last month during maintenance dredging near the Devon city's Cattedown Wharves.
Local scuba divers informed Plymouth-based 3H Consulting, which produces maritime archaeology software, that the cannon had been recovered. It had been left on the deck of the dredger, with no efforts made to conserve it.
The dredger captain told 3H Consulting that he had intended to present the cannon to a North Cornwall dive-centre, but he then left it on a public quay for the organisation to photograph and record. The Receiver of Wreck was also notified of the find.
The gun was badly eroded and had its muzzle missing but was otherwise intact. It was just under 1.5m long and appeared to have been lying on the seabed with its right side uppermost, breech buried and muzzle exposed. It was thought to have been damaged when it was dredged up.
When 3H Consulting added the cannon to the SHIPS (Shipwrecks & History In Plymouth Sound) Project archive, it was found to match an account of an iron gun recovered from the same area in 1887, along with the broken remains of an armed timber sailing vessel.
That find had been also made during dredging work, designed to allow larger ships to access the wharves. The ship was estimated to be 300 tons and 24-27m long – from its short, deep and broad proportions and gun design, it was reckoned to have been built in the early 17th century.
It was suggested at the time that the ship was one lost during the four-year siege of Plymouth by King Charles 1's Royalist forces during the English Civil War. Both guns had a similar 'P' marking near their touch-holes, but the present whereabouts of the earlier gun are unknown.
3H Consulting has produced a detailed report on the find.
Scuba diving is restricted in the Cattedown Wharves area and investigation of the site requires permission from the Cattewater Harbour Commissioners.