Pioneering US diver, photographer and equipment manufacturer Bob Hollis has died at the age of 85 in Salt Lake City, Utah.
Huish Outdoors, parent company of Oceanic and Hollis, described the founder of those brands as "a groundbreaking influence in both the sport of scuba diving and underwater photography" in a statement yesterday (6 January). It said that Hollis was a "risk-taker who truly did what he loved and inspired others to do the same. If there wasn't a way, he created one".
The manufacturer says that he left a legacy not only as as a pioneer but as an entrepreneur, businessman and family man.
Hollis was born on 25 April, 1937 in Orland, California, and it was a magazine article in 1955 that got him interested in learning to dive and encouraged him to invest in his first two-hose regulator. At the time he was working in Standard Oil's engineering services division while also studying business and mechanical engineering, but in his spare time he became a keen abalone-hunter and spearfisher. 
Home-made housings
In the course of his diving Hollis got to know three of the earliest West Coast underwater photographers. They were building their own camera housings, and he made one for his own camera using transparent acrylic plastics. In 1958 he also made underwater housings for the first electronic strobes.
As an advisor to the California State Parks Department, Hollis helped to explore the Pacific coast and identify key conservation areas such as Point Lobos, La Jolla and Salt Point State Park.
In 1966 he set up the Underwater Photographic Society of Northern California and, with business partner Ray Collins, opened the first of three Anchor Shack stores in Hayward on San Francisco Bay, selling diving, surfing and fishing equipment.
Dissatisfied with the underwater photography equipment available at the time, Hollis had been working to develop his own, and a range of hand-made Anchor Shack underwater photographic equipment was soon being sold by mail order.
The products included camera and strobe housings, trays, ball-joint arms and other accessories, and the business enjoyed particular success with its Hydro 35 aluminum housing for Nikon and Canon cameras.
Out of the ashes
This photographic equipment as well as dive-lights would form the basis for the Oceanic product range, launched in 1972. Two years later the company's building burnt down, but while it was being rebuilt Hollis bought out Collins and set up to mass-produce a plastics housing that could be used for several products. Additional lines included lenses, cases, extension tubes and framers.
In 1976 Oceanic bought Farallon, with its range of BCs, fins, masks, gauges, snorkels, knives, DPVs and even an embryonic dive-computer, and became a major player in the dive industry. The first Oceanic dive-computers were launched in 1989. 
Bob Hollis would go on to form many more businesses, such as American Underwater Products (AUP), Pelagic Pressure Systems, ROMI Enterprises, Hollis and Aeris. For several years he served on the DEMA (Diving Equipment & Marketing Association) executive committee, and lobbied to have federal health & safety laws rewritten to include the acceptance of nitrox diving.
Diving the Andrea Doria
In 1978 Hollis helped to create the underwater saturation system that enabled extended diver exploration (for up to seven days at a time) of the 70m-deep Italian liner wreck of the Andrea Doria in the north Atlantic.
He logged more dives on the wreck than any other diver at the time and, in 1981, was underwater photographer for the documentary film Andrea Doria: The Final Chapter, about recovery of a safe from the wreck.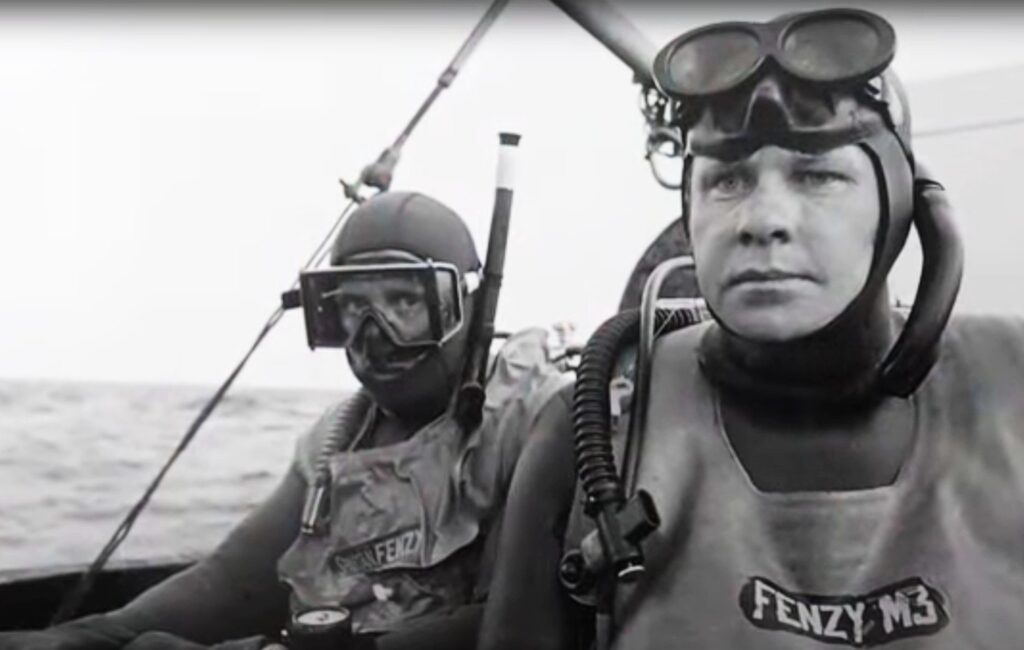 Hollis was an enthusiastic traveller, and led some of the earliest dive-trips to Galapagos and, in the Caribbean, Mexico's Cozumel and Yucatan Peninsula, Belize and the Virgin Islands, as well as the Bahamas.
He also took a group to remote Papua New Guinea, where he would later build a family home and dive-resort, and was said to have delighted in sharing his diving and travelling experiences with his extended family – he had four children, nine grandchildren and seven great-grandchildren.
"Bob's contributions to diving have made exploring the oceans safer and more enjoyable for millions worldwide," stated the International Scuba Diving Hall of Fame, when Hollis was inducted 20 years ago. A comprehensive interview with the diver by Brett Gilliam can be found on the TDI/SDI site.
Also on Divernet: Huish Takes On Oceanic And Hollis