You don't need to be a full-on cave diver to enjoy the spectacular cenotes of the Yucatan peninsula, though a week spent exploring the caverns in good company could give you the appetite to delve deeper, as PENELOPE GRANYCOME discovers. Photos by KATHY HUGHES
Also read: 'Wrong place, wrong time': diver whose head was in croc's jaws
If you're seeking fresh awe and wonder from your diving, there is not much to rival the cenotes of the Quintana Roo area of Mexico's Yucatan Peninsula, one of the geologically richest areas of Earth.
Gliding through shimmering haloclines as shafts of light radiate through translucent water, and hovering over and under the spectacular geology of the speleotherms is a transcendent experience, and an insight into the world of the ancient Mayans, who saw the cenotes as sacred passages to the underworld.
The word derives from d'zonot, Mayan for either "sacred well" or "hole with water", a daily source of water for drinking and for farming. Full cave diving is accessible only to trained technical divers on rebreathers or multiple tanks, but that does not preclude recreational divers from experiencing aspects of this magical world.
The cavern experience is in reach within certain parameters, with the right mindset, appropriate competence and, of course, professional guides.
My friend Kat and I stayed with Underworld Tulum, run by the vastly experienced Lanny & Claire Vogel. The couple not only accommodate some of the world's most renowned cave divers and teams but also divers such as ourselves: Kat a divemaster, and me with just under 300 logged dives.
The Vogels were unfailingly helpful before our arrival, answering any questions from those about gear (we could borrow anything we needed) to water temperature (a very comfortable 25°C year-round). Their kindness is reflected in their gorgeous rescue cats and dogs, known by all visitors to offer the most ebullient welcome after a long flight.
Safety elements
After a day spent settling in, we woke for a briefing with Lanny, fresh coffee in hand, about the topography of the sites with which we were to begin, and the strict safety elements.
It's important to make clear that our diving was no kind of formal course (although extensive training is available) but a baseline of protocols have to be observed, whether in a deeper open cenote or a shallower cave passage.
As the week went on we discovered how these principles, covering such aspects as gas-management, clear communication of goals and risk-management, were framing our thinking about how we could apply them to all our diving.
There is, Lanny explained, no shame in ending any dive for any reason, nor shame from asking any question, and we chatted about Gareth Lock's book Under Pressure, which explores group and individual psychology in relation to mitigating human error in diving.
First up was Cenote Ponderosa, also known as Jardin del Eden, with all this in mind. Underworld Tulum specifies no more than three divers per guide or instructor (maximum ratio is 4:1 in Mexico) and with just ourselves and Lanny we could really relax into the diving.
The first rule is not to wander off from your buddies or the golden cavern line, because no prizes (or mercy) are given for losing or deviating from it, no matter the lure. Lanny had given us a brief overview of markers along with signals and torch protocols (generally ahead, slow movements) and we were to follow him and indicate the turn back after our first third of gas had been used.
All cave and cavern diving follows the gas rule of thirds and, pre-descent, involves articulating your gas turn number as well as an in-water valve-leak check, primary and back-up torch check and confirming that valves are fully open.
We had verified our nitrox-fill percentage and labelled all tanks back at collection. There can be substantial drives to some of the sites and, while rest-rooms and pretty refreshment areas are available, compressors are not!
Light show
It was a spectacular first dive. Lanny laid a line to the first cavern-marker, and we descended into initial darkness through crystalline water away from the open pool. As we followed the line, grand vistas of light danced down over the rock around us, a theatrical light show.
Towards the middle of the dive, the optical illusion of a shimmering halocline beckoned and we swam through it, mindful of buoyancy changes. The Greek halo means salt and cline gradient, so swimming through or descending into the mix requires a counter-intuitive release of air before adding fresh, less-dense water.
Once back in the shallows of the open pool we had plenty of air left to enjoy the fish and mossy greenery of the underwater garden. Kat identified Jack Dempsey, sailfin molly and large tetra species.
After a beautiful lunch, included as part of the day, it was on to the Taj Mahal cenote, a cave-ier cavern dive in more or less continual darkness. Dives like this still constitute cavern rather than cave dives, because they stay within 60m of shallow open water.
None of the diving involved tight spots and Lanny had checked our comfort levels and buoyancy skills, with some feedback on our frog-kicks and diving style. He had our ingrained habits and patterns sussed from the start and these, he assured us, would be obliterated should we undertake further training!
Tajma Ha, as it's also known, was mesmerising. "Now I get it…" I thought. Nothing felt claustrophobic but rather expansive and deeply restful. The route was quite a seesaw profile, so excellent buoyancy was needed to avoid damaging the delicate formations, or oneself.
Kat took a stunning shot of the part known as the Sugarbowl, a ladder stretching up as if towards heaven.
Bull sharks
The next day took us out to sea off Playa del Carmen further up the coast to see bull sharks. Fortunately there was not too strong a current as we descended from a buoyline to about 28m. In the blue sand-bottom calm we enjoyed watching the sharks gliding majestically by, and then a second dive, this time a gentle drift over a reef.
Our guide for the following day was Pete, and over coffee we chatted about where to head next. The choices are abundant, because there are so many cenotes and cave systems across Quintana Roo. They were formed mainly above the water-table in a process called karstification: the dissolution, collapse and recrystallisation of limestone.
Essentially, they were formed by acidified rainwater (from the absorption of carbon dioxide) as well as decomposed organic matter. The caves flooded as the ice-sheets melted from the peak of the last Ice Age around 20,000 years ago.
The mix with salt water is where the greatest dissolution occurs. Just above haloclines the caves are wider, because the erosion is greater.
We decided on Angelita – Little Angel – an open-type cenote where the cave has completely collapsed in on itself. Angelita's outstanding feature is a cloud of hydrogen sulphide at a depth of about 30m, with branches looming out to give the appearance of an enchanted forest.
Pete explained how the decomposing matter intersecting with a halocline created a sulphuric cloud. As we descended to just above this cloud it dawned on me that this was where my friend Rob Franklin, a director of photography and cave diver, shot a whisky commercial of a fisherman "sailing" on the sulphuric river, as I described in a previous article.
It was wonderful to see the same "set" for myself, and as we ascended we enjoyed the sight of a huge stalactite on one side.
At the Carwash
Cenote Carwash (Aktun Ha) was literally once a place for cleaning local taxis (before divers turned up) and was one of the prettiest cenotes – a lily pond with abundant fish in crystal waters. A there-and-back dive took us over a fallen tree into a cavern replete with fossils and even small bones, with Mayan pots to be seen on one side on the return leg.
With only two diving days left, we were treated further with five more outstanding dives. Dreamgate, a stunning sunken cenote, appeared after following a long road into the jungle.
Steep stairs (requiring use of a winch to convey the multiple tanks) provided access, and once we had made our way carefully down to the cool open pool we enjoyed two cave-type dives on one tank each – a circular dive and a there-and-back – replete with stalactites and stalagmites.
Being at only 6m these were relaxing dives, but Lanny had encouraged us to get into the habit of calculating our surface air-consumption rates for better general dive-planning and tracking of improvements.
Post-lunch we found a new friend in Panchito, a Moreletii species of medium-sized crocodile whose home is the brackish water of Casa Cenote. Being so close to the sea, this is one of the few cenotes where you can feel mild current and, across the road, observe the rippling effect in the sea where the salt and fresh waters meet.
This was a multitude of dives in one, with thick mangrove roots and a small cave swim-through. We saw an interesting mixture of species because of the brackish water, with freshwater species such as cichlids alongside marine bream and tarpon.
Plus the unforgettable experience of watching Panchito swim across the surface above us and step out, his little legs clambering up and his tail finally disappearing from the water.
Worm in El Pit
Our last day of diving, with Shannon as our guide, took us first to El Pit, an open cenote with a partial overhang and a spectacular descent towards a halocline as well as, similar to Angelita, a hydrogen sulphide cloud at 30m.
Slowly we explored the sides of the cave, with Kat and Shannon spotting a tiny white worm at depth, and then moved up to find ourselves below the cavernous overhang with its stalactites.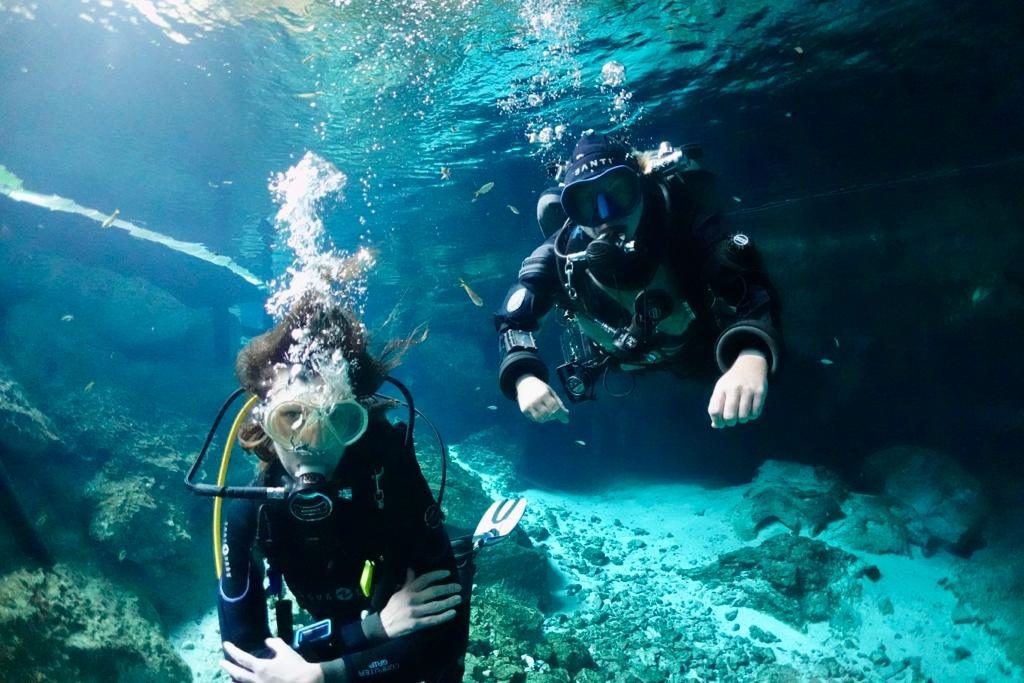 Our last dive was at Sistema Dos Ojos (Two Eyes Cenote), a smaller cave system that was found to connect with Sac Actun in 2012, making the Sistema Sac Actun the largest flooded cave system on Earth. The two eyes refers to two cenotes side by side, and we had the option of the Bat Cave or Barbie Line route, or both.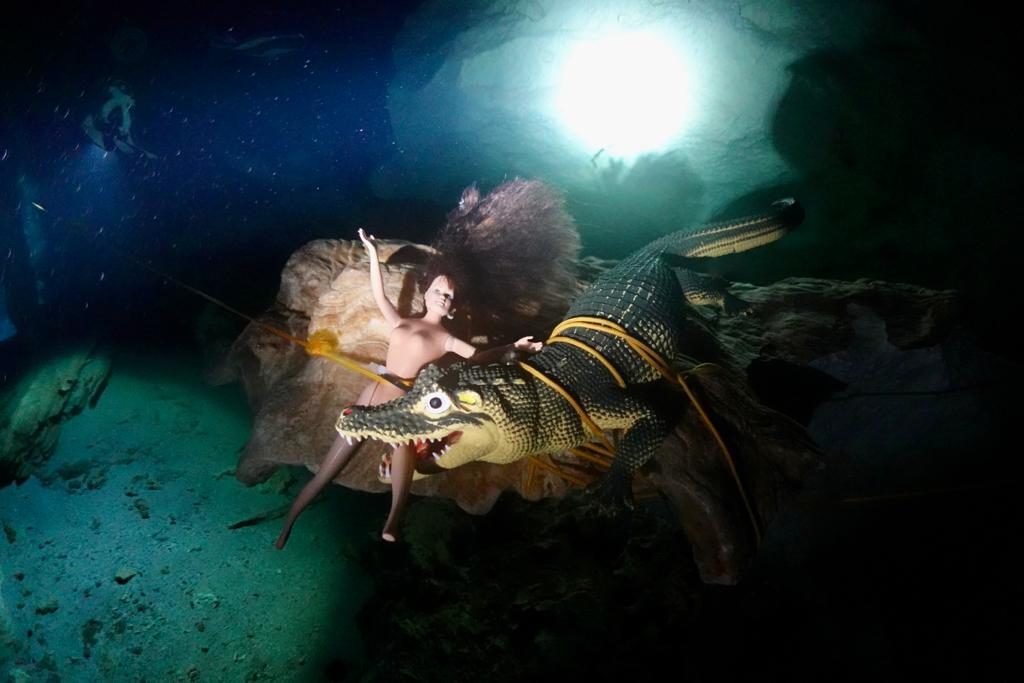 Feeling like one more dive only, we elected for the columns and light-effects of the latter and surely, yes, there was poor Barbie in the jaws of a crocodile at the turn-point.
Exhilarated, we emerged enriched from our week of diverse new sights and sensations, with an appetite to return and a new understanding of those who train to venture deep into the heart of the underworld.
Underworld Tulum
Underworld Tulum is a purpose-built facility that enables recreational divers to explore both the Riviera Maya caverns and the marine life of the world's second biggest coral reef. For technical and cave divers it can offer DPVs, rebreathers and a wide array of suitable sites.
It caters for divers from entry level to those seeking further qualifications in advanced cave, trimix or rebreather diving, and offers TDI/SDI, BSAC, IANTD, RAID and PADI courses.
Guided cavern diving requires a cave-qualified guide for every three divers, and full service guiding, including nitrox, lunch and equipment, costs US $200 per day. Well-equipped apartments, purpose-built for divers, are priced at $90 per night.
Bespoke diving packages are available for individuals, groups and clubs. As an example, a seven-day dive and accommodation package with five days' cavern and sinkhole diving is $1,315 (two sharing).
Underwater Tulum is also offering Divernet readers 10% off any package booked during April or May 2023 (say you read it here). Find details of all the possibilities at the Underworld Tulum site.
PADI Master Scuba Diver Penelope Granycome is a professional actress who learnt to dive in Oahu in 2008. Diving has taken her all over the world but she also enjoys both coastal and inland UK diving. She writes about both diving and well-being.
Also on Divernet: Be The Champ! Cenotes And Caverns, Cenotes Formations, On The Road In Yucatan, Divers Claim World's Biggest Cave-System In Mexico