AZORES DIVER
Far-Off Bright Azores
'From edges of sunken ledges in some far-off bright Azore' wrote the poet Longfellow long ago, almost as if he'd dived the place. JOSS WOOLF can appreciate his sentiments after a recent visit to the mid-Atlantic island group – but it was sharks rather than ledges she had in mind
Divers hang out on their lines for inspection by the blue sharks. Inset: Crashing sea on the island of Pico.
A YEAR HAS ELAPSED since the 2017 Birmingham Dive Show, where the seed was first sewn for a group trip to the Azores, led by fellow underwater photographer Martyn Guess, primarily to see the blue sharks.
Sure, you can go down to Cornwall (the journey is almost as long as to the Azores from London) where, with Charles Hood's very polished act, you can virtually guarantee a sighting on any of his popular trips. But while I struggled to come to terms with the cost of an Azores holiday, I realised that this was going to be a very different type of trip.
It turned out to be worth every penny; we were to be guinea pigs, this being a first for Scuba Travel, our tour operator.
Let me just put the Azores on the map. This crop of nine volcanic islands, which extend over an area of some 370 miles, sits in the middle of the Atlantic, 1000 miles west of Portugal, to which they belong, and 1200 hundred miles south-east of Newfoundland, Canada. "If measured from their base at the bottom of the ocean to their peaks, which thrust high above the surface of the Atlantic, the Azores are actually some of the tallest mountains on the planet," says Wikipedia.
We were based on Faial in a hotel with a dining room the unrivalled position of which gave us spectacular views directly onto the harbour and the dramatic volcano of Pico opposite. This is the highest point in Portugal, at 2351m.
Every morning we would arrive for breakfast in time to witness the rising of the sun at the left-hand corner of this ominous-looking peak, which was almost always obscured by an ever-changing wardrobe of clouds.
This is not your regular warmwater dive-trip, where you casually don a 3mm suit and slip into 30°C water. I hadn't realised quite how like British diving this was going to be, and I thought I'd given all that up!
At 22°, some people needed 7mm of neoprene. I found a 5mm semi-dry just fine, although it was quite irritating to have to go and buy yet another new suit because an old and perfectly good suit had shrunk so much with age.
With a little shower gel, however (biodegradable, of course), it slipped on easily enough.
There were eight of us. All of our dives were by fast RIB and none of the sites, apart from Princess Alice Banks, of which more later, was far away.
Appeared in DIVER February 2019
EVERY PART OF THE world has its own indigenous species; the previous year at God's Pocket, Vancouver Island, it had been the red Irish lord. Here it was the slightly smaller, but similar-looking, scorpionfish. Once you get your eye in, they're everywhere!
Perfectly camouflaged flounders, with only their tubular eyes visible, danced across the grey volcanic sand, and very colourful rainbow wrasse abounded.
But we were really there to see the magnificent blue sharks. We were told that we must wear hoods and gloves and remove anything shiny or bright that might attract them a little too much.
We charged through the waves in our RIB to a spot at which the seabed was about 150m below us. The crew started to throw smelly old fish-guts into the sea.
Four 15m ropes were deployed, two on each side of the boat, each with a weight at the bottom to keep it down and tied off securely at the top onto the RIB.
As the stars of the show began to arrive, we were told to gently slither into the water – no big splashes, as this might frighten them away.
Then, two to each rope, one above the other, we held on tight so as not to be swept away by the current, and waited for the sharks to come up close.
Diving with the blue sharks was a first for me. I've dived with hammerheads in the Galapagos and tiger sharks in South Africa, and I can only say that it's probably through sheer ignorance that
I have never felt in any danger.
These guys, on the other hand, with their huge black eyes and long pointy snouts, reminded me very much of the great white shark, but they were described by our expert crew as mere puppies!
These animals are much larger than their Cornish cousins, some more than 3m long, and they are very curious.
It was fun to watch how the breathing rate of my companions increased as they were approached. Although we were lucky enough to have two sharks on our first encounter, they disappeared as quickly as they had arrived, into the murky gloom of the deep blue.
WE CLAMBERED BACK onto the RIB for a break, and those with any air or energy left tried their luck again a little while later.
The islands are a long-established stopping-off place for yachtsmen, and it was "somewhere off the Azores" that Sir Francis Chichester famously celebrated his 65th birthday on his single-handed round-the-world voyage, on his yacht Gipsy Moth in September 1966.
The walls in Peter's Bar, which dominates the main road overlooking the little harbour, are completely covered with banners from visiting yachts. No visit to Faial is complete without a gin and tonic from this thriving local hub, which also serves grilled limpets (delicious) and octopus as regular fare.
Princess Alice Banks is a submerged seamount that rises more than 1000m from the sea floor to within 32m of the surface. From here, on a clear day and if you're lucky, you can actually see the top.
Apart from being a well-known fishing area, it is also a world-class diving attraction, boasting many pelagic species including sharks, barracuda, mobula rays and shoals of tuna.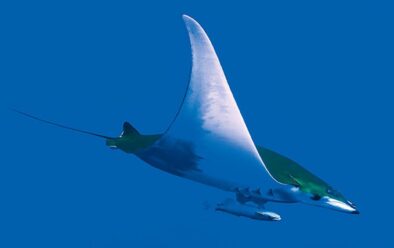 It is located some 60 miles west of Faial, and on our two-and-a-half-hour RIB ride we encountered several species of dolphin, including spotted, striped, common and bottlenose, some in huge schools, leaping right out into the air.
We were lucky; free-divers had been tagging mobulas from a research vessel, and we were able to moor up and join the party right away. Again, we gently slipped into the water and climbed down onto the four ropes provided.
What a thrill to see at such close proximity the mobulas and tuna that came to inspect us, and to watch the skill of the long-finned, lithe freedivers as they went about their work.
It was a beguiling thought to remember that we were right in the middle of the Atlantic Ocean, a thousand miles from anywhere except for a small scattering of volcanic islands.
My second dive on the seamount was less successful; a strong current had developed during our surface interval and I grew tired of being a windsock after 10 minutes, and decided to abort the dive.
What a fool I was – those who chose to remain were rewarded by a school of 15 mobulas and, of course, the current had dropped off completely after only a few minutes.
NO TRIP TO THE AZORES is complete without a whale-watching expedition. First, on shore, you are educated about the differences between whales and dolphins and about the various different behavioural patterns. Then it's off to sea to hunt for sperm whales on a RIB, where you sit as if you're riding a motorcycle for 10 people.
Our guides were experts; they took us to where they had had recent sightings both from land and sea, and then lowered a device that resembled a huge pole-cam, but with a large cup shape on the end, connected to headphones.
The operators are able to hear and follow the whales' chatting. They know, also, that these creatures need to come up for air every 40 minutes or so, so it's not difficult to position yourself in the right place at the right time.
Only our boat had this special listening device, and three or four other local tour operators had cottoned onto this fact and followed our every move. We were allowed only within a certain distance of
a surfacing whale, but they remain in place for about five minutes before
diving again, so you have plenty of opportunities for that iconic shot of the whale's tail "with drips".
We saw no fewer than five whales on that trip, including a mother and her calf.
ALL GOOD THINGS MUST END, and on our final, off-gassing day we travelled by ferry to Pico, the huge volcano opposite, for a wine tour.
They have been growing vines on this island for hundreds of years, and you can spot the grape-pickers a mile off, by their bent statures.
You are immediately struck by the abundance of small paddock-like enclosures with black, drystone walls that have been constructed using the readily available volcanic rock. Unlike vines in France, in the Azores they grow close to the ground, and the walls help to protect them from the elements.
For lunch we were offered a choice of octopus or triggerfish. The concept of vegetarianism has yet to reach the Azores as two of our group, much to my wry amusement, were constantly reminded.
FACTFILE
GETTING THERE> Joss flew with TAP to Lisbon, then SATA to Horta in Faial.
DIVING & ACCOMMODATION> Azoris Faial Garden Resort Hotel was " a very comfortable 4* hotel with great views over the harbour towards Pico", azorishotels.com. The Dive Centre, Haliotis, is set in the hotel grounds, haliotis.pt/en/centros/faial
WHEN TO GO> June to October, when the pelagics are drawn in by the warm currents. The group travelled in September.
MONEY> Euros.
PRICES> Scuba Travel arranged the trip for £1275pp including flights, seven nights' B&B (two sharing), airport transfers and 10 boat-dives, scubatravel.com. Princess Alice Banks excursions and blue-shark dives cost extra (150 euros per two dives), as do whale-watching, nitrox and land tours.
VISITOR Information> visitazores.com