Will Appleyard might have been overdoing the salt water, if that's possible, so with winter approaching he took time out to tour four of the UK's best-known inland sites
I'VE BEEN GUILTY OF NEGLECTING our beloved inland dive-sites for a few years now – with the South Coast on my doorstep, I guess they've just been out of sight and out of mind.
But why? After all, you know what you're going to get visibility-wise, the water is always flat and fresh, and as far as getting your kit from the car to the water is concerned, by the time you've parked, you're almost in it!
Also read: Scientists dive into pondlife soundscape
To make amends and to rekindle that old but not forgotten flame, I thought I would make the effort to revisit what I consider the UK's best-known four.
I was also keen to find out what kind of life these sites now harboured, rather than solely focusing on their more obvious, purposely placed attractions.
I put together a little scorecard for each one too – a kind of "Top Trumps" for UK inland diving, if you like!
Vobster Quay, Somerset
The first stop on my freshwater diving tour is Vobster Quay, quietly tucked away in the county of Somerset and a couple of miles from the village of Vobster itself.
Originally a quarry, Vobster began life in the 1800s, and stone-removal drew to a close only in the 1950s, when it began to flood. Vobster's Tim Clements told me that for the next 25 years, what is now the lake was used by "local swimmers and for unofficial diver training".
During the 1980s, Defence Ministry contractors developed the site to simulate acoustic-warfare techniques, with a wave machine, periscope simulations and acoustic sonobuoy drops. You can still find evidence of this activity such as wire and parachutes around the lake.
I picked a suitably rainy morning for my visit, but the dive-centre boasts several covered kitting-up areas right next to the car park, so this wasn't really an issue.
I turned up on a Monday, when most people are looking for diving holidays at their desks – sorry, working – which meant that I had the pick of the parking spaces. I do know, however, that a queue of eager divers forms outside the gates at the weekends.
Furnished with a couple of fresh cylinders, my partner Ana and I made for the water's edge.
After consulting the handy waterside navigation map, I decided on a loose plan to take us to around 20m to see the "crushing works" (a metal structure that formed part of the quarry's heavy equipment) and then up into shallower water, where a couple of aircraft sections lay at 14m.
My first reaction on descent was: "Wow, fish!" I had never seen fish in Vobster before, but stacks of perch had immediately presented themselves.
Freshwater mussels clung to the posts and underside of the training platform too – great to see. But hang on, Vobster, where was the stupendously good visibility you're famed for?
An algal bloom perhaps? It wasn't bad-bad, but I have seen it better and I guess conditions are always going to fluctuate, even inland.
The crushing works is a super-spooky-looking structure with a doom-laden name to go with it.
I could see that Ana was a little wide-eyed as we passed over the labyrinth of worked metal with seemingly no end to it, so I thought twice about taking her down to the bottom – which is actually quite fun if you haven't been there before.
Aircraft are often the star attraction for inland dive-sites, and Vobster's Hawker Siddeley HS748 (for all you plane-spotters out there) is no exception.
It provides a great little swim-through, and was also home for many of my new perch friends.
Boats, armoured vehicles, a tunnel, a blockhouse, cars and a truck all compete for divers' attention at Vobster, and with depths ranging from 6-36m I think there genuinely is something for every diver.
The website strapline claims it to be "the UK's friendliest inland diving-centre" – well, so far so good, Vobster!
We found the shop to be pretty well stocked and the hot-food van did what it was supposed to do too, so it was an all-round good experience.
National Diving & Activity Centre, Chepstow
Until this little project came about I had never been to NDAC, the main reason being that I had I thought it was miles from anywhere.
I was reasonably wrong about that. Well, yes, I think most people would need to invest in some motorway time, but I found it well-situated, with few of those annoyingly twiddly little roads to navigate.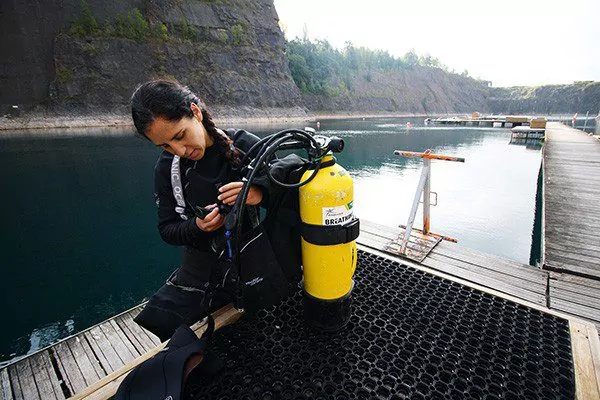 We arrived the evening before our planned dive, so Ashley, one of the site's managers, invited us to check out its on-site drive-in movie screening (A Nightmare on Elm Street). What great use of a car park!
NDAC handily has space for a few camper-vans too, which suited us accommodation-wise. It's also possible to rent one of its many wooden cabins, which I thought was a great touch (along with the bar, of course).
It isn't possible to drive to the water's edge. Instead two minibuses provide a shuttle service, ferrying divers down a steepish track that ends at a pontoon.
This worked pretty efficiently as far as I could see, and also limited the flow of divers (of which there are many on a Saturday) to the water.
The first thing I noticed on arrival at one of the designated pontoon kitting-up areas was that the water was blue! Also, watching a pair of divers descend before we hopped in, I could that see that the visibility was fantastic!
We chose to dive the 23m shelf, and worked out from the navigation map that we could take in a good handful of the underwater attractions in one dive, including a double-decker bus, a BAE 146 aircraft, a Devon aircraft (for the plane-spotters again) and a great big explosives cabinet.
The BAE plane is huge, and provides a fab swim-through at 26m in length. Side-note: It never ceases to amaze me that people feel it's OK to draw knobs and the like on the side of quarry diving attractions. Would the offender daub that on the side of the James Eagan Layne, I wonder? I doubt it. Anyway…
The floor of the quarry is of a light-coloured, almost sand-like substance, giving you the feeling of being on a sea-dive. We passed hardly any divers apart from a couple of tekkie-types with 10 cylinders between them, almost wedged into the lower level of the double-decker.
NDAC has filled its dive-site with no fewer than 36 attractions to keep divers amused and, with the deepest point at 75m and the shallowest 7m, that should certainly cover all certification levels.
The only thing the place is missing is fish! One of the shuttle-van drivers told me that there used to be a fair number, but they were all killed off during a Navy explosives-training exercise.
That said, what the site lacks in aquatic life, it makes up for elsewhere.
So far on my inland diving tour, apart from its slightly chaotic website, I think NDAC was coming out in the lead.
My next stop was Stoney Cove, and I wondered how the National Diving Centre was looking, since my last visit more than 10 years ago?
National Diving Centre, Stoney Cove, Leicestershire
When I first looked at dipping my toe into UK diving in the early 'noughties, Stoney Cove was at once brought to my attention as the place to start. Green and keen, I turned up with none of my own equipment under the wing of a friend who "sort of knew what they were doing".
This time, as I had done in the past, I arrived at 7.30am, remembering that cars would be queuing at the gates at that time on a Saturday morning.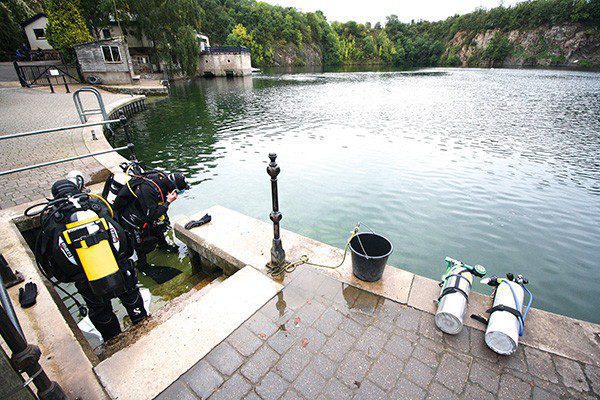 To my surprise, however, on this occasion there was no queue. I quizzed a friendly guy at the gate called Rob, who told me that sometimes Stoney has quieter weekends, owing perhaps to a football match or great sea-diving conditions or Strictly Come Dancing etc.
Whatever the reason, fewer people in the lake often means better visibility, so I was happy with that.
Having dived the Stanegarth tugboat wreck and other deeper features on a good few occasions before, this time I was keen to focus on Stoney's aquatic life – pike in particular.
If you're not familiar with this predatory fish, imagine a green barracuda and you're about there. The former granite quarry is famous for pike, along with oodles of perch and roach and, like Vobster, is home to crayfish too.
It's possible to park pretty close to the water's edge at Stoney and, having done so, we hopped in. Rob had told me that the pike would usually flank either side of the main water-entry area if they hadn't disappeared deeper, so we took a punt on heading left, or south-east.
This way we would also eventually take in the remains of the Gresham, a 16th-century ship section relocated from Portsmouth to Stoney Cove in 2012 along with its anchor to create a "museum with a twist" – as Stoney's old yet informative website puts it (check it out).
Minutes into our pike expedition we passed the Nautilus submarine attraction (no knob drawings to speak of there), and the two concrete blockhouses found just after this make for fun swim-throughs en route.
We peered over the drop-off that leads to the 22m shelf, passing some lively crayfish. Crayfish numbers had certainly increased in the years since my last visit.
The roach and perch population was thriving too, with almost clouds of both species in every direction.
This part of the quarry is also where many of the training dives happen, in a depth of just 7m, and with that often comes some pretty snotty vis.
On this occasion, with very few divers in the water, we were able to enjoy a heady 7m-plus visibility.
We began to approach the bright green Canadian-pondweed beds, which reach in long lengths from the lake-bed to near the surface. Pike were said to lurk there in ambush mode.
These fine fellas can grow to in excess of 20kg and, it's said, can live for up to 25 years, although 10-15 is more typical.
I had also heard reports of a lone ghost carp living in the lake, so had one eye out for that, although I'm told that you're more likely to find rocking-horse manure during your dive.
The "rocking horse" adage appeared to be true of the pike situation too – perhaps they were at the other end of the lake, or maybe deeper?
We finned past the Gresham, which took us to the nearest corner of the Cove, and it was cool to think that these remains had been pulled from the Thames after 400 years of burial. I hadn't realised that the anchor was also part of the vessel until reading about it after our dive. It's a big one, and certainly worth a look.
Sadly, the pike eluded us this time, but don't be put off by my pathetic attempt to hunt them down. If you visit Stoney Cove, you have a good chance of seeing at least one. Just remain stealthy and approach them slowly if you do.
The vis stayed good as we headed back towards our starting point, but before we left the lake, I had to go for a quick nose around the cockpit of the Viscount plane, which has sat on the 7m shelf since 1967.
As a swim-through it's less impressive than its NDAC equivalent, but it makes a great habitat for lots of juvenile fish.
One thing that I did find impressive at Stoney Cove was its dive-shop. If you ever wanted to give someone a hint about gift ideas for your own Christmas stocking, shove them in there!
The Stanegarth is a real highlight at 22m, and you'll find a helicopter and a bus at that depth too, along with a second tugboat, Defiant.
As far as underwater playgrounds go, Stoney Cove certainly isn't short of toys.
Capernwray, Carnforth, Lancashire
Red Bull recently posted a feature detailing its top 10 places to dive around the UK, and Capernwray was the only inland site included. What made it so special? I was quite excited to check the place out for the first time.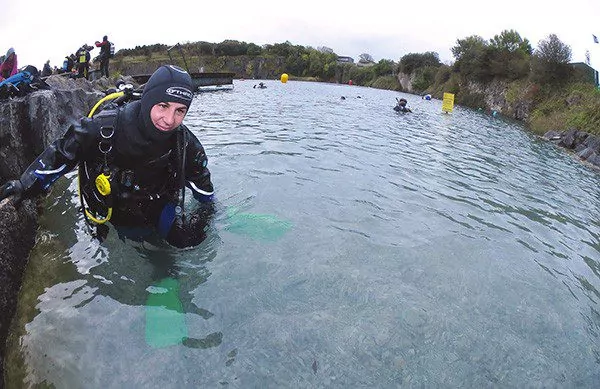 Capernwray Diving Centre's website makes the place sound very inviting, with its talk of "crystal clear water", "amazing fish life" and "numerous underwater attractions". The village of Over Kellet, where the former quarry can be found, sits only a few miles south of the beautiful Lake District as well, so that has to be a good reason to visit in itself.
We turned up when the dive-centre opened at a civilised 9am and on a Saturday morning, but we had no problem finding a good parking spot near the reception area.
I was keen to check out a map of the lake's layout once we'd put our kit together, but could find only one, on the wall in the dive-shop/reception area.
Alternatively, you could hand over £5 for a small laminated version, presumably to take along on your dive. I gave it a miss.
I was slightly miffed at the entry-pricing set-up too, and wondered why the centre didn't simply offer one price for members and one for non-members, rather than supplying two types of membership plus an entry fee.
We entered the lake via a gently sloping gravel-covered slipway, which makes for a very leisurely start to the dive and keeps the visibility in check from the off.
The information board in the shop listed perch, roach, trout and sturgeon as diving must-sees, and at least six beefy trout came on the scene as soon as we left the surface.
The vis lived up to the website's claims, within the first 8m anyway, though as we levelled off at 17m, which is, in the main, the deepest one can go, it did close in a tad. Nevertheless, not bad at all!
Perch are the main players in terms of fish in most of these quarry-sites and Capernwray has a lot of them. I noticed however that these perch behaved very differently compared to those in Stoney or Vobster Quay. These guys actually follow divers around – and in gangs!
This makes them far better models for photography, of course, but it wasn't until later that day that we discovered why they behaved like this – the dive-centre sells fish-food. That's why, like the herring gulls on Brighton Pier, they're all over you in the hope of snatching a free meal.
We gave the lake's aircraft wreck a knowing nod as we finned past it but didn't hang around, having dived about six of them already during this project. Capernwray's example is a beast, however, so worth a scoot-through for sure.
We did check out the skeletal remains of one of the helicopter wrecks, which sits on top of a container known as the Cave, and passed a couple of smaller wooden vessels too.
Students with instructors came into view from time to time, and with several training platforms combined with the good vis, I could see that this site suited new divers' requirements very well.
Like Stoney's pike, Capernwray's sturgeon gave us the slip, but I've been told that a couple are 2m whoppers.
The shallower areas of the lake are very pretty, especially when the sun's out, and after several compass "malfunctions" we found ourselves back in the shallows of the entry-point to finish our dive.
Capernwray's lake is a lovely little place to dive, but would I feature it among my top 10 UK dive-sites? Probably not.
I would go back, however, though as it's a six-hour drive from my home on the South Coast, next time I would combine it with a trip to the Lake District.
It's very difficult for me to announce any of these inland sites as being "the best" or a "favourite", because they all offer something different and, of course, some have an advantage over others in terms of depth, aquatic life or visibility.
But although I'm an avid UK sea-diver, I know I won't be leaving such a long gap again before my return to at least one of these UK inland-diving gems!