INDONESIA DIVER
Good & Bad Behaviour
in Bali
Tulamben is a dream location, but a mini-invasion prompts JOSS WOOLF to ask:
What is the true cost of a winning image?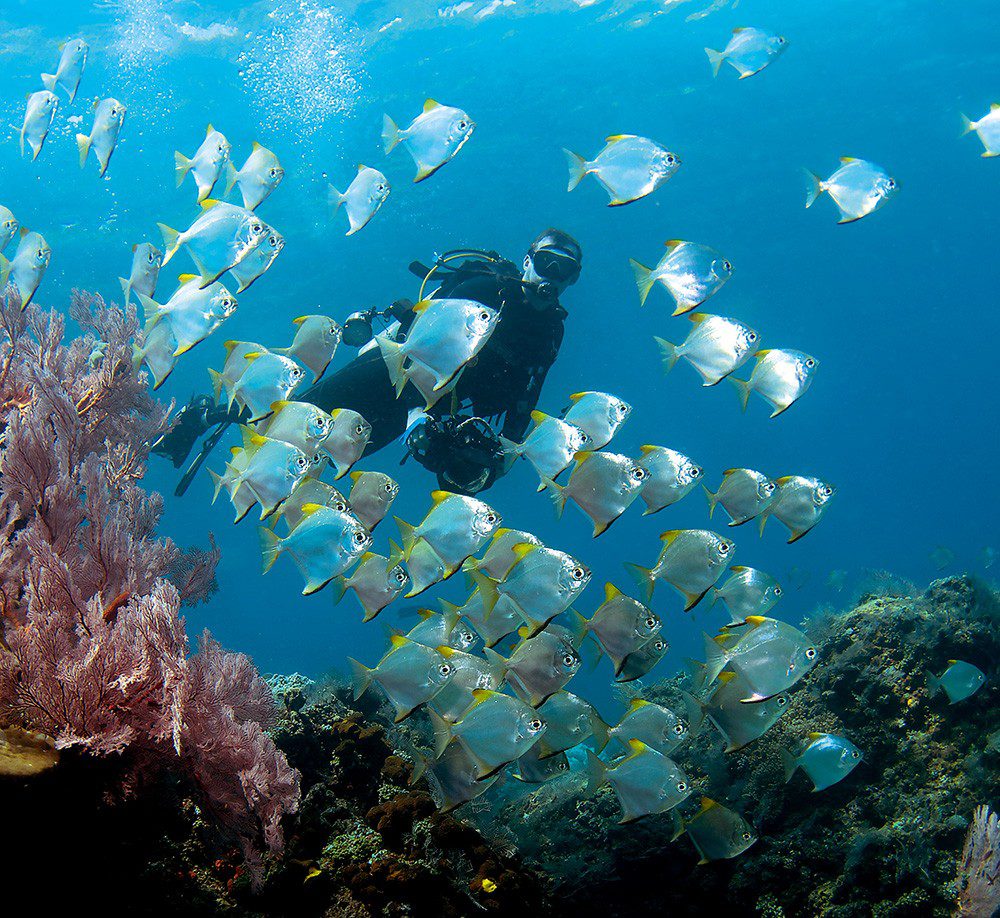 Appeared in DIVER August 2019
Most underwater photographers I know love a bit of macro and muck-diving.
I never fail to be amazed by the most colourful or extravagant or just plain weird creatures that call volcanic gravel their home.
There are a number of places, particularly in Indonesia, where such creatures abound, and Tulamben, on Bali's north-east coast, is one of them.
Perched by the edge of the sea, within striking distance of the famous Liberty wreck, the resort of Scuba Seraya is a macro-photographer's paradise.
The small collection of comfortable bungalows lie within a few paces of the open-air dining room and dive-centre, and this friendly, well-run establishment enjoys the glamorous backdrop of Mount Agung, a majestic and imposing, if at present grumbling. volcano.
My first visit to this hidden gem, as a fairly newbie underwater photographer, was several years ago on a Shannon Conway workshop, when I was surprised to find myself to be one of an almost entirely female entourage, save for one kindly Irish fellow.
A few years later, in April 2017, I was fortunate enough to visit again, with some friends. This time, we got a taste of Agung's temper while diving. We were at Amed, a site a bit further along where some artificial structures have been set, and were already well-established with various species of coral and fish.
Suddenly there was a rush of freezing cold water, all the fish disappeared and everything was as still as could be for several minutes, before life slowly returned to normal.
At the end of November the same year, for the first time since the major eruption of 1963, Agung erupted again and thousands of people within a five-mile zone were evacuated.
The airports were closed for several days and many tourists were left stranded. Tourism more or less came to a standstill, and places like Scuba Seraya had no choice but to close.
However, it is now open again and we're here again in April 2019 as if nothing has happened in between.
A few days into our visit, however, we watched with amusement at breakfast the room-cleaners busily dusting off the plants and bushes outside our rooms – Agung had been spewing ash all night.
Our suits at the dive-centre looked as if they were suffering from a severe bout of dandruff. My room-mate and I couldn't help but make strategic escape plans in the event of A, a tsunami and, B, a volcanic eruption, both of which would involve running very quickly, at short notice, in opposite directions.
Because of my deteriorating eyesight, in common with many divers of a certain age, the Sean the Sheep nudibranch had so far managed to elude me, but on this trip, having discovered the innovation of Hydrotac lenses, I was determined that this omission would be a thing of the past.
Armed with my new bifocal mask, suddenly underwater macro life was transformed beyond what I ever thought possible. I was even able to spot my own sheep!
So here is how a Woolf hunts her sheep. In an otherwise fairly barren, gravelly, grey underwater volcanic landscape, look for a tatty green leaf about 5cm in diameter, then see if it possesses a white dot about the size of a full stop.
Take a photograph to determine whether or not the dot is a "thing" and, if it is, you will need to establish which is the head end. This could easily involve taking another couple of shots before you're sure.
Then you can fire away until you're satisfied with the result, before moving on to another leaf.
Sometimes, you can actually find one leaf with two nudibranchs on it, as I was lucky enough to do. And they're not always white; exotic versions also come in crazy colours such as dark green with purple tips, or blue and yellow, or with dreadlocks.
It soon became apparent that great care is needed with the Hydrotac lenses, which can be dislodged far too easily, especially if mishandled accidentally by an uninformed dive-boat helper. It remains a mystery to me anyway how they could ever be expected to stay in place in a dive-mask with a single drop of water.
It's surprising how the brain adapts, however, and you can manage with just one lens if you have to. I would say that they're good for an emergency, but next time I'll invest in a proper optical mask.
The liberty wreck never disappoints even though, at almost any time of day, there will be dozens of divers, mostly with poor – or zero – buoyancy skills, either lying on the wreck or bumping into other people.
Surprisingly, despite all that, the wreck still seems to be in pretty good shape all these years down the line. I can remember two years ago doing a very early-morning dive while it was still dark, and there were only three bumphead parrotfish, "sleeping" in one of the compartments, a tenth of the numbers that might have been expected a few years earlier.
This time, however, there were probably a couple of dozen fish, and they seemed unfazed by the numbers of divers trying to take their photographs. It was almost as if the fish had woken up and said to each other: OK guys, let's get it over with and go and torment the humans.
For some reason the building of jetties is not allowed in Bali. That's a great pity, because getting in and out of the water when shore-diving isn't easy, especially when fully kitted up and with lots of boulders to stumble over.
The team at the dive-centre couldn't be more helpful, however, and if there's a bit of a swell or the waves are breaking, they will come into the sea and take all your kit from you and hold your hand – sometimes both hands – to lead you to safety. I recommend a pair of sturdy boots too. Once in the water, the reward by far outweighs the effort.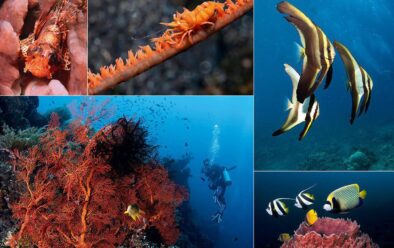 So, for the first few days, after we had finished boat-diving, we could waft down to 20m or so on the house reef and revisit our favourite subjects again and again until we got the shot right, or simply to observe them going about their daily lives.
Suddenly, however, all that was about to change. Over the course of our second week it transpired that an international macro competition known as the Dragon Cup Shootout had been taking place right on our doorstep.
Organised by UWPixel, there were more than 60 Asian contestants, all staying at the adjacent Liberty Dive Resort with more than 30 local guides at their disposal.We had encountered them and their appalling behaviour on several dives over the previous couple of days, including on our own house reef.
On the morning of 1 May, we dived a site called Pong Pong, close to the Liberty.
Without exception, each deliberately over-weighted diving competitor could be seen lying with his or her entire body sprawled across the terrain, huge camera systems planted firmly on the seabed irrespective of whatever creatures and their habitat lay beneath.
The dive-guides, one for every two divers, were just as guilty (of course, they were being paid) and we observed the moving and cleaning of rocks and the repositioning of subjects into more aesthetically pleasing locations.
Great dust-storms of sand kicked up by unwieldy fins ruined many of our shots, often sending our subjects into oblivion.
Some of the competitors even had the audacity to try to "steal" our subjects by attempting to shove us out of the way.
I became so incensed by one diver's actions that I picked her up bodily (much easier under water than on land) to try to demonstrate to her that what she was doing wrong. But she was oblivious.
It's behaviour like theirs that sometimes makes me ashamed to be an underwater photographer. I'm proud of my buoyancy skills and those of the rest of our well-trained group. My philosophy is that if a photograph cannot be achieved without holding on to something or causing damage, it shouldn't be taken at all.
Later that day, one competitor was seen on our house-reef photographing a resident harlequin shrimp at just 4m. Clearly this imbecile had removed it from its home at 18m and placed it in a more desirable spot. At least he put it back again. But worse was to come.
I hate even to think it possible but before the competition a harlequin shrimp on the house-reef had two front claws and then suddenly it had only one.
It's an old trick to prevent the next person from getting a better shot.
Nowhere in the competition rules did it say anything about good diving practice and giving consideration for the environment, and we were all angry at the behaviour. We asked our own dive-guides how it could be allowed to happen, but they merely shrugged. It all comes down to money in the end.
I wrote to the Dragon Cup Shootout organisers for their comments, and also to main sponsor Nauticam, which awarded a camera housing to the winner, to make it aware of the competitors' level of behaviour and the damage they were causing in the name of brand promotion.
With my complaint, I sent a link to the code of conduct from the British Society of Underwater Photographers' website.
The response from Nauticam in Hong Kong was refreshing and positive. It asked the organisers to send it the winning images so that it could satisfy itself that the prizes went only to participants who had not broken any "rules", though that would be difficult to tell after the event.
However, it also asked if it could translate our code of conduct into Chinese with a view to incorporating it into future competitions with which it is associated, and also for creating awareness at dive shows. It's a start.
The beauty of staying in one location and being able to dive the same sites again and again is that you get to know where your favourite subjects hang out and the best time of day to photograph them and observe their natural behaviour.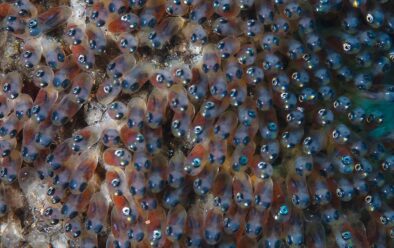 A series of fabulous barrel sponges to the right of the house reef serve as cleaning stations for angelfish, bannerfish and others. The fish become accustomed to your presence and it's easy to photograph their comings and goings, constrained only by the limitations of depth and air.
We observed newly laid clownfish eggs next to an anemone and the protective behaviour of the clownfish as well as the change of colour over just a few days from brilliant red to dull brown as the eggs developed pairs of eyes.
We completed our last shore-dive from Scuba Seraya. I thought I'd pay one last visit to the barrel-sponge cleaning stations, and while there we looked at each other in disbelief as we felt the Earth move. It was clearly Agung's way of saying goodbye to us.
FACTFILE
GETTING THERE> Fly to Ngurah Rai near Denpasar and transfer by road to the north-east of the island.
DIVING & ACCOMMODATION> Scuba Seraya Resort has 12 bungalows and a private beach, scubaseraya.com
WHEN TO GO> Year-round, water temperatures are usually in the 27-28°C range.
MONEY> Indonesian rupiah.
HEALTH>Hyperbaric chamber in Denpasar.
PRICES> Bungalows from around £87 per night (two sharing), shore dives £18, boat dives £27. Flights from £450.
VISITOR Information> indonesia.travel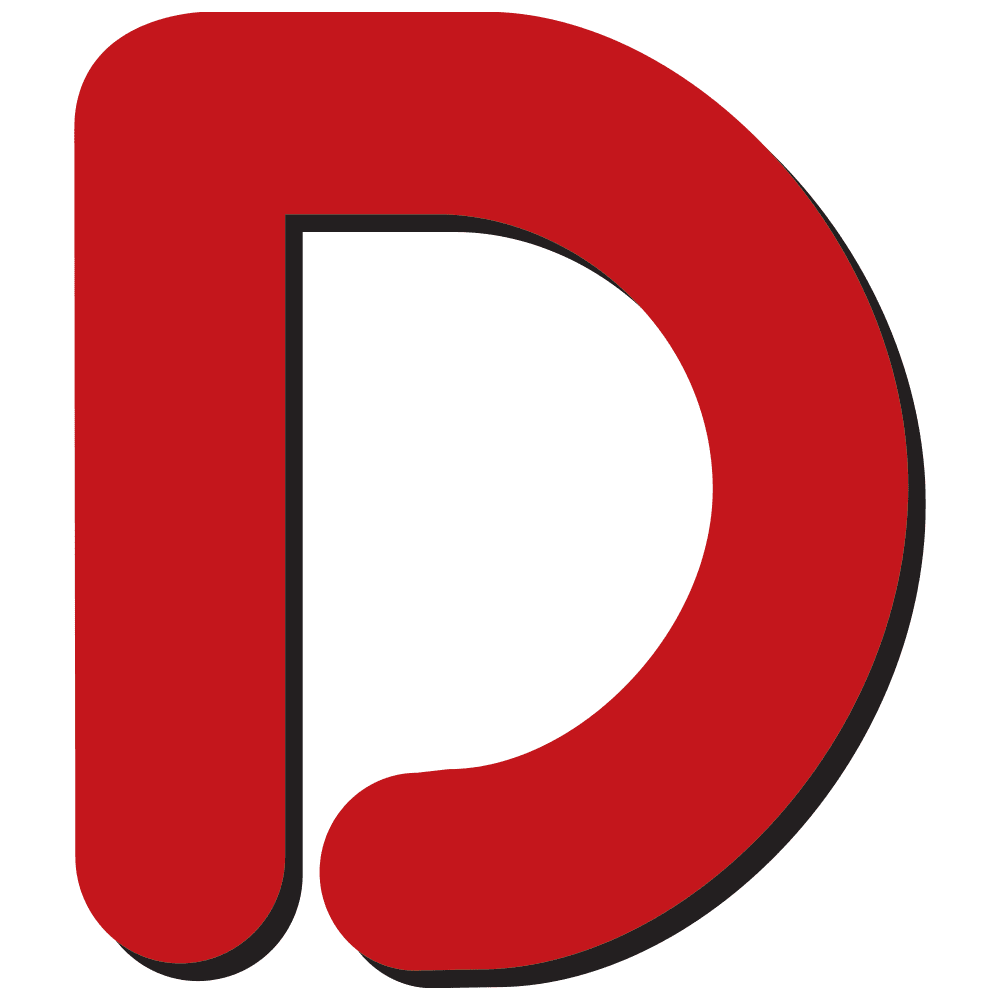 One of the world's longest-established diving websites, Divernet contains a wealth of information about diving destinations, equipment, techniques and much more, as well as daily news updates from around the world.