MEXICO DIVER
Holy Spirit
Jacques Cousteau called it 'the Aquarium of the World'. They told HENLEY SPIERS that sea lions, mobula rays and whale sharks were guaranteed. The Sea of Cortez was a place he had to check out
Beautiful rays as the sun sets and Henley's group has Los Islotes to themselves (and the sea-lions, of course).
I arrive in La Paz, capital city of Baja California Sur, the Mexican state that stretches down from the western border with the USA and that better-known state of California. Once upon a time, both of the Californias were one entity, but in 1848 they were split following the Mexican-American war.
As state capitals go, La Paz is a subdued place, representative of Baja as a whole. The "Baja Way" jokes are a popular recurrence. Your plumber showed up a day late? Baja time. They're riding a bike on the highway? It's the Baja way. You get the picture.
I take a stroll along the Malecon, the sea-facing promenade that stretches the length of the city, and pay tribute to the bronze statue of Jacques Cousteau. His slender build is artfully depicted, and he has an aqualung on his back and an endless, purposeful gaze out to sea.
La Paz is the usual base for visiting divers, but our guides, Cris and Pancha, have a trick up their sleeve – we will be camping in the marine reserve itself.
This has the dual advantage of putting us much closer to all the sites, and allowing us to visit when they are least busy. Apart from the initial apprehension at the prospect of camping, I am totally sold on the plan.
Our motley crew boards a panga (as they call the boats) and we are graced with flat seas, sunshine and dolphins as we sail for an hour to the camp.
The marine reserve is based around the island of Espiritu Santo, an uninhabited place of barren, desert beauty, with terracotta cliffs lining azure waters. October and November are the best months to visit, because the sea is at its calmest and  bluest, and with the best visibility.
The camp location, in a cove on Espiritu Santo, is spectacular, and I'm getting the feeling that this is going to be a really good trip. Accommodation is basic, but when you're in an area of such pristine natural beauty, with world-class diving next door, it's not something you worry about.
We wolf down lunch and head for our first dive. Swanee is a small coral mount at the southern end of the marine reserve, famous for a plank of sea-lions that like to hang out close by.
We find them sunbathing en masse, flippers sticking out of the water as they lie at the surface, seemingly comatose.
Overwhelmed by excitement, I gear up in record time and slip into the water.
My attempt to sneak up on the sea-lions begins, but they are not as dormant as they seem. Just as I get really close, the dominant male peels off from the pack, checks me out, then loops back to his family, gently steering them away.
This pattern repeats a few times before I decide to leave them to their siesta and tackle the nearby reef instead.
Appeared in DIVER September 2019
Swimming back toward the coral-encrusted mound, I find the seabed covered with an enormous school of snapper. The shoal envelopes us as we swim in its midst, and I rack my brain for a way to capture its splendour within a photograph.
Still wrestling with this conundrum, I realise that I seem to have made a new friend: a Mexican hogfish is following me wherever I go, his curious eyes and toothy grin a constant companion. He is happy to pose too, sticking his colourful body right on the dome as I shoot away.
I enjoy our time together tremendously, and remember the moment best through an image of the hogfish posing proudly in front of the huge school of fish, like the troop leader at the head of a huge fish parade.
The school is more agitated now, and I soon figure out why. A lone cormorant is bombing down on them from the surface, hungrily looking for its next meal.
With a hint of guilt, I abandon the hogfish and go after the bird, squinting at the surface as I try to keep up with its movements.
Cormorants are actually better designed for swimming than flying, and once the bird starts its descent, I have to fin at full pelt to get anywhere near it.
I hide in the school of fish, trying to predict where it will go next, and get a surprise shot as the cormorant bursts through the pack. It's both exhilarating and frustrating, and I continue to observe this strange dance between the cormorant and its prey until my air supply demands a return to the surface.
It's a cracking start, and the day's diving isn't even over yet. We return to camp for a quick meal, before dropping into the inky waters of our cove for a night-time spectacle.
A single, powerful light is hung on a line from the surface, and a fuzzy mass of plankton soon congregates around it.
This in turn quickly attracts the attention of feeding mobula rays, and they arrive from the dark in squadrons.
Mobula rays are like mini mantas, and these majestic animals swoop right up to us as they vacuum up the plankton.
It's an incredible scene, and just a couple of hundred metres from where we will lay our heads tonight, it sure beats Netflix for evening entertainment.
Los Islotes is the spot that really draws the crowds, and we head there the next day. It's home to a huge sea-lion colony, and the big selling point is that they can be found in warm, blue water (well, at least for a few months of the year).
We're briefed that the sea-lions are usually playful, but that we should also be wary of warning signs that we are encroaching too far into their territory.
The adult males, with their dark bodies, bowler-hat heads and white whiskers, will be the ones who send this message. These dominant males are the grumpiest and noisiest in the colony, and an intimidating presence when passing you under water.
The first warning sign they will send is likely to be barking under water. Should you ignore this, the next sign could be swimming close and blowing bubbles. If you dismiss all these warnings, the next step might be a bite.
Some people have died here as a result of getting bitten, and the resulting infection. Before stricter rules were implemented there could be huge hordes of chaotic snorkellers, and I'm told that these accidents happened with poorly-supervised tourists, who made the mistake of clambering out of the water and onto the rocks that the sea-lions call home.
Sea-lions are famously fun, particularly the pups, but they are also powerful, wild animals. So I remember to try to read the encounters as they happen, responding to their behaviour. If they want to play, you can get into close quarters, but if they want you to move back, remember that you're in their domain.
Our guide mentions a small cavern where the sea-lions like to hang out, and I make a bee-line for it under water. Huge boulders have come together here to form an arch, and I lie in wait for action.
An adult female is first to appear. She has large, expressive eyes, delicate features and a platinum-grey coat. She looks up at me for a moment and, satisfied that I pose no threat, nestles into a corner of the cavern, eyes closed.
I put down the camera and enjoy the moment, hovering within inches of her face. She opens her eyes, we look at each other, and I sense her acceptance of my presence as she closes her eyes again.
I have an almost spiritual feeling of connection to the sea and Nature in that moment.
We are interrupted by her pups, dashing into the cavern from an opening at the top to nuzzle their mother out of her resting spot.
Suddenly their energy changes the whole mood in the water, and another pup swoops in to join the fun. They race around and around as mother looks on, and fight over a feather.
All this commotion attracts father, and his imposing figure appears in the cavern. He investigates, but I seem to have also earned his approval.
He and mother sea-lion share a cuddle, pushing heads together and blowing small bubbles, a moment of tenderness that must be something akin to a kiss.
I am hesitant to attribute human emotions to animals, but with sea-lions it's difficult not to. They are playful, affectionate, territorial, aggressive, and clearly very intelligent.
After nearly an hour with the sea-lions, the dive-site is shallow enough that I still have plenty of air, so I move onto an underwater pass.
Los Islotes is more like three or four dive-sites, because it covers a large area and you need several visits to explore all that it has to offer. As well as the sea-lions, it is home to a beautiful reef and, as I fire my strobes, the colours of the vibrant corals start to pop.
Up above, sun-rays catch on the opening of the tunnel, creating an electric light show. A Moorish idol pops out from the reef, and my old favourite, a Mexican hogfish, shows up too. Sea-lions race in and out of the tunnel, challenging you to capture them in your camera-frame. It is a wholly entrancing experience, and Los Islotes must be one of the best dives in the world.
The fact that our camp made it possible to visit at unusual times and have the place to ourselves is the icing on the cake.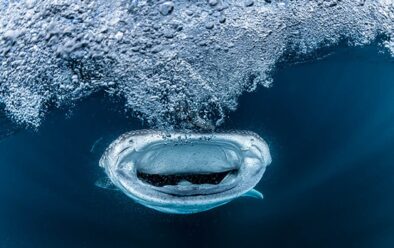 The rest of our stay on Espiritu Santo was a festival of sea-lions by day, and mobula rays by night, and it is with heavy hearts that we eventually have to depart.
The consolation is knowing that we have a date with the biggest fish in the sea on our way back to La Paz.
Whale sharks gather in the bay from October to May as the plankton blooms and provides for plentiful snacking. They feed right at the surface, so we ditched the scuba gear and grabbed our snorkels.
The plankton also makes the water greenish, so the visibility is diminished. Nevertheless, this is quite the experience. Just half an hour from the city, and here we are face to face with not one but multiple gentle giants.
The area where they gather has been declared a marine reserve, and the experience is tightly regulated. You make an appointment and get a one-hour slot in the marine reserve.
These are mostly juvenile whale sharks, I'm told, but they look impressive enough to me. The vortex of water as they guzzle down the plankton is mesmerising.
They can filter 600,000 litres of water in an hour, getting a relatively paltry return of 2-3kg of plankton in exchange!
I am hypnotised by their spotted patterning, and wonder how evolution contrived to create something so ornate.
Time is up and they drag us out of the water, not quite kicking and screaming but almost. The Sea of Cortez has lived up to its heady reputation, and I am as intoxicated by its underwater treasures as Jacques Cousteau once was.
FACTFILE
GETTING THERE> Aeromexico flies from London Heathrow to La Paz with a stop in Mexico City (16-hour journey time).
DIVING & ACCOMMODATION> Cris and Pancha of Nomad Diving organised and guided the whole trip, nomaddiving.com
WHEN TO GO> High season is mid-September to mid-December, with October and November especially popular as this coincides with the best visibility and warmest water (26°C).
MONEY>Mexican peso.
HEALTH> Nearest hyperbaric chamber is in La Paz.
PRICES> Return flights from the UK from around £700. Diving and accommodation for a four-night trip costs US $1500.
VISITOR Information> visitmexico.com