archive – Mediterranean
In the lap of the sea gods
Why not go diving in a cradle of civilisation? Thousands of wrecks spanning thousands of years are now open for inspection, with lashings of history, arts and gastronomy to fill your uptime. Greece's biggest diving advocate makes the case to STEVE WEINMAN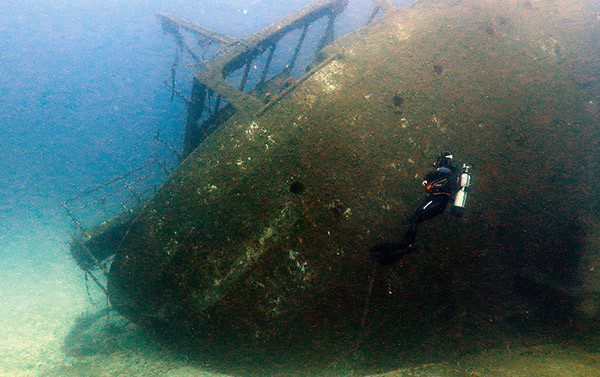 WE'RE DIVING THE KYRA ELENI, one of the most popular sites for divers who are based in Greece's capital. The wreck lies just off the small island of Patroklos, and you get there by driving south from the city along the Athenian Riviera towards the tip of the mainland, then jumping aboard a RIB in the picturesque bay at Anavyssos.
The 99m cargo ship sank in the Saronic Gulf nearly 40 years ago, coming to rest on a sloping sandy seabed. Still intact are the elevated bow, which rests to port in 18m of water, and the upright stern that lies deeper at around 30m, with a great deal of twisted debris separating them.
Kyra Eleni, built in 1949, was sailing unladen from the Greek port of Lavrio to Bulgaria when she encountered strong winds and massive waves.
Struggling to Patroklos in search of shelter, her port side struck rocks. With water entering the engine-room and second hold, she started listing. The crew managed to escape across the rocks, and were rescued the next day.
There was unkind talk of an insurance job at the time. However, given the ferocious January weather and the fact that both the captain and first engineer had their wives aboard at the time, this seems unlikely, because they'd never have heard the last of it.
SOME SMALL FISH are skittering around, but there is little marine growth on the wreck. Moray eels and grouper may well find shelter there as reported but I don't spend any time hunting for them. Instead I circle the bow, meander over the tangled metal and perform a long figure of eight to dip lower around the impressive stern, taking in the ever-changing perspectives.
Increasingly I find that I enjoy picturing tiny divers in natural light against a large metallic backdrop, and the Kyra Eleni, still shapely from many angles, serves that purpose well.
Conveniently, just a week before our arrival, a clean-up dive-team assembled by the Mediterranean Association to Save Sea Turtles has removed 250kg of ghost netting from the wreck, to be recycled as clothing. So the Kyra Eleni is now safer, and probably looks a bit shorn after its giant haircut.
After the dive, Avgerinos Vrazopoulos will keep apologising for the 15-20m visibility, insisting that we'd normally be able to see for at least 30m, but I hadn't found it a problem.
The amiable Avgerinos is the reason I'm staying at a hotel in central Athens with the convivial bunch of visiting divers, mostly online journalists from Poland, Germany and Denmark, who are now doing circuits around the Kyra Eleni like fish in an aquarium.
Avgerinos has invited us here because he's a man with a mission, eager to share his vision of diving in Greece. He runs Scuba Hellas Underwater World, and whether you're planning a dedicated dive-trip to the country or considering a family holiday with a little diving on the side, you'd be well-advised to check out his website first.
As much as Avgerinos is a passionate diver, he is a passionate marketing man. Impoverished Greece needs to showcase its assets, and he reckons scuba-diving is one of those assets, but that it can't be sold or enjoyed in a vacuum.
He recognises that there are plenty of countries with better claims for your attention on the marine-life front. But his Greek diving experience comes as a package deal – Scuba Hellas aims to pinpoint the best wreck and geological diving in an area, and the underwater experiences come with a generous side order of culture, ancient history and good food and drink.
Or the diving can be the side-order, as you prefer.
THE SCUBAHELLAS.COM PORTAL was developed over six years – "Our motto is: 'Made by divers, for divers!'" says Avgerinos. Its map allows the user to zero in on to concentrations of good dive-sites and dive-centres around Greece and its islands to learn more about them.
The team evaluate the dive-centres for service levels, facilities, experience and dive-site access. Suitable diving and accommodation packages can then be assembled.
Some 2000 mapped dive-sites and 230 dive-centres are included at present, but there is much to do – by some estimates there could be 15,000 wrecks in Greek waters, a tenth of them deeper than 50m.
"It used to be extremely difficult for visitors to have a week full of dives in Greece during summer vacations," Avgerinos tells me. "This was because most if not all of the dive-centres provided just a few different dives, and more than 70% of their revenues were based on Discover Scubas and Open Water courses, so their target group was just tourists, not experienced divers.
"I love my country, and travelling around I found our quality of dives to be very high and able to compete with famous successful destinations not only in Europe but globally.
"I was in marketing & communications for almost 30 years, so finally I combined my business skills with my hobby. I aimed to upgrade the local scuba service levels and eventually make my country one of the top destinations for diving, as it deserves to be."
Avgerinos wants to ensure that diving visitors are left wanting to come back for more. I ask him about one island with an unusually high concentration of WW2 wrecks – wouldn't it make an attractive destination for DIVER readers?
No, he says firmly. He enjoys the dives but doesn't rate the one dive-centre there. He couldn't recommend it, even though it's run by an old friend. That speaks volumes about what Scuba Hellas is trying to do.
I should also say that the organisation hardly seems to receive the grassroots support you might expect. Many dive-centres appear content to go on operating at entry level, avoiding the need to venture to distant or challenging sites.
The key for Avgerinos, however, was the lifting of the ban on diving wrecks in Greece that once deterred so many visiting divers. Oddly enough, diving wrecks over 50 years old is still officially prohibited, because they are classified as "ancient", but this, we're assured, is an unenforced prohibition existing purely on paper for the time being.
WITH THE SUN STILL BRIGHT, the RIB takes us in close to the cliffs of Arsida island, on the way back to the dive-centre.
The Blue Canyon will be a different experience altogether. We drop in, swim over to the wall and pass through a dark vertical crack that soon widens out. The deep fissure offers spectacular views back out towards the blue window.
Closer inspection of the walls with our torches reveals just how colourful they are, liberally splattered with multi-coloured sponge and algal growth. At the base of the crack on the right-hand side a small cavern beckons, though it doesn't extend that far in.
After eyeballing the canyon from all angles for some time we emerge and set off with the cliff wall on our left, dipping no deeper than 20m as we go. There are some yawning crevices to explore, a few solitary fish and shoals of baitfish but not that much detail to divert the attention. I'm enjoying the ride simply because I haven't been diving for a while.
You know how a song will get on your mind, then on your nerves?
For much of that dive I get snagged on my brain not a song but the title of an album I've never actually heard – Tales from Topographic Oceans.
I never much liked Yes, and this offering was by most accounts the prog-rockers at their most pretentious, but the title obviously lodged years ago in the murky backwaters of my subconscious, to finally be unleashed by this rocky Greek seascape. There are times when you just have to enjoy diving not for what you're seeing but for the act of diving itself.
Back at the Aqua Divers Club at Anavyssos, we enjoy a meal overlooking the calm bay. The dive-centre is attached to a hotel, and is notable for the quality of the briefings and friendliness of the staff.
It's owned by Englishman David White and his partner Eleni Siatra, who also run the dive-centre at well-known luxury resort Costa Navarino in Messinia.
Because this group press trip is highlighting the all-round pleasures of leisure time spent in Greece, we are being introduced to a range of Athenian restaurants, from the robust traditional cooking of the Thanasis Taverna near Monastiriki Square, an area in which the greeters of a hundred establishments vie for your attention, to the higher-end fish cookery of Psaras in picturesque Plaka.
And on our last evening we will visit the fascinating Acropolis Museum (and dine in its restaurant looking out at the citadel that towers over the city, a neat mix of culture and cuisine), before rounding off our short trip in the popular Briki Bar in Mavili Square.
By now we have faith in Avgerinos's recommendations, topside or below.
Perhaps our most interesting dive, as much in the concept as in the execution, is at another wreck-site. If a 50-year-old shipwreck can be considered ancient, what does that make the 3400-year-old site we get to visit there?
Of course, the timbers of a merchant ship, or olkas, from 1400 BC are long gone, so what we have left is a debris field of broken amphoras on a gently sloping wall at around 30m.
We have only so long to spend eyeballing these remnants before deco calls, but it's the sort of archaeological dive that captures the imagination as your mind drifts back across the millennia. Better for me than Tales from Topographic Oceans.
WE'RE NOW DIVING with Aqua Team Porto Rafti, and its spanking new dive-centre set away from the sea is a model of modern design, well-equipped and organised – and once again, with helpful staff and comprehensive briefings.
And how often do you get back from a couple of pleasant dives and find that the dive-team already have the barbecue coals glowing, all set to grill mountains of meat and veg with wine on the side while the wetsuits dry nearby?
Porto Rafti is an attractive resort town, also south of Athens but on the eastern, Aegean side of the Attica peninsula. The dive-centre, co-owned by Aris Polianidis and George Koutsoubos, offers 20 or so dive-sites in the vicinity.
After the ancient wreck the RIB drifts into a lagoon for the surface interval, startling a small and bashful contingent of naturists. There is another underwater treat to come, a site the location of which Aqua Team keeps to itself. It's a vast bowl of a flooded cave with walls that are even more rainbow-hued than those of Blue Canyon.
A number of big Flabellina nudibranchs and fireworms are in evidence, and then, in the middle of a deep recess – the equivalent of a side-chapel in a church – can be seen a large, solitary plum-coloured sea anemone with slender tentacles.
Photographers take turns to poke their heads into the space, like worshippers paying homage to some Greek goddess.
Being based in Athens for diving is clearly very different from travelling to one of Greece's 3000 islands, of which I've had limited experience in the past.
However, this recent trip, and time spent browsing the Scuba Hellas website, has made me curious about other Hellenic hotspots for diving.
It made me think about exploring places such as Kefalonia, not necessarily as dedicated dive-trips but as family holidays plus diving. Ferry-hopping between wreck islands could be fun too.
Greece is little more than three hours' flight away from the UK, and while I wouldn't go for the fish I would certainly go for the wrecks, the odd cavern and that inimitable all-round Greek experience.
FACTFILE
GETTING THERE: Direct flights from London Stansted with Ryanair.
DIVING: Aqua Divers Club at the Calypso Hotel, Anavyssos, www.aquadiversclub.com. Aqua Team Porto Rafti, en.aqua5.gr. For other dive centres go to www.scubahellas.com
ACCOMMODATION: Alexandros Hotel in central Athens, www.airotel.gr, or choose a coastal hotel.
WHEN TO GO: For Athens May, June, September and October are best for temperatures and lack of wind. It's also less crowded.
CURRENCY: Euro
PRICES: Ryanair return flight (with bag) £204. Six nights' B&B at a 3* Athenian Riviera hotel with four days' guided double boat dives from 580 euros pp (two sharing). This is a price for a group of 10 or more – a couple might expect to pay 420 euros pp for a four-night stay and six dives.
VISITOR INFORMATION: www.visitgreece.gr, www.scubahellas.com
Appeared in DIVER January 2017