CHANNEL ISLANDS DIVER
Jersey Shore
In the USA it's the entire coast of New Jersey state, but for divers in the Channel Islands it's an opportunity for some Bonaire-style freewheeling from site to site. WILL APPLEYARD boards the ferry once again…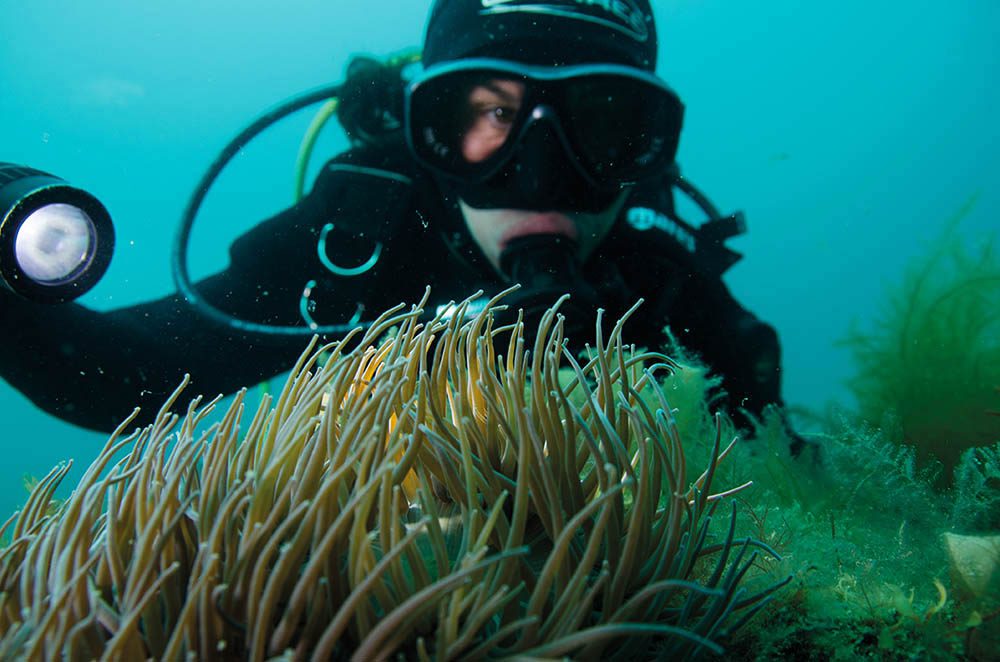 I TIPPED MY CAP TO GUERNSEY while we waited for both the foot and car passengers to leave Condor Ferry's Liberation before sailing on to Jersey – the largest of the Channel Islands, and our final destination.
Having made this crossing before,
I knew my way around the super-fast catamaran, which had left Poole in Dorset just four hours earlier. I am also pretty familiar with Guernsey, having explored and enjoyed the island both above and below the waves for DIVER three years ago (Guernsey Weekend, August 2015).
I much prefer travelling by ferry when possible these days, especially when it comes to diving trips. There is no fuss with security, no meagre and/or pricey luggage allowance and, above all, a (usually) far more relaxing, even pleasurable experience, surrounded by plenty of your own space.
Britain gave up the Channel Islands to Nazi Germany during WW2, because too many resources would have been required to defend this collection of smallish islands, sitting in close proximity to France.
On final approach to the port of St Helier, it's clear to see that Jersey's coastline is still riddled with imposing-looking German-built coastal defences and observation-posts. Bouley Bay Dive Centre had kindly agreed to take care of our diving, but I had of course chosen a weekend with monster tides, and times that didn't really fit with visiting wreckage, so boat-diving was going to be tricky.
Fear not, dive-centre owner Toyah reassured me on arrival: "We visit around 10 shore-diving spots around the island that can be dived at most states of the tide." Problem solved.
Toyah believes that her dive-centre, being an OAP (can you say that these days?) at 60 years old, might be the oldest in Europe. "It was originally owned by a guy called Jim Webster, who is known to have brought scuba to the island and is pretty famous in the dive community," she told me. Toyah is the third owner of the centre, which is situated a few metres from the water, and all within the beautiful bay where we would be diving that evening with her and Adam, one of her divemasters.
I waded into the water like a pro to fit my footwear, only to find out that the new Jetfins I had purchased while away in warmer territory didn't fit my drysuit boots.
I waded back out of the water to rectify the problem – looking nothing like a pro.
Appeared in DIVER August 2018
WE HEADED RIGHT TOWARDS the rockier part of the bay once below the surface, and followed mainly sand until we hit the kelp forest. Spider crabs, found on many a restaurant menu around Jersey, slid beneath their kelpy hideouts as we approached them, while a shoal of sand-eels flew above us at speed in their endless pursuit of zooplankton.
Boulders, kelp and sand make up much of this side of the dive-site, until you reach the main bulk of rock at the far-right side of the bay, where an impressive wall comes into view.
Big ballan wrasse came and went, and we were advised to keep an eye out for the "little cuttle" or Sepiola atlantica.
This is one of the smallest of the cuttlefish species in UK waters at only 5cm long. It can be difficult to find and, being the worst person in the world for spotting small stuff, I had little hope unless somebody else found one first.
Bouley Bay is the most popular shore-dive site on the island, because of its ease of access to the water and close proximity to the dive-shop. From the shore, the water has a Mediterranean look to it (when the sun is out) and the tide appears to come and go at quite a pace.
The stony beach and rock escarpments that tumble into the sea reminded me of a classic Cornish beauty spot.
Whether you're on spring tides or not, the tidal range is massive, often topping out at a whopping 11.45m. After dive one, Toyah and Adam suggested that we come back the following day to try a dive on the left side of the bay, which we were told provided a totally different experience under water. We agreed.
While rinsing kit and camera equipment that evening, I asked Toyah what else stood out in terms of diving around Jersey.
"Les Ecrehous islands six miles offshore have so many dive-sites and are beautiful – it's a Ramsar site [an international organisation that highlights areas of natural importance], has resident seals, so many sponges, cat sharks, sea cucumbers, scallops, tubeworms, cuckoo wrasse, sting rays, electric rays, undulate rays and even fan corals.
"We often see dolphins out there, and it really shows how huge our tides are, exposing sand-banks in the middle of the sea – which looks like the Caribbean." Which trumped my Med analogy.
Twenty or more excitable school-kids, peeling off wetsuits after their open-water training, buzzed about Bouley Bay on our second day of diving. It was great to see so many young people getting involved with diving, I thought, as we prepped kit and cameras for shore-dive two, on the opposite side of the bay.
THE SEABED IS A MIX OF pebbles that abruptly turns into sand here, and the first creatures to catch my attention were a handful of sand-eels peeking out of the sand.
I had expected them to retreat on closer investigation but they didn't – they were all dead. This scene played out at several points on this dive.
Researching the sand-eel die-off further on my return home, I found that Société Jersiaise's Marine Biology Section had already launched an investigation based on other reports of the unusual scenes, but had found "no obvious cause of death". So that mystery continues!
Scores of sea hares (Aplysia punctate), named because their head tentacles resemble a hare's ears, formed "mating chains" around weed and sand-patches. The individuals we found were 5-10cm long, though they can grow to 20cm.
These sea-slugs are hermaphrodites,so can take on the role of male or female at any given time – which makes life simpler, I guess! A vast forest of tall weed provides further interest for divers to swim through mid water, and within it can be found a number of pipefish.
Shore-dives mostly provide easy diving (as long as your exit isn't too rough) with fabulous light for photography, and this one at Bouley Bay falls into that category.
We ventured no deeper than 8-10m on our second dive in the bay, so we could have eked out our air and bottom time seemingly forever. Jersey's seafood restaurants were, however, beckoning us back to shore.
YOU COULD ALMOST DIVE JERSEY in the same way that one would dive at Bonaire, driving round from shore-dive site to site, although it's wise on the Channel Island to understand what the tides are doing, and which sites have currents to take into account.
Entry and exit to the water is key, of course, and enlisting local knowledge important. Toyah and Adam showed us around another popular shore-diving spot and spectacular bay called Greve D'lecq, just 15 minutes' drive along the coast from Bouley Bay.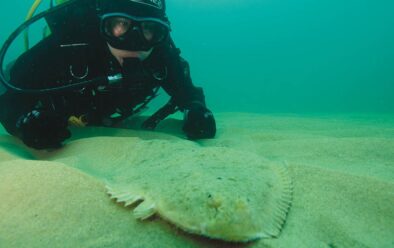 Where Bouley resembles a Cornish bay, this one reminded me of a Devon one. A golden-sand beach sweeps around a cove flanked on one side by a seawall adorned with fishermen and their rods, and on the other cliffs that slope downwards into the sea.
We would be diving in the anglers' line of fire, so I strapped a small knife on in case I became their bycatch.
Water-clarity is marvellous around Jersey, and while we were diving there at the end of May the sea temperature was 14°C, a degree or two above what mainland UK's surrounding sea was offering at the time.
Just a few metres below the surface, I noticed a reasonable amount of fishing-tackle caught on the rocks and in the kelp forest, but we dropped to 10m, where the rocks and forest stopped and a fabulous sandy bottom began.
We found the anglers' quarry on the rippled sandy seabed – a sole that patiently waited as I fired off a few shots.
We went with a slight current from the moment we left the entrance to the bay, and I wondered whether this might increase, making it difficult to return to our entry-point.
It didn't, however, and finning against it, even with a camera, was no problem, but it does illustrate why local knowledge should be sought when diving. Without Adam's input I would have thumbed the dive sooner than we did.
A PAIR OF KAYAKERS drifted past us through the flat-calm evening water as we surfaced, and the tide was several metres higher than when we went in 50 minutes before, completely changing the look of our entry-point.
This wasn't the most spectacular UK dive I have been on for marine life, but I suppose it was early in the season.
The fabulous visibility gives Jersey an edge on other coolwater diving destinations, as does the striking scenery surrounding the dive-sites.
Pricewise, it has to be said that you can venture further round the globe for similar money, but the island didn't seem to be over-run with divers, and felt like a unique experience.
I've always had a bit of a love affair with islands, and have dived a fair few over the years. Apart from perhaps fearing for my van's wing-mirrors while navigating Jersey's rabbit warren of skinny roads, I love the place.
I certainly intend to find a window of opportunity within the year to go back and check out what the boat-diving there can offer.
FACTFILE
GETTING THERE> Travel to Poole to catch the Condor Ferries Liberation to St Helier.
DIVING> Bouley Bay Dive Centre, scubadivingjersey.com
ACCOMMODATION> Hotel Cristina, St Lawrence, cristinajersey.com
WHEN TO GO> Summer months.
MONEY> Jersey pounds and pounds sterling have the same value and can both be used.
PRICES> Condor Ferries crossing with a car and two people, £298. Hotel Cristina sea-view room with breakfast and dinner, £204 a night for two. Guided shore-diving £25 (boat-diving costs vary from £25-£50).
VISITOR INFORMATION> jersey.com