BRANDI MUELLER is an avowed fan of the unspoilt diving experience on lofty Saba in the Dutch Caribbean – but there's far more to it than just the underwater experience, she says. Gin comes into it.
Also read: Photographic expansion at Diving Talks
A Unique Diving Experience
Possibly for the first time in my career as a diver, I was slightly disappointed to be told that we'd be diving the beautifully healthy coral reef again. I'd rather been hoping to spend an hour staring at a patch of sand. No, really.
The Tarpon Encounter
An overhang of black lava rock formed the perfect ledge to swim under, but there was no room for me between the numerous long, silvery bodies of the tarpon.
Hanging motionless in the water they took up space, giving me no room to pass between them and allowing me only to go around, snapping photos as I went.
I managed to squeeze above one and looked down. Its mouth appeared as an upturned smile and both eyes, located on the top of its head, peered back at me, but still it didn't move.
Without sunlight reflecting on them the huge scales were a turquoise blue, but in the light the reflective silver was almost blinding.
While tarpon were not a new fish find for me, this congregation and their reluctance to move as my dive-buddies and I approached was fascinating. When we had taken sufficient photos we moved on to find other amazing ocean creatures, only to look behind us and see them following us as we swam away.
The dive-site was called Babylon and we were diving off the island of Saba in the Dutch Caribbean.
Geothermal Wonders
The tarpon on this dive were distracting us from our main goal, which was to feel the heat from geothermal activity that still occurs deep beneath the island.
Sticking our hands into patches of sand that looked mustard-yellow, we could feel the heat radiating upward, reminding
us that the island, although considered dormant, still has the potential to become active again.
The Volcanic Landscape
Saba was formed by volcanic activity, as was the unique underwater landscape we were diving. Favourite dive-sites included deepwater pinnacles and seamounts where lava has come up from the depths and cooled in the ocean waters forming pinnacles covered with life in otherwise open water.
With names like Twilight Zone, Third Encounter and the Needle, my buddies and I were grateful for the volcanic activity that formed these awesome sites.
The Needle Dive Site
Jumping off Sea Saba's 12m dive-boat, which offered plenty of space for dive-gear, cameras and divers, we headed down into open blue, seeing only the thin mooring line. It was near 25m before the top of the Needle came into view, and at first glance it seemed to be moving.
A massive school of creole wrasse was swimming speedily back and forth across the small rock formation.
Getting closer, it was clear that there was no shortage of life. There were huge orange sponges, plenty of coral, and barrel sponges as big as divers that covered every inch of the rock.
Fish of all sizes, from tiny juvenile spotted drums and lettuce-leaf sea-slugs to huge parrotfish, made the small pinnacle seem like a busy mega-city, bustling with life.
Unfortunately, even with nitrox our deep dive seemed short before we had to start making our way back to the surface.
Topside Luxuries
Usually diving is all I care about in my travel plans. If the diving requires sleeping in a tent, I've done that; not to mention bunk-beds on liveaboards so small that you can't turn over without hitting various body-parts.
It's all worth it to glimpse the magic of the underwater parts of our Earth.
That said, as I returned to Queen's Gardens Resort after diving I found myself watching the sunset from the resort's steep perch overlooking the island and ocean below while sipping a lavender gin and tonic. I won't complain when I don't have to rough it.
Exploring the Island
The island of Saba is so much more than just diving. This hidden Caribbean gem has topside activities almost as exciting as the diving. Well-maintained hiking trails criss-cross the island both horizontally and vertically. Lush green forests filled with flowers, birds, butterflies and adorable geckos could keep anyone entertained for days.
Culinary Delights
For those seeking more of a culinary break, Saba offers only a few restaurant options but the quality is high. In the town of Windward Side, several establishments are within walking distance of hotels and housing rentals.
My mouth waters at the memory of Brigadoon's chocolate mousse and the pasta at Tropic's Café. But my dive-buddies and I were staying at Queen's Gardens on the other side of the island, which has its own onsite restaurant.
Post-dive gin-sipping at an open-air bar famous for its creative gin drinks (more than 50 types of gin are available) we spent the evenings indulging in nightly changing dinner menus creatively combining both Caribbean and European flavours with the use of fresh, sustainable products.
Stomachs full and sleepy from diving we returned to our suites with ocean and mountain views from open windows that brought in a fresh sea breeze.
Time spent on land was almost as good as that spent under water.
Diving at Diamond Rock
I had visited Saba before, and the dive-site Diamond Rock lingered in my memory as a favourite. A pinnacle starting at around 30m in the sand and rising from the water, the rock is bright white on the surface, thanks to the many birds that like to pass the time there.
Under water the structure is a vibrant reef of coral, sponges, and seafans. Divers fin round and round the pinnacle, shallowing up on each rotation.
On this dive a hawksbill turtle decided to befriend my buddy. It went right up behind and almost ran into her before she noticed. Snapping photos the whole time, she jumped when she turned to find herself face-to-face with the turtle.
It stayed with us for almost a whole lap of the rock, almost seeming to be posing for my camera. A school of goatfish was equally photogenic, and in the sand several sting rays would camouflage themselves before making a sudden movement, giving away their location.
Conservation Efforts
Saba has protected the sea surrounding the island and the seamounts since 1987 as the Saba National Marine Park. More than 1300 hectares are protected down to 60m.
The islanders don't just take marine conservation seriously, either – they also manage their above-water treasures through Saba Conservation Foundation, which protects the land and manages the many hiking trails.
The benefit of these measures is clearly seen in the biodiversity and abundance of marine life under water, and the beauty of the island.
Diverse Marine Life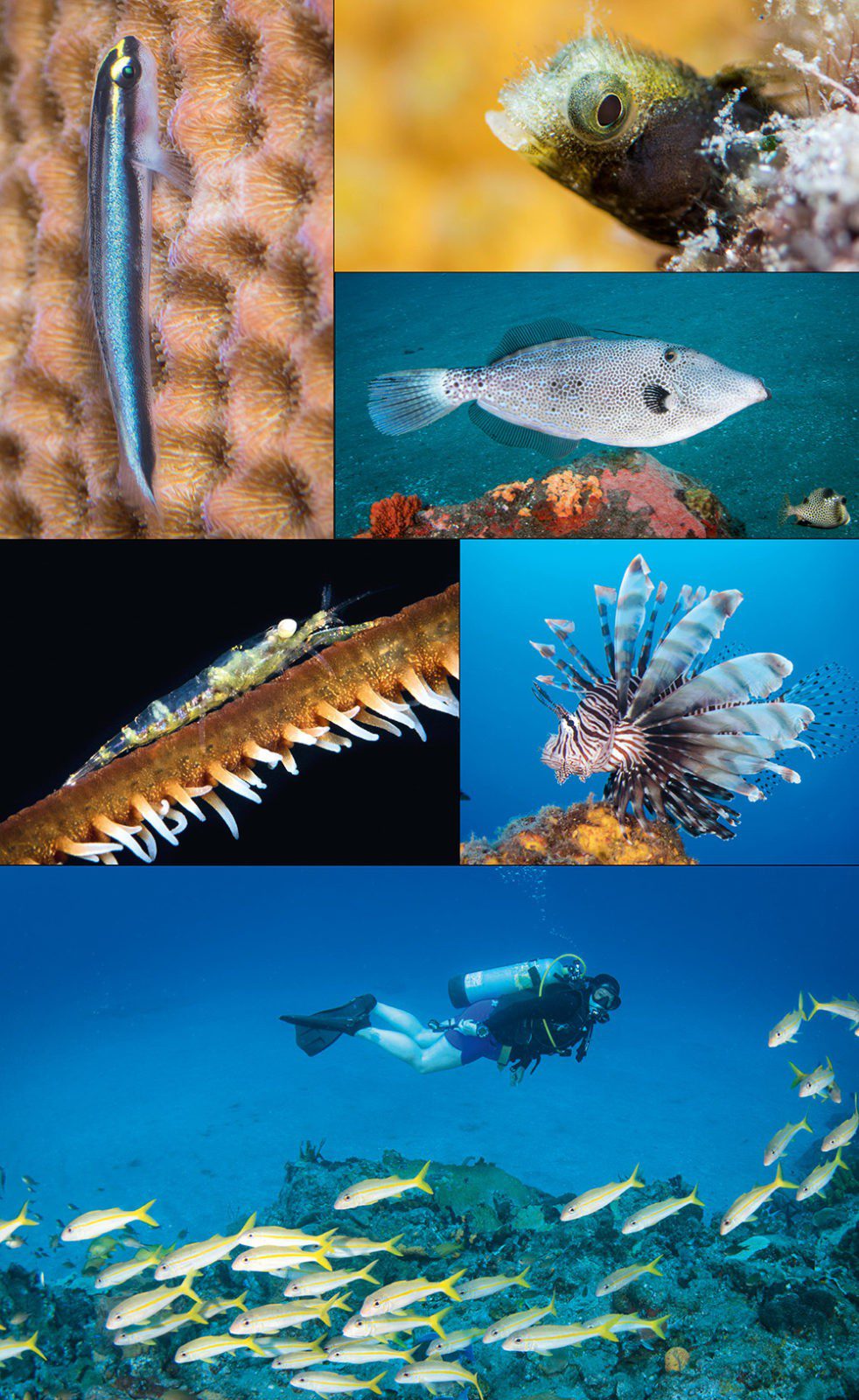 On my dives around Saba I was continually amazed by the balance of the reef. No fish species seemed to have overtaken any one area; instead, it was healthy with many different species and numerous types of coral and sponge.
It was fantastic to see so many different types of fish, big and small, providing ample opportunities for both wide-angle shots and macro.
It was tough to decide which lens to use, but whichever I decided on, I was happy.
On macro-dives I would have my eyes on the reef, finding sea-goddess nudibranchs, leopard flatworms, arrow crabs and juvenile fish.
On a night-dive there were flamingo tongues and teardrop crabs. And when I had my fisheye lens on, I could capture the unique seascape of black sand, lava rock, friendly turtles and nurse sharks.
Hiking Adventure
Saba's highest point is 887m at the top of Mt Scenery. Queen's Gardens Resort and other places to stay in the town of Windward Side sit at around 300m, so naturally people have been concerned in the past about staying at altitude after diving.
Research has revealed no cases of decompression illness as a result of diving while staying on Saba, but hiking and other strenuous exercise is discouraged after any dives, so I saved my hike to the top of Mount Scenery until my last day, and after I'd been dry for 24 hours.
Packing in Activities
I had originally left that last day open, planning to relax and take everything in, but instead I found myself trying to pack in all the stuff I hadn't had time to do yet.
My morning began with a 7am yoga session on a platform built in the trees overlooking the ocean and the rolling contours of the island. With a slight breeze, it was the perfect way to wake up.
Then I gathered a few brave souls to attempt to summit Mount Scenery with me. With more than 1000 stairs to climb. we hoped that today wouldn't be the one when the volcano became active again.
After what felt more like 10,000 stairs, and a much longer time than had been predicted, we all reached the summit.
Clouds rolled by, leaving us covered in a white mist one second and the next revealing the greens of the island, the blues of the ocean and the red square roofs of the houses.
Back in time for lunch, well into our no-fly time, we ordered gin and tonics, resting our aching knees and feet.
But it was almost time for art class, making glass beads with JoBean. Jo is a master of glass art creations, from stunning beads to octopus and mermaid figures, and she shares her talent with anyone willing to learn.
My own talent in this department might need a little work, but I did leave with a few beads worthy of being worn.
I hardly had time to wonder what happened to my day because it was time to meet at Chez Bubba, Saba's only wine bar and restaurant in Windward Side, for a special wine-tasting before our last dinner.
After more than enough wine and seafood risotto and steak and fish and crème brulée we headed back to Queen's Gardens for one more night before leaving (OK, and I had one last gin cocktail, made with saffron gin and champagne).
Conclusion
Between the diving and the hiking, the food and artisanal cocktails, art classes, and of course, the friendly residents who make you feel like family, I love Saba.
Each time I leave I find myself planning my next trip, and I can't wait to return to this lovely island. Who knows, perhaps I'll see you there!
FACTFILE
GETTING THERE> The nearest international airport is on St Maarten, from where divers fly Winair to Saba or take a ferry. The Edge and Dawn II make the two-hour crossing several times a week. On the island Sea Saba will arrange transport to your lodging.
DIVING & ACCOMMODATION> Sea Saba, sea saba. Queen's Gardens Resort, queen saba.
WHEN TO GO> Year-round. November-April sees cooler water temperatures of 25°-27°C and at other times they range from 27°-29°C with more rain possible. Nights can be cool.
HEALTH> St Maarten might require proof of vaccination if coming from a country with yellow-fever risk. Hyperbaric chamber on Saba.
PRICES> Five-night B&B, nine-dive packages at Queen's Gardens Resort start at £1800 (two sharing). Return flights from London to St Maarten from £470. A round trip on the ferry costs $130.
VISITOR Information> saba tourism, jobean glass.