SOCORRO DIVER
Stopovers on the Highway
However many videos you watch, you have to dive there to know it – CATH BATES pays a visit to the underwater wonderland known as Socorro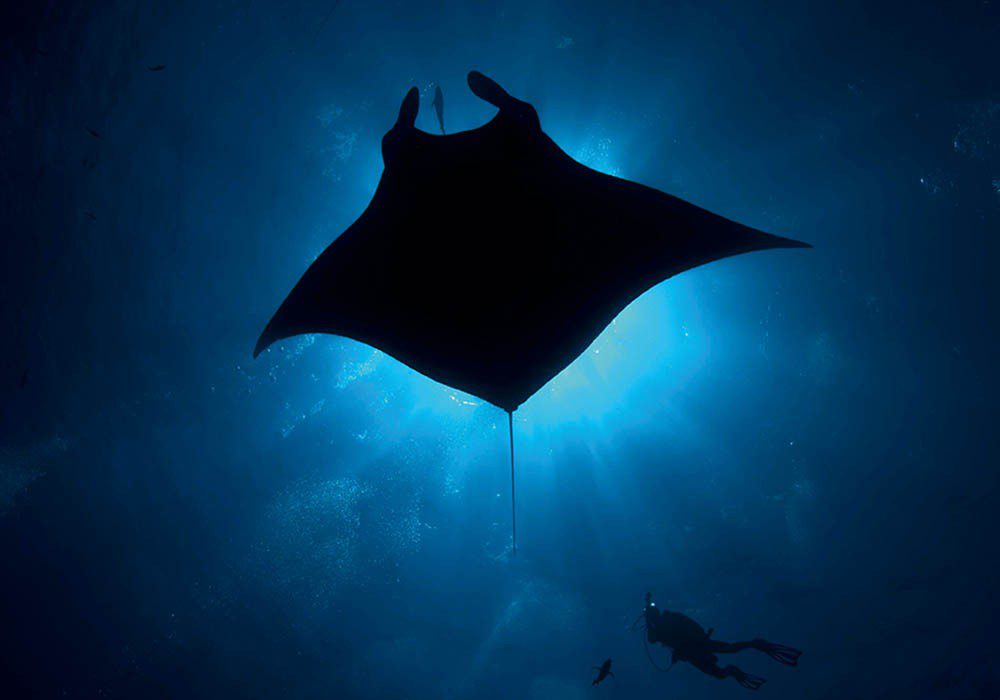 A giant Pacific manta ray.
Following a 27-hour boat journey kissed by a mild sea breeze, I opened the blinds of my cabin to be met by a splendid ashen mountain with the sun rising behind it.
Around 230 nautical miles off the coast of Cabo San Lucas in Mexico, the first of the Socorro Islands, San Benedicto, sprouts from the sea.
Thousands of years of rain run-off and lava damage have formed the perfectly wrinkled outer walls of the volcano, which run down to the water's edge. Two nights had passed since my feet had touched land, and it would be another five until my terrestrial legs returned.
Often referred to as the Mexican Galapagos, the Revillagigedo Archipelago lies in the eastern Pacific Ocean. It was declared a National Park in 2017 and a UNESCO World Heritage Site a year earlier.
Some 57,000sq miles around the islands is now protected from fishing, mining and tourism development, making this North America's largest marine reserve.
These waters, where cool, nutrient-rich California currents converge with the southern Costa Rican current, contain one of the world's largest aggregations of sharks and manta rays. Satellite stations strategically placed at the dive-sites tell us that many shark species – including silky, silvertip and hammerhead – migrate between Cocos, Galapagos, Malpelo and Socorro. They navigate the corridors between these food-rich seamounts on what is known as the Shark Highway.
San Benedicto is some three miles long. The volcano last erupted in 1952, wiping out most life in the space of 10 months.
Today some plants and seabirds are about all that lives on the rocky island, the southern side of which we explored at a site called the Canyon that was formed by this eruption. Dive-guide Pedro briefed us after breakfast, as a curious blue-footed booby looked on.
Our strategically placed mooring and the luck of the wind-gods allowed us to jump in directly from the boat to descend onto the cleaning station at 24m and watch some early-morning shark action.
Descending without a reference can be disorientating, but we put our trust in local expert Ivan as he led us into the abyss. After a minute or so the dark bottom loomed, and we could make out some rocky formations.
Within seconds a plethora of silvery bodies began shining in the sunlight as they approached and darted away from the cleaning station. In just 10 minutes we were graced with silky, Galapagos and silvertip sharks, set on enjoying a body scrub at the barberfish salon.
A handy briefing later that day armed us with further knowledge of how to identify these beautiful, sleek creatures.
The Galapagos sharks are wide, have a rounded nose and much of their body mass is at the front of their body, while silvertips have white edging on all their fins. The silky dorsal fin is situated behind its pectoral fins.
Three additional dives near and around the Canyon throughout the day were interspersed with food, rest and some reading. As the day went on, the silkies became more and more inquisitive  and made their way shallower to the boat, making for some interesting safety stops.
There was even an unplanned snorkel with a pod of false killer whales!
Day 2 was at the famous Boiler site west of the island. A week earlier the crew had seen two whale sharks there.
As the sun rose higher we could see that we were moored close to some impressive sharp boulders that formed a ring in front of the island. We could also make out caves and ashy stalactites to the rear of San Benedicto. Remote and barren as the land is, you can't tire of its beauty.
The Boiler is the remains of yet another volcano crater, and in our well-organised groups we boarded the skiffs to be driven over to the area of bubbling water that gives the site its name.
We made a negative entry. Whitetip reef sharks sat lazily on the ledges, and bigeye trevally moved in an organised chain in the shallows.
Two scalloped hammerheads ducked in close to the reef to check us out before slowly snaking back into the blue. What happened next was the beginning of a 40-minute rollercoaster ride with manta rays!
Appeared in DIVER August 2019
I have experienced close encounters with mantas in the Red Sea and Mozambique, but had never seen as many together as I did at the Boiler.
An adult chevron (black and white) manta passed by eyeballing us, followed by another and another and another! They danced together, feeding and enjoying being cleaned in the current, interacting with the divers as well as each other.
They curled and uncurled their cephalic fins, used as electroreceptors to "feel" us in the water. Out of nowhere an even bigger black (melanistic) manta flew into the broth and started barrel-rolling and flying on her side, giving her a better view of us tiny humans.
Black mantas look like stealth bombers and make up a quarter of the Socorro population. My buddy was going crazy and mimicking the manta's movements belly to belly. Seeing one of these rays was his dream for this trip.
As I watched a chevron manta approach me, I put my eye to the viewfinder of my camera to get the money shot.
My fisheye lens was giving a misleading orientation, however. As the pectoral fin came down on my head, I realised that I should have ducked somewhat earlier. The power in those wings is immense!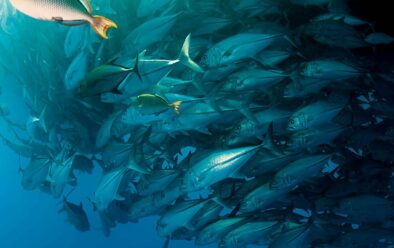 Shallowing up, being careful to stay away from the surge at the top of the dive-site, my group were beaming. There were also a few tears, the result of the spiritual interaction experienced on this dive.
There was much sharing of stories over second breakfast and, as if in an effort to top the marine-life thrill of the day, a mother humpback whale and her calf passed close to the island as we watched in awe from the top deck.
The day proceeded with a few more mantastic moments, and the talk continued into the evening with an ID workshop. Using our photographs of their undersides, we looked to see if the rays had been spotted here before, referencing books from the Pacific Manta Research Group.
A 30-year-old male chevron manta called Marty was identified for the fourth time at San Benedicto. We wondered how many thousands of miles he had travelled since his first sighting there in 2004.
Our 80-mile journey to Roca Partida began after the day's final dive. Gazing out the next morning we saw a guano-covered rock protruding from the sea, all that remains of the centre of a volcano plug.
The dive-site would be a sheer wall with no bottom, unlike the others we had seen. I was thrilled to see how the topography of this tiny rock would increase in size under water, like a volcanic version of an iceberg!
We descended on the more sheltered east side and moved between the north and south corners, where most of the marine life would be hanging out.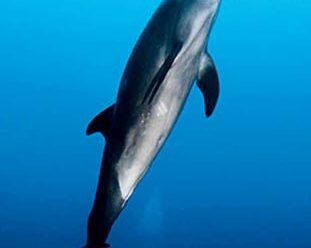 Within seconds we heard and were soon in the excited presence of dolphins. A pod of bottlenoses frantically danced about us, and then suddenly hung vertically in the water column, slowly sinking.
Why they do this is unknown, though it could be a sign of submission. They go into a trance, similar to tonic immobilisation in a shark.
My fellow-divers soon learnt their lesson trying to photograph this phenomenon, as the beeps of unhappy computers snapped them out of their descents! The pod even forced interactions on some of the divers by nudging close to them, as if wanting to play.
Other dives during the day gifted us with a big Galapagos shark, silvertips, yellowfin tuna, blacktip oceanics and up to 40 whitetip reef sharks piled up on ledges. These were very difficult to photograph in the strong surge near the wall.
An unexpected turn in the weather caused us to leave after the third dive and head for Socorro Island. A red-billed tropic bird saw us off as we raised anchor for a bumpy 70-mile overnight journey.
Socorro is the greenest island in the archipelago. Its last volcanic activity was under water, in 1993. A large Mexican naval base there since 1957 enforces the National Park protected status, and our vessel was boarded to check that we were all legitimate passengers.
This is a mandatory check for all liveaboard operators.
Socorro has five dive-sites but we were able to dive only on one side because of bad weather. Briefed for Punta Tosca, the first three groups boarded the skiffs over to the "fingers" of lava that stretch out from the island into the sea.
You can make "jumps" between the outer, middle and inner fingers if you time the surge correctly.
Our guide Martyn noticed a lot of silky sharks at the back of the boat, probably the result of the number of flying fish that had kamikazed onto our back deck during the night-crossing. Our group jumped here, and one inquisitive shark followed us for the entire dive.
Dive two was my favourite. It was very much a reef-style dive and we came across pufferfish, grunts, Moorish idols, snapper and the vibrant orange clarionfish that clean the manta rays. Clarions are endemic to the area (named after the fourth island, another two days away by boat). It was nice to see colour after many days of blue!
A trio of mating green turtles came to the stern later that day, which was interesting to watch.
Because of the time taken by the naval inspection, only three dives are done at Socorro, but a night snorkel with silky sharks is offered after dinner.
No more than 10 people are allowed in the water at a time, but without the constant light that can hurt sharks' eyes.
My buddy and I waited, as we wanted to spend some time photographing the sharks. Within minutes, most of the first group had exited the water, the less-experienced divers finding it unsettling. The sharks do get close and sometimes you spot them only at the last minute.
I lifted my camera to snap an approaching individual, but he came closer and closer and, before I knew it, had bumped my camera chin-on!
I can only assume that he saw himself in my lens, or took a dislike to the strobe. What an exhilarating experience!?
As the splashing of the snorkellers increased, the crew decided it was time to give the sharks a rest, and we headed up on deck.
It was too choppy to dive Cabo Pierce on the other side of the island the next day, so the skipper decided to head back to more sheltered San Benedicto for our final day, as this seemed to have been everyone's favourite. It was to be another bumpy night. Thank goodness for surface-interval nap time!
Four other skippers had come to the same decision, so a sleepy voice over the tannoy informed us that dive one would be at 7am to avoid the morning rush. We jumped out of bed, donned our dive gear and rode the skiff to Fondeadero. Another blue descent into slightly murkier waters took us to some interesting topography that looked like the hexagonal stacked rocks of the Giants Causeway. Following the lava wall, we saw a large sting ray in the sand accompanied by a torpedo ray and some whitetip reef sharks in the shallows.
In this greener, cooler water my buddy and I started to shallow up, anticipating a nice warm mug of tea and a plate of eggs Benedict. From nowhere, a giant Pacific manta approached, enjoying a wound on her belly being cleaned of parasites by the loyal squadron of orange clarionfish.
She circled us in a hypnotic glide for a few minutes before taking off into the sun's glare.
We dived twice more at the Canyon and encountered more of the same shark suspects before the long trip back to Cabo San Lucas. The crew kept our sleepy bodies energised with cheeseboards, sandwiches and a final meal of ribs and mashed potato. They entertained us with Chase the Ace (raising money for the Socorro Research station) and a trivia quiz. Some people watched movies in the salon, others enjoyed the Jacuzzi on the sun-deck. Some of us washed our dive-kit and hug it to dry in the Mexican sun.
At the dive-centre, we said our goodbyes to new, multinational friends and wondered if we would ever stop swaying! A Socorro video played on the big screen and we all smiled in recognition that this was no longer just a movie for us.
We had been there, done that and, yes, we had bought the T-shirt!
FACTFILE
GETTING THERE> Fly from UK with BA or American Airlines, allowing a minimum US transit time of 3.5hr for ESTA visa check and immigration. Flights with Aero Mexico transit through Mexico City. Divers should arrive in Cabo San Lucas a day early.
DIVING & ACCOMMODATION> Three Nautilus liveaboards visit the area – Belle Amie, Explorer and UnderSea. Itineraries are  9-11 days, nautilusliveaboards.com
WHEN TO GO> End of November to early July. Mantas, up to 10 species of shark and dolphins can be seen in this season. Humpback whales can be seen January-April, and baitball and whale shark season is May-July.
HEALTH>Diving insurance is mandatory.
MONEY> US dollars.
PRICES> Return flights from UK £450-£700. Boat-only prices from $3145pp (three sharing) to $4615 for a shared premium suite (including Mexican taxes, nine-day charter).
VISITOR Information> visitmexico.com