UK DIVER
Super Saturday Chesil Cove
The sun is shining, the wind is low, the vis is amazing – unless you hate pebbles you take a weekend trip to Chesil, like WILL APPLEYARD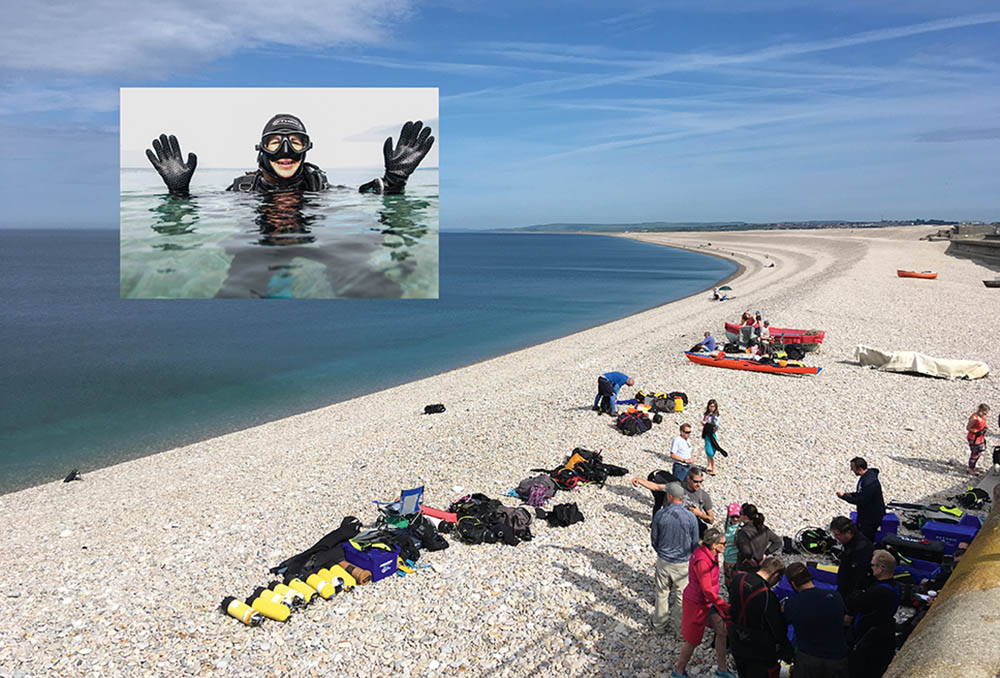 Chesil Cove one fine June weekend. Inset: Post-dive satisfaction.
CHESIL IN DORSET is a beach of contrasts, a wolf in sheep's clothing. It takes the brunt of the gnarliest of weather funnelling up the widest part of the English Channel from the west/south-west, producing some seriously violent wave action when the weather is rough.
And yet, when the wind is doing anything but that, it couldn't be more inviting to anyone who enjoys being in or on the water.
Chesil Cove sits at the end of the 18-mile long beach, nestled at the Portland end, its southern tip. It's a UNESCO World Heritage Site too, as is the whole of the Jurassic Coast, and an underwater museum of epic proportions.
Wreckage from both world wars and general maritime founderings are readily accessible to anyone who dives, and several dive-centres call Portland home. Its diving history goes way back.
I remember a time when it was tricky to secure a place on a weekend dive-boat out of Portland because of the high volume of visiting divers, though in recent years the diving has appeared to me to drop off somewhat.
Many speculate that the downturn has been the result of continuously poor visibility, the result of massive dredging operations further along the coast.
Whatever the reason, things have changed. Portland's diving scene appears to be doing pretty well these days – especially where its shore-diving location Chesil Cove is concerned.
The lead-up to one windless, "flaming June" Saturday promoted a flurry of activity on forum sites such as Facebook's UK Viz Reports, sending a surge of divers to the beach to cash in on the action over the weekend.
YouTube videos showcasing awesome visibility were popping up on Facebook feeds and the like too. Not only was the beach-diving supposed to be on top form, but the staff at O'Three, maker of custom drysuits, were waxing lyrical about the superb conditions surrounding Portland's beloved harbour wrecks on the east side of Chesil.
Tales of being able to see 15m-deep wrecks from the surface were being related, and as I had just happened to be in the area following a trip to the Channel Islands for Diver (Jersey Shore, August),
I couldn't resist taking a look.
Appeared in DIVER September 2018
OVER A WEEKEND with such fine diving conditions, finding a parking space anywhere near the top of the ramp that leads to divers' best beach access can be tricky unless you get there early.
Protocol if you don't invest in that early start is to drive as near to the elevated sea-wall as possible, dump your gear off there and park somewhere down the road.
From the sea-wall it's just a short walk down a ramp to the pebble beach itself.
High tide will of course shorten the distance from your beach base-camp to the water's edge, and if you can rustle up a non-diving assistant to lighten the load, convincing them that they can enjoy a nice day out at the beach, you're winning.
Ana and I were diving with friends during this "Super Saturday", and by staggering our dives we could make use of those out of the water to carry cameras and weights.
On the face of it, the conditions looked suitable for wetsuits, but in June the water temperature might be climbing but will only have reached around 12°C.
That said, of the (at least) 100 divers we saw on the beach at any one time over the weekend, many were diving in wetsuits – and good on them!
I prefer to put my fins on by the water's edge at Chesil Cove and walk in backwards, only really because juggling a camera while putting on fins waist-deep in water is more work for me. Once under water, a slight surgey pull takes you to and fro, and the pebble-beach theme continues until you reach somewhere between 6 or 8m, depending on the tide.
With so much stormy weather falling on Chesil through parts of the year, the beach changes shape massively above and below the waves, often covering and uncovering pieces of wreckage, as well as large parts of the lower sea-wall.
One small wreck, the Preveza, came into view just moments after we left the surface. There isn't much left of this Greek steamer now. It piled into Chesil Beach on 15 January, 1920 in thick fog.
This is a typical story for any wreckage found along this stretch of coastline. There are several larger wrecks just out of reach of shore-divers in the cove, but a trip around Portland Bill with a boat will give you access to those.
Super Saturday at the cove provided all arrivals with vis likened to dive locations found further afield. At least 15m of visibility surrounded us and, as the pebbles finished, coarse sand began. The light was fabulous and, as we descended deeper still, big boulders began to appear.
With these came weeds, soft corals and sponges and, with them, fish life and bottom-dwelling slugs and crustaceans. June is still quite early in the cycle of new spring life, so shoals of many juvenile fish species hang in the water between, beside or under anything that will offer cover.
As spring goes on, John Dory appear and it's possible to watch these striking fish hunt. As the summer draws on, rays can be spotted too.
That morning, while having cylinders filled, I had caught wind of an over-the-counter story about a sighting of a good-sized anglerfish (or monkfish as your restaurant menu will list it).
Chesil Cove sees a reasonable amount of spearfishing, so reports of a creature like that travel quickly. Ana and I kept one eye on the sand for it – anglerfish are masters of camouflage, but if you look for them, their eyes will give them away.
Plenty of cat sharks live there too, and we witnessed one gorging on the remains of a dead bass. They're lazy creatures, and siding right up to one on the seabed is no problem at all. They will move away only if they feel they really have to.
THE SURFACE WATER on our shore dive had been as flat as it could be, yet there is almost always a slight surge present. With that comes the sound of pebbles moving about in the shallows, which stays with you for most of the dive.
A compass is usually essential with shore-diving, and navigating Chesil Cove with one is simple: east is home.
We finned on further west and reached a depth of 15m. The time to stop heading west is when the flora and fauna run out and you're left with sand and lobster pots.
From the shore, circular plumes of divers' exhaust bubbles were visible at the surface, with some divers seemingly quite some way out to sea.
The purple-tipped snakelocks anemone is commonplace around the cove and a draw for macro photographers. They're a draw for marine animals too, including the spider-crab and tiny shrimps that live in a symbiotic relationship with them, using the anemones' venomous tentacles for their own protection.
Squid eggs flapped about below an overhanging rock like blonde dreadlocks as we finned even further away from the beach, though as I looked up, the surface remained visible from the seabed. It is almost always possible to find lobster during a cove dive, as well as bundles of edible and spider-crabs.
We turned the dive around after 30 minutes and headed back at 180° towards land. We met two divers on our way back, and shortly after that encountered one of several cuttlefish we would find during the weekend's cove dives.
The cuttlefish proved to be a curious creature, fascinated by its reflection in my camera's dome-port.
There are several ways to exit the water at Chesil Cove: remove your fins and walk out like a pro, beach yourself fully kitted and deal with removing your kit while rolling around the beach before trying to get up, or have someone on the shore to help you out and carry your weights up the beach. All of these methods are perfectly acceptable and all of them are attempted during a shore-diving day.
The beach looked like Mount Everest's south col when we left the water – littered with cylinders, but warmer than Everest and with fewer wind-ravaged tents.
The population of divers had doubled since we had entered the water an hour before, and still more were coming down the ramp with their gear.
As I lowered my equipment to the stones and removed my hood, having reached our spot by the sea-wall, a new arrival asked me what the visibility was like. "Around 15m," I told him.
"Well you should have been here last week mate," he said – "we had 20".
Of course you did, I thought. It always was better last week.