SEA-LOCH DIVER
The Long Game
Continuing his tour of some of the best elements of Scottish diving,
ROSS MCLAREN takes us on a tour of Loch Long on the west coast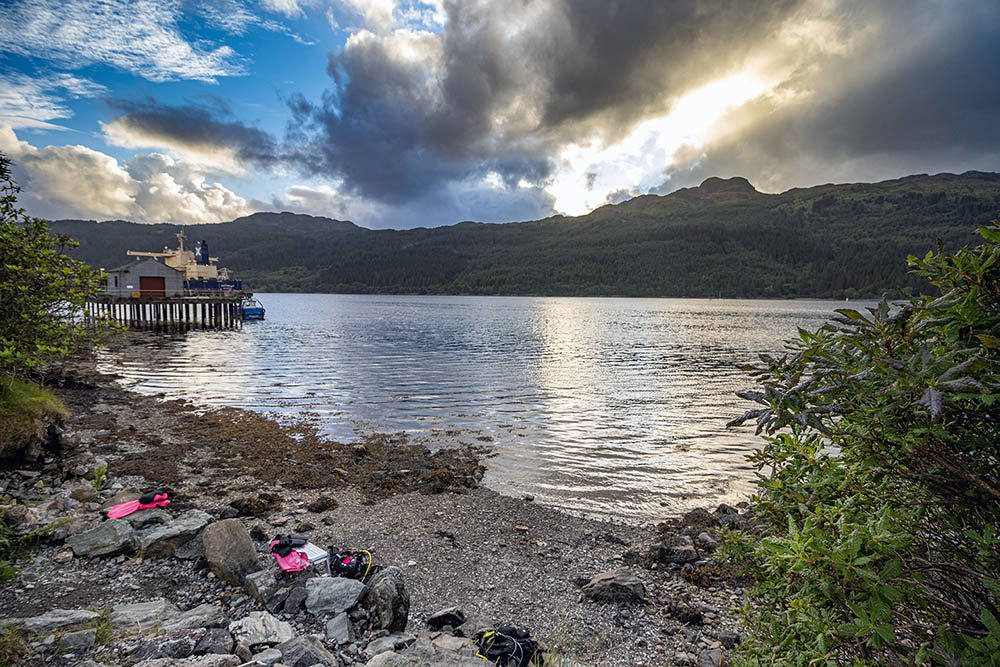 The Finnart/A-Frames dive-site.
I'm not sure why, perhaps it's just me, but I think we sometimes overlook what we have right on our doorsteps. Rather than being appreciative we can become indifferent, and in some cases even contemptuous, of things we see and experience regularly.
When it comes to diving on the west coast of Scotland, I think this tendency is particularly relevant to Loch Long.
If you're a diver from Scotland who dives home waters it's pretty much guaranteed that you'll have dived in this loch, whether it be on training courses or for fun.
I also think it's safe to say that if you're a regular diver there, you're probably a little fed up with diving in Loch Long.
But when I sit down and think about it, I do wonder if we should be showing this body of water more appreciation.
It's 20 miles in length but Loch Long doesn't get its name from its dimensions. Loch Long in Gaelic translates to Ship Lake, and the name dates back to 1263 when the Vikings saw Arrochar, at the top of the loch, as a key target from which they could drag their ships across land to attack the unprotected settlements of Tarbet.
Brief history lesson over, back to diving. There are 13 Loch Long dive-sites listed on the website Finstrokes, a surprising number for one body of water, and all within an hour's drive of Glasgow city centre.
Until I started researching this piece I hadn't realised that there were so many, and I admit that I have yet to dive all of them.
In my opinion, however, there are four that stand out as being well worth a visit if you're up this way.
As with other dive-sites around the country, different clubs and dive-schools sometimes seem to have their own names for each location, but I'll try to include as many of them as possible.
Appeared in DIVER February 2021
Finnart / A-Frames
Finnart, sometimes referred to as A-Frames, is probably Loch Long's most popular site. In fact it's arguably the most popular in Scotland. It was built by the Americans during WW2 to provide a deepwater oil terminal within the defensive ring of the Clyde, and if you've taken part in any training courses there you'll have done at least one dive on A-Frames. But the site isn't just for trainees.
At Finnart you drive into an excellent car park (which gets very busy on summer weekends) and an entry-point that's pretty good, although the small scramble down to the beach does call for some care.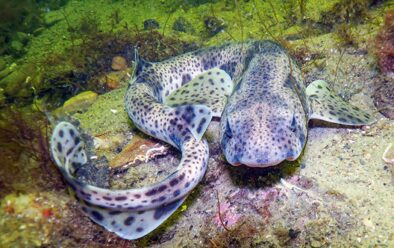 Once you dive beneath the surface you find an extremely diverse site that has enough to satisfy everyone from those taking their first breaths under water to the hardcore experienced.
Study the wreckage from the old pier found at 8-12m and you find a huge amount of life clinging to it, providing a superb introduction to the site. If depth isn't your thing you could spend a full dive in and around this debris field, zig-zagging the slope and exploring all the nooks and crannies that are home to squat lobsters, edible and velvet swimming crabs – the list goes on.
Diving a little deeper, below 20m, we come across the great A-Frames, the remnants of the old pier that give the site its alternative name.
These huge structures often appear very suddenly (I might have swum into them on one or two occasions ) and a vibrant cacophony of life greets us.
The frames are covered in anemones, starfish, dead men's fingers and, if you're lucky, the odd nudibranch. If you get a day with particularly good visibility, the view from the seabed towards the top of them is spectacular.
If you're keen to log some deeper dives, there is the option to head further out into the loch from the shore, and it's easy enough to get 40m-plus, with some pretty spectacular fireworks anemones found at these depths.
29 Steps
This site is just north of Finnart – and when I say "just north", you could swim to it from Finnart (I might have got lost once and ended up there, but that's another story).
Seen by regulars as more of a training site, so perhaps less exciting than A-Frames, 29 Steps is a nice dive with a very easy entry and exit and simple navigation.
The name comes from the number of steps that used to lead down from the road to the beach (in fact there are only 26 now).
The main hazard at this site are the steps themselves because they can be quite slippery when wet, but once you reach the bottom you find a rather nice wee beach with the remnants of an old jetty stretching out into the water.
The old jetty wall offers a convenient perch for dive-gear and there is even a small sheltered archway that can be used to escape the rain on a dreich Scottish dive-day.
The main dive is straight out from the beach down a gentle slope to a platform at around 9m that offers an excellent base for training and practising skills.
There isn't that much life on the platform (precisely because it's regularly used for training), though velvet and edible crabs can be found in and around it, and a few other bits and pieces as well.
From the platform there are two options. The first is to follow the slope down as far as you like, to find once again a variety of crabs, squat lobsters, starfish and even the odd fireworks anemone and langoustine at depth, and then turn left to zig-zag back up.
Option two, which can also be done in combination with option one, is to continue down a little deeper from the platform and then bear left perpendicular to the slope.
Finning along you eventually come to the "wreck" of an old rowing-boat, which is a popular habitat for critters and even, if you're lucky, the odd flatfish among the debris. On the way back to the entry/exit point there is also a small artificial reef based on discarded dive-tanks deposited in the sand.
29 Steps is less exciting than near-neighbour Finnart, but is undervalued and does provide a decent alternative should you arrive to find A-Frames mobbed, as it can be at weekends.
Twin Piers
Heading to the top of the loch and round onto the west side, you eventually come to Twin Piers. You'll know it because sitting just off the beach are the remains, funnily enough, of two piers.
Lying in the shadow of one of Scotland's most popular hill-walks, the Cobbler, both Twin Piers (and my final site Conger Alley) can offer sights beneath the waves just as spectacular as those from the mountain that towers over it.
Parking for Twin Piers can be tricky if you happen to turn up on a busy day.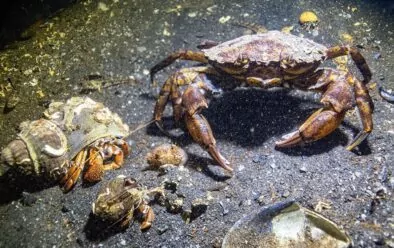 This requires driving slightly past the entry-point to find space on the grass verge. This also relates to one of the main hazards of Twin Piers – the extremely busy and fast road beside which it sits.
An excellent path leads back to the entry, but I would strongly urge you to take great care when walking to the site laden with heavy gear, because lorries and coaches often hurtle past at speed.
The beach sits at a lower level, and the second hazard is the ladder you must use to get down from the original "entrance" of the pier. It is secured and a handle has been drilled into the wall so it's not that tricky, but worth mentioning.
Twin Piers is an excellent site for divers of all abilities, and navigation is straightforward. From the beach, head straight out between the piers and drop down. On the slope you'll be met with an impressive carpet of discarded bivalve shells. Continue to anywhere between 10 and 15m and bear left perpendicular to the slope.
If lucky you'll eventually hit the chassis and axles of an old truck that fell off the pier. From there I'd suggest heading down to 15-20m and continue to swim perpendicular to the slope until you eventually reach an excellent rocky reef.
The boulders there are enormous and offer a fantastic habitat to an array of life including crabs, squat lobsters, anemones, starfish and dead men's fingers.
But the real attraction of Twin Piers is the possibility of seeing conger eels. and even the odd lobster. These make their homes in the larger cracks in, around and under the huge boulders.
Zig-zag up the reef and then, once it's time to return, retrace your finstrokes. Depending on the tide state, if you come up to around 6m and swim back along you can't fail to hit the pier-legs, which offer the chance for a pleasant final exploration of the site on the safety-stop.
On a nice day with the sun breaking through the water the piers can look spectacular. The legs are awash with colourful life including starfish and anemones, and nudibranchs can be spotted if you look closely enough.
Conger Alley
Wonder what we might find here? Heading just a couple of minutes south down the road from Twin Piers along the west side of Loch Long you eventually come to my favourite site in the loch. Blink here and you could miss the entry.
I did mention the road as being a potential hazard at Twin Piers, but at Conger Alley you really do need to be careful. Parking for the dive-site is on the side of the road opposite the loch in what can only be described as a small muddy lay-by. There is only really enough room for three cars at a push.
On the way to the site you'll have passed a bigger, "proper" lay-by that could be used instead – parking there does involve a longer walk back to the site but it could be worth it.
Crossing the busy road requires care, so I suggest carrying your kit down to the beach and getting kitted up there as opposed to by the car, and crossing the road with your hood etc in place.
The beach offers some strategically placed rocks on which gear can be propped, and even a very handy seawall that helps you "step into" a twin-set.
As with all the sites I've discussed the entry is really easy. Simply walk into the water, drop down and follow the slope to 12-15m before finning left for around four minutes. You eventually come to the edge of a large rocky reef, and from there it's up to you how deep you want to go.
If your certification allows it I'd recommend dropping down the reef to around 26-30m and then slowly zig-zagging your way back up it, taking your time to look in all the cracks and crevices.
I don't think I've ever had a bad dive at Conger Alley, because the life on the reef is unbelievable!
Besides crabs, starfish and anemones there is every chance of finding some of the good number of congers and lobsters that lurk in the larger holes.
Take your time to search each one because these creatures can be a little shy, but they are there.
It's also common to find the odd octopus on the rocks, so look carefully.
There is an abundance of fish, from flatties to colourful wrasse. As at Twin Piers, gradually ascend the reef and,
once you've reached the end, head back along the slope and you'll eventually reach the exit.
These four sites are probably the most popular and accessible for the vast majority of divers, but they provide a mere taster of what this 20-mile loch has to offer.
These four sites are probably the most popular and accessible for the vast majority of divers, but they provide a mere taster of what this 20-mile loch has to offer.
The other nine sites I mentioned are also accessible from shore, but if you have access to a boat, or can book onto a charter such as those offered by Wreckspeditions from Dunoon, there is potential to explore even more sites.
Being so close to Glasgow and situated next to Loch Lomond with all the amenities that area has to offer, it's easy enough to arrange overnight stays in campsites and lodges if coming from further afield.
Other Loch Long shore-dives:
An Caol-Easan Point, Craggen, Fisherman's Carpark, Glen Douglas Road End, Midway, The Caves, Torpedo Post, Torpedo Station and Torpedoes.
Gas fills: Aquatron (Glasgow); K-Dive (Coatbridge); West Coast Diving (Knockentiber, Ayrshire).
Post-dive refreshments: Ben Arthur Both (Arrochar); Green Kettle Inn B&B (Garelochead); Three Villages Café (aka the Pit Stop, Arrochar)