INDONESIA DIVER
The M-value on Islands of the Gods
Mantas, molas and muck-dives – eastern Bali has everything going for it. You can dive with the biggest and the smallest and everything in between. Story and photos by JESPER KJOLLER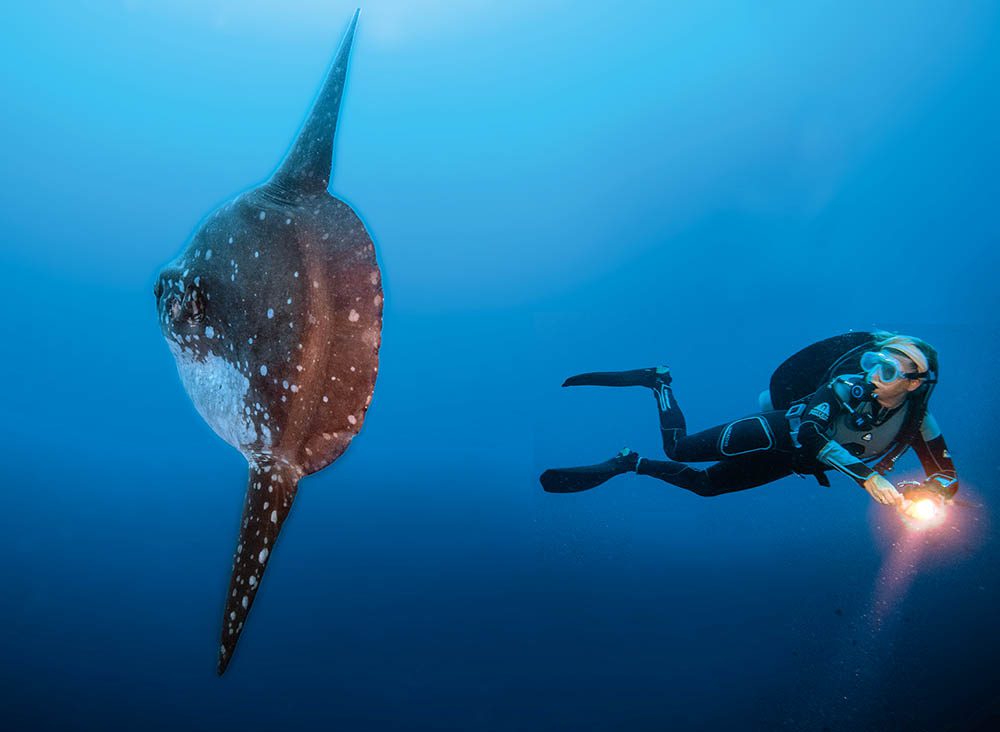 If you approach the Mola mola slowly enough, it is happy to stay with divers.
BRR! THE CHILLY WATER trickles into my 3mm wetsuit, and I'm reminded that we are paying a price for the nutrient-rich water. It's the cool upwelling from great depths close to Nusa Penida's Manta Point that draws large filter-feeders to the area.
My computer now reads 23°C, way below the 27-28° we have enjoyed on previous dive-days in Bali. But after only a few minutes a huge manta appears, and we forget all about the temperature.
It swoops over a large pinnacle and disappears again. It takes me by surprise and I have to shoot from the hip. Did I get a few decent shots despite the less-than-optimal exposure settings? Will it be the only manta we see today?
With all my attention directed at my camera, I hear my wife's muffled shouts in her regulator behind me. I turn and see her pointing at a train of a dozen big mantas coming straight at me.
OK, so this is how it's going to be…
Manta Point is a cleaning station and the mantas hang out to enjoy the grooming service of the cleaner wrasse.
It is almost guaranteed to see at least a couple of mantas during a one-hour dive there, but today we're really lucky. Between 12 and 15 large rays swirl over the shallow pinnacle again and again, coming really close, and it's splendid.
The mantas are oblivious to us and the countless other scuba-divers, freedivers, and snorkellers in the water. If they were bothered by humans, they would have disappeared long ago. The site has been frequented daily by large numbers of dive-boats for years.
After 45 minutes of more or less constant action the manta train suddenly departs. Remembering the cold, we end the dive with a big smile.
Waiting for our boat to pick us up, Bernd, one of the divers in our group asks: "So why is it called Manta Point?" Pretty humorous for a German.
I have known Jan and Henriette Bebe since training as PADI instructors with them in Denmark in 2000. A few years after, they left their jobs to pursue careers as dive-industry managers in South-east Asia. After a few years in North Sulawesi, they relocated to Bali to manage Lotus Bungalows and its dive-centre Gangga Divers.
Jan is in charge of all diving activities, but though Henriette manages the resort she also enjoys being part of the dive-team during busy periods.
They spend most holidays at exciting dive destinations such as Galapagos, Raja Ampat and Palau, but have enjoyed Bali for more than 10 years, and have no plans to leave.
The resort is in Candidasa Bay in the centre of the east-coast diving scene, and offering easy access to the sites around Nusa Penida, the local coast and the shore-based sites in the Tulamben area.
Today we plan to splash at Nusa Penida's Malibu Point. Jan says there's a good chance of encountering Mola molas, though we try not to jinx it by uttering the M-word.
It's the right season and apparently a go-to place to see ocean sunfish.
Malibu Point is typical of sites on Nusa Penida's northern side, with a sloping reef that eventually disappears beyond 30m. Enormous barrel sponges with their modernistic shapes are dotted about, and the fish life is prolific.
We see at least one or two hawksbill turtles on every dive.
All dives around the small island are drifts. It's all about negotiating the ever-changing current that sweeps the shores from deep water in the channel between Bali and Lombok. There are no permanent moorings – you are picked up at the end of the dive after a safety stop under your SMB.
The trick to finding Mola mola is to look for thermoclines indicating cold water welling up from the depths, and unusual congregations of the bannerfish that usually surround the big creatures.
The yellow and white bannerfish are easier to spot against the dark background, and perform a grooming service that seems to be why the sunfish visit what to them is shallower water.
Fifteen minutes into the dive, I see Jan waving his arms. He points into the blue and throws us the "hang loose" signal normally associated with Hawaiian surfer dudes. Under water, it means Mola mola.
We make the mistake of approaching a little fast, but I still manage to get a few good shots. Many hang loose-signals are exchanged as the Mola mola lazily disappears.
Ever since I learned about the parasite that eats the tongue of the clownfish, I can't pass a colony of Nemos without checking if any have been attacked by the cruel isopod Cymothoa exigua.
On three occasions around Nusa Penida, I do find an affected specimen, with the tell-tale two black dots staring out at me, but unfortunately every time I have my wide-angle lens attached – not ideal for capturing a creature the size of a pinhead inside the mouth of a fairly small fish that moves as if on a diet of Red Bull and double espressos.
Appeared in DIVER January 2019
AMONG OTHER EXCITING encounters on our Nusa Penida dives are the banded coral snake, one of the most poisonous animals on the planet. It is normally very good-natured as it rummages around the reef looking for morsels, and I've often heard that it couldn't bite a human even if it wanted, as its mouth is not wide enough. However, it's not a hypothesis that I plan to test.
From the resort, a 20-minute minibus ride every morning brings us to Badang Bai harbour. The tanks for the day's dives are already set up on one of the two comfortable speedboats; all that's left for us to do is analysis of the nitrox cylinders. The staff are always a step ahead.
The normal routine is two dives before lunch around Nusa Penida, with an optional third dive after dropping the two-dive guests back in Badang Bai.
We opt for the local afternoon dive every day, and close to Badang Bai our favourite dive is Tanah Ampo Pier.
The half-finished 150m jetty is part of a failed attempt to establish a cruise-ship terminal, and is now frequented by anglers on top and divers below.
The 15m pier legs are now a vertical muck-dive on which every square inch is covered in marine life. We spot nudibranchs, cuttlefish, juvenile batfish, blennies, cute juvenile boxfish, stonefish, cockatoo waspfish and the mighty harlequin mantis shrimp.
But for an aficionado like me, the abundance of frogfish is the main attraction. I even see something new to me – two giant frogfish swimming in close formation. The pier legs themselves are very photogenic, so choosing lens could be a dilemma.
TULAMBEN IS A legendary dive-site. The wreck of USAT Liberty rests only a few fin-kicks from shore. The 120m US Army cargo ship was beached during WW2 after being torpedoed by a Japanese submarine, but in 1963 the nearby volcano Mt Agung erupted, and the tremors pushed the wreck back onto the sandy slope.
Resting on its side in 10-30m, the wreck is a very easy dive and, though rather worn out by earthquakes, volcanic activity and hordes of divers, still worth a visit.
You are met in the parking lot by the famous porter girls with towels on their heads and they insist on carrying your equipment to the shore. Swallow your pride and let them, because you'll have to pay anyway.
The assembled scuba units go on their head, weightbelts over the shoulder and scuba-bags in the free hand. They carry the loads with grace and a smile and share the income at the end of the day. The service more or less supports a village.
There are couple of nice shore-dives to be done next to the wreck, but the highlight of our day in the area is at Seraya Secrets. A few miles south of Tulamben, we head down a dusty gravel road to a small settlement in the shade of the trees – a few shacks, a small shop, primitive toilets and an outdoor shower at the water's edge.
As soon as we stop, a pack of villagers virtually attack our minibus, emptying its contents almost in a frenzy.
They even offload already used tanks and other items we don't need. Our driver and guide from the resort let it go – it's easier than trying to manage events.
The locals like to earn the few rupiah we pay to dive from their village, and once the bus has been emptied they go back to doing what seems to be nothing.
There is a friendly, peaceful atmosphere, and only a few other divers here. The small kiosk serves tea, coffee and cold water, and should you need a box of staples, they can handle that too!
It's only a short walk to the rocky shore. The attraction here is diminutive marine life, similar to the famous muck-diving sites in Sulawesi's Lembeh Strait, with the volcanic substrate  creating optimal conditions for a critter hunt.
We have heard that there is a chance to meet the famed pygmy seahorse, Hippocampus bargibanti. We don't find the little bugger on the first dive, but spot sea-moths, ribbon eels, nudis, frogfish and plenty of harlequin ghost pipefish – as well as many cleaner, harlequin and emperor shrimps.
WE LIKE TO DIVE SO MUCH that we ask our guide to do it again, and this time spot the elusive bargibanti – in fact two, sitting close together down at 27m.
The swim upslope is pure joy, with photogenic critters everywhere. We end the dive after spending 15 minutes on a couple of artificial reef structures in shallow water. You could easily devote an entire dive to this site and never run out of subjects, especially juveniles.
As muck and macro dives go, Seraya Secrets can compete with the best, and on some parameters such as visibility and occasional larger pelagic encounters, even exceeds the top sites in Lembeh Strait.
It's a dive I have to do again. And again.
Ubud in the uplands is the epicentre for Balinese crafts and culture. The town is surrounded by rainforest and the famous terraced rice paddies. The area is dotted with temples and ancient holy sites.
Visit the monkey forest, one of the picturesque waterfalls or a plantation that produces the kopi luwak – the world's most expensive coffee.
The civet cat (luwak) eats the beans, which pass intact through its digestive system, and the next day the excrement is picked up and processed.
The beans ferment inside the animal in a way that makes the coffee milder and more aromatic. I don't know who first got the idea to breed this cat-poo chino, but have to agree that it is delicious, if somewhat overpriced.
BALI'S DIVING IS WORLD CLASS and varied, but it's a shame not to spend at least a couple of days sightseeing on land. It's easy and cheap to rent a car with a driver and the rich culture, fantastic landscapes and friendly people are so captivating that it's a difficult place to leave.
FACTFILE
GETTING THERE> From Europe most flights to Ngurah Rai International Airport south of the capitol Denpasar go via hubs such as Dubai, Doha or Singapore. Transfers to Lotus Bungalows at Candidasa take two hours in often dense traffic.
DIVING & ACCOMMODATION> Gangga Divers at Lotus Bungalows offers two boat-dives in the morning from the harbour in Padang Bai, a 20-minute minibus transfer from the resort, with a 15-45-minute speedboat ride to sites round Nusa Penida. Lunch is served on the boat.
WHEN TO GO> The diving is good all year round. Mola mola season is August to October. Temperatures vary but expect 27-28°C and the occasional local drop.
MONEY> Indonesian rupiah.
HEALTH> Hyperbaric chamber in Denpasar.
PRICES> A seven-night diver holiday package stay at Lotus Bungalows with breakfast, six boat-dives and nitrox costs around £500pp (two sharing). Return flights from £430 (prices for May 2019).
VISITOR INFORMATION> indonesia.travel